10 Diabetes-Friendly Recipes Perfect for Summer
Whether you're one of the 29 million people diagnosed with diabetes in the United States or simply looking to limit your carbohydrate intake, finding recipes that are both delicious and nutritious - without a lot of starch or sugars - can be difficult. Summer brings grilling, picnics, neighborhood potlucks and fun-filled vacations... and a veritable rainbow of seasonal fruits and veggies that somehow seem to capture sunshine as a flavor year after year!
The general recommendation for a diabetes-friendly, limited carbohydrate lifestyle is between 45 and 60 grams of carbohydrates per meal, or about 200-250 grams of carbohydrates per day. Of course, that number will vary from person to person depending on weight, age and physical activity level; it's best to consult with your physician, registered dietitian or certified diabetes educator to know what's best for you!
Combining the forces of our stellar culinary and nutrition teams, PeachDish has developed several recipes that are lower in carbohydrates and loaded with satisfying flavors that'll turn your springtime dinner into a winner!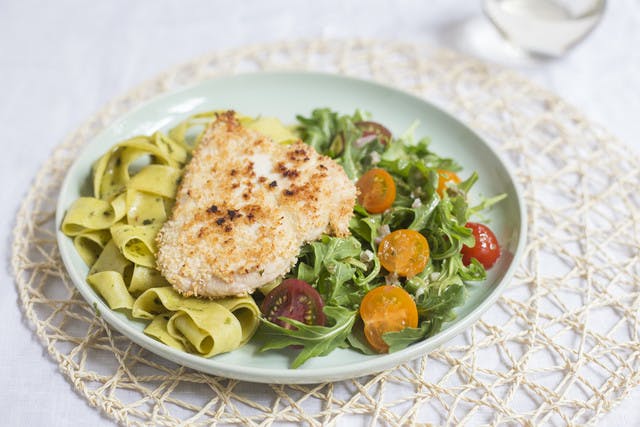 Milanesas are ubiquitous to all of Latin America, and the Italian influence in countries like Argentina and Uruguay is palpable in recipes such as this one. Instead of frying milanesas in oil, this recipe calls to bake them, for lighter flavor and easy cleanup with the same satisfying crunch. Using mayonnaise to bread the chicken instead of eggs adds even more convenience, as there's no need to fiddle with eggshells or extra oil in the pan. These delightfully crisp cutlets are served with an arugula salad and pesto-dressed egg noodles for a satisfying weeknight meal that comes together in minutes.
Shipping the week of July 1st
When you stop by your local farmers market during the summer months, you'll likely see a flood of summer squash and zucchini on the tables, firm, sweet and colorful at the peak of their growing season. What better way to toast to the abundance than actual toast? To clarify, "tartine" is French for an open-faced sandwich, and a few slices of toasted sourdough make an excellent vehicle for roasted zucchini, whose nutty-sweet flavor is heightened by creamy ricotta, sunflower seeds and summer herbs.
Shipping the week of July 1st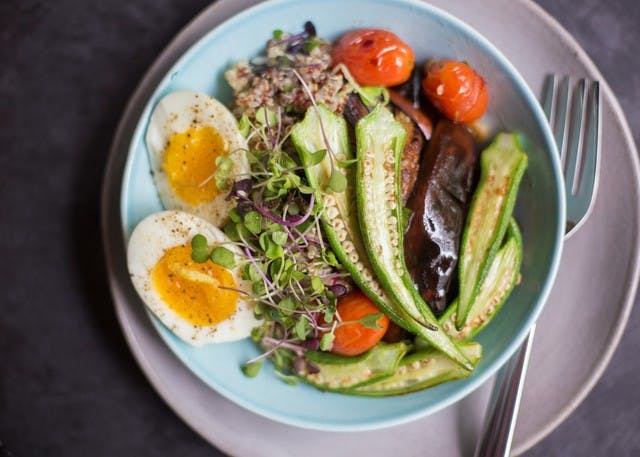 This recipe combines a diverse wealth of fresh, seasonal ingredients that fall right into place perfectly on the plate. Spicy ginger balances out the slight bitter taste of eggplant, while sweet tomatoes highlight the nuttiness of protein-packed quinoa. Farm eggs add another layer of high-quality protein, resulting in a sensationally satisfying bowl.
A deliciously satisfying and farm-fresh dinner ready in just over half an hour? Sounds like a winner to us! It's hard to top this simple preparation of fresh green beans - they're cooked in the juices from pan-seared chicken breast and flavored with savory Bragg Liquid Aminos and a generous dose of garlic. Chopped herbs enhance both the chicken and roasted potatoes and fill your kitchen with the most inviting aroma of a quick comforting meal.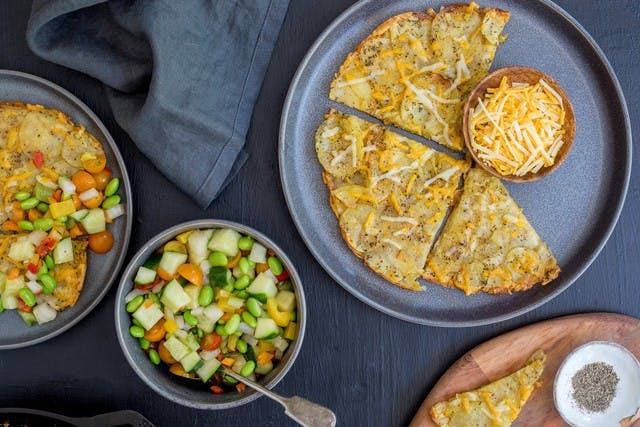 This is a traditional French-style recipe that's paired with some of the best fruits and vegetables of the season. Your thinly sliced potatoes, layered with lots of cheese (it's vegan cheese, but it still melts into a delicious ooey gooey goodness—we promise!), bake into a large flat disc that's crispy on the edges and so tender in the middle. Topping it with a refreshing mixture of cucumber, tomatoes, sweet peppers and edamame makes for an extra satisfying summertime meal.
No one ever outgrows chicken fingers with salad for dinner, especially when the chicken is seasoned well, breaded with crispy panko, and served the super-fresh salad is tossed with a bold Sweet Garlic dressing and tangy feta cheese. It's a meal that's easy to make and easy to love.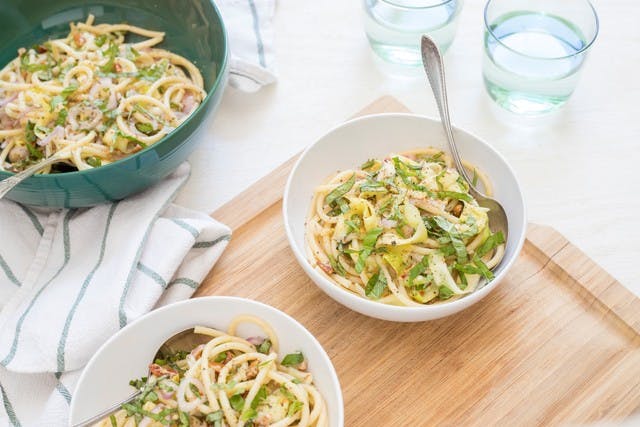 Sometimes a favorite vegetable feels like a discovery simply because it's cut into a new, fun shape. Your handy vegetable peeler makes quick work of transforming summer squash into wide, thin ribbons that pick up flavor (and release a little of their own delicious juices) as they sit in a lemony olive oil marinade while your pasta - tubular bucatini -  cooks. Combine the two with crushed pecans and fresh basil, and this fresh, colorful dinner is ready to enjoy.
The batter for these savory, cheesy pancakes needs only a quick whisk in a single bowl, and a 5-minute turn in the skillet. They're topped with a warm mixture of sweet potatoes, peppers and onions, sautéed with a drizzle of Doux South's Sweet Georgia Red Pepper Relish, for a bold, sweet-n-spicy punch of flavor to complement the richness of your pancakes. This colorful meal is familiar, yet creative - a whole new way to enjoy pancakes for supper, and the perfect excuse to do so!
Nicoise (pronounced "nee-SWAZ") means "in the style of Nice", which doesn't refer to the dish's temperament so much as the actual city of Nice in France (although we think this dish has a nice disposition, regardless). Typical ingredients for this French dish include tomatoes, olives, anchovies, and boiled eggs, but our version takes a slightly different path while still maintaining the Mediterranean flair. Dogfish, a mild, flaky white fish, provides the perfect vehicle for your quick vinaigrette, a zesty concoction made with shallot, capers, Dijon mustard and a little sherry vinegar.
This warm, toasty bruschetta is like a dreamy Southern tomato sandwich, but with a fancy twist. The bread is spread with lemony vegan mayonnaise laced with fresh thyme and topped with slices of sun-ripened tomato. The finishing touch (and one that turns this into a satisfying meal) is a generous helping of a bright field pea salad dressed in spicy brown mustard, shallot, and a pinch of French Picnic salt, hand-blended by our friends at Beautiful Briny Sea in Atlanta. It's summer on a plate—a backyard porch treat, rain or shine!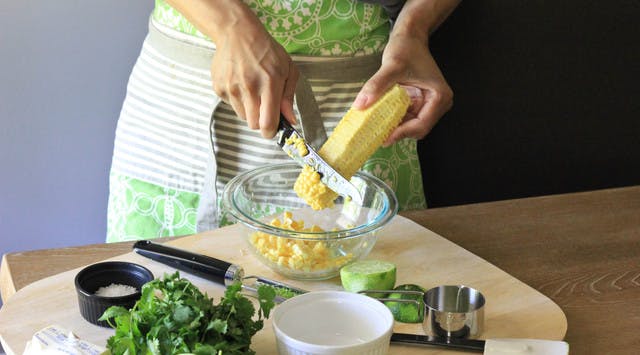 We believe everyone deserves a place at the dinner table, regardless of their dietary preferences, which is why PeachDish works to incorporate a weekly menu balance that includes both Southern classics (ahem, Comfy Chicken!) and nutrient-dense, Heart-Healthy fare, bursting with fiber, vitamins and minerals, and flavor while being limited in calories, saturated fat and sodium. We also offer No Gluten Added and Vegan dishes! As always, all the nutrition information for any of the present or past menus is available on the website for you to explore.
Happy eating, y'all!