How to Make Your Own Chicken Stock
One of the best parts about cooking a whole chicken is the bonus of using the bones to make your own stock. Throw in some leftover veggie scraps and herb stems, and you know it's time to stock up!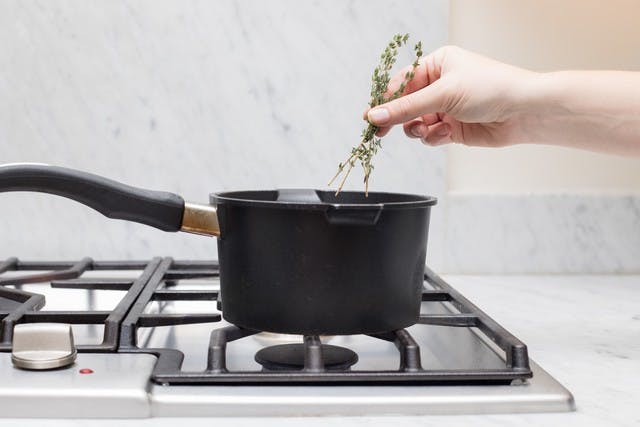 Although "bone broth" has been a buzzword in the last year or two, the practice of making broth or stock from the bones of an animal has been around for thousands of years in cultures around the world. In both Ancient Greece and Ancient China, broth was used as medicine to aid in digestive function, and in South America, broth was used for healing various ailments and "good broth can resurrect the dead" became a common saying. In traditional Jewish kitchens, broth earned its name of "Jewish penicillin" as it was traditionally used through generations as a remedy for the common cold. French chefs hail stock as the be-all, end-all of any great dish; Auguste Escoffier himself announced "Indeed, stock is everything in cooking. Without it, nothing can be done."
In any case, stock is a basic but major ingredient in the culinary world and in your own kitchen, and learning how to make your own stock is not only easy, but also so very rewarding! In addition to being a sustainable, cost-saving way to make good use of your spare chicken bones, it's also delicious and easy to store for future soups, sauces, and more. Homemade stock is easy to portion and freeze - if anything, you'll thank your lucky Chicken 'n Stars for the homemade broth when you or a loved one feels a touch under the weather, or simply want something warm and comforting to sip on.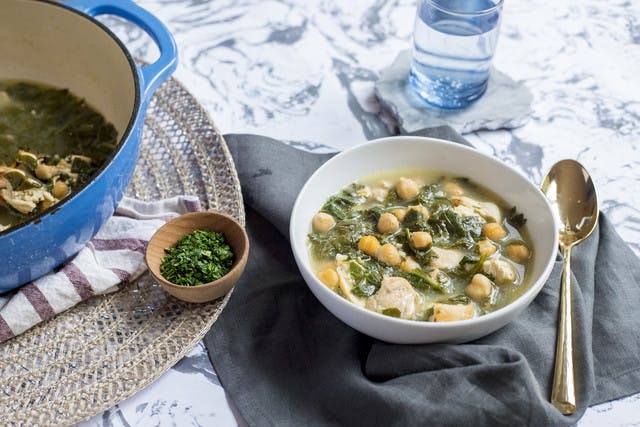 How to Make Chicken Stock
You'll Need:
Leftover bones, skin and other scraps from your whole chicken
1-2 carrots, chopped
1-2 celery stalks, chopped
1 onion, quartered
1-2 sprigs of fresh herbs, like parsley, rosemary and thyme
Salt and pepper to taste
Any leftover celery tops, onion skins, carrot peels or any other vegetal scraps you would like to flavor your broth
1) Place all bones, vegetables, herbs and scraps into a stock put on the stove. Fill with water until completely covered and add a pinch of salt and pepper.
2) Bring pot to a boil, then reduce to a low simmer. Let simmer, partially covered, for 4 to 6 hours. Check on your stock periodically and skim off any foam that rises to the top.
3) After at least 4 hours and once you have simmered and reduced your stock to your liking, use a slotted spoon to remove the large bones and scraps, then use a fine mesh sieve to strain the stock into a container. At this point, you can season your stock with additional salt and pepper, but if you are saving this stock for a future recipe, you may want to hold off until the final preparation to get the seasoning just right.
To store your stock, you can refrigerate it for 3-5 days or freeze it in pint or quart containers for several months - just be sure to leave extra room in your container as the liquid will expand when frozen! Some people opt to make frozen "stock cubes" by freezing their stock into an ice cube tray and then storing into a plastic bag for easy single-portions. Neat trick!
Use this method for beef, pork and even fish bones and scraps. Even a small heap of veggie and herb scraps will produce a lovely stock, so it's a great idea to collect, bag and freeze your veggie scraps throughout the week or month. When the bag gets full, you know it's time to make homemade veggie stock.
You can make this recipe even more hands-off by using a slow-cooker and cooking your bones and scraps in water low 'n slow overnight. Just be warned, your kitchen will smell like warm, savory heaven when you wake up in the morning if you use this methos!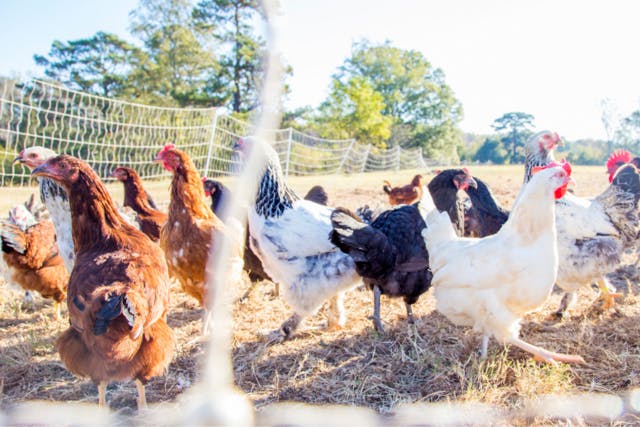 Shop With Your Heart
PeachDish is proud to stand with the ASPCA in advocating for better animal welfare. As a sustainable food company with a devotion to the community - both human and animal - we believe it is not only an opportunity but our responsibility to help improve animal welfare across the board. This is why, as of May 2019, we have committed to improving the lives of broiler chickens by meeting or exceeding Global Animal Partnership standards by 2024. When you choose PeachDish, you know you're getting good food from a food place. As always, we thank you for joining us for dinner and making a difference!
You can learn more about the Shop With Your Heart program and more by visiting the ASPCA website and follow @ASPCA on Twitter or Instagram!