Steven Satterfield, From "Root to Leaf"
In addition to winning the James Beard Award for Best Chef: Southeast in 2017, Steven Satterfield's restaurant Miller Union was nominated for Most Outstanding Wine Program this past year! Although the restaurant, a fan-favorite in Atlanta, was beat out by the also wonderful Benu in San Francisco, we are still so very proud to have Steven representing the best of the best when it comes to food and wine in the South.
Today we fondly look back at the meal kit and memories fostered with Steven in the PeachDish test kitchen not too long ago! He stopped by to whip up his delicious Broccoli-Fried Rice and we interviewed the produce-driven chef to get to the root of what it means to cook and eat "root to leaf".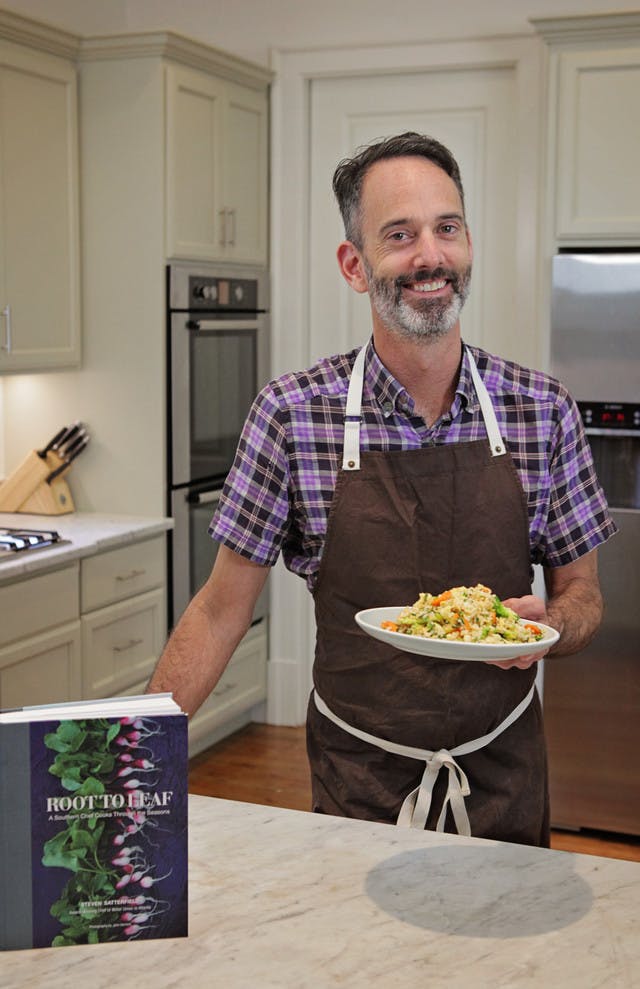 As co-owner and chef of Miller Union, a restaurant that has received various honors from Bon Appetit, Food & Wine, Esquire and the James Beard Foundation - including being recognized as one of the country's best restaurants by Eater National - Steven is no stranger to critical acclaim in the culinary world. He's humble, though - remaining deeply committed to the network of local farmers that drive his menu, which features seasonal local produce as the star attraction. Just like his 2015 cookbook, Root to Leaf, the menu at Miller Union is organized by seasons, featuring fresh tomatoes and corn in the summer and root vegetables in the winter.
Steven wasn't always interested in becoming a part of the food scene. He began studying music before he enrolled in Georgia Tech for architecture. In 1997, Steven toured internationally with a dream pop band Seely leading vocals and guitar. Meanwhile, he worked his way into various kitchens, where he brought fierce technical ability and natural creativity to the cutting board. Southern cuisine came naturally, and after a battle with cancer, Steven shifted his focus to healthful richness that southern vegetables and fruits bring to the dinner plate. He's heavily involved with Chef's Collaborative and Slow Food Atlanta, as well as Southern Foodways Alliance and Georgia Organics.
Our interview with chef Steven Satterfield is below: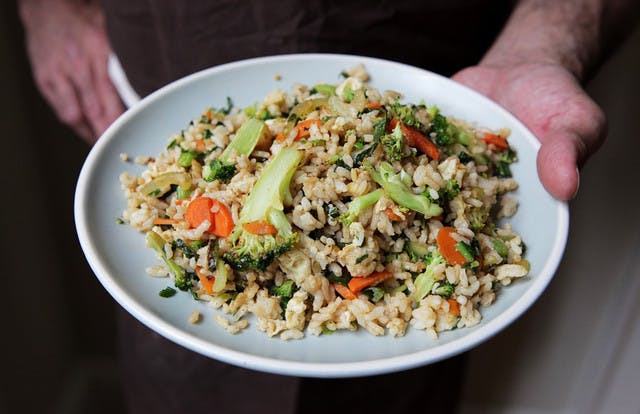 Why did you select this Broccoli Fried Rice recipe as your PeachDish?
First off - it's broccoli and mustard greens season! Not everyone thinks about broccoli having a season but winter and fall is the time for all the brassicas to shine - and mustard greens are popping right now too. It's also fun, easy and delicious. Once you get your prep done, the cook time is tremendously fast.
What are your first memories of cooking? Is there a special person in your life who fostered your love for cooking?
Early childhood memories of helping my grandmother punch out biscuits from her pillowy dough with a juice glass, and baking them in a hot oven. They were crispy and lightly browned on the outside and flaky and steamy in the middle. We would smother them in cold butter and ruby red strawberry preserves from her cellar.
What's the most challenging part of your job?
I love to cook, but a restaurant is basically a small factory. The challenging part is translating your vision to a group of people and steering it in the right direction. The vision can easily go off course if you are not there to keep it in line.
How would you describe your style of cooking?
I would say that it is simple and rustic but multilayered. I always think about shape, texture, temperature, flavor when designing a dish. It may appear simpler that it really is, however. There is a lot of thought behind every move that I make, and much of it is editing, distilling, and reducing down to the most elemental ingredients. If it doesn't contribute, then it shouldn't go on the plate.
Where do you draw inspiration for your recipes?
I have several sources of inspiration. Historical recipes, or twists on classics, are a fun way to work. Taking an old idea and freshening it up can be fun and enlightening. I also like to try to pair things together that grow in the same season and experiment with different cooking techniques with fruits and vegetables.
What's the best thing you've ever eaten?
I hate to pick favorites - I think some of my fondest food memories were traveling in Greece two years ago. I did not have one bad morsel of food- everything was so simple, full-flavored and delicious.
What's your 'guilty pleasure' food?
Nachos, hands down.
To learn more about Steven Satterfield and Miller Union, follow @millerunionchef and @millerunionatl on Instagram and visit the website, millerunion.com!