Meet the Chief Cheese: Guest Chef Tasia Malakasis
Tasia is the CEO of the highly acclaimed Belle Chevre fromagerie, and her path to making it big in the artisan cheese world began after 15 successful years in the high-tech industry. Last week, she stopped by the PeachDish test kitchen to whip up a lemon-mint catfish (a recipe from her cookbook!) and answered some of our questions along the way.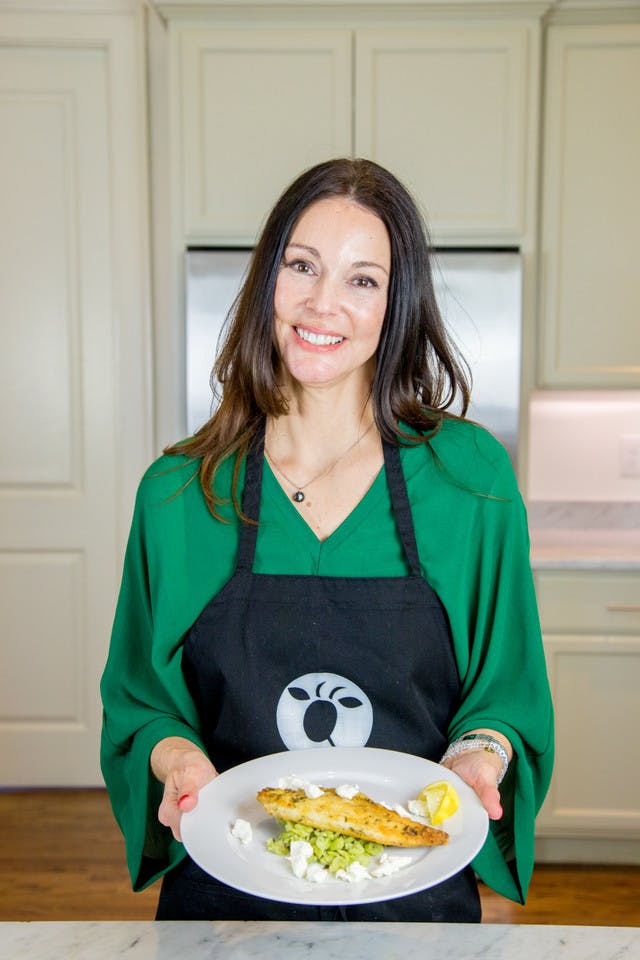 A native of Alabama, Tasia Malakasis has had a varied career path that ultimately brought her back to the South. After a 15 year career in the high-tech industry in New York City, her passion for food led to her acquiring a degree from the Culinary Institute of America. That path eventually led Tasia to learn the goat cheese making business and to take over operations of Fromagerie Belle Chevre in Alabama, expanding on the national success of the cheese company. She is the author of Tasia's Table, a cookbook about cooking with goat cheese, and Southern Made Fresh. Tasia and her cheese have been featured on numerous national outlets including Today, Oprah, Food Network, Garden & Gun and Southern Living.
Belle Chevre is an artisanal goat cheese maker located in Elkmont, Alabama. Since its founding in 1986, Belle Chevre has expanded its line from its claim-to-fame classic goat cheese to sweet breakfast cheeses, savory pimento cheeses, and more. We're proud to include Belle Chevre as an ingredient in your meal kits!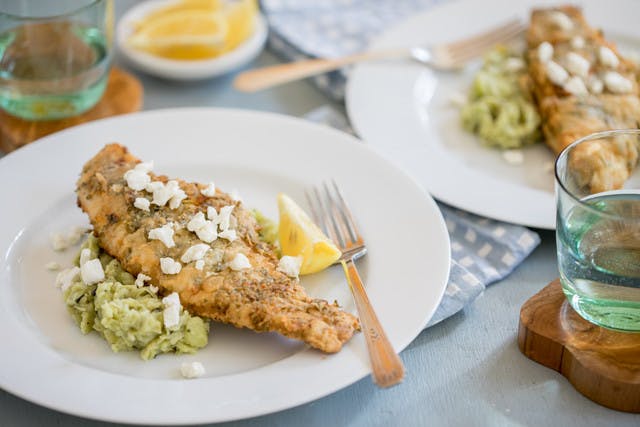 What made you choose this particular dish to be your PeachDish?
Where do you draw inspiration for your recipes?
Is there anyone in particular that fostered your love of cooking?
What are your first memories of cooking?
How would you describe your style of cooking?
What is the most challenging part of your job?
What is your favorite food indulgence?
What's the best thing you've ever eaten?
To learn more about Tasia Malakasis and Belle Chevre, visit bellechevre.com or follow @tasia.malakasis and @bellechevre on Instagram!
Fresh from her 2015 cookbook, Southern Made Fresh, Tasia Malakasis recalls sweet summertime memories of your Grandmother's house on Guntersville Lake, where she would spend weekends jumping off the dock into the cool waters and eat crispy fried catfish caught from that same dock at the neighborhood fish fry. This recipe reflects on those memories fondly, and with an updated twist of cool mint and mashed lima beans sure to please a hungry crowd. Dig in, y'all! Get your Tasia Malakasis meal kit delivered the week of May 27th!