8 Diabetes-Friendly Recipes for Springtime
Whether you're one of the 29 million people diagnosed with diabetes in the United States or simply looking to limit your carbohydrate intake, finding recipes that are both delicious and nutritious - without a lot of starch or sugars - can be difficult. With the onset of Spring comes a new variety of fresh produce to choose from, such as asparagus, sweet peas, and baby carrots. We get excited to break out of the winter "blahs" with new recipes at this time every year!
The general recommendation for a diabetes-friendly, limited carbohydrate lifestyle is between 40 and 60 grams of carbohydrates per meal, or about 200-250 grams of carbohydrates per day. Of course, that number will vary from person to person depending on weight, age and physical activity level; it's best to consult with your physician, registered dietitian or certified diabetes educator to know what's best for you!
Combining the forces of our stellar culinary and nutrition teams, PeachDish has developed several recipes that are lower in carbohydrates and loaded with satisfying flavors that'll turn your springtime dinner into a winner!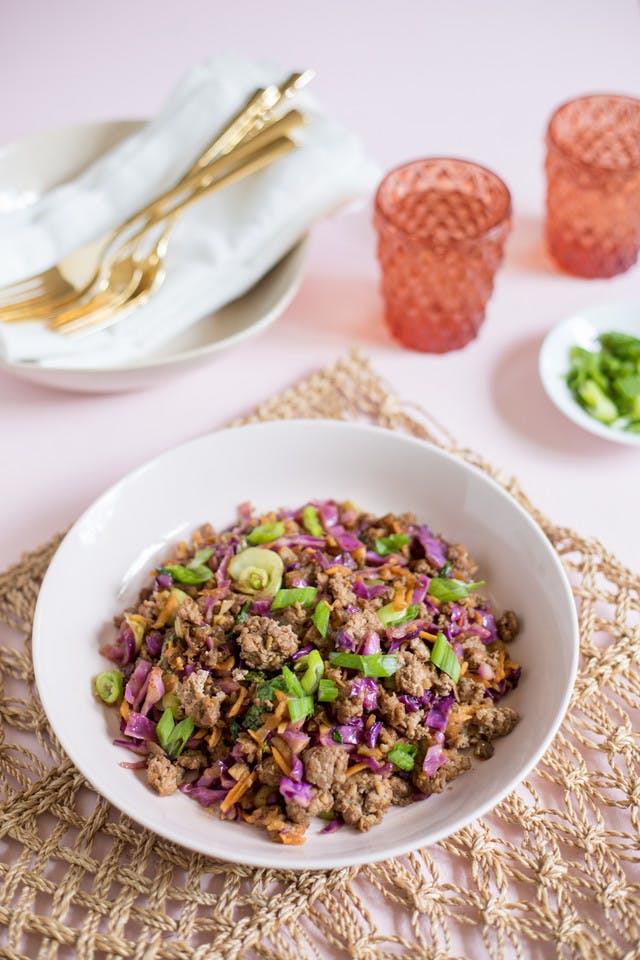 I love this dish for Mother's Day because my son is a very picky eater (yep, even Chefs have picky kids). He loves Chinese food and knows I want him to eat healthy at home. This was a simple dish where I could teach him some knife skills and how to put flavors together! It's a beautiful, flavorful 1 pan meal perfect for cooking for mom.
Shipping the weeks of May 20th through May 27th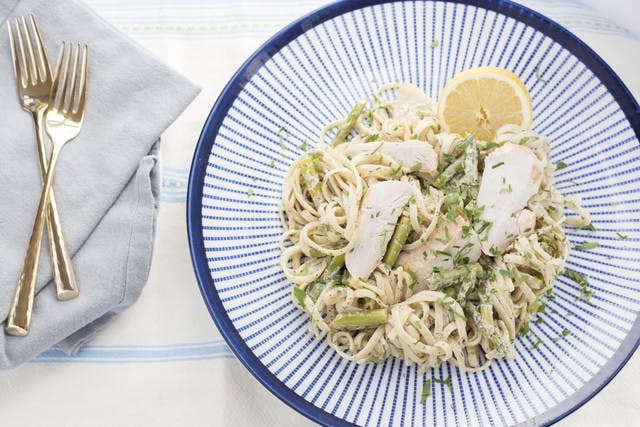 Creamy goat cheese seasoned with a springy herb blend melts in a splash of white wine to create a quick and bright sauce for pasta and asparagus. Top it with easy sautéed chicken and a drizzle of lemon juice, and you're going from zero to elegance in about 30 minutes.
Shipping the week of May 20th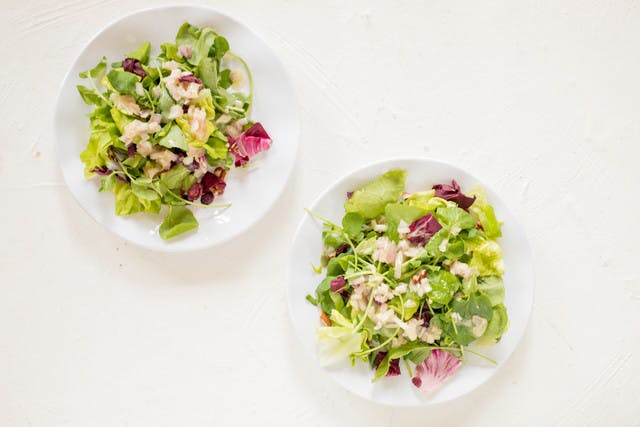 Crunchy nuts and seeds, sweet golden raisins, and a zingy mustard vinaigrette, this side salad is all that, no need for a bag of chips! Top it with your favorite protein - chicken, salmon, steak, eggs, you name it - for a light meal, or serve as a simple side but refreshing appetizer to the main event. This salad requires minimal time (max 10 minutes - even less for you shallot-shearing pros!) and about as much effort
Available throughout the season!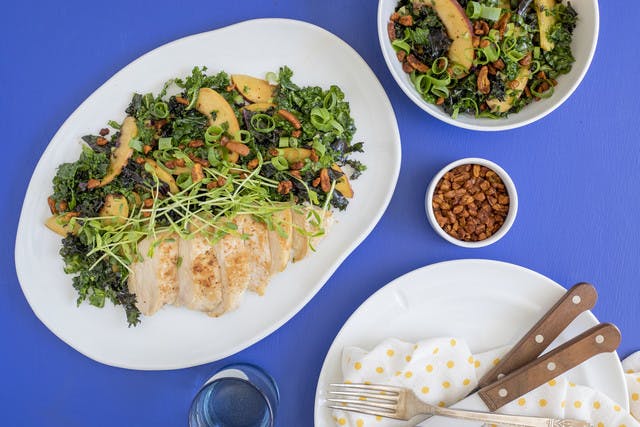 As much as we love peaches in cobbler, they make a wonderful addition to refreshing summer salads like this one. This one is made with a base of kale; although it receives a lot of press for its nutrient-density and health-benefiting properties, many still avoid this leafy green due to its tough and bitter nature. The secret here is to slice your kale thinly and massage it thoroughly—this softens its texture, brightens its color and allows more its sweet, grassy flavors to shine. While we're betting that the combo of fresh shallot, sherry vinegar and a pinch of sugar are more than enough to change one's mind about kale, the addition of toasted, spiced pecans, sweet peaches and crisp pea greens make it all the more convincing, and downright delicious.
Shipping the week of May 27th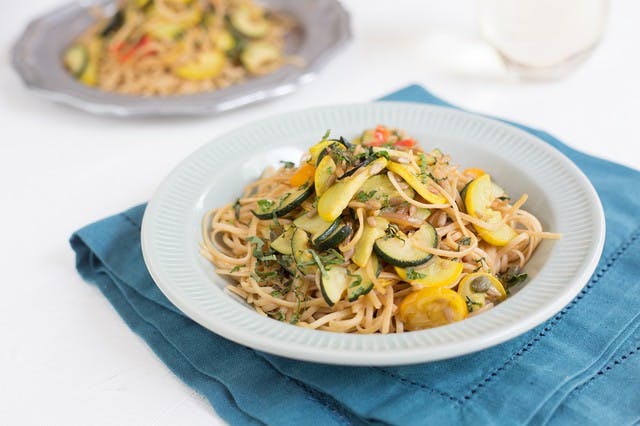 Summer squash and tomatoes have a natural affinity for each other; when cooked, the former's sweetness becomes more defined and the latter develops its warm, savory flavors. Both also go well with pasta, especially when accompanied by other summertime staples like fresh basil and crunchy sunflower seeds. Entirely plant-based and loaded with nutrients, this crave-worthy dish is ready to satisfy everyone at the dinner table in around half an hour.
Shipping the week of May 27th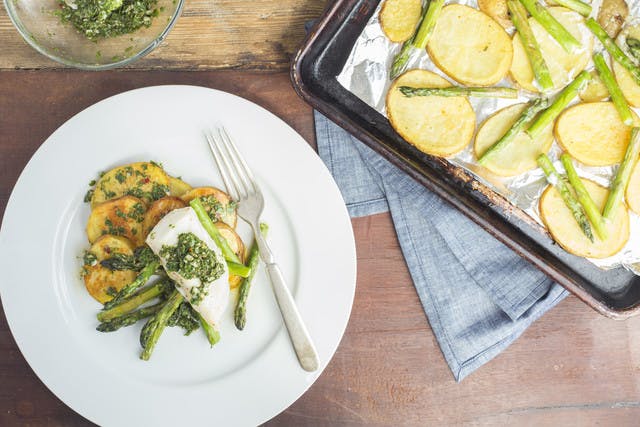 This one pan meal combines wild-caught Alaskan cod with seasonal vegetables for a near-effortless dinner that's ready in a snap. Yukon Gold potatoes, a cross between the standard North American white potato and a wild South African yellow variety, are a superb choice for roasting alongside a springtime favorite, asparagus. It's all topped with an Italian-style salsa verde: that is, a spoonful of extra-virgin olive oil infused with bright green, fragrant herbs.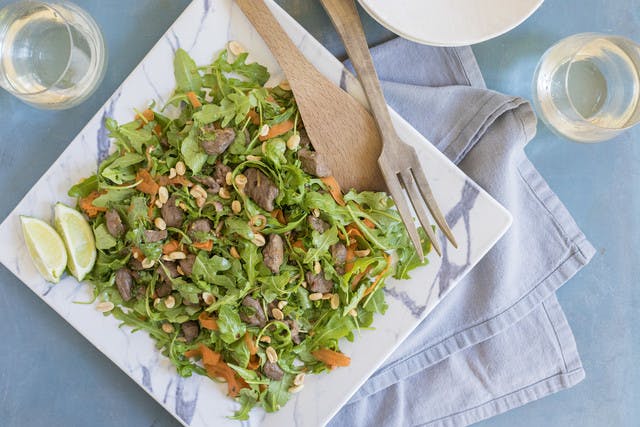 The herbaceous combination of cilantro and mint with sweetness from raw sugar, spicy red pepper flakes and salty tamari is a classic move in Thai-style dishes like this one. Zesting the lime means that you get its full flavor without any acidity, though there's plenty of wedges left at the end to squeeze over the dish to your liking. Crushed peanuts add a crunchy contrast to the tender beef and carrot ribbons, as well as pleasant nutty-sweet notes.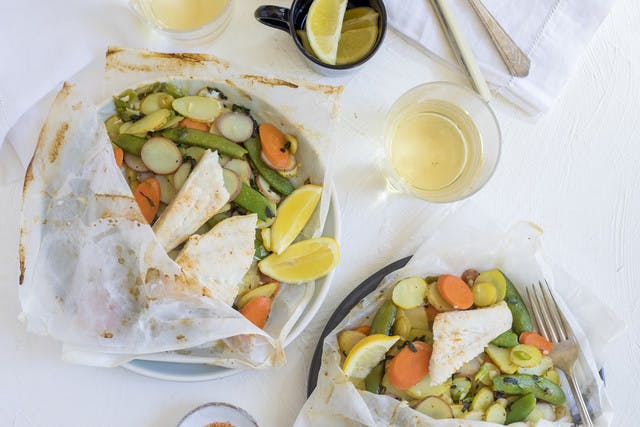 The technique known as "en papillote" sounds fancy and complicated, but it's actually an easy way to wrap up an all-in-one meal with minimal mess. Plus, the big reveal when you open the paper pouches is ultra-impressive. Cod is a reliable go-to fish that's meaty, yet mild, and resists overcooking. The contents of whole package, which also includes springy carrots, sugar snap peas and potatoes, soak in herbed butter for a rich, satisfying seafood dish.
We believe everyone deserves a place at the dinner table, regardless of their dietary preferences, which is why PeachDish works to incorporate a weekly menu balance that includes both Southern classics (ahem, Comfy Chicken!) and nutrient-dense, Heart-Healthy fare, bursting with fiber, vitamins and minerals, and flavor while being limited in calories, saturated fat and sodium. We also offer No Gluten Added and Vegan dishes! As always, all the nutrition information for any of the present or past menus is available on the website for you to explore.
Happy eating, y'all!