Southern-Fried, with a Pinch of Soul: Chef Todd Richards
He may be known for his fried chicken, but this week Chef Todd shares his Lamb Meatballs with Yogurt Sauce & Sweet-n-Spicy Zucchini Slaw - a recipe of a different sort, but all the same soul. In fact, all parts of the recipe are adapted from his beautiful book, Soul, which was released just last year and has already earned several accolades, including the IACP award for Best Cookbook in America of 2019!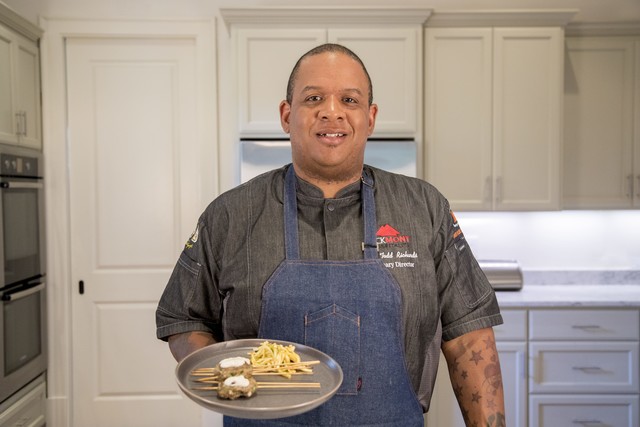 Atlanta-based chef Todd Richards knows fried chicken. His restaurant, Richards' Southern Fried, opened in Krog Street Market in the summer of 2016, and remains a favorite among residents and visitors alike. Formally the executive chef at White Oak Kitchen & Cocktails, the Ritz-Carlton Buckhead, The Shed in Glenwood Park, and The Pig & The Pearl at Atlantic Station, Todd is self-taught and earned the James Beard Award Semi-Finalist for Best Chef: Southeast in 2013. He has also been a contestant on Iron Chef America, and named one of the top four chefs to watch by Esquire.
Todd Richard's cooking elevates and promotes Southern cuisine and community, and his book, Soul, explores recipes that are rooted in family and the American cuisine known as soul food, but with an unrestrained twist - a clear message that cooks can honor tradition yet be liberated to explore. His recipes for Lamb Meatballs with Yogurt Sauce and Sweet-n-Spicy Zucchini Slaw are just a few that you'll find in the book (and can enjoy at home as a PeachDish!). We interviewed Todd to learn what inspires his favorite dishes and more:
What made you choose this recipe for your PeachDish?
What are your first memories of cooking?
How would you describe your style of cooking?
Where do you draw your inspiration?
Is there anyone in particular who fostered your love of cooking?
Who is your favorite southern chef?
What is the most challenging part about your job?
What is the best part about your job?
What is the best thing you've ever eaten?
What is your favorite food indulgence?
Do you remember Chef Todd Richards' last guest chef recipe? Learn more about his Coffee-Rubbed Chicken Wings with Queso Corn & Grilled Peaches - perfect for the grill and summertime eats!