5 Tips for a Better Burrito Bowl
Filling and flavorful, "burrito bowls" give us what we love about hearty burritos while leaving out all the extra calories, salt and fat that come with flour tortillas. However, layering on the more calorie-heavy ingredients, like sour cream and shredded cheese, can rack up those numbers, and while your tastebuds may crave another ladleful of warm queso, your body craves a whole lot more in the way of essential vitamins and beneficial phytonutrients.
If you're like us, a hefty lunchtime burrito bowl could very well be a daily affair. and with the right balance of ingredients the help of a few superfood swaps, it certainly has the potential to be just about the most healthful, nutritious meals you have all week! Here's how you can build a better-for-you burrito bowl at home: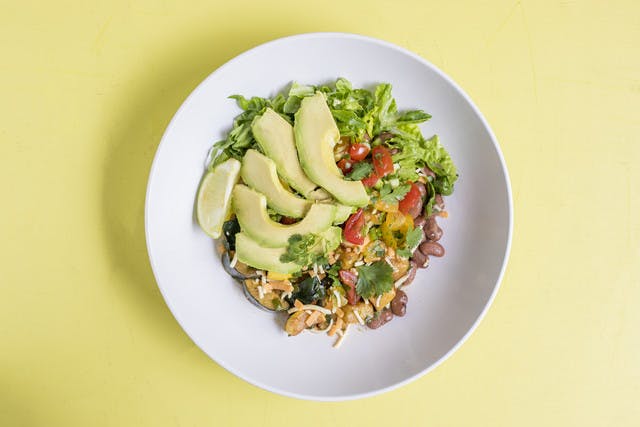 Start with Whole Grains
Whole grains are important primarily because they are rich in fiber, which is linked to healthy cholesterol levels, digestive balance, and reduced risk of chronic diseases like stroke and heart disease. Numerous studies have shown the fiber has a profound positive effect on appetite control and weight loss, as well as improve blood sugar levels in people with diabetes. However, most Americans fail to consume even half the recommended daily amount amount of fiber - about 25 to 30 grams!
Brown rice is on standby in most kitchen cabinets, but feel free to experiment with trendier options like quinoa, freekeh, and millet. Barley is a great choice for those who enjoy chewiness in their grains. Wild rice, kamut, farro, and even steel-cut oats also make for delicious, rich, fiber-rich foundation to your burrito bowl.
Load Up on Legumes
Another champion of fiber is beans! Just one cup of cooked black beans contains 15 grams of fiber (already half or more of you daily needs) as well as other essential vitamins, like folate and other B vitamins, and minerals, like iron, magnesium and potassium. They're also rich in protein, providing you with more than enough to keep you satisfied even if you opt to keep your burrito bowl vegetarian.
White beans, pinto beans, garbanzo beans, and kidney beans are all great options, but feel free to experiment with tofu and tempeh for a unique spin.