From Turnip Greens to Tortillas: Meet Chef Eddie Hernandez
As the executive chef of the wildly popular Taqueria del Sol and co-author of the best-selling new cookbook, Turnip Greens & Tortillas: A Mexican Chef Spices Up the Southern Kitchen, Eddie Hernandez knows his way around the taco. This week, he visited our Test Kitchen and whipped up our new favorite dish - Fried Chicken Tacos with Jalopeno-Lime Mayo & Green Peach Salad - while we picked his brain to see where he draws inspiration for such yummy food.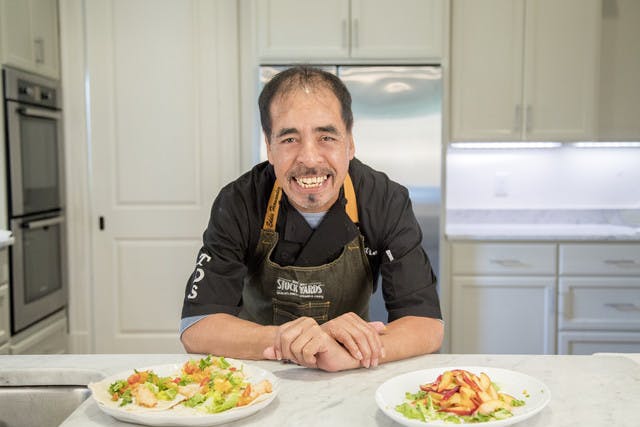 Eddie Hernandez was born in Monterey, Mexico. As a child, Eddie learned to cook from his grandmother in her restaurants in Mexico. At age 16, he moved to the United States to pursue his dreams of becoming a famous drummer. After deciding it wasn't the life he wanted to live, he moved to Atlanta in 1989 and found work at a Mexican restaurant south of Atlanta. He quickly made his mark in the kitchen, laying the groundwork for his business partnership with Taqueria del Sol CEO Mike Klank. They opened the first Taqueria del Sol on Atlanta's Westside in 2000, creating a menu inspired by Hernandez's native country and Klank's experiences in the American Southwest. Along the way, Hernandez was introduced to traditional Southern ingredients.
Most recently, Hernandez released his first cookbook- Turnip Greens & Tortillas - which highlights the fast-casual food of Taqueria del Sol and lands on the commonalities of Southern and Mexican food, with dishes like Memphis barbecue pork tacos, chicken pot pie served in a "bowl" of a puffed tortilla and the "Eddie Palmer," sweet tea with a jab of tequila. It also features recipes that inspired his first PeachDish - Fried Chicken Tacos with Jalopeno-Lime Mayo & Green Peach Salad - which was an instant hit in the Test Kitchen, and sure to be one in your own kitchen as well! We interviewed Eddie to learn more: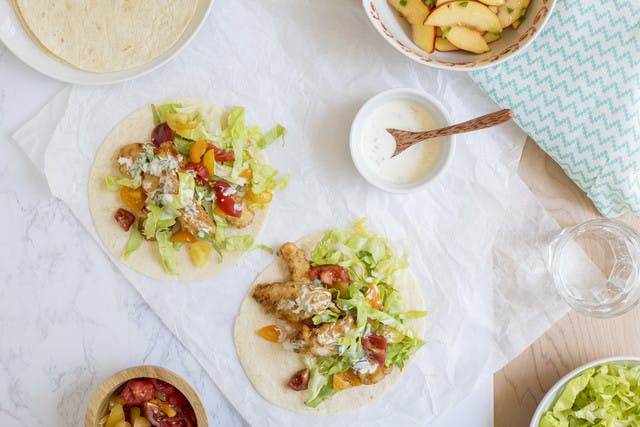 What made you choose this dish?
Where do you draw inspiration for your recipes?
How would you describe your style of cooking?
What are your first memories of cooking?
Is there anyone in particular who encouraged your love of cooking?
Who is your favorite Southern chef?
What is the most challenging part about your job?
What is the best part about your job?
What is your favorite food indulgence?
What is the best thing you've ever eaten?
For more information on chef Eddie and Taqueria del Sol, visit taqueriadelsol.com, and follow both his personal Instagram and Taqueria del Sol's Instagram for exciting updates and delish photos of food!