Which Butter is Better? 6 Different Types to Try
Butter is the best, right? It's a pastel yellow, cool and comforting, velvety dream of an ingredient with the power to make pastries rise and sauces smooth. Without it, we have homemade cookies that crumble, plain popcorn at the movies, broken or thin sauces, and unflaky pie crusts. Not to mention the fact that our biscuits would be left (tragically!) un-buttered.
In the words of Julia Child, "With enough butter, anything is good." We whole-heartedly agree (though perhaps the county fair's "deep-fried butter on a stick" might be a step too far), but which butter is best? Below is a closer look at 6 different types of butter you may or may not have come across in grocery aisles and restaurant menus, plus a few other similar spreads for extra credit. By the end, your understanding will be as clear as clarified butter!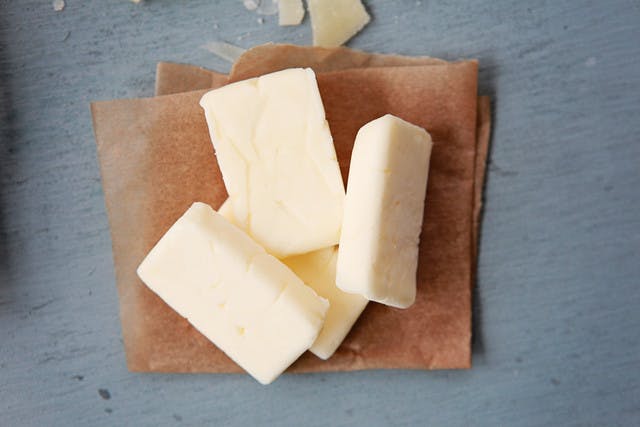 Sweet Cream Butter
This is your basic butter, and the one you're probably most familiar with. It's composed of butterfat (somewhere between 65 and 80%), water and some milk solids... but let's back up a bit to how butter is actually made. You see, butter happens when heavy cream has been churned and churned, and all the tiny fat globules begin to clump together so tightly that a solid spread forms. Extra liquid that separates out during this process is called buttermilk, and can be poured off for later use. Sound easy? It is, and very rewarding at to make at home if you've got a few extra minutes and some very high quality cream on hand (a hand mixer or immersion blender helps as well!).
If you prefer to stick with grocery store selection, you'll find it in the dairy aisle in salted or unsalted versions. Butter that's labeled as "organic" is made from milk from cows that aren't exposed to pesticides or harmful chemicals. "Grass-fed" butter comes from grass-fed cows, and can have a richer yellow color due to a higher carotenoid content derived from the cow's diet. Our tried-and-true go-to comes from the pasture-raised cows and dedicated farmers of Organic Valley!