Behind the Box: What's with the Alligator?
Something new and delightfully different is arriving at your doorstep for dinner! We're so excited to show off our newest PeachDish box design, which comes from the mind of one of Atlanta's most whimsical street artists - and our good friend - Kyle Brooks, AKA BlackCatTips.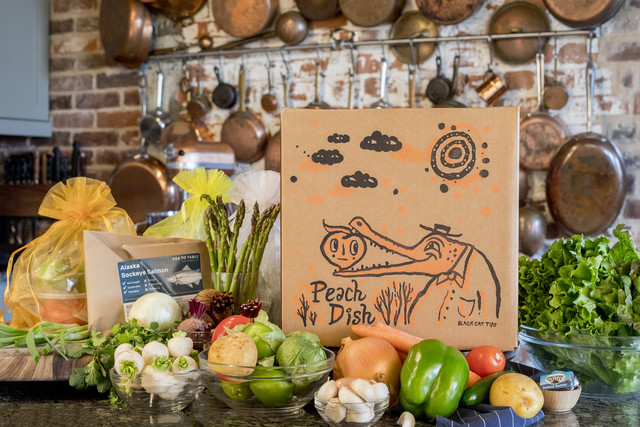 One of Atlanta's most beloved street folk artists, BlackCatTips is a painter and a poet who's made his mark all over town and across the South. Listen real closely, and he'll spin you a tale and maybe tell a joke or two. If you reside in the area, you may recognize BlackCatTips' work on the walls of venues, restaurants and various workspaces, as well as roadside billboards and telephone poles. With his brush, bright colors and new found materials, he paints the world happy. 
We originally called on Kyle Brooks for his take on a peach for our Postcard Series in 2017, and the image resonated with us so much that we just couldn't stop there. Thousands of postcards and a delivery truck later, we finally figured out how to put it on PeachDish boxes shipping nationwide. We hope y'all enjoy the extra helping of fun, peachy art as much as we do!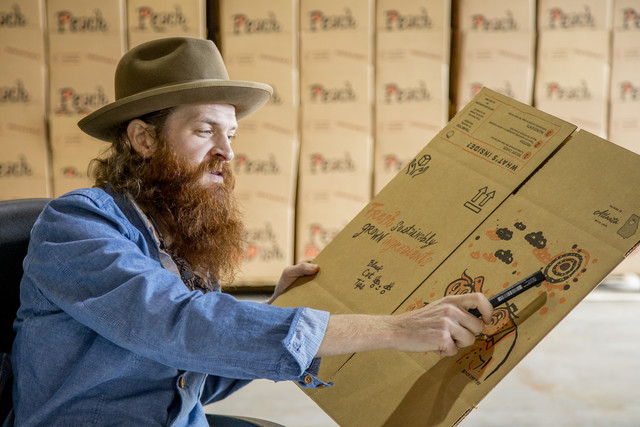 So, why the alligator?
"I like to draw alligators, I like alligators" Kyle told us, later adding that "I've never seen a blue one". He assured us that "he's not bein' mean to the peach"; the peach "just doesn't have any legs so he's givin' him a ride down the street. Peaches don't have that long of a life, ya see, so ya gotta be nice to them".
Learn more about what BlackCatTips is up to by visiting his website and by following his Instagram, @blackcattips.