On Tea & Food Alchemy: Sage's Larder
Born of a desire to change her relationship to and enjoy food in a deeper way, Jovan Sage decided to recreate the joy of food by learning how from the inside out.
Heads up! You can find Sage's Larder loose-leaf tea blends in our Market!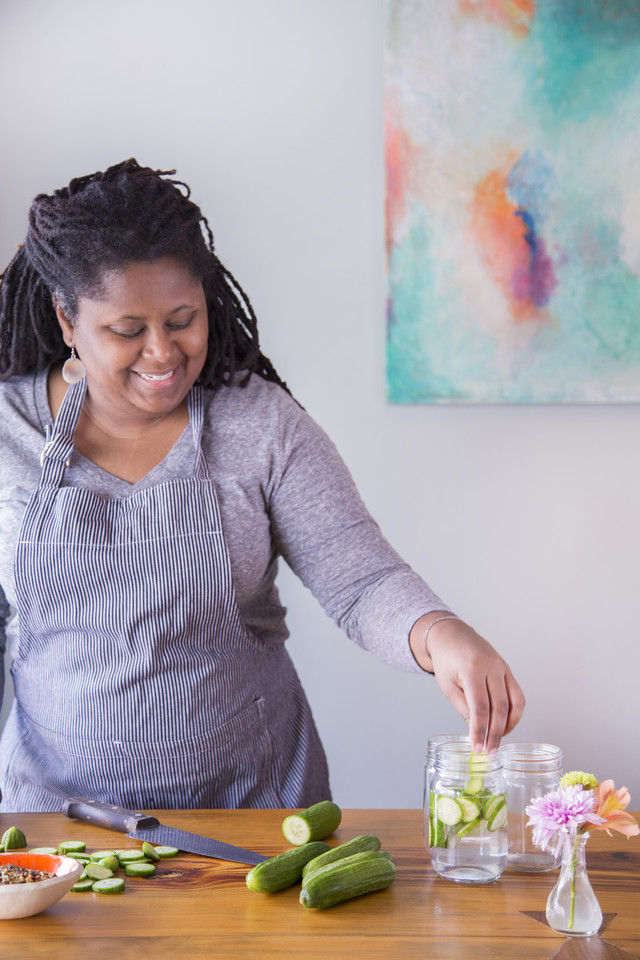 As an herbalist and holistic health coach with a vast background in coordinating events geared toward social justice, public policy and food and health education, Jovan Sage believes that everyone has the power to change their world and change their health through growing, cooking and eating. She studied at the Institute of Integrative Nutrition to become a Health Coach who acts as a supportive mentor and wellness advocate and she also studied herbalism at the Florida School of Holistic Health and The Herbal Academy. In addition to acting as the "Food Alchemist" alongside "Chefarmer" Matthew Raiford at The Farmer & The Larder and Gilliard Farms in Brunswick Georgia, she works one-on-one to empower people to make a change, and to help them find a true connection to their food, their health and their full life.
The actual larder (an old-school term for a dry, cool pantry or room for food storage) of Sage's Larder is stocked with tea blends made from fruits, flowers and herbs handpicked and dried mixed by Jovan herself, as well as bitters and tinctures. She recently made a special one just for us, called PeachDish Tea, which is a sweet, flowery blend of honeybush, peppermint, blueberries, and cinnamon.
We talked to Jovan Sage one-on-one to get a better glimpse into herbalism, "food alchemy" and holistic wellness:
How did Sage's Larder come to be?
It's actually a bit of a long-winded answer - it's existed in a few different forms over the past ten years or so. There were my cafe days in New York where I was working a lot in social justice, and I started making jam for events. I was in Brooklyn and I wanted to get my hands dirty in the kitchen making jam. Once I seasoned my practice and learned more about herbalism and holistic wellness, I moved to Georgia in 2014 and started working in conjunction with The Farmer & the Larder, with the idea that food is about healing and pleasure. There's notion that healing and pleasure are mutually exclusive, but that not's true. I think they can exist as one and that's central to the work that I do. It's sort of like Mary Poppins and her spoonful of sugar getting the medicine to go down, haha. You have to discover the joy of food and how it sustains you in some way to get that connection and make a change for the better.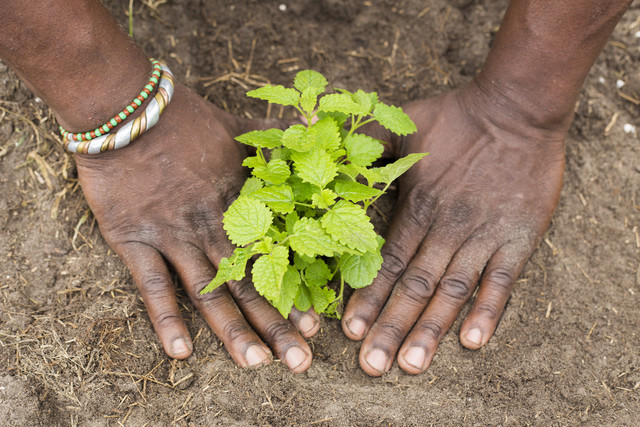 You have several different herbal tea blends. What inspires you when concocting new blends?
I love to work seasonally, and there's a lot to draw from working down here at Gilliard Farms with my partner. There's nothing like getting inspiration from Mother Nature herself. I gardened a lot in NYC, worked in community gardens in the past, but down here there's a lot of opportunity to be outside and observe and get inspired by the natural elements around us.
You are the "Food Alchemist" of The Farmer & The Larder. What does that mean? How does that tie into your work at Sage's Larder?
There's a thought that a farm is run by a single farmer, which just isn't true. On a farm, everyone is a farmer - everyone plays a central role - and for Gilliard Farms, my role is to to pull together what we have growing and harvested into something that can be eaten at some point whether for healing and pleasure. I love cooking and I find it meditative, but there's this "mad scientist" aspect of it where you manipulate plant materials and microbes and add water and air and salt to create something completely new and edible. That's where the "alchemy" comes in. Fermentation is a great example of this.
You're also an herbalist. Do you have any herbs that you're excited about this time of year? 
Ooh! Yes. So, for the most part we grow about ten months out of the year, and seasons like Spring look a lot different to us than other parts of the country. I mean, Spring has sprung down here, but it's snowing in parts not too far North from us. That being said, there's always blossoms and shoots and greens to be discovered at every turn. Just last week we found a new nettle patch that started on its own in what used to be a chicken patch! Stinging nettles have so many health benefits and I'm so excited to get my hands on them - well, not literally, I'll put on gloves - haha! It's "volunteer plants" like these that get me excited. I'm a believer in working with the Earth, not against it, and if we can forage and find something that's growing happily on its own without our help, I'm for it. Lately, we found these amazing heads of mulllien which are like twice as big as two heads of cabbage! I'll pull off the leaves and dry them - they're great for respiratory issues and infections. Oh, and thistle! Once you see thistle coming up, you know that spring has arrived. So to answer the question... stinging nettles, mullien and thistle right now!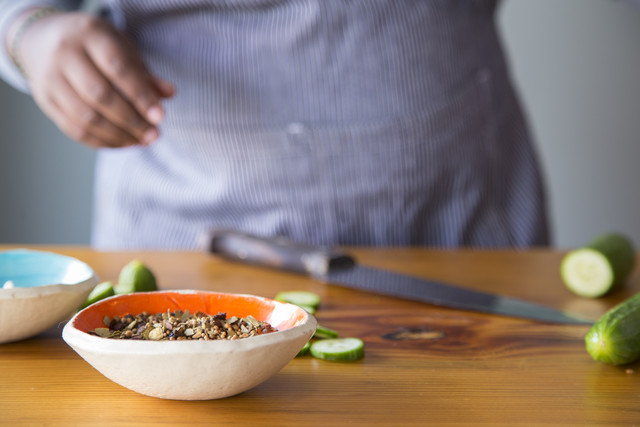 You can find Sage's Larder loose-leaf tea blends in our Market, as well as a variety of other artisan goodies to pair with them at tea time: