Spread the Best: Big Spoon Roasters
Uniquely fresh, delicious, and nutritious, each one of this North Carolina company's small batch nut butters is made to order with the best possible ingredients sourced directly from local and like-minded producers.
Looking for more Southern artisan goodies? Visit our Market for hot sauce, yogurt, granola and just about everything in between!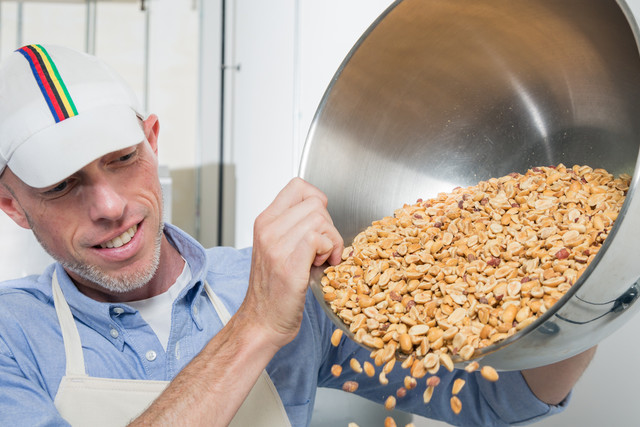 Big Spoon Roasters makes handcrafted nut butters and wholesome snack bars from scratch in Durham, North Carolina. Their carefully selected ingredients are sourced directly from local and like-minded producers who share our dedication to authentic quality. Each small batch is roasted, milled, and packaged while still warm to produce nut butters and bars that are uniquely fresh, delicious, and nutritious.
Our interview with Big Spoon Roasters founder, Mark Overbay, is below:
1) How did Big Spoon Roasters come to be? Why nut butter?
A lifelong peanut butter lover, I received my first lesson in handcrafted nut butter in 1999 while living in a rural farming community in Zimbabwe, where I was a Peace Corps Volunteer. After harvest, peanuts were roasted over an open fire and ground by hand between stones as coarse salt was added to taste.  Some families added a touch of local honey and fresh coconut oil to complement the salt and smooth out the texture. The deliciously fragrant, mouthwatering result was a revelation.
In the fall of 2010, I was inspired to recreate that unforgettable peanut butter experience he had in Africa and started roasting nuts and milling them into fresh nut butters in his home kitchen. Excited to share these foods with others and turn these passions into a business, my wife, Megan, and I started Big Spoon Roasters in January 2011.
2) What makes your nut butter special?
To answer that, it's important to go deeper into the inspiration for Big Spoon Roasters. The revelatory experience of fresh, handmade peanut butter I had in Zimbabwe was special for a number of reasons. First of all, the flavor was exceedingly delicious. Having eaten many brands of peanut butter, including every "natural" and "organic" brand I could find, growing up, I naively thought that I had tasted the spectrum of flavors peanut butter had to offer. I was wrong. The fresh-roasted, handcrafted version I had in Zimbabwe offered a mouth-watering interplay of roastiness, sweetness, and saltiness carried by a uniquely coarse texture—created by pounding the fresh-roasted peanuts in a mortar and pestle—that made the peanut butter more toothsome, yet still spreadable. Even if this peanut butter experience had not created a spark of thought and inspiration, and it did, it would still be unforgettable simply because of its heavenly flavor and texture.
Beyond the taste experience I had, my experience with peanut butter in Africa made me think more critically about food, cooking, and especially the production of the foods in the jars and containers that line our pantries. Here was an undeniably sublime version of what most Americans would consider a satisfying, yet relatively ordinary pantry staple: peanut butter. In my world, peanut butter had always been thought of as an inexpensive "kids' food," a simple filling convenience food, or a food for indulgent adults reliving the tastes of their childhoods. What I tasted in Zimbabwe was simply an amazingly delicious food, and no other categories needed apply. It did not take much of a logical leap to realize that the incredible flavor of that handmade peanut butter came from not only the quality of the fresh ingredients, but also the care and craft that went into hand harvesting the peanuts, sorting them, roasting them over open fires, pounding them with stones, and then mixing the butter with honey, and/or sugar, salt, and coconut oil.
That peanut butter made me think, "Why can't everything in our pantries be this good?" 10 years later, I sought to answer that by starting Big Spoon Roasters. My ideal way to make and sell nut butter would be to roast a small pan of nuts, mill them into a coarse butter, mix in small amounts of salt and honey, and serve it, still warm, to a waiting nut butter lover. That business model is obviously not doable at any reasonable scale, so we do the next best thing by making every batch to order, offering our customers the freshest nut butters possible unless they made it themselves.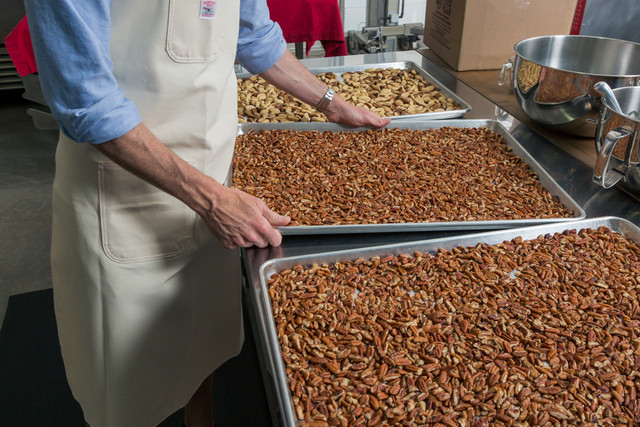 Big Spoon Roasters also sets three important standards in our categories, and this applies to both nut butters and the bars we make:
Integrity -
We source small lots of the finest heirloom ingredients directly from local and like-minded people we know and trust. In short, each and every one of our ingredients is thoughtfully sourced and represents the world's best-in-class. For instance, we use only heirloom Mission variety almonds, our ginger comes from a single cooperative on the island of Fiji, and our raw wildflower honeys come from a local NC beekeeper.
Flavor -
In the hands of our skilled food artisans, this level of ingredient quality leads to exceptional natural flavor, which we never mask with artificial additives or preservatives. We carefully taste each batch before packaging it to make sure it meets our exacting standards. Every nut butter we make offers intense, identifiable flavors of fresh-roasted nuts and a subtle balance of saltiness and sweetness.
Freshness -
Our small batches of nut butter are handmade to order, offering the incomparable quality of just-made food.
3) What inspires you when creating unique flavors for your nut butters (like Chai Spice!)?
I follow my instincts, try not to pay attention to the "nut butter business," and focus instead on what inspires me and our team of employees to be our best every day. If we focus on the quality we produce in every moment, we'll stand the best chance of achieving our goals. In terms of developing new recipes, I simply make things that I love to eat.
The Chai Spice recipe, since you asked, has a great personal story. My wife, Megan, and I were married in May 2013, about two and a half years after Big Spoon Roasters was founded. I wanted to make nut butter for our wedding favors, but I wanted to make something new for the occasion. Megan LOVES chai spiced tea and asked, "Could you make a chai spiced nut butter?" So, I did, and it was so popular at our reception, that it was clearly going to be our next product. Since then, it has been our #1 seller, featured in Oprah Magazine, The Wall Street Journal, and Bon Appetit.
4) You offer several varieties of nut butters. Do you have a favorite one? What is your favorite way to enjoy it?
I really don't have a favorite! Megan jokes that I'm completely "made of" nut butter because I eat our nut butters at least twice a day, usually with breakfast and lunch. I put them in a general rotation, and I also like to save jars from 6, 8, and 10 months ago to test their shelf lives. They all stay remarkably delicious for well beyond a year if stored in a cool, dark place, but we always recommend buying smaller quantities more often.
My favorite ways to enjoy nut butter: generously spread on fresh apple or pear slices, dolloped onto the top of a smoothie bowl, stirred into oatmeal, and as the base for a Southeast Asian style spicy dipping sauce.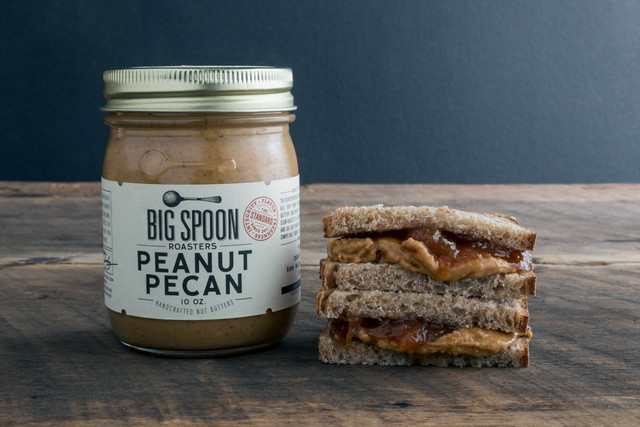 You can find Big Spoon Roasters' nut butters and bars in our online Market!