How to Make Vegan "Parmesan Cheese"
More plant-based cheese, please! This yummy, versatile "parmesan" takes only two ingredients and minutes to prepare.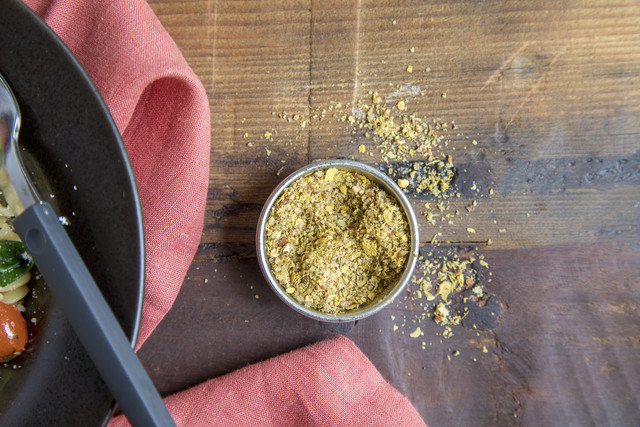 We know, the idea that nuts can be "cheese" sounds a bit... nutty - but hear us out. With the help of nutritional yeast and a food processor, you'll create a plant-based "parm" as cheesy, nutty, savory and salty as that stuff you find in the plastic green container on your grocery store shelf (You know the one I'm talking about!). It's more nutritious, too; nuts are rich in minerals like iron, calcium, zinc and magnesium and a high in protein and fiber. It's free of dairy, soy, and gluten, so just about everyone can enjoy! That's great news, because this "parm" is perfect on pasta, popcorn and everything in between.
Must be difficult to make, right? Nope! You really need only two ingredients - nuts and nutritional yeast - and you can customize with salt and pepper, herbs and spices, or even crushed red pepper, if you want an extra kick! Nutritional yeast (not to be confused with brewer's yeast) is responsible for the "cheesy" flavor in your "parm". Raw or roasted cashews, walnuts, pine nuts, pecans, almonds, hazelnuts and brazil nuts can be used, and sunflower seeds, hemp seeds and roasted chickpeas work for those who have nut allergies/intolerances. If you have access to it, a quicker, cheaper option is to use ground pecan or almond meal (just mix and you're done!).
If you're working with whole or chopped nuts, you'll need to break out your food processor, blender or coffee grinder to achieve the desired grated consistency. Simply dump all your ingredients in and pulse... and try not to get too carried away as over-processing your mixture will quickly turn it into "parm" butter! Taste and adjust seasoning to your liking, and then store away in a refrigerator for up to a month (if it lasts that long!). As we mentioned before, vegan "parm" enhances just about anything savory, but here are a few ideas to get you started:
- Sprinkle it over pasta, pizza, garlic bread, grain bowls, salads and soups
- Use it as a crunchy cheesy topping for casseroles
- Top roasted veggies or potatoes with it
- Stir into pesto
- Use in place of breadcrumbs in meatless meatballs or black bean burgers (gluten-free!)
- Toss with fresh popcorn or homemade trail mix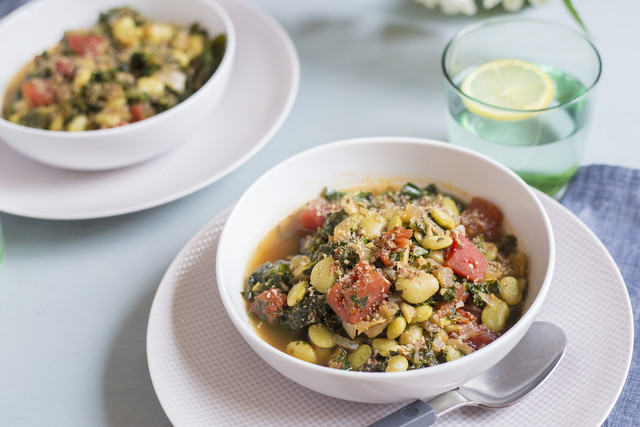 PeachDish's Vegan Pecan "Parmesan Cheese"
2 tbsp. pecan meal
1 tbsp. dried Italian herb blend (basil, oregano and thyme)
1 tbsp. nutritional yeast
Stir all three ingredients together until evenly combined. Store in a sealed container at room temperature or in the refrigerator for up to a month!
Serve with just about anything that could use a cheesy, nutty kick. We like to use it on Kale & Butterbean Stew, and Spicy Beans & Greens Stuffed Portobello Mushroom.
Say cheese, y'all!