Sustainable Catch of the Day: Atlantic Winter Skate
This tender, flavorful, but often overlooked fish is a "ray" of sunshine on your dinner plate!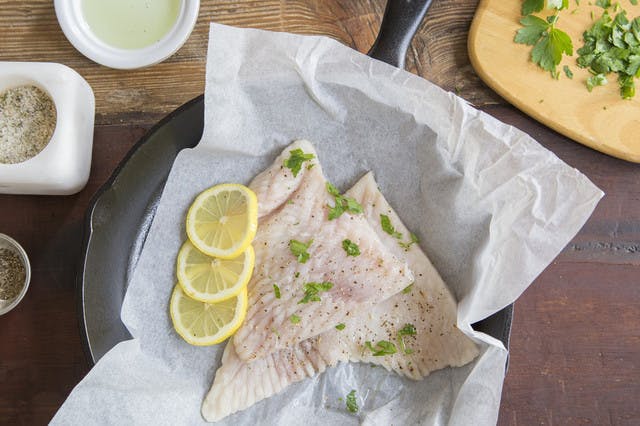 Like redfish and dogfish, skate is an underloved species in the United States, rarely seen in the hands of a home cook, and often tossed back into Atlantic waters as rejected "bycatch" by fisherman frustrated by their spiny barbs. They're a cartilaginous flat fish (structured with cartilage, not bones) and are shaped like a kite; a bit like a shark and a stingray combined. It skirts across the ocean floor, eating mainly crustaceans, mollusks and other invertebrates it finds on the ocean floor, along with the occasional small fish.
Underneath tough skin, the white flesh of a skate wing is uniquely delicate; a melt-your-mouth texture that some describe as similar to scallops. Tangy, acidic flavors from lemon or capers complement the mild flavor of the fish well, no matter the preparation you choose. Skate can be poached, steamed, baked, grilled or folded into soup and seafood chowder, but it's most often seared or pan-fried, taking on glazes and breading quite nicely. In fact, many in the UK enjoy skate as fish and chips (just like dogfish!) because its buttery tenderness contrasts beautifully with a crispy seasoned crust. France has long considered skate a delicacy, where it's widely available in markets and restaurants. It's also featured on French-born chef Eric Ripert's menu at La Bernardin, a four-star restaurant in New York City, where it's served in a light, savory broth.
Many chefs in the US embrace skate wing, including well-known and award-winning personalities like Hiro Sone, Emeril Lagasse, and Rick Moonen, who embellish it in their cookbooks and on their menus with lavish prices. In reality, skate is a relatively cheap and abundant, wild and USA-caught, and earns a "good" rating on Monterey Bay's Seafood Watch list. Once it's properly broken down into filets, skate is very easy to prepare, approachable to even the budding home chef. However, a lack of availability in supermarkets makes the fish less accessible - the only way to reverse the issue? Increase awareness and consumer demand!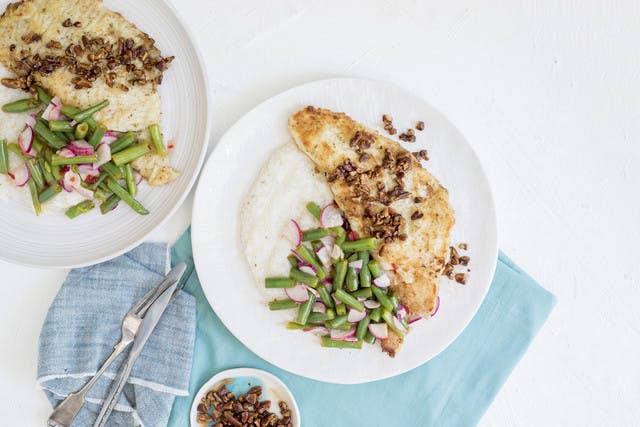 Ready to cook but don't want to (skate) wing it? Try these recipes:
- SKATE WITH BROWN BUTTER PECANS, SWEET & SPICY SNAP BEANS & CAROLINA GOLD RICE GRITS
- LEMON CAPER SKATE WITH FARFALLE, ROASTED OKRA & TOMATOES
- SAUTÉED SKATE WITH CREAMY DILL SAUCE, POTATO GALETTE & BRUSSELS SPROUTS
- THYME & CORNMEAL ENCRUSTED SKATE WITH COLLARD GREEN, CHERRY & CITRUS SALAD