Dining on the Finest: The Top Ten PeachDishes of 2017!
What a wild, delicious ride it's been, y'all!
We offer over a dozen menus every week (including dessert, brunch and special occasion kits!) that showcase the freshest produce and highest quality meat our nearby farmers and growers can provide with recipes designed by award-winning chefs to create exciting flavors and wholesome dinners for all... and while we stand behind each one, there are those that shine much brighter than others. Your feedback is welcomed and your voices have been heard! We now present to you: the top ten menus that received the highest accolades from our subscribers in 2017.
10)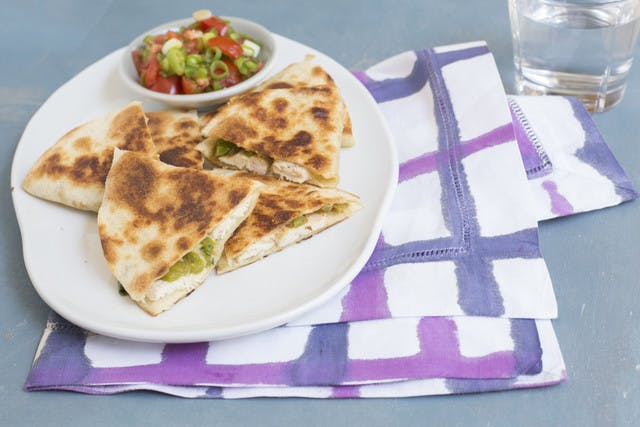 Chicken Quesadilla with Sweet Peppers, Chevre & Pico de Gallo
Aired September 25th
This recipe takes melty cheese to another level. Here, golden and crispy tortillas hold a rich filling of chicken breast, sweet peppers and -not one - but TWO kinds of cheese! Pro-tip: rotating the quesadillas in the skillet as they cook will prevent them from burning before the cheese has a chance to melt – simply use tongs to shift the quesadilla. Fresh pico de gallo is essential as it adds zing and zest to the whole affair; any left over is, of course, excellent with crispy tortilla chips from your pantry.
Recipe by Sandra Gutierrez
9)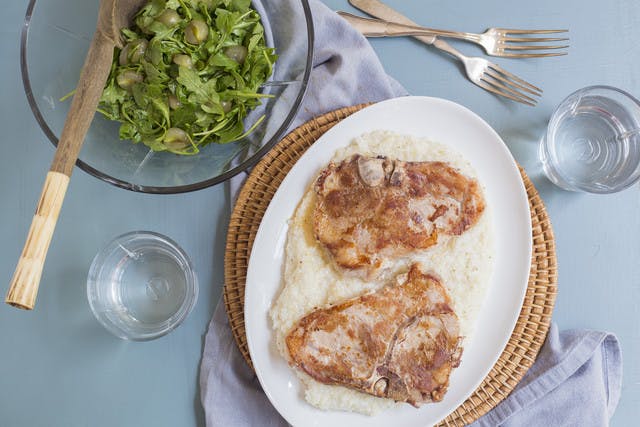 Berkshire Pork Chops & Grits with Arugula & Muscadine Salad
Aired October 2nd
Ever wonder why pork is so often paired with apples? It's because this savory protein has a hint of sweetness that creates an affinity with many fruits. One late-summer fruit near and dear to Southerners' hearts, muscadines, is among pork's natural partners. A little sugar, salt and vinegar help release their juices and create a dressing for the salad. Peppery arugula is the perfect green to balance the sweetness, especially with the contrast of tart elderberry jam from Fairywood Thicket Farms, located just southwest of Atlanta.
8)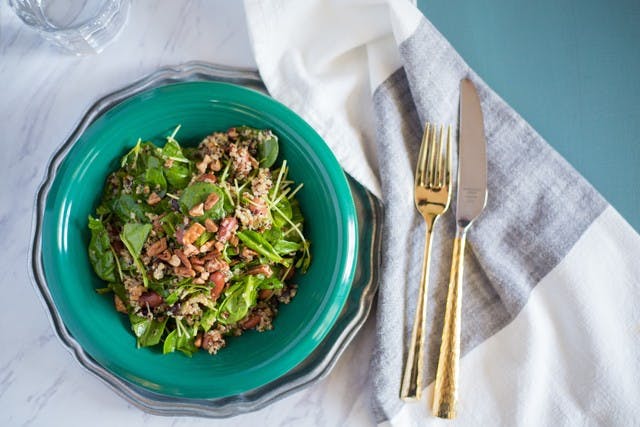 SuperFood Fiesta Bowl with Tri-Color Quinoa, Spinach & Pecans
Aired February 13th October 9th
Delicious proof that superfoods can be super-fun, this bowl is a party, and everyone's invited! A confetti of tri-color quinoa with a three-bean medley acts as the protein-packed foundation, while crisp spinach and pea greens lend refreshing notes to every bite. It's mixed with chipotle dressing and smoked salt to kick the bowl into high gear - so grab a fork and your favorite party hat, and dig in!  
Go plants! This dish is all flavor and no meat or animal products. Check out this week's Vegan Menu!
7)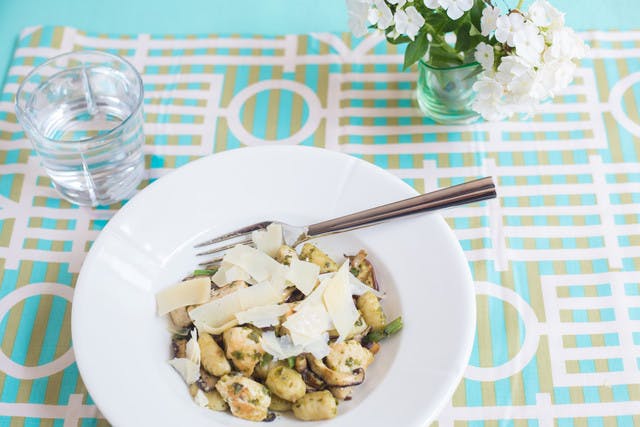 Gnocchi with Chicken, Pesto & Snap Beans
Aired July 31st
Alfresco Pasta, based out of Nashville, takes the classic Italian potato dumpling, called gnocchi, and makes it even more delicious by folding whole-milk ricotta cheese right into the dough. In this recipe, we add a sauté of chicken, mushrooms and snap beans, and toss it with Alfresco Pasta's own classic basil pesto for a flavor-packed, Quick-Fix supper.
6)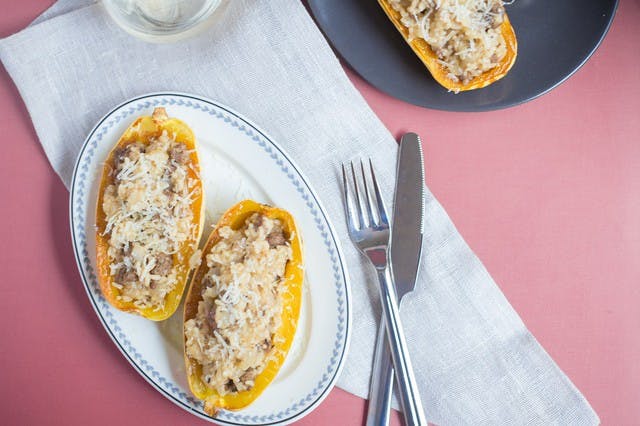 Stuffed Delicata Squash with Grass-Fed Beef, Rice Grits & Manchego Cheese
Aired December 4th
Rice middlins (or rice grits) are the broken pieces from milled Carolina Gold rice, a long-grain rice grown in the coastal Southeast for 200 years. More tender than corn grits but still satisfyingly substantial, they offer the perfect texture for holding together a hearty beef stuffing for fragrant squash. True to its name, delicata squash has a delicate skin, which is sweet, fiber-rich and perfectly edible.
5)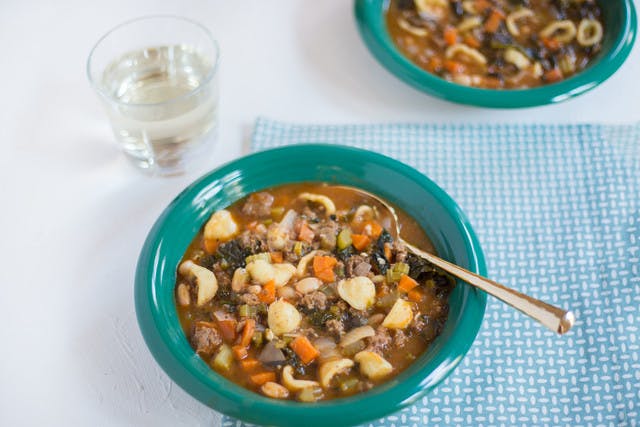 Hearty Minestrone with Beef, Kale & White Beans
Aired January 30th
Traditionally made with tomatoes, beans and pasta, this version of a classic Italian minestrone soup includes a hearty portion of ground beef for a hot bowl of yummy comfort on a wintry night. It's perfectly satisfying on its own, but you can serve with fresh, toasted bread if you've got any on hand.
Heads up! Look for this dish to be on Menu towards the end of January!
4)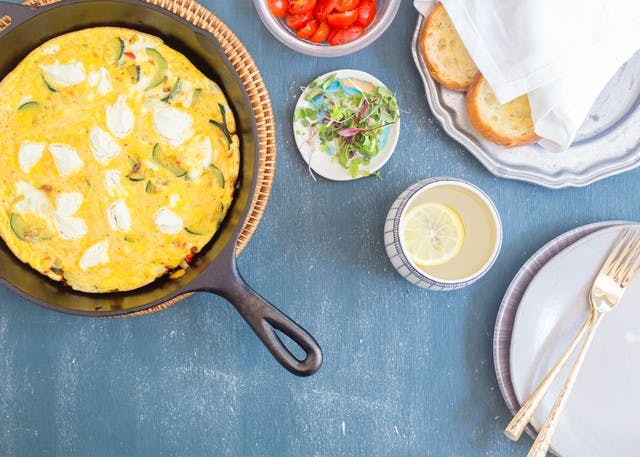 Zucchini, Sweet Pepper & Chevre Frittata with Tomato & Microgreens
Aired July 10th August 14th
This hearty frittata is bursting with colorful vegetables and tangy chevre, topped with fresh tomato and crisp sprouts. It's a simple, one-pan meal that cooks in mere minutes – just right for a busy weeknight, although it also makes a great centerpiece for a lovely weekend brunch.
Recipe by Sheri Castle
3)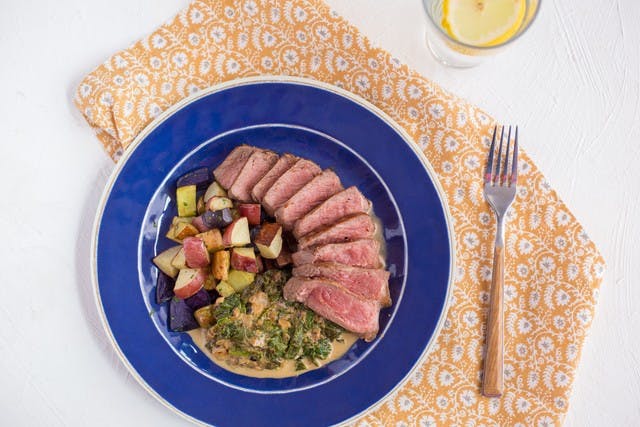 Georgia Grown Strip Steak with Creamed Spinach & Roasted Potatoes
Aired March 20th
Although this cut of beef may also be called the New York strip or Kansas City strip steak, this steak is completely Georgia Grown; searing beautifully to a juicy-pink medium rare and the most tender first bite. Roasted potatoes are an unmistakable companion, and fresh spinach greens take an indulgent twist with the help of creamy gruyere cheese.
2)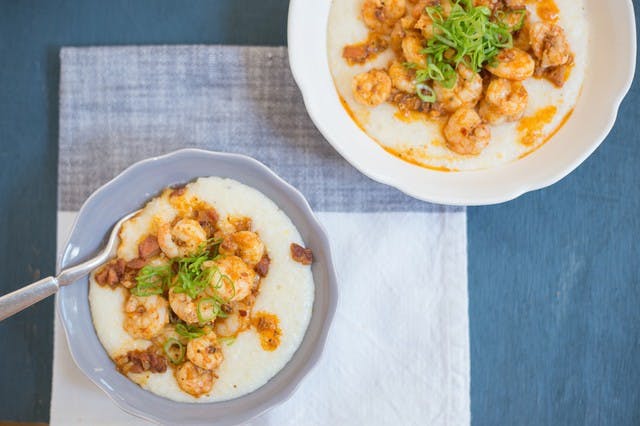 Shrimp & Grits with Tasso & White Cheddar
Aired March 6th September 25th October 2nd
This famous dish is served in coastal regions all around the South, all day long. In our variation, Gulf shrimp are flavored with spicy tasso ham, garlic and green onion, and their natural sweetness is enhanced with a bit of butter. The sauté is served over creamy grits for comfort food that is soothing and just a little decadent.
Look familiar? This dish made last year's Top Ten countdown as well!
1)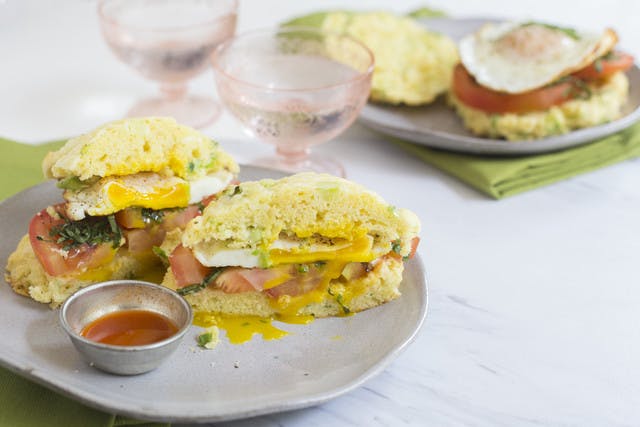 Warm Cheddar Scone with Tomato, Basil & Egg
Aired July 17th
Who would guess that warm, homemade bread could be this quick and easy? The flavorful scone is filled with slices of fresh tomato and basil, and topped with a freshly cooked sunny-side egg to create a filling sandwich. Freshly cracked or coarse ground black pepper works best for this recipe- you'll want that strong spicy flavor to shine through.
Recipe by Sheri Castle
Honorable Mentions:
Whitney Otawka's Low Country Boil for Best Rated Holiday Kit - Aired June 28th
Apple Crisp with Vanilla Cream for Best Rated Dessert Kit - Aired October 9th
There you have it, folks! We look forward to many, many more dinners with y'all in 2018, and we can't wait to reveal what we already have planned. Stay tuned!
May 2018 be the happiest, most delicious year yet! Cheers!