Wake 'n Flake, Y'all: How to Celebrate National Pastry Day
There are a lot of holidays to celebrate at this time of year, and this is definitely one everyone can agree on. Although we're a little early (the official day is December 9th!) we're more than comfortable toasting to flaky layers every day this month!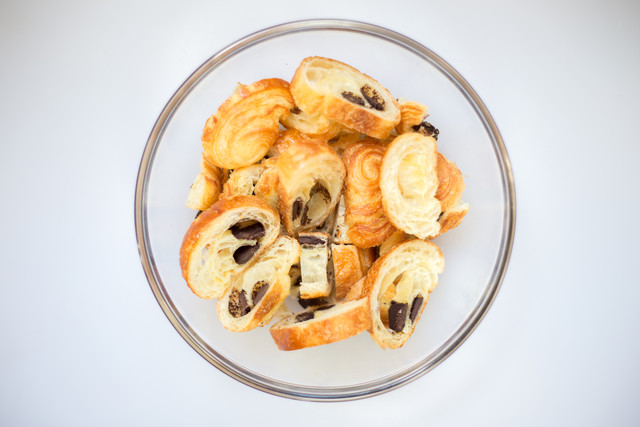 A pastry can be described as any sweet or savory food that consists of dough made with flour, sugar, and shortening (usually butter), and sometimes milk, baking powder or eggs. It's differentiated from breads and cakes by its fat content; pastries are higher in fat to become flaky and crumbly (and also don't require yeast as an ingredient). There are 5 distinct types of pastry: shortcrust, phyllo, choux, flaky and puff. The first pastry can be dated back to the ancient Greeks and Romans, who used a phyllo-style technique with oil. Butter was introduced to the mix in the Medieval era which produced a more airy and satisfying crumb. In the 16th century, pastry recipes from all over Europe and Asia surfaced, each region with their own unique specialities, from France and Portugal in the west to Russia and China in the east.
Some recognizable examples to the modern American palate include pies, tarts, danishes, sweet rolls, strudel and bear claws. Empanadas, samosas, macarons, baklava and brioche also fall into the pastry category. One of our favorites is the French pain au chocolat, also known as the chocolate croissant, and we're particularly fond of the ones baked by our friends at H&F Bread Co. in Atlanta, Georgia. In one of our most craveable creative moves, we combined them with another one of our go-to comfort foods... bread pudding! Learn how to make your own with the recipe below: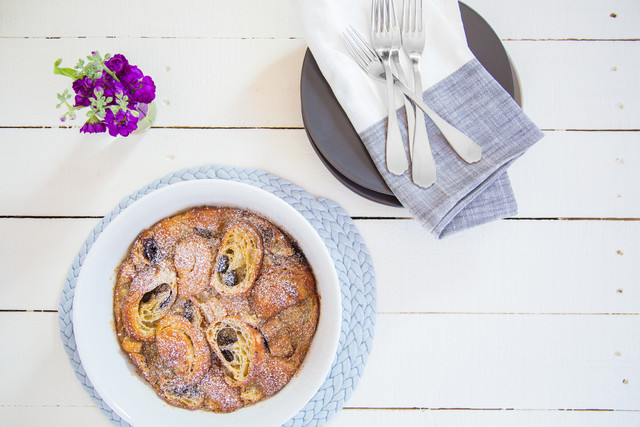 Chocolate Croissant Bread Pudding
You will need:
4 tsp. butter
1/3 cup granulated sugar
1/2 tsp. Bread Pudding Spice (equal parts cinnamon, nutmeg and allspice)
1 cup heavy whipping cream
1/2 tsp. vanilla extract
2 eggs
1/2 lb. chocolate croissants
2 tbsp. powdered sugar
1) Heat oven to 350° F. Prepare your mise en place: Cut croissants into 1-inch pieces.
2) Grease a 1 1/2-quart (11x7-inch) baking pan with butter, and set aside.
3) In a small saucepan whisk together about half of granulated sugar and all of Bread Pudding Spice. Whisk in 1/2 cup cream, and place over medium-high heat. Stir continuously while sugar dissolves and liquid comes to a simmer. The moment cream-sugar mixture begins to simmer, remove from heat, and whisk in remaining 1/2 cup cream and vanilla extract.
4) Break eggs into a large mixing bowl. Whisk to thoroughly combine yolks and whites. Whisk in remaining granulated sugar.
5) Slowly whisk hot cream mixture into egg mixture. Allow custard mixture to cool 5-10 minutes.
6) Add croissant pieces to cooled custard mixture. Gently stir to thoroughly coat, until each piece of croissant has been soaked through. Carefully pour into prepared baking pan, spreading evenly. Cover and bake 15 minutes.
7) Remove cover, and bake just until the top becomes brown crispy, 10-15 minutes more. Remove from oven, and allow to cool at least 10 minutes.
8) Dust the finished bread pudding with powdered sugar. The organza bag makes a great duster: Fill a double layer with powdered sugar, tie into a satchel and gently tap/bounce over the pudding to dust. Serve and enjoy!
Want to get all these ingredients and the recipe delivered right to your door?! You can get this dessert kit delivered the week of December 17th and 24th!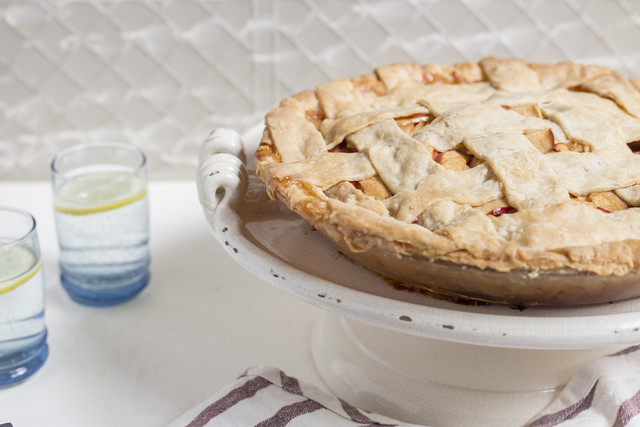 Ready to get the pastry party started? Try these recipes:
Georgia Apple Pie with Organic Butter Crust
Tomato-Okra Galette with Chevre & Spicy Greens
Kentucky Bourbon-Pecan Pie with Organic Butter Crust
Strawberry Tartlet with Chevre and Vanilla Sugar