Asheville Artisan to Know: Poppy's Handcrafted Popcorn
What's poppin'? Poppy's popcorn is! This female-owned company's funky flavors have caused a buzz in the streets of Asheville and beyond.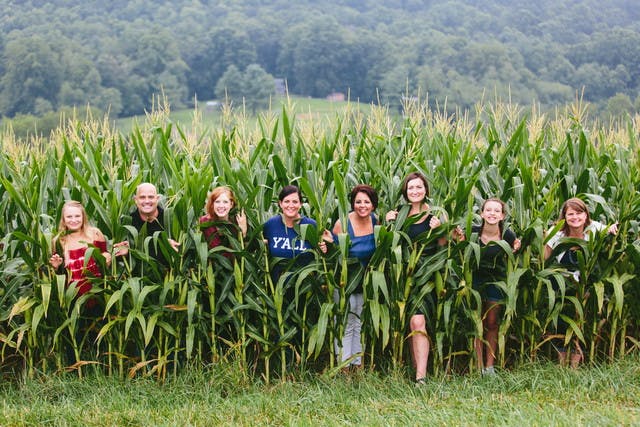 Photo by Poppy Handcrafted Popcorn
After years of making popcorn for after-school snacks and movie nights, a friend suggested to Ginger, "You should open a popcorn shop!" And it dawned on her: he was totally right! It took countless hours of research and many batches of not-so-great popcorn, but she started to figure out what worked - and what didn't. (Asheville, North Carolina may be "beer city," but it turns out that beer-flavored popcorn isn't the best idea.) From classic olive oil & rosemary to spicy jalapeno cheddar and sweet favorites like dark chocolate pretzel, Ginger and her team never get tired of creating and perfecting their flavors. In her own words, "Poppy is the kind of snack we always wanted to eat, but it just didn't exist yet. Simple, natural ingredients, classic and surprising flavors, and that sweet, handcrafted touch are packed into every delicious handful."
We talked with Ginger, the popcorn-loving founder, to learn more about her Asheville-based popcorn: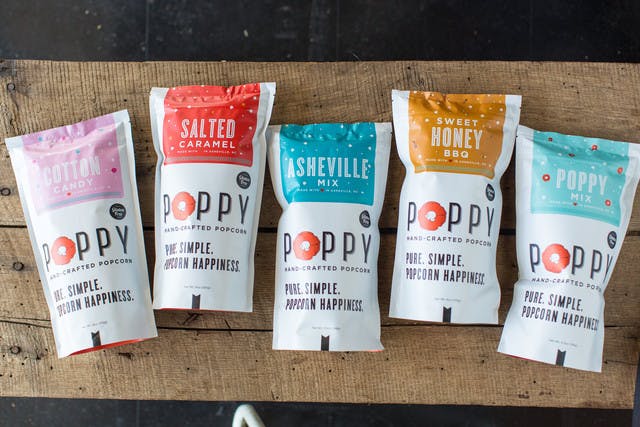 Photo by Poppy Handcrafted Popcorn
How did Poppy Handcrafted Popcorn get started?​
I have always LOVED popcorn. Whenever I saw a popcorn shop in another town, I would get so excited and have to go in and try everything. Asheville is a very foodie city but we didn't have a popcorn shop...so I thought it must be my job to open one :)​
Why Poppy? Is there a story behind the name?​
Not really. I wanted a beautiful branding element and didn't want to follow the typical "carnival" theme most popcorn companies take on. I used to work for a floral company and that's really where the idea came from - and it's been a huge success in the overall branding of Poppy. People LOVE the name, the logo and the branding. It's been a big win and I still LOVE it. ​
Where does your corn come from?​
Popcorn doesn't really grow well in North Carolina so right now, we get it from the Midwest. But we do have a plan with a local farmer to start a test batch next spring and see if it's possible that we can eventually grow a percentage of our popcorn right here in Asheville. We're keeping our fingers crossed. If I could drive a tractor through a big field of corn that will eventually end up at Poppy, my dreams will be complete :)​
Where do you get your flavor ideas? Any new flavors we should be on the lookout for?​
Flavor ideas come from all over. Things we love, trends in the food industry, things that just happen to fall together. Our Poppy Mix came from a staff mash-up. We eat LOTS of popcorn around here, and are always just randomly putting things together for different flavors. Poppy Mix was a staff favorite that we all loved around the shop before it actually was sold to customers. Since we only use natural ingredients, turning out new flavors isn't as easy as if we were using artificial flavors, but we feel when we do bring out a new flavor, it's worth the wait. We have 4 new flavors coming out in our wholesale line in January and some really exciting things on the horizon for next holiday :)​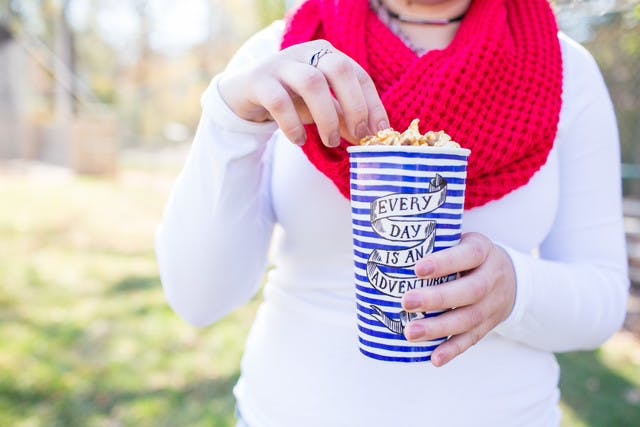 Photo by Poppy Handcrafted Popcorn
What's been the most surprising flavor success?​
Honestly, our salted caramel. It's simple and everyone loves it. When I first opened, I thought, "everyone does caramel so I don't know if I should do it too - isn't it yesterday's news?" But, it's our biggest selling flavor from the moment we opened. It's our own original recipe, made with real butter, real ingredients and a tremendous amount of love and I guess... people can tell. Because people LOVE it!
What's your favorite holiday popcorn snack?​
I really eat a ridiculous amount of popcorn and I truly love it all. When I have the time to make a simple coconut oil & sea salt popcorn (which we don't even sell at the shop) - I can't keep my hands out of it. ​And to tell the whole truth, I LOVE the movies and I LOVE having popcorn at the movies. That artificially flavored butter popcorn at the movies, I still can't resist it!
What do you like about being an artisan in Asheville?​
I mean, I just simply love Asheville. It's the coolest little place. People are real, other makers and artisans are so helpful and truly excited for the success of others. It's a community in every sense of the word. I love that I get to work here, raise my kids here and live my life here. People flock to Asheville from far and wide and there's a good reason for it....it's pretty awesome.​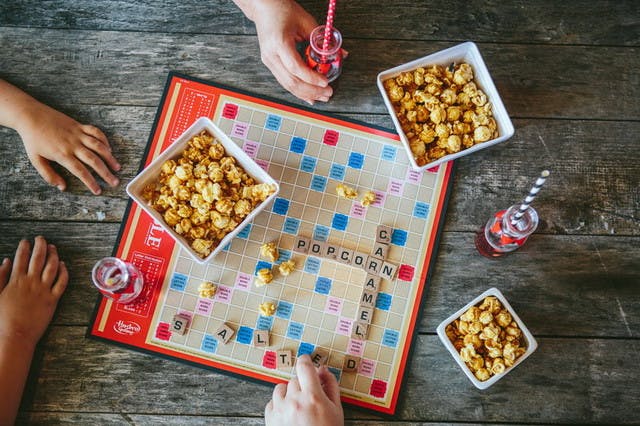 Photo by Poppy Handcrafted Popcorn
We LOVE Poppy! Be sure to check out our favorite flavors: