Appetizing Without the Allergens: Make These 5 Dishes for Your Next Holiday Party
'Tis the season for holiday dinner parties, potlucks and get-togethers. Whether you're the host or an attendee, prepare a festive dish that everyone can enjoy!

Celebrating through food and tradition is one of the hallmarks of the holiday season. Neighbors, coworkers, friends and family come together over gingerbread cookies, latkes, eggnog and so much more to celebrate the giving season and each others' company...why leave anyone out? It's estimated that over 10 million Americans suffer from some sort of food allergy, and many of the most common allergens are found in everyday foods, even more in holiday favorites. Almost any food can trigger an allergy, but the ten most common (affecting 90% of those diagnosed with food allergies) are milk, eggs, peanuts and tree nuts, fish and shellfish, soy, and wheat. The following are free of all the above, and are just as merry and bright as anything else, so dig in!
Mashed Potatoes
Who needs mistletoe when you've got mashed potatoes? Common ingredients in this classic comfort food include milk, cream and butter, all of which are a no-go for those with dairy allergies. Fortunately, there are plenty of dairy alternatives, like coconut milk or rice milk, and many grocery stores now carry dairy-free butters that are made from a base of coconut oil, which is naturally rich in saturated fats. To keep this dish completely allergen-free, avoid using soy or nut milks. You can also whip up a quick pan gravy using turkey drippings and a non-wheat flour or cornstarch for serving!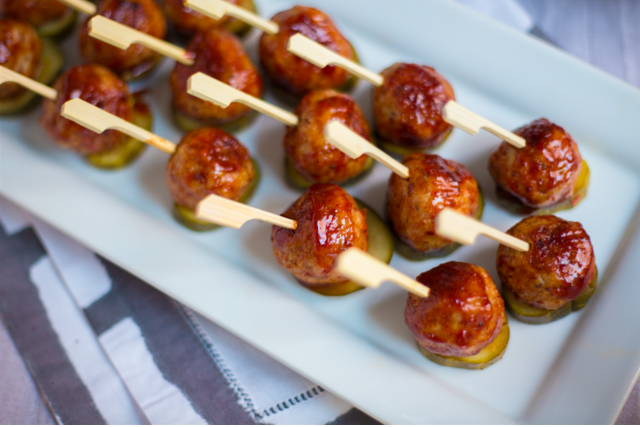 Meatballs
We wish you a merry meatball, we wish you a merry meatball... that's how the song goes right? In addition to ground meat and seasoning, meatball recipes can call for breadcrumbs, milk or eggs, all of which can either be left out or replaced with a non-wheat, non-dairy, egg-free substitute! Crushed cornflakes or rice crackers, non-wheat flours made from coconut or chickpeas, and oats are all good options. Ground flaxseed mixed with a little water becomes a decent egg-like binder. If a recipe calls for milk, simply swap out rice milk or some other nut-free, dairy-free milk. When the meatballs are done, toss them in an allergen-friendly barbecue sauce and enjoy!
Popcorn Balls
The tradition of stringing popcorn into a garland occurred around the same time as when Christmas trees became more common in American households. Before they were decorated with twinkling lights, glossy ornaments or a shiny star on top, trees were adorned with fruits (usually cranberries as they were just harvested) and other foods, like popcorn! While you could easily make a bowl of plain popcorn completely allergen-friendly by skipping the butter and sticking with salt, spices and herbs, popcorn balls are a creative, fun way to enjoy a sweet 'n salty treat. You can use coconut oil and melted marshmallows as a simple binder, but don't forget that many marshmallows aren't vegan-friendly. You can also make a sticky caramel mixture using just coconut oil, sugar, salt and water (break out your candy thermometer for best results!).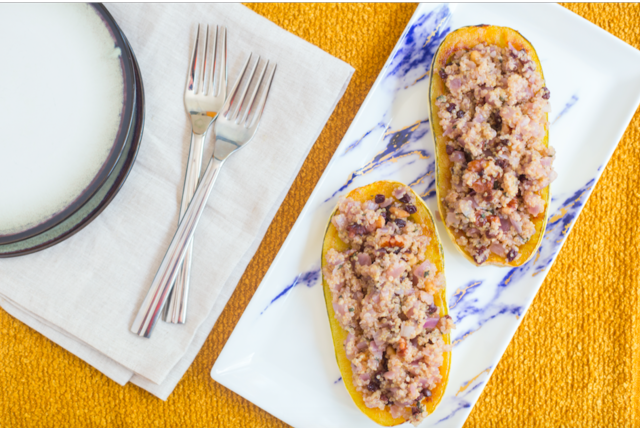 Stuffed Squash
It's like stuffing your stocking, but much, much tastier. Although it's harvested in the fall, winter squash gets its name because it stores well for months and can be enjoyed well past the turn of the season. Butternut, acorn and kabocha are all good choices, but delicata is nice because its skin gets soft and sweet when you roast it; you can eat it all, no peeling required! Stuff your squash with non-wheat grains, like quinoa, millet, or rice grits, and top with dried fruits for sweetness and toasted benne or sunflower seeds for crunch. Some cooked beans or peas would also mix in quite nicely, and add a healthy punch of protein. Finely chopped sauteed veggies or caramelized onion are always welcome here. No squash on hand? This method also works stuffed mushrooms and sweet potatoes!
Soup There It Is
Whether you're craving it rustic, brothy, or rich and creamy, soup may very well be the easiest thing to make allergen-friendly that's guaranteed to warm and satisfy the soul. If using bouillon or store-bought stock for your base, be sure to check that it's made with no soy or wheat (or fish, if you happen to pick up a seafood stock). Coconut milk adds a smooth richness to "cream-based" soups, and non-nut, non-dairy milks work well too. With the help of an immersion blender, you can turn your chunky veggie soup into a loose, velvety puree (like this Red Lentil & Celery Soup!) that's perfect for dipping with rice crisps or flaxseed crackers.
Red Beans & Rice
This classic Creole supper not only feeds a crowd- it satisfies them. Although it can take a little time (the dried beans must be soaked for several hours or overnight, and then cooked for about 2 hours), it's truly a simply recipe; one in which the whole is much greater (and tastier!) than the sum of its parts. You absolutely must use Camellia Beans for this recipe as their Louisiana's finest and have four generations of passion and high quality product to back it up.
Chef Pableaux Johnson, renowned for his red beans & rice, shared his recipe with us so that you, too, can prepare this hearty Southern classic. Visit the weekly Menu to get yours!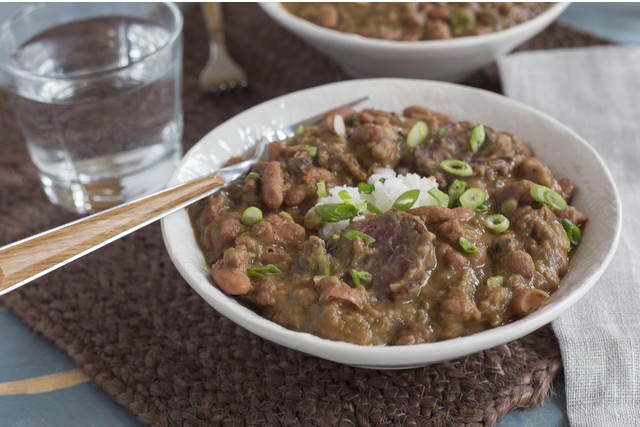 If you're the host of the party, communication is key; when sending out an RSVP, ask guests to list any food allergies they may have. If setting the table potluck-style, be sure to give enough space between each dish in case of accidental spills when serving, and perhaps put the allergen-friendly dishes off to the side on another table. Make fun, decorative cards that label each dish, and include any allergenic ingredients it may contain. Try not to be disappointed if a guest chooses to opt out for their own health- it's better safe than sorry! At the end of the day, it's all about your loved ones, before, during and after the holidays.
Happy & healthy eating, y'all!