Seven Seasonal Swaps for a Healthier Holiday
You 'butter' believe your waistline will thank you!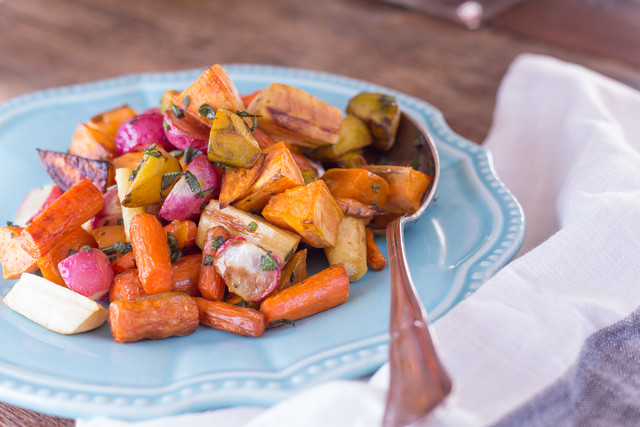 After all the wilted Jack-o-lanterns have been hauled to the compost bin and the costume capes have been hung into storage, a new tier of excitement for the upcoming holiday season breezes in with the crisp wintry air. For most, this time of year is filled with friends and family, joy and giving, and so much cheer. It's also filled with good food - and lots of it!
Mountains of mashed potatoes, rivers of gravy and a bounty of buttery biscuits embellish the dinner table. A dish of ooey gooey mac 'n cheese (mom's recipe), a pile of cheesy sausage balls (your uncle's recipe) and the most tempting pecan pie (your grandmother's recipe) also take the stage. Your first, second, and third helping of turkey is just waiting to be carved from the golden roasted bird at the center of it all.
While these dishes bring us closer together and are certainly the most delicious part of the holidays, the calories, saturated fat, sugars and sodium can add up. This can eventually lead to discomfort, decreased energy and a wider waist line. Fortunately, there are simple swaps to bump up the nutritional value of your holiday favorite without losing any of the comforting flavors you crave year after year.
Try these seven swaps this season: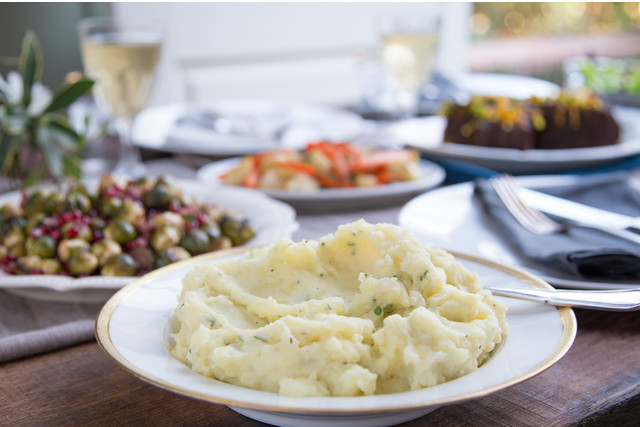 Greek Yogurt for Cream or Butter
Rather than stirring in heavy cream and butter (both dense in saturated fat and calories) for a rich texture, try Greek yogurt! This ingredient is low in fat and high in protein, and will add a refreshing hint of tanginess to your potatoes. As a bonus, you can use this trick for many dips, sauces and casseroles that use butter, heavy cream, or sour cream as a base. If you've got it on hand, buttermilk is also a nifty swap that will add tangy richness with fewer calories and fat.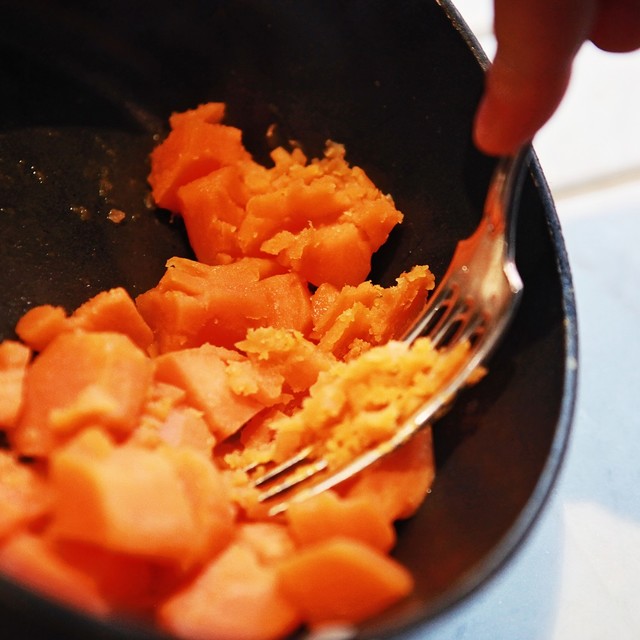 Sweet Potatoes (and other seasonal root veggies!) for White Potatoes
Let's get one thing straight: we LOVE white potatoes. They're nutritious and delicious and can be prepared in nearly endless ways. But why do they get to have all the fun? Queue sweet potatoes. Unlike it's common counterpart, sweet potatoes contain a remarkably high amount of carotenoids, which are basically the plant-form of vitamin A. They also contain more immune-boosting vitamin C and fiber. With the plethora of root vegetables thriving during this season, there's no need to stop at potatoes! Carrots, radishes, parsnips and beets are all nutrient-dense and offer a rainbow of color to your dinner spread. Best of all - they need only to be chopped, tossed with oil and herbs and roasted until tender and delicious.
Homemade Cranberry Relish for Canned Cranberry Sauce
Kick that can to the curb! That bright red gelatinous mass is full of sugar, or worse - high fructose corn syrup! Citrusy, refreshing cranberry relish is a snap to prepare at home. In the words of our president Judith Winfrey's mother, Dixie, "It's not cooking, it's fixin'."! Fresh cranberries are loaded with the unique family of antioxidant compounds known as anthocyanins; these compounds give the berries their bright red hue! Fresh orange juice provides vitamin C as well as potassium and folate. Together, these fruits offer a healthy dose of nutrition to your family meal (no can opener required).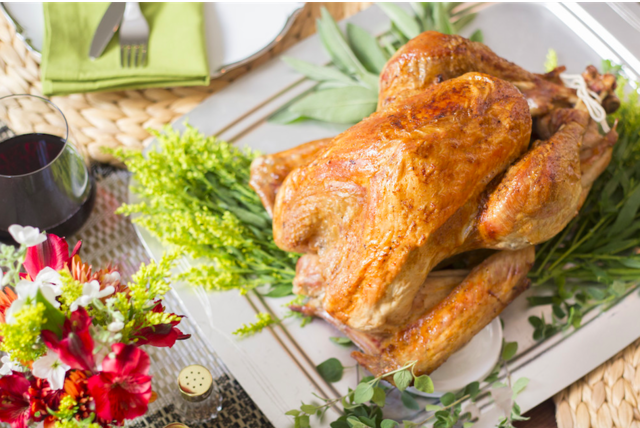 Roasted Turkey for Deep Fried Turkey
Although deep-fried may be deep-rooted in your family tradition, consider this: 3.5 ounces of deep fried turkey has 190 calories and 11 grams of fat, while 3.5 ounces has 165 calories and 7 grams of fat. While this may not seem like a huge difference, it can certainly add up to be - especially if you're reaching for more than one helping! If that's the case, you may want to consider leaving some of the skin aside when you make your plate; a 3.5 ounce serving of turkey meat without the skin is only 140 calories and 3.5 grams of fat.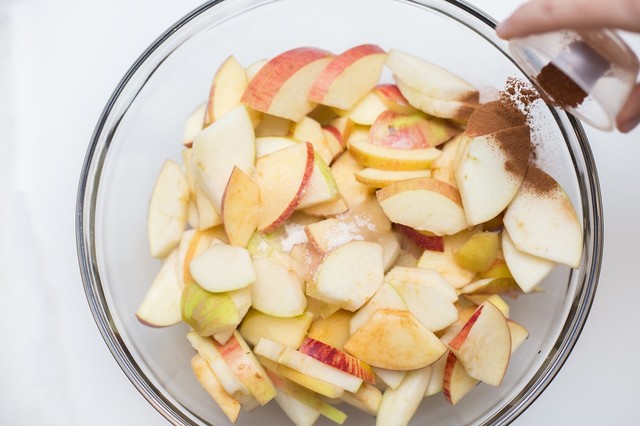 Baked Apples for Apple Pie
The warm, cinnamon-laced middle of a fresh apple pie is the true heart and soul of this traditional dessert. While making your own pie crust from scratch is tasty and rewarding, sometimes "ain't nobody got time for that" and let's face it: the apple filling is the star of the show! Save yourself the hassle - as well as the extra calories and fat- by making sweet, tender baked apples over the stove or in your slow cooker. You'll be rewarded with a comforting dessert that comes with a nutrient bonus of fiber, vitamins and minerals.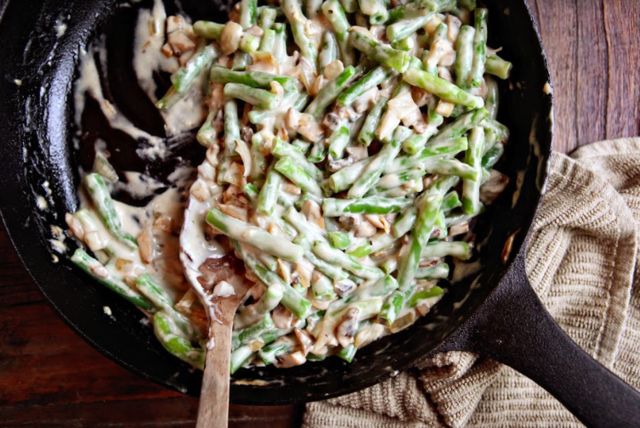 Fresh Green Beans for Green Bean Casserole
No need to hide all that green goodness in canned cream-of-whatever and dehydrated onion topping. Fresh green beans are delicious and when cooked just right, have an appealing snap to their texture. Because they freeze well, you can enjoy them all year round, and trust us; they're remarkably tastier outside of a can! Try sautéing them with a little garlic, salt and pepper, or toss them with olive oil and spices before roasting in the oven until tender for a simple side dish that's wholesome and satisfying.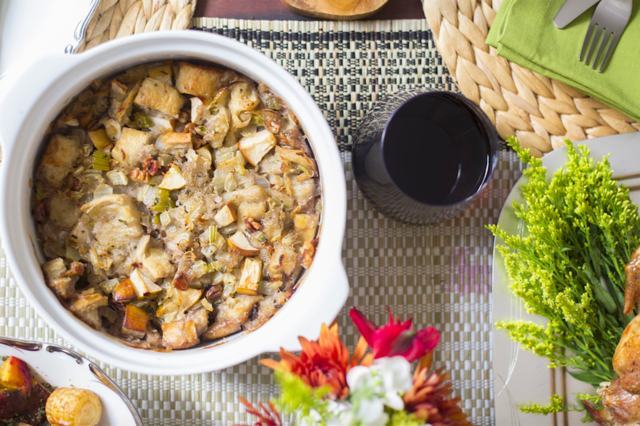 Whole Grains for White Bread in Stuffing
If stuffing (or dressing) is your thing, consider swapping out your conventional white breadcrumbs or bread chunks with whole grain bread. Better yet - you could nix the bread entirely, and substitute whole grains like millet, bulgur or quinoa into your recipe. This swap guarantees more fiber without sacrificing flavor. Depending on the grain you choose, you may also end up with more protein, B vitamins, iron, magnesium and vitamin E per satisfying spoonful.
~
While food plays a major role in your holiday health, remember that your sleep habits and stress levels also have major impact on your fitness after the festivities. Want to make life easier? Let PeachDish deliver your Thanksgiving feast. Between now and Sunday, November 19th, order your complete meal, with all the holiday favorites. Whether you're feeding a family of 4 or a crowd of 48, we've got you covered with farm-fresh recipes from award-winning Southern chefs.