Meet the Guest Chef: Kevin Callaghan!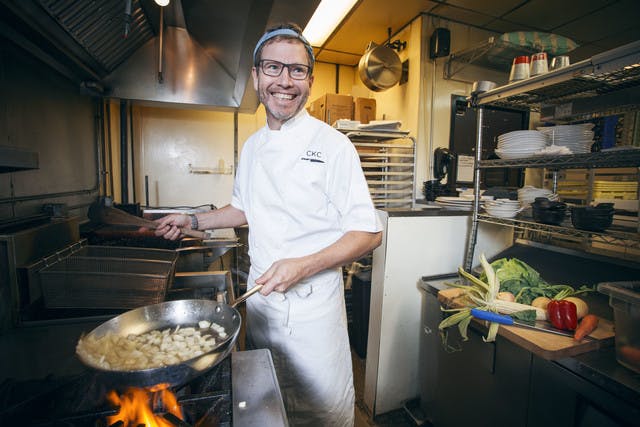 Chef Kevin Callaghan is the founder and executive chef of Acme Food & Beverage Co. in Carrboro, North Carolina. Acme has been featured in Bon Appetit, Southern Living, Garden & Gun, The New York Times, Esquire, and many other national and regional newspapers and magazines. Kevin is also opening a second restaurant this year. He is deeply rooted to Southern food and, with that, acts as a national advocate for food sustainability. He shared his Savory Brunch Casserole with Cheese Grits, Sausage & Mushroom recipe with us, so you can enjoy his food at home!
We interviewed Kevin to learn more about his culinary style and personal food history.
What made you choose this dish?
It's great to eat family-style on a Saturday or Sunday morning. Large chunks of it can be made in advance, which makes it super easy for families. And, well, I'm a sucker for really delicious grits.
How would you describe your style of cooking?
Straightforward and unapologetic. I prefer clarity to fuss.
What are your first memories of cooking?
Making peach cobbler for my grandmother when I was five years old.
Is there a special person in your life who fostered your love for cooking?
My mother and my grandmother loved to cook. My father loved to eat.
Where do you draw inspiration for your recipes?
The traditional foodways of my part of the South, and the seasonal changes of our local farmer's market in Carrboro. Beyond that, sincerely delicious is my ultimate "true north."
What's the most challenging part of your job?
The best and worst part of my job are the same thing- people.
What's the best thing you've ever eaten?
I've had a lot of great food in my life. I still can't get over how delicious fresh tomatoes, Duke's mayo, and white bread can be that first week tomatoes come into season. Only eaten standing up over the sink, of course. Or summer corn on the cob with lots of butter and salt.
What's your favorite food indulgence?
When I want something, I eat it. But if I had to name something, pecan pie.
Who is your favorite Southern cook?
Edna Lewis.
What charities or organizations do you love and support?
Be Loud Sophie, an organization created by good friends of mine. Their teenage daughter died of cancer some years ago, and the foundation supports teenagers in the cancer hospital at UNC.
To learn more about Kevin, check him out online:
Twitter: chefkpc
Website: chefkevincallaghan.com