Recipes from a Southern Mom: Jill's Cheesy Spinach Balls
We recently had the pleasure of having Jill Williams, the mother of our own food stylist, Amanda, in our Test Kitchen right in time for Thanksgiving! She showed us how to make one of her household specialties, Cheesy Spinach Balls.
Crunchy, cheesy and decadent- they're a staple during the holidays because they're a fan favorite for kids, picky eaters and adults alike. It is also a very easy recipe to prepare. You can make the mix, freeze the balls beforehand and pop them in the oven the day of. These bite-size treats will keep your guests coming back for more and more all night long.
Ingredients:
2 (10oz) pkgs. frozen spinach,
2 cups packaged stuffing mix (ie: Pepperidge Farm)
6 eggs, beaten
¾ cup parmesan cheese
¾ cup butter, softened
½ tsp. Kosher salt
½ tsp. Freshly ground black pepper
½ tsp. garlic powder
Procedure:
1. Cook spinach in a sauté pan with about 1/4 cup of water until softened and cooked through about 10 minutes. Once cooked, drain in a strainer.
2. In a mixing bowl combine spinach with all other ingredients until fully incorporated.
3.  Cover bowl with plastic wrap and refrigerate for about 1 hour.
4. Then, roll into balls the size of walnuts(approximately 1 tsp) and place on a cookie sheet about 1-inch apart.
5. Bake in oven at 350 degrees for about 10-15 minutes or, until golden brown and slightly crispy on the bottom.
5. Remove from oven and use a spatula to unstill balls from cookie sheet and place on paper towels to drain excess oil. Immediately serve on your favorite Holiday serving platter.
Note: If you don't want to cook all of them, Spinach Balls can be frozen. Roll balls out on cookie sheet and place in freezer. Once firm place into plastic bags and place back in freezer to finish freezing.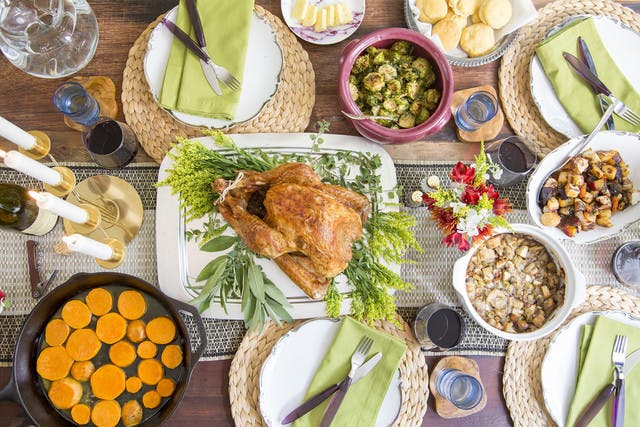 Have you seen our other Thanksgiving offerings? Order until Nov 8th and get up to $60 off Thanksgiving bundles. Serving either 6 or 12 people. Be prepared this holiday season!