Dive into the Mind of Chef Sandra Gutierrez
We are always thrilled to have Sandra Gutierrez as one of our regular recipe contributors, but this week we're especially excited to feature Sandra as a Guest Chef with her recipe for Potato & Chorizo Sopes with Tomatilla Salsa! She joined us in the Test Kitchen to chat with us about food, family and all her favorite things -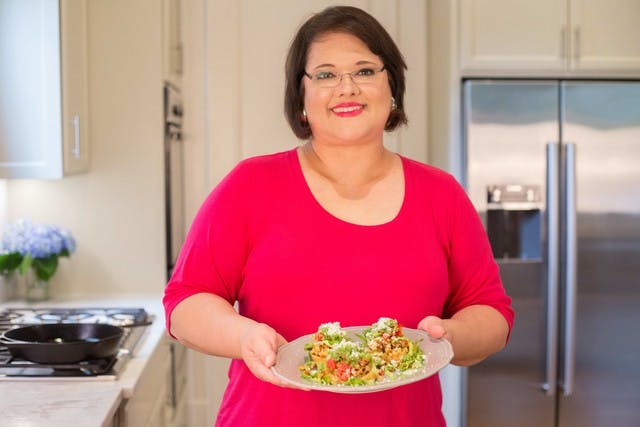 There's a thousand reasons and more to love Sandra Gutierrez, and her recipes for both sweet and savory empanadas are just a few (seriously, she wrote the book on 'em!). Now residing in North Carolina, Sandra grew up in Guatemala before beginning her two-decade long career in the culinary world. She's now considered an expert in Latin cuisine for the culinary industry, with multiple cookbooks, thousands of articles, culinary classes, and interviews with extraordinary chefs including Emeril Lagasse and Alton Brown to prove it. Her talent earned her place as the Grand Prize Winner of the 2017 MFK Fisher's Award for Best Food Writing, a prestigious honor named after the widely read and lauded culinary writer Mary Frances Kennedy Fisher herself.
To learn more about Sandra, we interviewed the power woman herself:
When did you first become interested in food? I was a little girl when I started cooking, about 6 years old. I was always interested in eating good food!
Did you have a mentor or someone you watched that impacted your cooking? My grandmother was a huge influence in my cooking when I was little- from her I learned how to add different spices and ingredients to dishes without using recipes. My great-aunt (paternal side) was a famous caterer in Guatemala, and she'd invite me to come help her during my summer vacations. From her, I learned classic French cooking techniques, attention to detail, and how to test recipes until they worked.
Where do you draw inspiration from? I draw inspiration from the seasons, from the produce I find locally, from my travels, and from colorful and flavorful spices.
What is your favorite cookbook? That's like asking me to pick a favorite child! My cookbook library has over 2,000 cookbooks!  It's impossible for me to select one, but among the cookbooks I most often reach for in my kitchen are Marcella Hazan's Essentials of Classic Italian Cooking, my old edition of Larousse Gastronomique, Shirley O'Corrier's books Bakewise, and Cookwise, David Joachim's The Food Substitutions Bible, Jean Anderson's The New Doubleday Cookbook, and Anne Willan's La Varenne Pratique.
What is the best dish you ever had? The bowls of my grandmother's chicken and rice soup (asopao de arroz con pollo) that I had every Sunday when I visited her home. I'd sit with her staff at the long wooden table in her kitchen and listen to all of their stories while we ate. I felt all grown up. To this day, this soup makes me feel special - it's my grown-up comfort food.
What is your favorite drink? My favorite drink is a very cold Michelada made mostly with equal parts lime juice and beer, plenty of salt, hot sauce, and a few drops of Worcestershire sauce!
What is your guilty pleasure? Chocolate anything!
What is something you want to try? I'd like to become an expert bread baker. I'm currently learning all I can about sourdough.
What do you like to do that isn't food related? My happiest times are spent reading a good historical novel and sipping a cafe con leche, while listening to classical music.
Is their any Chef that you haven't met and would love to talk to (living or dead)? I would have loved to meet Auguste D'Escoffier but in modern times, so we could discuss where culinary globalization has brought foodways.
What's your favorite restaurant in North Carolina? I have too many favorite restaurants but probably my top pick is Fearrington Village Inn.
What is the dish you are proudest of making? I'm most proud when I bake bread with my sourdough starter. There is such joy from crafting bread without recipes, just by feeling the dough. I call it: bread therapy and it makes me happy.
What does food mean to you? Food means memories, comfort, love, family, tradition, health, power.
Growing up in Latin America do you feel like you have a different perspective that surrounds food and importance than other Americans? If so how? I believe that my years growing up in Latin America made me more aware of the importance of eating local, hormone- and antibiotic-free food, and seasonal produce. Mostly it taught me that great food doesn't have to be fancy: I'd much rather have a bowl of perfectly cooked rice and beans than any restaurant food.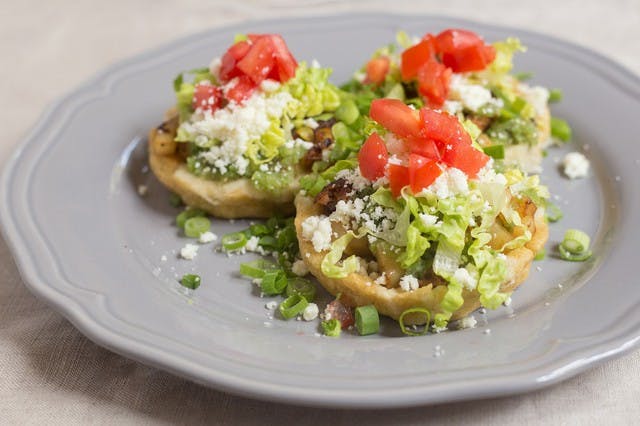 Be sure to catch Sandra Gutierrez's Potato & Chorizo Sopes with Tomatillo Salsa on this week's menu, and keep an eye out for her other amazing recipes, like:
Tex-Mex Beef Chili with Cheddar & Sour Cream
Chorizo Seitan Pupusas with Radish, Carrot & Artichoke Salsa
Macarrones con Queso with Bacon, Corn & Sweet Peppers
Chicken Burrito Bowl with Rice, Black Beans & Summer Squash Salsa