Guest Chef Courtney Swan
One of our favorite parts of working at PeachDish is getting to build relationships with people who are working diligently to push the good food movement mainstream and radically transform our food system. Our latest PeachDish Guest Chef is just that; part nutritionist and part influencer, Courtney Swan's passion for promoting real food is evident. This week we're featuring her Cauliflower "Fried Rice" with Seared Chicken, Broccoli and Ginger (order by midnight Sunday November 12th).
Food activists come from all walks of life, but there is generally one common theme among all of us: frustration with the current food system. Courtney is an integrative nutritionist (MS) and traveling "real foodist" on a mission to change the way America eats. She received her masters of science in Nutrition and Integrative Health from Maryland University of Integrative Health. On her mission to help people, Courtney built quite the following on social media. She posts daily about the real food and organic movement on her Instagram account @realfoodology. She aims to educate eaters on the dirty practices of the food industry, and how to eat healthy, with real food! She doesn't believe in diets and promotes a real food approach to eating. Courtney also tours full time with international pop star Tove Lo, but when she is not touring with Tove, she resides in LA where she is spreading her message, for the health of it!
Why did you select this particular recipe as your PeachDish?
I have been really into cauliflower rice lately because it tastes so good and there's something so satisfying about eating a huge bowl of veggies that tastes like fried rice but is actually just a huge bowl of vegetables. Sneaky, eh?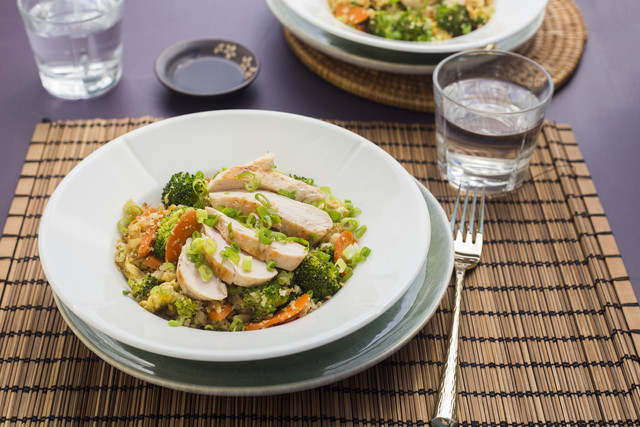 What are your first memories of cooking? Is there a special person in your life who fostered your love for cooking?
My mother. My mom cooked almost every meal for us growing up. She loves to cook, and we hardly ever ate any meals out because of it. She is a fantastic cook, and I will never forget coming home every afternoon from school to the kitchen just flooded with amazing smells of her cooking dinner!
What's the most challenging part of your job?
Constantly leaving and being on the go. It's also one of my favorite aspects of my job, so it's a catch 22.
How would you describe your style of cooking?
Healthy meets delicious. I don't believe in eating food that isn't delicious, but I also eat for the health of it, so I like to meet them in the middle!
Where do you draw inspiration for your recipes?
Usually my cravings! I also love to go through cookbooks for inspiration. Sometimes I will lay in bed at night before bed and read cookbooks like a novel and take mental notes of what I want to make for future meals. Instagram is also another great place for inspiration!
What's the best thing you've ever eaten?
My mom's homemade pesto smothered over cheese tortellini. OMG, it's heaven.
What's your 'guilty pleasure' food?
I don't believe in guilty pleasures! My philosophy is if you want something, make it yourself and eat it! The concept of guilty pleasures leads to restricting which then makes you only want that food more and you eventually you end up binging on it. Make whatever it is you are craving with whole, real, organic foods, and nothing is off limits!