An Interview with Nils Teissier du Cros, the Kuvée Winemaker
Have you heard of Kuvée?
They're a team of enthusiasts, engineers, winemakers and sommeliers, all passionate about making great wine accessible to everyone. Their modern dispenser keeps open wine fresh for up to 30 days! No more vinegary swigs left in the refrigerator. The device comes with your Kuvée wine subscription. You receive curated wines each month based on your tastes and feedback. We tried it for ourselves and loved it! To learn more, we chatted with Nils Teissier du Cros, the Kuvée Winemaker.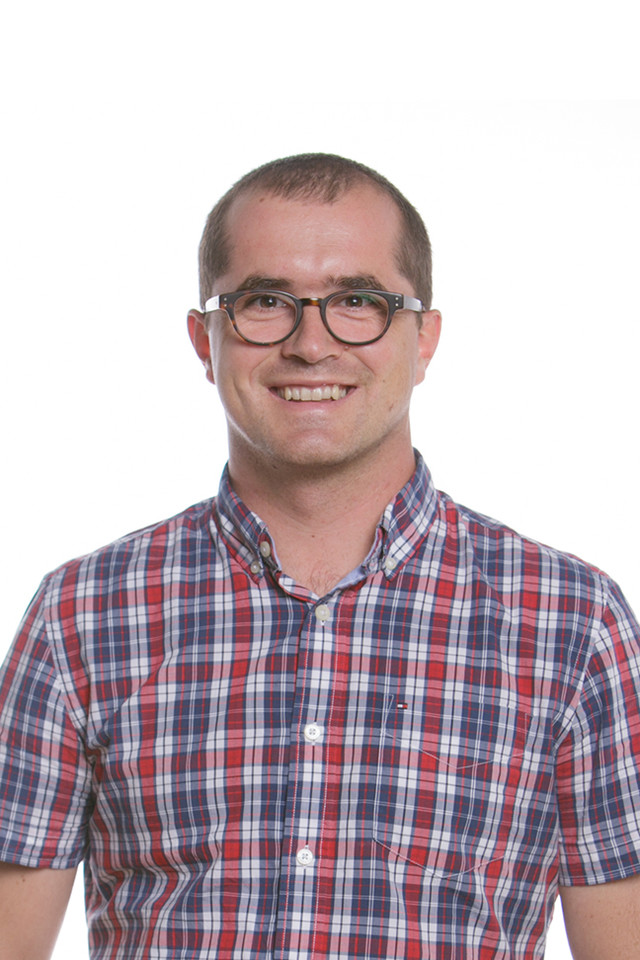 How did you become interested in wine? Is this something you have always wanted to do & how did you get started?
I grew up in the south of France next to Avignon, in the heart of Côtes du Rhône. I discovered during my first year in college that winemaking was a perfect mix of my favorite subjects, chemistry and biology, except way more fun. After my first experience in a winery as a lab intern, I decided to focus my majors and all my summer internships to all subjects close to winemaking. I was able to go to a prestigious Agricultural Engineering school in France that helped me landing a job as an enologist/cellar master with one of the top wineries of the famous Saumur area in Loire Valley France. After a year there, I decided I wanted to learn more and made wine all over the world from 2005 to 2009.
Did you have a mentor or is there someone you really admire in the industry?
I had many mentors in my career. Since most of winemaking is taught on the job, it was important to meet great people to train me. I was the most impressed by Stephen Pannell (https://pannell.com.au/) from South Australia. He's had a brilliant career. He was called the best winemaker in Australia at age 25, and, following that, named Hardy's Chief of Red Winemaking (365 blends per year). He decided to start his own brand at age 38 as a sort of "retirement", and continued to receive accolades for his winemaking.  He's all about hands-on winemaking, learning to make wine with your sense (tactile, taste and feelings), but he excellently balances that with his  technical background.
Recently through Kuvée, I had the joy of getting to know a really impressive winemaker named Greg La Folette. He's Sonoma-based, and truly a wine artist with one of the strongest technical backgrounds out there. He has the ability to make wines of the greatest quality today or in 15 years. He was recognized several times as the best winemaker of the year. He is the winemaker for Ancient Oak Cellars and Jim Ball, both part of the Kuvée portfolio.
What's a typical day at work look like for you? How many wines do you try in a typical week?
The cool thing about a startup there is not really a typical day. I usually taste between 100 and 200 wines a week. For what we call the "Wine Choice", I meet once a week with Michael Meagher, our Master Sommelier, to taste all potential new wines to bring into Kuvée's portfolio, and review all the wines that were bottled the week before. We do this both to ensure we're always bringing in new awesome wines, but also to test and ensure the quality of the wines in our portfolio that we're bottling.
For the past two years, I spent nearly 25% of my time in California to setup the Kuvée bottling facility in Napa, and to meet with our existing winery partners and potential new partners. As you can imagine, I also spend a lot of time planning for the future growth of the Kuvee portfolio. I love spending the remainder of my time with my family.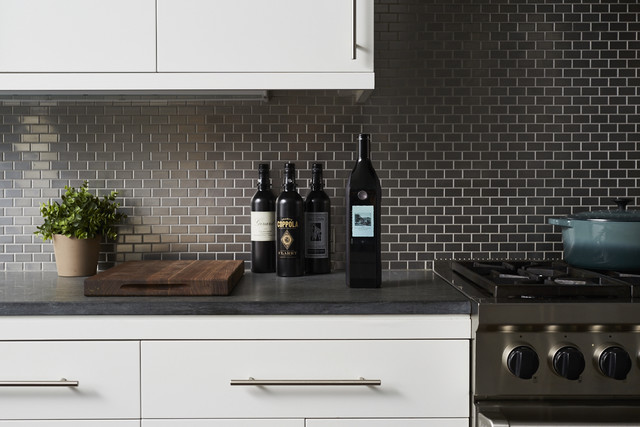 Tell me about your vineyard selection process.
The process of selecting the wines for Kuvée's portfolio is  very rigorous and includes several rounds of tasting. We first meet the winery to assess potential interest. Once the winery understands all of the value to them in joining the Kuvée portfolio, we try the wines  in Boston with Michael Meagher. For us, the wine needs to be a really great wine for its price-point and should represent a really specific part of our diversified portfolio. For our customers that means, whether you're a $13 bottle drinker, or a $55 bottle drinker, you're getting a great value. Once we've decided that we want a wine to become part of the portfolio,  we go back to the winery and discuss long-term partnership. Before any decisions are made, there are many quality measures we take. It's important to both them and us that their wine tastes in Kuvée bottles for 30 days just as it does when it's first opened in a glass bottle.
Is there a checklist you go through to maintain a certain standard for the vineyards you choose?
We choose vineyard on several aspects:
Is it what our Kuvée customers want? We are always listening to their feedback about what new wines or types of things they want to try, and know we need to balance out our portfolio.,
Second, we assess the quality of the wine: from taste to price, and ensure that it is up to our Kuvée standards.
The tasting process involves myself, Michael Meagher (Master Sommelier) and our CEO & Founder, Vijay Manwani, who is very involved in every step of our process.
What characteristics make a good wine?
Since we have a highly diversified portfolio, it is hard to pinpoint one quality that will single out all our wines. We try to answer the question: is the is wine better than the competition in this region and price range? Another aspect that is important to me is that our wines have several layers of complexity, meaning that you can find several layers of flavor that will bring what is called a complex wine, to all Kuvée wine drinkers.
Do environmental factors (ie: global warming) impact wine production quality? If so, is there a process to prevent impact?
In the past few years, winemakers have seen what's called the "picking date" move drastically earlier in the year. Drought is a long-term problem in California as well. Globally, all regions of the world are working to ensure that vine varieties are adapted to the changing climate; they aren't over-watering, in an effort to  reduce the long term consequences on the health of our ecosystems. Sadly, we have seen that some regions might not be able to produce wine in a few decades with the rate of climate change that we're seeing. In consequence, we have seen some changes in where winemakers are relocating to, including big groups investing in the Pacific North West, as it's a little colder and less drought-prone.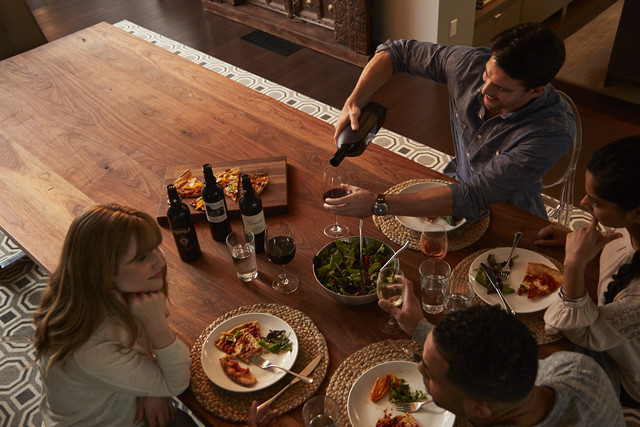 What's the importance of food-wine pairings? Do you have a favorite pairing?
To be honest, food pairing was foreign to me until I joined the team at Kuvée and saw the potential that this technology brought to consumers in their home. It's completely changed my appreciation of cooking with great wines, and brings the enjoyment to the next level for me.
In the summer, I love my rosé and Tomato Mozzarella Balsamic Salad. Bonny Doon Vin Gris de Cigare always reminds me  of growing up in France. I am really excited to enjoy grilled steak tips and vegetables with the new Barra of Mendocino Petit Sirah or the Dão Jean from Portugal, both new additions to Kuvée.  
If you were stranded on an Island and could only have 3 types of wine, what would they be?
Northern Côtes du Rhône Côte Rôtie, Syrah
Saumur Champigny Cabernet Franc (Loire Valley, France)
...and since it is way too hot on this island, I would love some Sancerre Sauvignon Blanc, but I would need some ice to cool off the bottle ;).
What do you love and what would you like to change (or progress) about the wine industry?
I am impressed by the advancements made in the past 18 years in the wine industry, and love being so involved in those innovations. I love seeing more and more high-quality wines at all price points. For me, the biggest advancement that still needs doing regards sustainability in winemaking. I believe that all wines should be produced in an organic fashion with as little water as possible, and rebuild soils and ecosystems around the vines. This method is proven to both bring complexity to the grapes, and improve the wine quality. I've helped Kuvée focus our portfolio growth on this, by choosing many wines that fit this profile, and also help our carbon footprint by shipping light-weight packaging that helps reduce the wine industry's impact on climate change.
Want to learn even more? Check out our video demonstration on Facebook or visit kuvee.com.