6 Steak Cuts You Should Know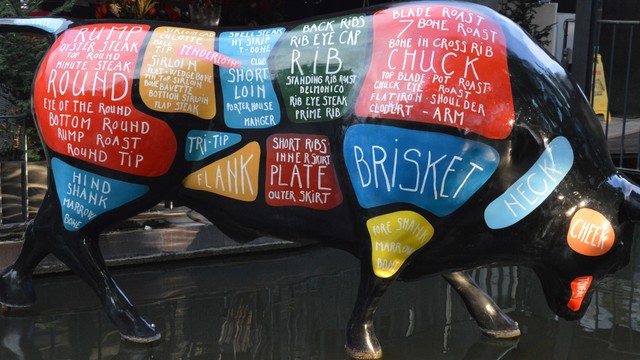 What do you want for dinner? Steaks sound good? Most meat-eaters in America would answer YES, but that's a pretty open-ended question. There are dozens of cuts of beef; quite a few of them are steaks. We think there are six steak cuts that you should absolutely know. Try all of these and you'll have an excellent grasp of the variety different muscle and fat structures create.
Ribeye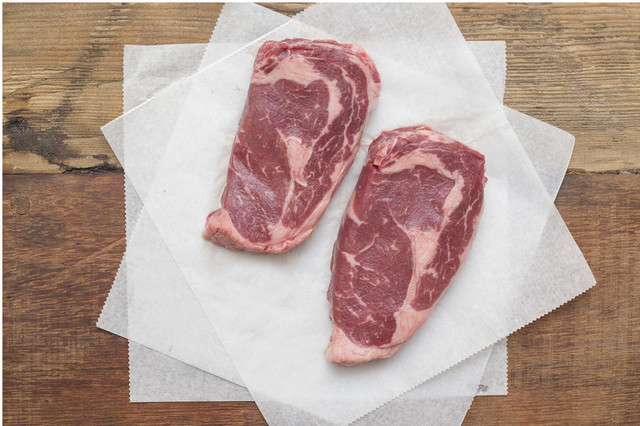 The ribeye is a hugely popular steak cut, and it's easy to see why. Ribeyes are at once large, beefy, and tender, and cook beautifully seared in a pan or out on the grill. This steak comes from the rib roast and is trimmed down to be boneless and, ideally, at least 3/4-inch thick. Free range and pastured cattle produce outstanding ribeyes. The combination of muscles at work and a grazing diet mean the steaks are beautifully marbled. Interspersing fat and muscle create bold flavor and a tender cut.
Our ribeye steaks are Georgia Grown from Revere Meat Co.
New York Strip Steak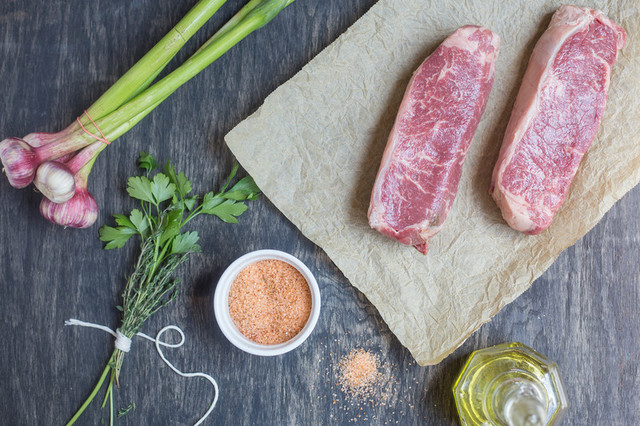 The New York Strip or Kansas City Strip Steak is a cut of beef that comes from the short loin. By any name, it sears beautifully to medium rare with a juicy bite. New York Strips are generally regarded as one of the more flavorful cuts have a little more chew than a tenderloin cut.
Our New York Strip Steaks are Georgia Grown from Revere Meat Co.
Filet Mignon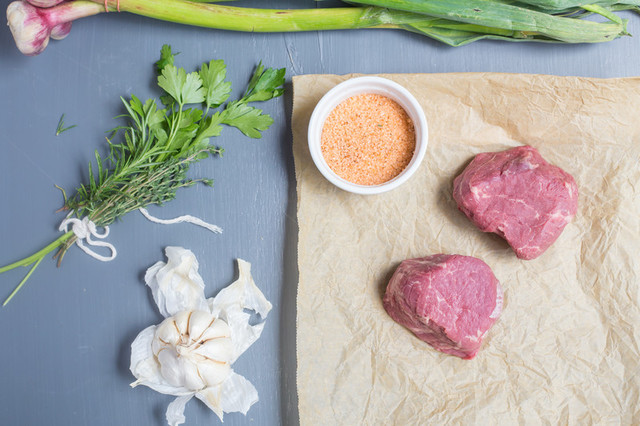 Filet Mignon is a cut of steak that comes from the tenderloin, a small, slender selection of meat that runs through the beef loin. It is highly valued and considered a decadent date-night favorite. Unlike ribeyes or strip steaks, the filet mignon is not cut with a fat cap. It is the most lean and tender cut of beef.
Our Filet Mignons are Georgia Grown from Revere Meat Co.
Teres Major/Bistro Filet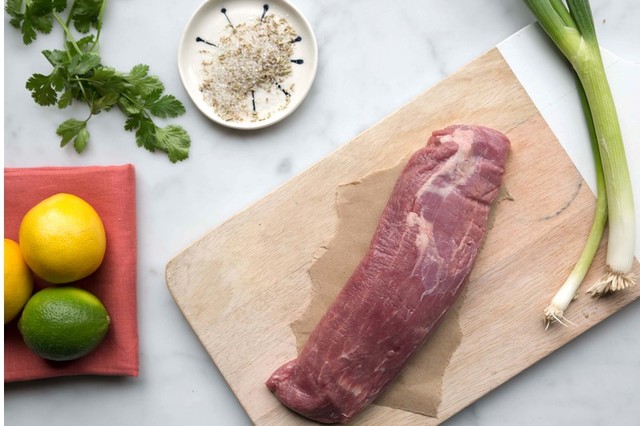 Bistro filet, also known as teres major steak or shoulder tender, is a lean cut of beef that is touted as the one of the most tender and flavorful, second only to the tenderloin. It runs around the shoulder of the cow. Because of its slender shape, the bistro filet makes great medallions and presentation plates for family-style meals. If you've never heard of the bistro filet or teres major, you're not alone. It's an up-and-comer in the butchering world as more and more chefs and diners begin to enjoy it.
Our Bistro Filets are from Brasstown Beef, on the North Carolina & Georgia border.
Flank Steak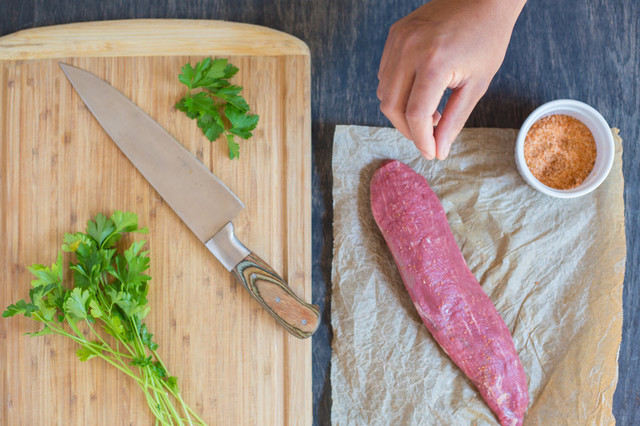 Flank steaks have been recently popularized, and remain one of the less expensive cuts of beef. Despite its slightly tougher chew, flank steak is sought after for its immense flavor. Its rounded shape makes it easy to get a good sear on every bit of the steak quickly enough to enjoy the perfect medium rare. The flank steak, unsurprisingly, comes from the flank of the cow, near the belly.
Our Flank Steaks are from Brasstown Beef, on the North Carolina & Georgia border.
Hanger Steak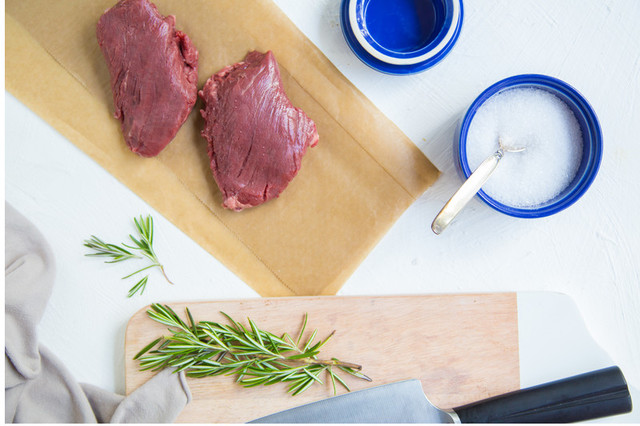 Also known as "butcher" steak, hanger steak is prized for its robust flavor and is similar in texture and flavor to flank steak. It's name refers to the how it "hangs" from the cow's diaphragm. We suggest cooking this cut of meat over high heat and quickly grilling or searing. Hanger steak is ideally served medium-rare as the meat can become tough when overcooked. Hanger steaks do very well with a simple marinade of extra virgin olive oil, garlic and herbs.
Our Hanger Steaks are Georgia Grown from Revere Meat Co.
About Our Beef Suppliers: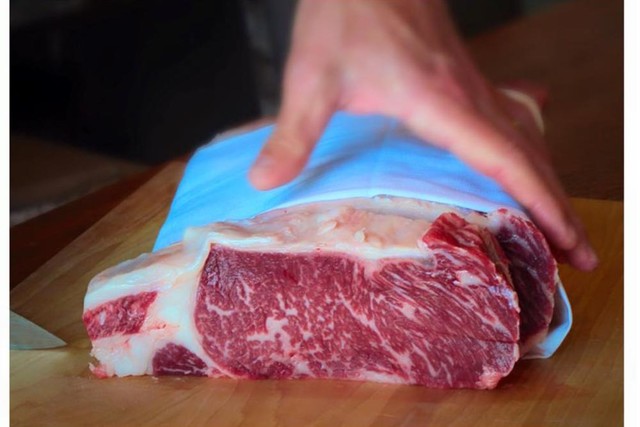 WHAT GUIDES REVERE MEAT CO.?
"We have a deep reverence for the people, businesses and animals that make up our industry. It has inspired us to create a new way of doing business, founded on the idea that by creating meaningful relationships with our customers and suppliers we can improve the quality of the meat industry for everyone."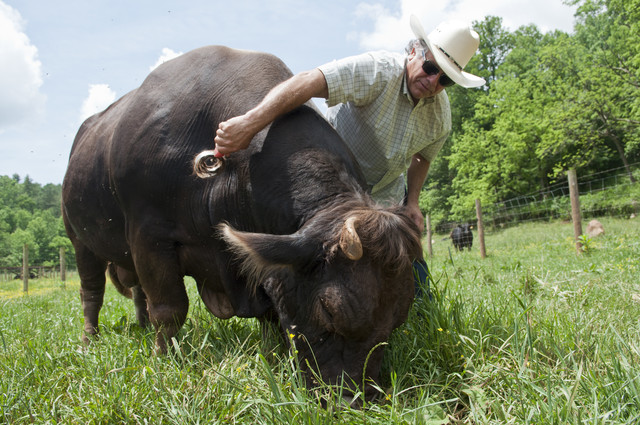 YOU BELIEVE THAT "EXTRAORDINARY CARE = EXTRAORDINARY BEEF". WHAT EXACTLY DOES THIS MEAN FOR YOUR COWS AND FOR YOUR CUSTOMERS?
"We don't take short cuts! There are so many factors that contribute to our meat being considered the best in the business by many chefs and diners. Our cattle are always out on pasture, never confined, and graze in a stress free environment. We believe cattle with lower levels of stress translates into amazing overall health as well as a consistently outstanding flavor of meat. These humane raising techniques have allowed us to maintain a Step 4 certification with the Global Animal Partnership and deliver a product with superior marbling and a one of a kind taste profile."
Slice Beef Against the Grain
For the tenderest, most juicy meal, let your steak rest after cooking, then slice it against the grain.