President's Letter for the Week of May 21st, 2018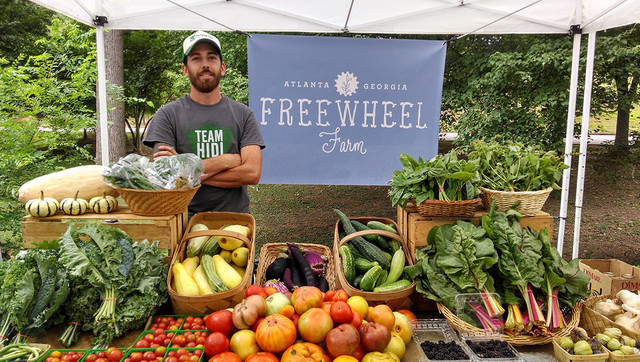 Freewheel Farm
Each week you will find a letter from our President, Judith Winfrey, in your meal kit and also posted here on our blog. Judith details the latest news and excitement with PeachDish as well as the farmers whose products are featured in our meals for the week. Thank you for helping us to support the fine folks behind the fresh, delicious ingredients in your PeachDish!
Greetings Friends,
As a company that values transparency and authenticity, we're proud to share the list of this week's farmers suppliers with you. For more information on these farmers and food artisans, please visit our suppliers page.
Alfresco Pasta, Nashville, TN - gnocchi
Andi's Way, Cumming, GA - pea greens
Beautiful Briny Sea, Atlanta, GA - Aegean salt, PeachDish Salt
Belle Chevre, Elkmont, AL - goat cheese
Brasstown Beef, Brasstown, NC - ground beef
Camellia Beans, Harahan, LA - red kidney beans
Carolina Plantation Rice, Darlington, SC - stone-ground grits
Decimal Place Farm, Conley, GA - goat cheese
Delta Blues Rice, Ruleville, MS- long-grain rice
Edward & Sons, Carpinteria, CA - bouillon
Fairywood Thicket, Fairburn, GA - strawberry lavender jam
Freewheel Farm, Atlanta, GA - oregano, rosemary
Frolona Farm, Franklin, GA - green onion, carrot
Grow with the Flow, Tucker, GA - kale
H&F Bread Co., Atlanta, GA - pita
Heritage Foods USA, Brooklyn, NY - Berkshire porterhouse pork chops
Hickory Bluff Farm, Holly Hill, SC - summer squash, zucchini
Jody's Farms, Rutledge, GA - dill
Joyce Farms, Winston-Salem, NC - chicken
Local Lands, Wrightsville, GA - onion, potato, shallot, gem lettuce
Love is Love Farm, Decatur, GA - green garlic
Native Seafood, Brunswick, GA - Georgia shrimp
Organic Valley, La Farge, WI- butter, ghee
Pine Street Market, Avondale Estates, GA- tasso, breakfast sausage, andouille sausage
Pinewood Springs Farm, Stockbridge, GA - kale
Proper Pepper Pimento Cheese, Sandersville, GA - "Get Back Jack" jalapeno cheese
Rag & Frass Farm, Jeffersonville, GA - green onion
Revere Meat Co., Forest Park, GA - filet mignon from Southern River Farms, Augusta, GA
Rise 'N Shine Organic Farm, Calhoun, GA- eggs
Rosebank Farms, Johns Island, SC - carrots
Sea to Table, Brooklyn, NY - Gulf shrimp, chopped salmon
Sidney's Spices, Atlanta, GA- bay leaves, Homegrown seasoned flour
Southern Links BBQ, Roswell, GA - Steak & Brisket seasoning
Southern Swiss Dairy, Waynesboro, GA - milk
Sparta Imperial Mushrooms, Sparta, GA - mixed mushrooms
Springer Mountain, Mt. Airy, GA- chicken breast
Sunburst Tomatoes, Nashville, NC - tomatoes
TGM Bread, Atlanta, GA - buns, whole wheat buns
Tucker Farm, Rome, GA - kale, salad greens, spicy greens
Weeks Honey Farm, Omega, GA - honey
Don't forget to post a snapshot of dinner with #PeachDishMeal and you could win a meal kit on us! We'll choose a new winner each week, so keep us in your kitchen and around your table. As always, if you have questions, comments or concerns, feel free to reach out to me directly or to anyone on our awesome customer service team. Thank you again for having dinner with PeachDish.
Judith Winfrey President, PeachDish