The Farmer & The Seeker
Returning to his roots, chef Matthew Raiford explores his place between heritage and legacy.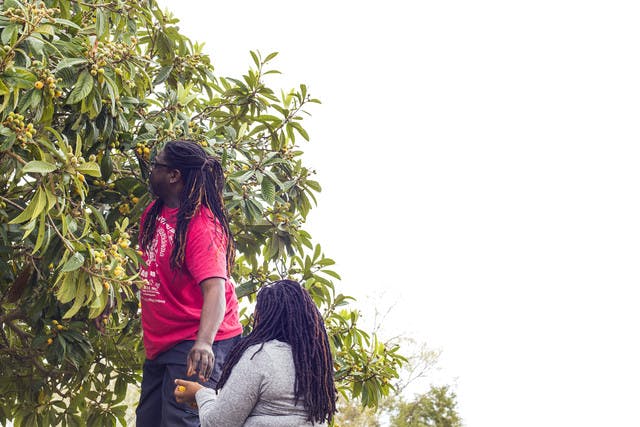 On a 73-degree morning in February, Matthew Raiford and his partner, Jovan Sage, plant fruit trees in the sandy soil of Raiford's coastal Georgia farm. "Figs, Brown Turkey and Asian," he lists, digging the holes by hand. "Goji berries."
He unwraps a seedling from plastic, then holds the thin tree trunk between his fingers, waving it up and down, measuring how deeply in the earth he wants it to go. He adjusts the soil level, pushing dirt with his hands.
Raiford calls himself a "chefarmer"—a blend between chef and farmer. In addition to the farm, he and Sage own The Farmer & The Larder, a restaurant in slowly reviving historic downtown Brunswick. He stands up when asked how soon he hoped to get fruit from the young trees. "Well, a man doesn't plant an orchard for himself. He plants it for his children."  
That Raiford can both accept and say that is the result of a life's journey. As a young man, Raiford left Brunswick to get away from a Southern culture he found uncomfortable. He planned to never return.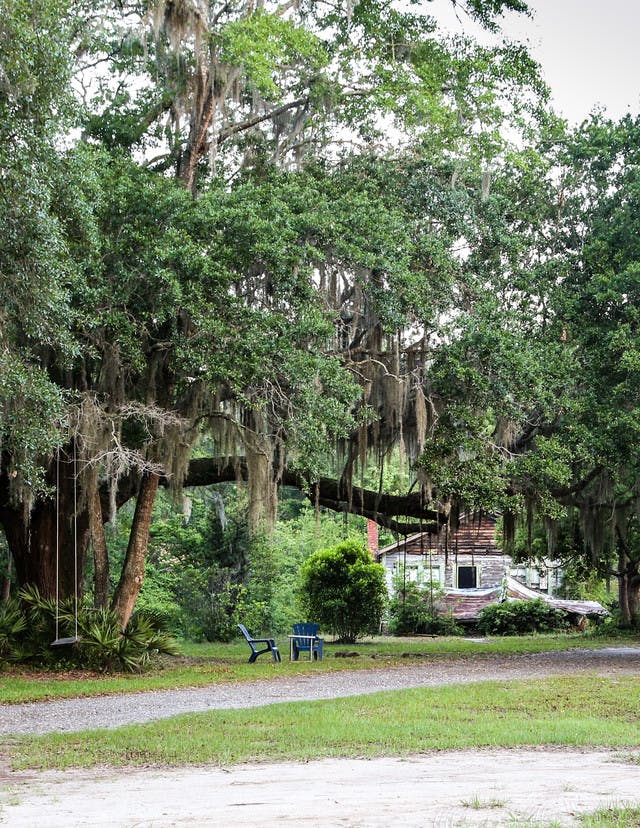 Southern generations
Raiford's ancestor, Jupiter Gilliard, was born a slave in 1812. In the 1870s, Gilliard made his way from South Carolina to the Georgia coast and paid $9 in taxes for 476 acres of land. Gilliard Farms has been a family anchor ever since. It's now 50 acres, having been divided through marriages over the decades.
Raiford grew up on this farm, which he co-owns with his sister, Althea Raiford. He remembers eating the food his family produced on the farm, but it wasn't all biscuits and gravy. Breakfasts at home often included the French-style pastries his father, Ulious, a professional baker, made. 
Raiford also grew up in a South that was in an awkward state of social change during the '70s. "By the time I got to the high school, it had only been integrated for eight years," he says. "Don't get me wrong. I grew up here loving this," he gestures around the farm. "But I didn't love the other aspects of living in the South. And I felt like, 'If I don't have to be here, I don't want to be here.'"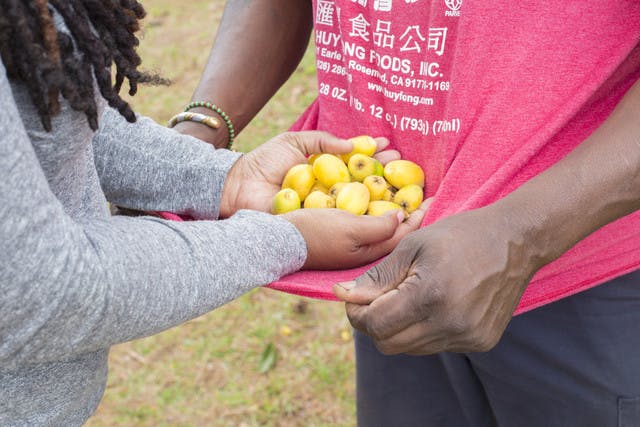 So, at 18, Raiford joined the Army, doing several tours of duty in the Middle East over 10 years. After the Army, he enrolled at Howard University to study physical therapy. As an older freshman, he enjoyed throwing parties and cooking for others, who told him he should cook professionally. Raiford left Howard and enrolled at the Culinary Institute of America in Hyde Park, New York, to pursue a career as a chef and restaurateur.  "I always wanted to be in the kitchen," he says. "I always wanted to be a chef." 
But 25 years after he left Brunswick, his grandmother, mother and aunt brought Raiford and his sister together to ask, "What are you all going to do with all this land?" "And finally, after all those years, I said, 'We should go back to farming.'"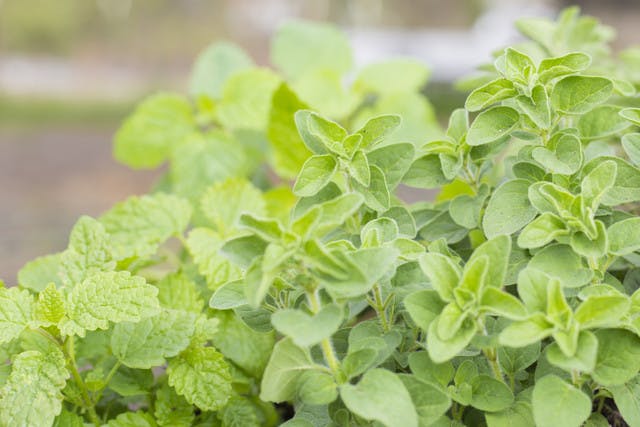 Lessons learned
After receiving certification in ecological horticulture at the Center for Agro-Ecology and Sustainable Food Systems at the University of California Santa Cruz, Raiford returned to Georgia in 2011. He took a job as executive chef at Little Saint Simons Island, work that supported him while he set out to build Gilliard Farms into the farm he envisioned, to add his own chapter to the family legacy.
"The first thing I did when I came home was plant 100 trees," Raiford says. "I think I was trying to build an orchard really quick. I had the money, I had the opportunity. We put them out there, thinking we were doing all the right stuff." 
The 100 trees went in. They soon started dying. Hundreds of dollars… dying.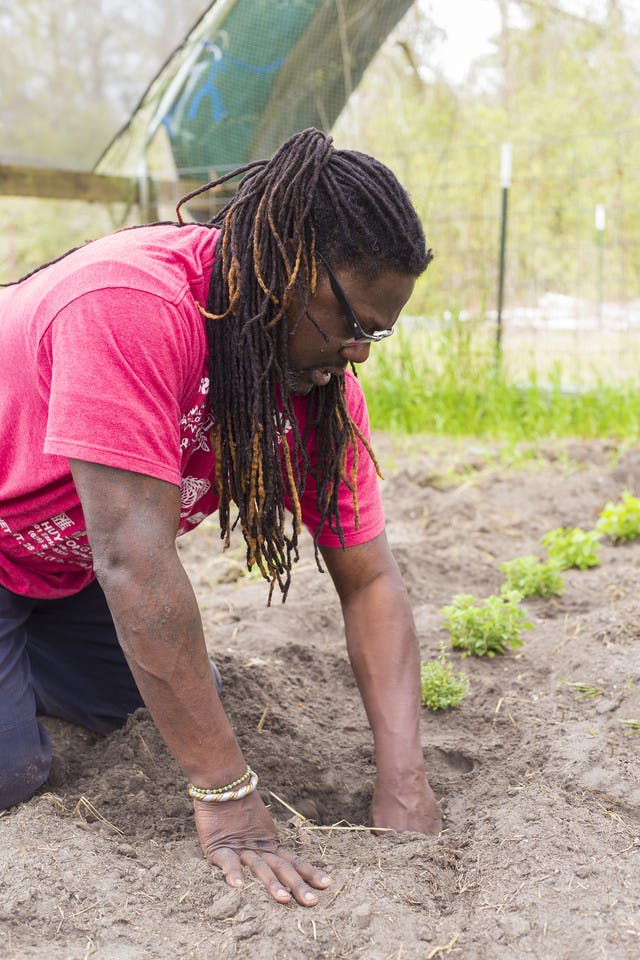 Raiford had studied farming in California. He ran soil samples and amended the soil before he planted. He'd purchased high-quality seedlings from the West Coast. The trees were dying, he says now, because he hadn't paid attention to what was around him: Soil. Climate. Experience.
"It wasn't that I didn't believe there was knowledge here. It was just that I was trying to get it condensed as quickly as possible, and to get it," Raiford says in retrospect. "I'm very grateful that I was able to garner a lot of knowledge from my grandmother, Ophelia."  
Among the wisdom she passed on, Ophelia gave Raiford a helpful letter that she received in 1945 from Raiford's great-grandmother. "She hands me this letter, and I started reading through it," Raiford says. "And through it was an almanac of what they were harvesting at a particular time of year. So, I reconsidered how I was thinking I should plant here based on what I was reading. 
"If I knew then what I know now, I would have thought about the knowledge that was right here," Raiford says. "I think I would have relied more on the legacy knowledge that was in place and that's still in place."
Raiford has learned a lot about trees, soil and legacy in the years since. "Being authentic is work. It's very hard work. You're going to consistently learn new things that make what you started with for naught; you're going to get new information. And if you don't start incorporating that new information, you're no longer authentic."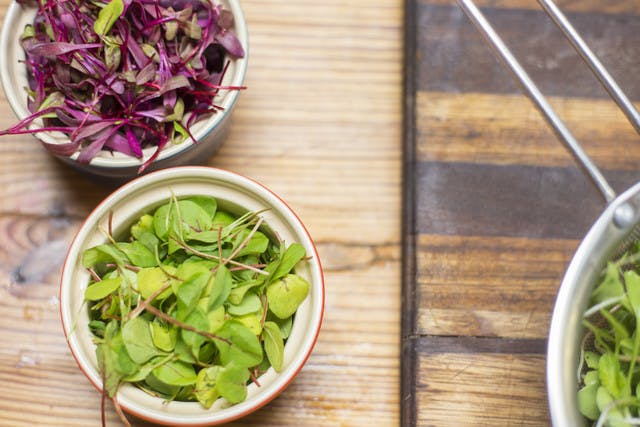 There were other failures besides the 100 seedlings. One year, more than a dozen hogs escaped their pens, and Raiford couldn't find them. Days went by … no sign of the hogs. One day, Raiford's father called him. "Hey, son, I found the hogs. They're out in the field." Raiford was relieved; the hogs would be easy to round up. But his father continued. "You know the edge of your tomato field? That's all you've got left—just the plants on the edges." The hogs had eaten close to 1,000 tomato plants. 
Some things did go right. During a trip to Italy, Raiford met Sage, his partner, at the international Slow Food gathering in Torino. Eventually she moved to Brunswick from her job at Slow Food in Brooklyn. 
Defining a cuisine
"The restaurant is Jovan's fault," Raiford jokes. Three years ago, Sage held a wine tasting under tents on the farm, and the response was so tremendous—people stayed through a sudden rain shower to try wines from around the world—that the couple started The Farmer & The Larder, a reference to both of their skills. Sage uses the fruit and herbs they grow to makes jams, preserves, syrups, sodas, shrubs, kombucha and teas, which she blends and portions into knotted teabags—all served at the restaurant. She's making cheeses, too, which have yet to become menu regulars. Raiford serves as executive chef.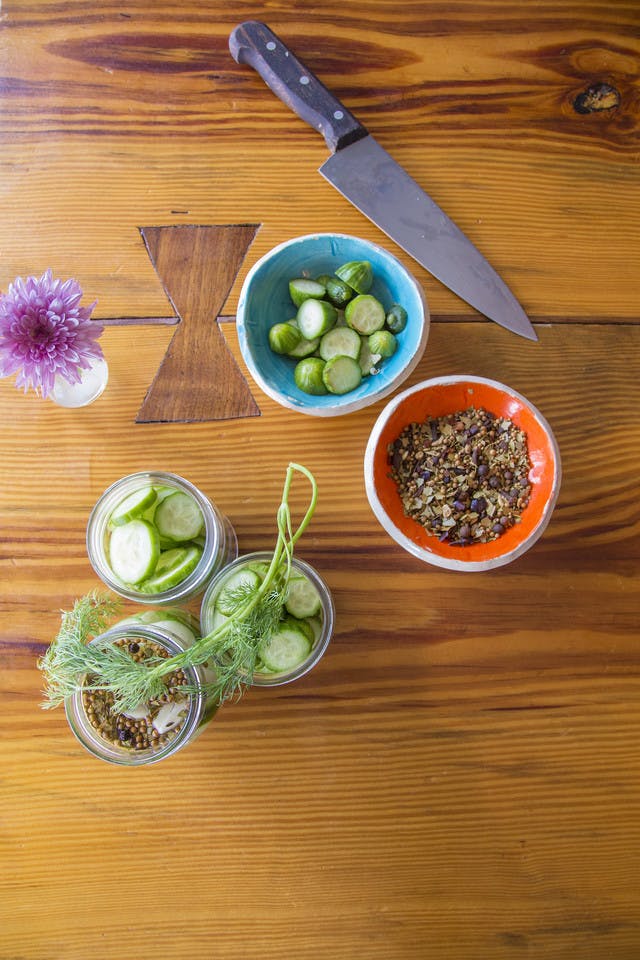 As business owners in the public eye, each has encountered some of the same attitudes that originally pushed Raiford away from the South. He says attitudes have changed since the '70s, but they still confront ideas rooted in racial stereotypes. People see Raiford's and Sage's locks and assume they own the Jamaican restaurant two doors over from The Farmer & The Larder. (They don't.)
"People ask us, 'Why don't you have fried chicken on the menu?' And they're for real," Raiford says. "Where we are, that's not a thing. Historically, here on this farm, you didn't just randomly go out there and kill chickens every day. You know why? You needed eggs more than you needed the chicken. So you didn't do fried chicken all the time. I didn't grow up eating chicken like that."
Raiford and Sage have also been challenged to define the food they serve.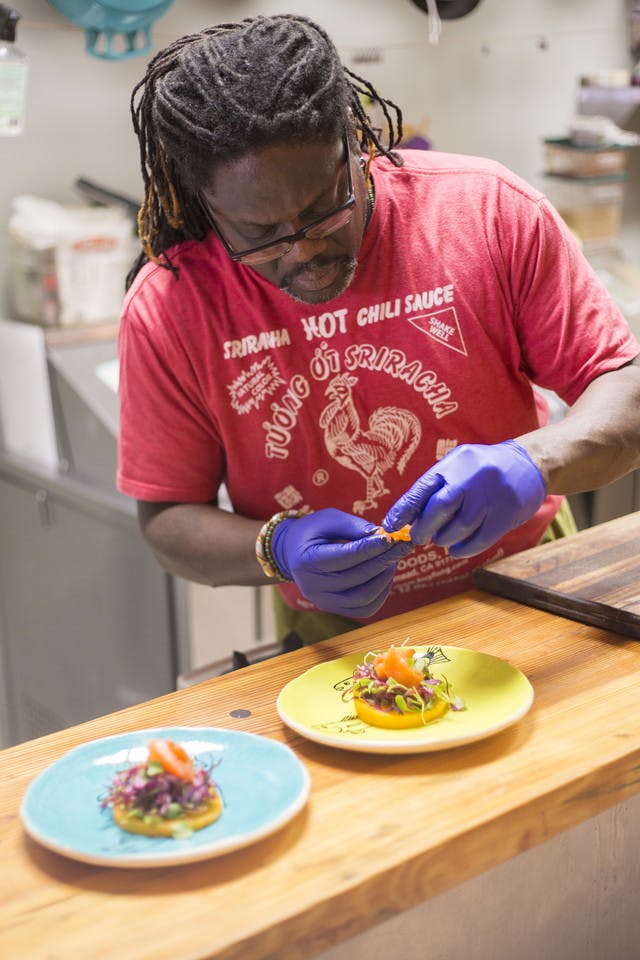 "A lot of times people ask, 'Why do you have a tapas dish?'" Raiford and Sage's answer is that tapas are authentic to that area of coastal Georgia. They call it "port city food." "Historically, Brunswick was one of the original five ports that Washington set up. We are part of the original thirteen colonies," Raiford points out. "If you put that in real perspective, if you want to look at why we eat what we eat, we eat because of all the people that hit that port. And that port brought Spaniards here."
"Part of being authentic is understanding the place that we hold," Sage says. "We also have a responsibility to bring our folks along with us." Raiford nods. "Jovan actually holds my feet to the fire to that part of being authentic. After me, who's next? Not just my homeboy, but who's the next one? The next one should surpass us, and we should be happy about that. There won't be another level of authenticity unless you bring people along. That's paying it forward."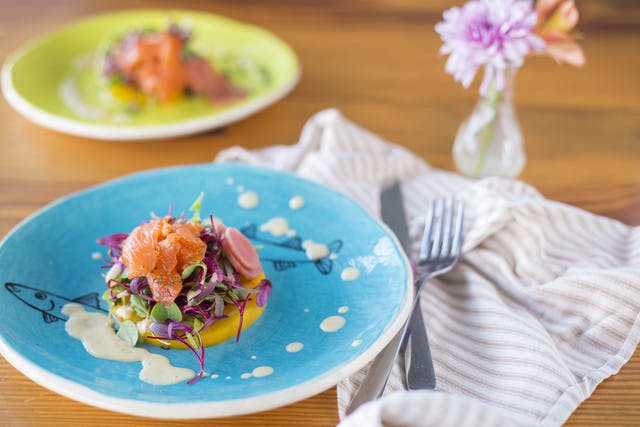 The Farmer & The Larder is located at 1523 Newcastle Street in Brunswick, GA 31520
Their hours are Thursday through Saturday, 6pm-10pm; Sunday 11am-2pm, and you can make reservations through their website.