Something Worth Spreading: Proper Pepper Pimento Cheese
Born and raised in Georgia, Deana Tanner Bibb makes the American Southern staple - pimento cheese - the proper way. For those outside of our neck of the woods, it's a delightful cheesy spread that's creamy and chunky, bright orange and flecked with shreds of sweet red pimento peppers. From beefy burgers to plain crackers, it makes just about anything taste a mile high better - but the right recipe is crucial and appears somewhat lost in today's selection of spreads on the market.
So what's involved in proper pimento protocol? We interviewed Deana to find out...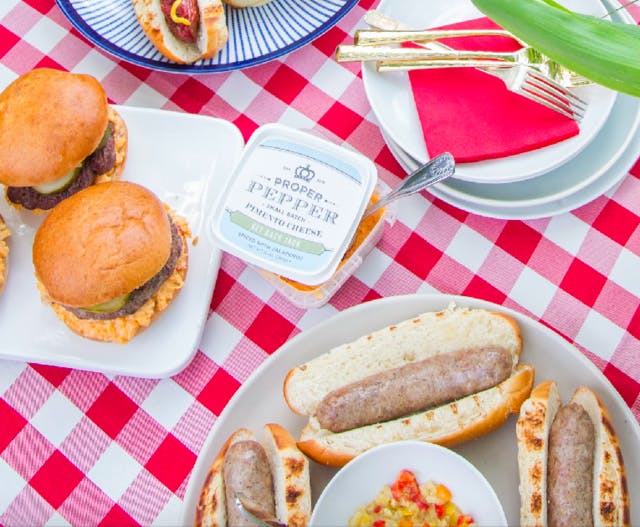 1) What goes into a great pimento cheese? What makes Proper Pepper special?
The best pimento cheese always includes freshly grated cheese and a greater amount of cheese than dressing.  This is a rare combination with today's pimento cheese products in the market. We are super proud that Proper Pepper has a 75:25 ratio of cheese to dressing. Our flagship ingredient is Cabot Cheese, and yes, it is made by hand and freshly grated! We use a bit less mayonnaise than usual, but always Duke's, and add cottage cheese for a different flavor. The extra protein and calcium is just icing on the cake for a nutritious punch on this snack.
2) Many of us have never heard of pimentos outside of the context of cheese... can you give us a rundown as to what they are?  
Pimiento peppers (I spell it with only one "i"!) are small, red, sweet peppers that you'll usually find canned or bottled. They're not spicy, but we use roasted red pepper for bolder taste in our cheese. Pimentos are commonly dried and ground into paprika. Most people have certainly experienced pimentos in that way.
3) Why pimento cheese? What brought you into this passion?
 If you grow up in the south, it is truly a staple in everyone's fridge. Interestingly, there are as many ways to make pimento cheese as Thanksgiving dressing!  I love southern cuisine and entertaining. Pimento cheese can be used in so many forms, which makes it a great dish to perfect. I entered my my recipe into the Flavor of Georgia contest in 2015, and won. Marketing Georgia's award-winning pimento cheese easily launched me into business.  I went from stay-at-home mom of young twin girls to pimento cheese batch maker overnight, totally unexpected. And we are loving this world of cheesemaking and hospitality.
4) What's your favorite way to eat Proper Pepper? Any fun recipe recommendations for us?  
Pimento cheese can be dressed up or down, depending on the occasion. My favorite way to serve the Get Back Jack flavor is on a thin ginger wafer. The little kick of jalapeño mixed with the ginger is just a burst of flavor. It's the perfect appetizer for a cocktail party. I love pimento cheese with my shrimp and grits as well as with scrambled eggs and deviled eggs. I often tell people that you can substitute pimento cheese with any dish that calls for cheddar cheese. You will never be disappointed.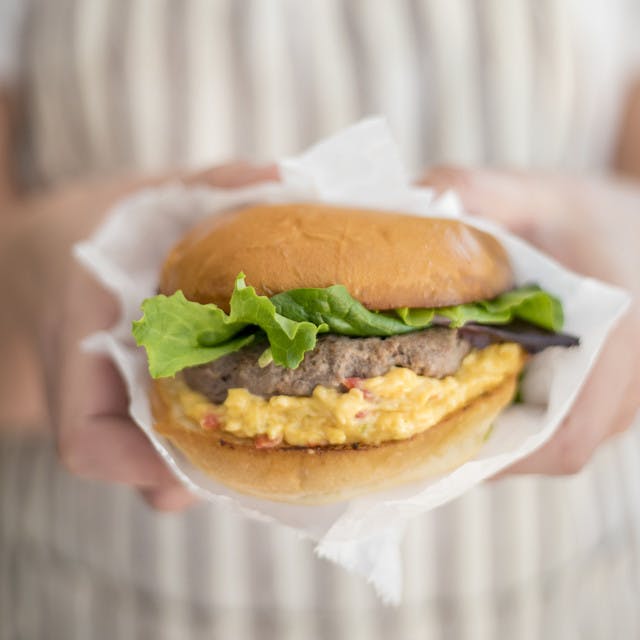 Say cheese! Spread the love with pimento cheese in any of these ooey-gooey cheesy recipes:
PIMENTO CHEESE BURGERS WITH FRESH SALAD & GREEN-TOMATO VINAIGRETTE
SUMMER BEEF SKILLET WITH SWEET CORN, GRUYERE & MACARONI
CHEESY FARM-EGG FRITTATA WITH POTATO, SPINACH & MUSHROOM
CHEDDAR POTATO CAKES, BUTTERED PEAS & CARROTS WITH FRESH HERBS