Beer Pairings for the Week of March 27th, 2017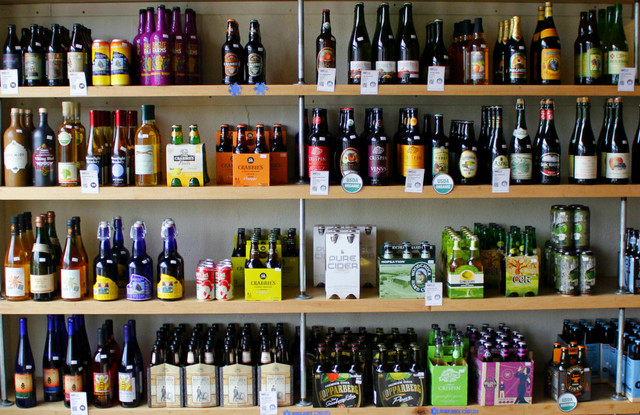 Looking for the perfect brew to go along with your PeachDish meals? We've got you covered. We've partnered with the owners of BeerGirl, a local Atlanta shop, to help you select the perfect beverage. BeerGirl's passionate owners, Alexia Ryan and Erik Lewis opened their shop with the dream of connecting the people of their community with delicious craft beer from the South and beyond. Here are this week's suggested pairings: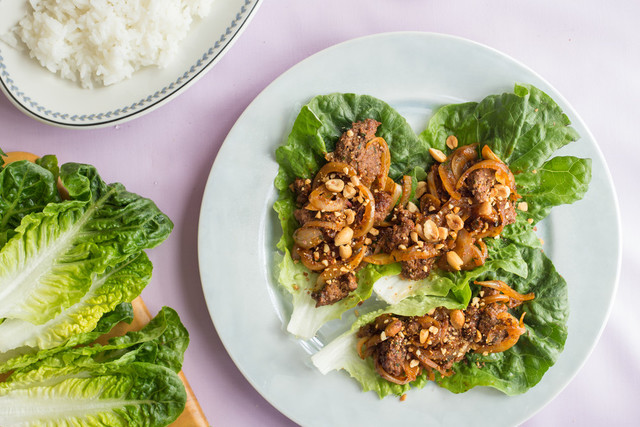 Beef Lettuce Wraps with Crunchy Peanuts & Long Grain Rice
Wheat beer and Asian inspired dishes are one of our favorite pairings. The wheat beer is a wonderful conveyance for flavors ranging from lemongrass to blueberry. The sweet wheat malt base is complementary to a wide range of flavors. For this dish of lettuce cups, we suggest a fruit-flavored wheat beer that will pair nicely with the sweetness in the sauce.
Suggestion: Clown Shoes Clementine, Ipswich, Massachusetts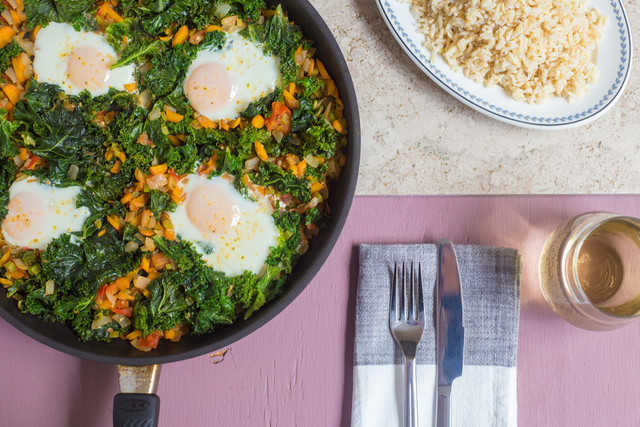 Veggie & Eggs Skillet with Brown Rice
The wheat beer just tastes summery as any beer can be. Sure, wheats, hefeweizens, and witts are brewed year-round, but wheats just taste of summer. For this vegetarian fare with egg yolks, the original mother sauce, you want a sweet wheat that has a peppery yeast.
Suggestion: Wittekerke Wheat, Harelbeke, Belgium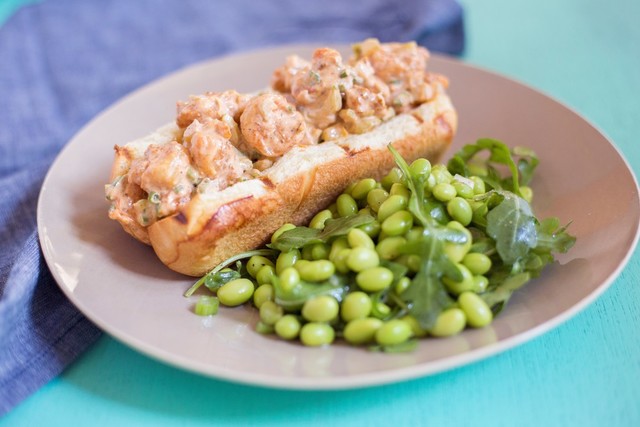 Shrimp Roll with Edamame & Arugula Salad
There is a reason pilsners are a favorite for pairing with food. The cold fermented crisp beer can stand up to any flavor because it does a wonderful job of cleaning the palate which lets the food take center stage. For this dish featuring a delicate shrimp flavor, we need to pair it with a pilsner.
Suggestion: Lone Rider Saloon Style Pilsner, Raleigh, North Carolina Georgia Local Recommendation: Pontoon No Pants Pilsner, Atlanta, Georgia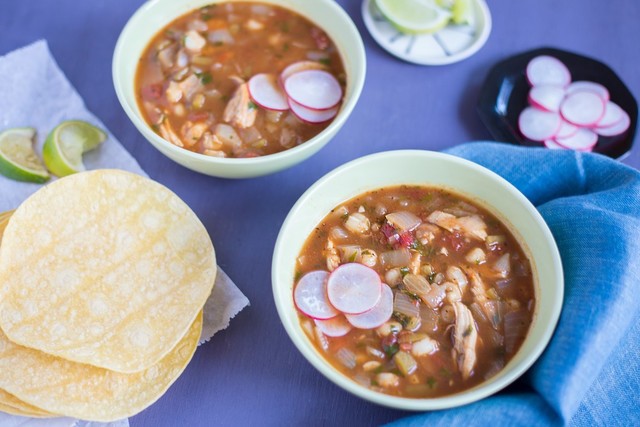 Chicken Pozole with Corn Tortillas, Radish & Lime
When people think of Mexican beer, they often think of thin beers you see in Mexican restaurants. People forget that Mexican beer has its roots in Austria. Yes, for a time Mexico was ruled by Austria which is why you see the word Bohemia on some of their lagers. For this classic soup dish, let's go with a Mexican style lager brewed by American craft brewers imitating the beers the Austrians brought.
Suggestion: Oskar Blues Beerito, Longmont, Colorado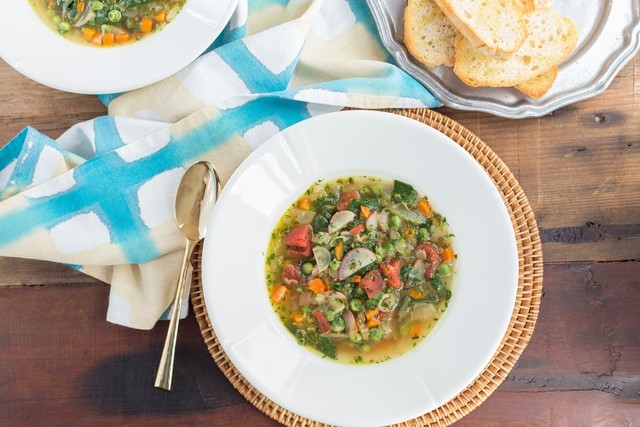 Spring Minestrone Verde with Pesto & Crispy Ciabatta
Comfort food evokes good memories and feelings. In the beer world, I can think of nothing more comforting than a classic stout, something that delivers classic chocolate and coffee flavors in a large malt bill that just makes you feel better. Minestrone soup, a classic stick to your ribs comfort food deserves a classic stick to your ribs big stout as a complement.
Suggestion: Avery Out of Bounds Stout, Boulder, Colorado Georgia Local Recommendation: Blue Tarp Last Place Stout, Decatur, Georgia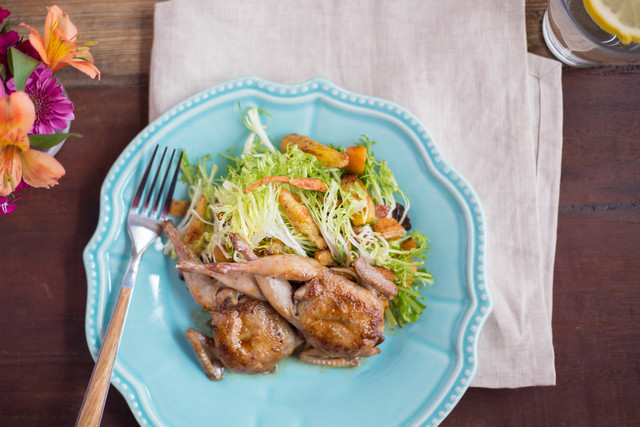 Sorghum Glazed Quail with Roasted Root Vegetable and Frisee Salad
You have heard us say it time and time again; match complementary flavors and avoid contrasts when pairing food with beer. The reason chocolate cake and vanilla ice cream go so well together is the sweetness between them is complementary. For this dish of sorghum glazed quail, we want a sweet stout to help keep the sweetness at the forefront of the dish.
Suggestion: Thomas Creek Banana Split Stout, Greenville, South Carolina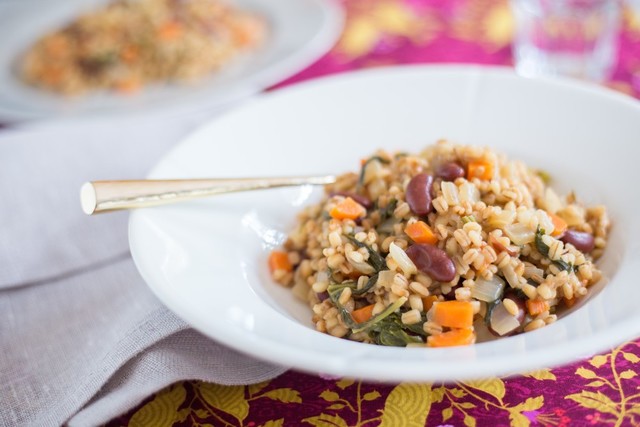 SuperFood Barley Risotto with Red Beans & Greens
The superfood series continues to be a difficult menu choice to pair with. Normally when pairing beer and food you avoid contrasts-- the beer should not get in the way of the flavors in the food. However, there are times to break that rule. In this case, we have a very thick dish that we think would benefit from the addition of some sweet citrus. For that reason, we suggest pairing this risotto with a blood orange cider.
Suggestion: Bold Rock Blood Orange, Nellysford, Virginia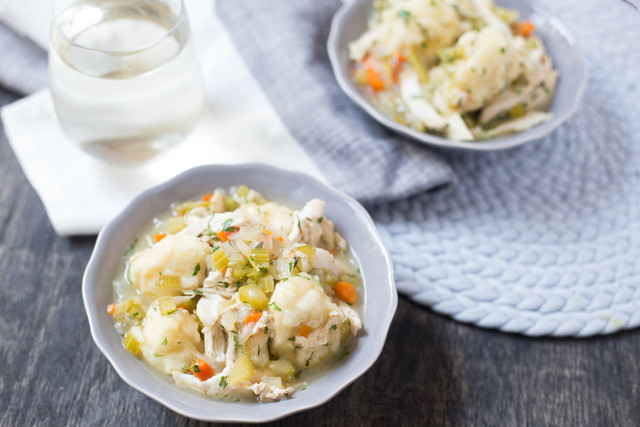 Zeb Stevenson's Chicken & Dumplings
What makes a dry stout dry? Well, the answer is the roasted malts that are used to brew them. Roasting not only adds flavor, but it also removes sugar from the malt, meaning a dry stout has less fermentable sugar which means that the fermentation process leaves less sugar in the beer. For a creamy dish like chicken & dumplings, a dry stout will work because a sweet stout would get lost in the background.
Suggestion: Breckenridge Dry Irish Stout, Littleton, Colorado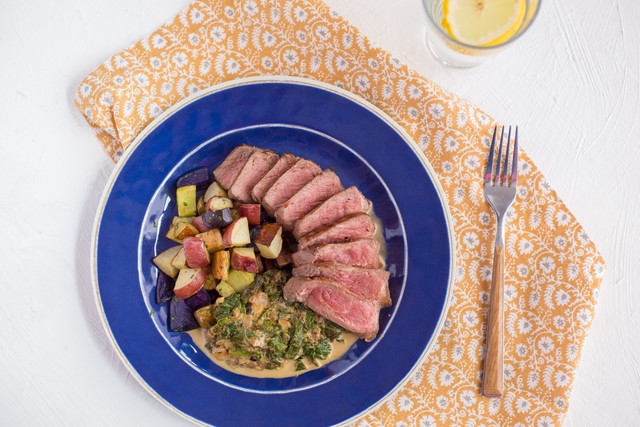 Georgia Grown Strip Steak with Creamed Spinach & Roasted Potatoes
We love old school steak houses that craft sides that complement the star of the meal-- the steak. This dish of Georgia strip steak, roasted potatoes, and creamed spinach calls for a beer that will complement the meat. Being fans of Kansas City's own Boulevard Tank 7, we think it appropriate to add a little cow town love to the meal.
Suggestion: Boulevard Tank 7, Kansas City, Missouri
Kathleen McDaniel's Flourless Chocolate Cake with Cinnamon-Spiced Whipped Cream
Dessert and beer-- a sweet subject. You see what we did there? In pairing anything, the basic tenet is that like pairs with like. For a flourless chocolate cake, you need to think what would go well on it. In this case, we think some caramel would take it to the next level. So, we pair the sweet chocolate flavors with some sweet caramel flavors in a beer.
Suggestion: Anderson Valley Winter Solstice, Boonville, California