Wine Pairings for the Week of March 27th, 2017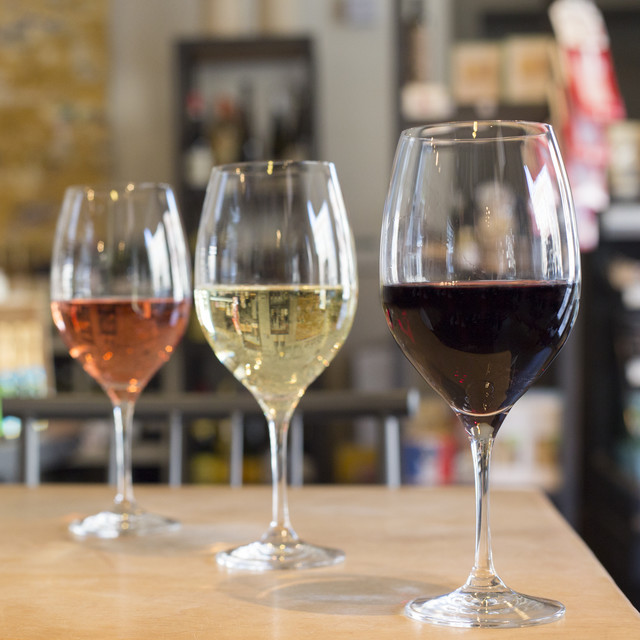 Each week, Wine Specialist Tim Willard bring you suggestions to complement your PeachDish meals. Tim completed the Advanced Sommelier course through the Court of Master Sommeliers and continues to study and mentor in pursuit of the Master Sommelier certification. Tim has been in Atlanta for just over four years spending time at Bacchanalia, The Spence and LUSCA. In 2014 Tim decided to dive fully into wine, leaving the restaurant industry to start a career with European Cellars as the Southeastern Regional Sales Manager.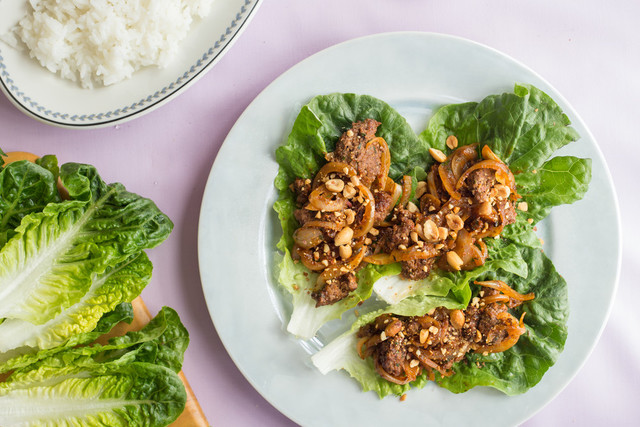 Beef Lettuce Wraps with Crunchy Peanuts & Long Grain Rice
Alsace Pinot Gris – Alsace is the go-to place for white wines that combine body and texture with minerality and acidity. These are all the things your palate will crave when combining spicy beef, crisp spring lettuces, and Asian inspired sweet and spicy sauce. Alsatian Pinot Gris has stone fruit, honeysuckle, cinnamon and hints of ginger that keep complexity high and pairing for this dish a no brainer.
Suggestion: Barmes Buecher, Pinot Gris, Rosenburg – Alsace, France.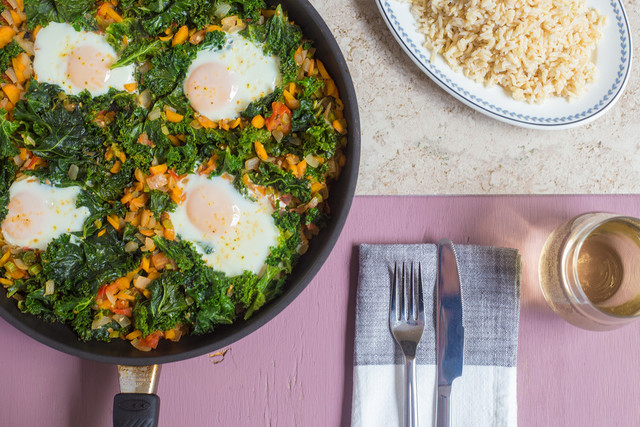 Veggie & Eggs Skillet with Brown Rice
Cru Beaujolais, Gamay Noir – Down home cooking in a cast iron skillet always makes red an easy grab – yes, even with a vegetarian dish. Gamay is just the right touch of bright red fruit and earth to match up with hearty vegetables, brown rice, and a broken egg. Cru Beaujolais has been on a meteoric rise amongst wine professionals, and the best wines from the region won't set you back too many pretty pennies. Isn't it time for you to get in on the fun?
Suggestion: Chateau Thivin, Cote de Brouilly – Beaujolais France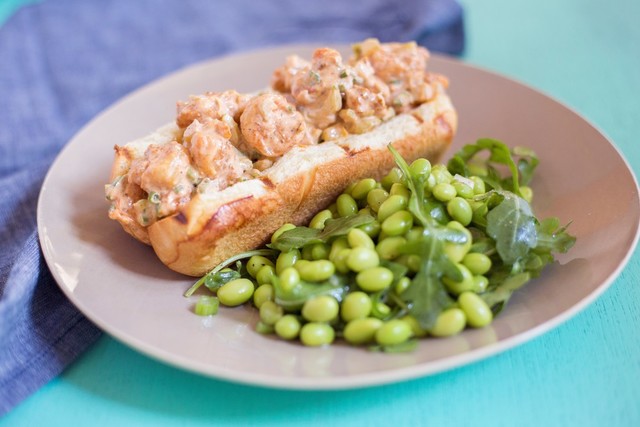 Shrimp Roll with Edamame & Arugula Salad
Godello, Valdeorras Spain – Godello (pronounced "Go-day-yo") is THE white wine of Valdeorras in northwestern Spain. The grape is a lot like Chardonnay but has a little more weight and stone fruit character. Some winemakers are experimenting with light use of oak in the aging process which gives the finest versions spectacular complexity and length. Pair an oaked Godello with sweet shrimp in a buttery Parker House roll and be prepared for a guilty pleasure you will want to repeat all season long.
Suggestion: Rafael Palacios, Louro Godello - Valdeorras, Spain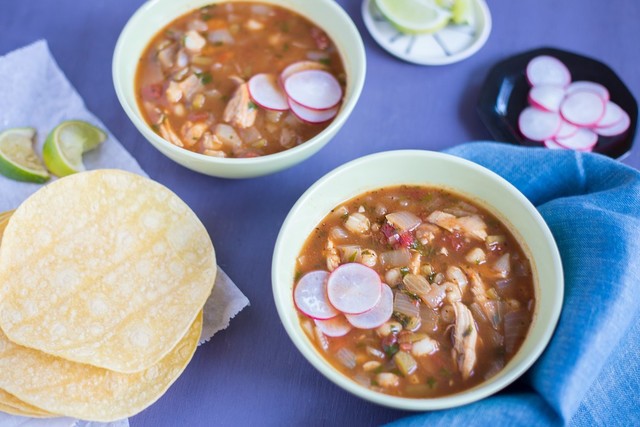 Chicken Pozole with Corn Tortillas, Radish & Lime
Tempranillo, Rioja Spain – Chicken Pozole combines "hearty and bright" in that perfect combination that just feels right – so why not pick a wine that does the same thing? Rioja Spain has been specializing in Tempranillo blends (Garnacha and Graciano are typical blending partners) for a long time and most examples hit the "hearty and bright" combo spot on. Look for high toned red fruit like pomegranate and cherry with complex spiced notes of vanilla and sandalwood in a perfectly sippable medium-bodied red.
Suggestion: La Rioja Alta, Rioja Viña Alberdi Reserva – Rioja, Spain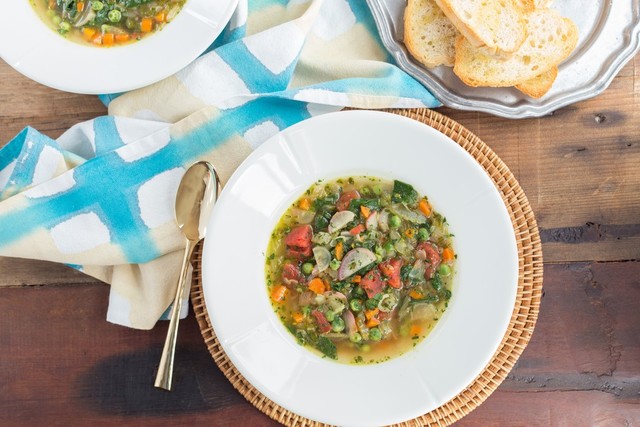 Spring Minestrone Verde with Pesto & Crispy Ciabatta
Sparkling Chenin Blanc, Cremant de Loire – Springy green vegetables, basil pesto, and mirepoix in a veggie broth need a wine that can let the dish shine. Chenin Blanc is naturally bright and stony with subtle apple and citrus fruits. Add bubbles made in the same style as Champagne and you get a refreshing aperitif perfect for light bites and first courses.
Suggestion: Louis de Grenelle, Crémant de Loire Platine – Saumur, France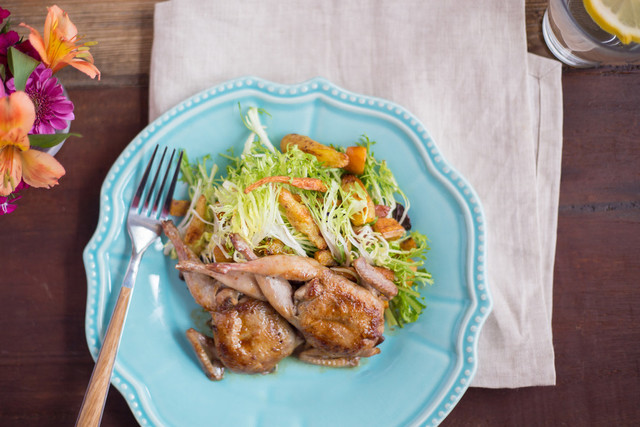 Sorghum Glazed Quail with Roasted Root Vegetable and Frisee Salad
Nerello Mascalese, Sicily, Italy – Do you love Pinot Noir? What if it had just a little less fruit and little more…. personality? If this sounds up your alley then you need to try some Sicilian wines from Mt Etna. The fruit is similar to Pinot Noir, just a tad more complex – the flavors are rustic and the volcanic soil adds a savory component that makes a perfect match for game bird and root veggies.
Suggestion: Fattorie Romeo del Castello, Rosso Allegracore – Sicily, Italy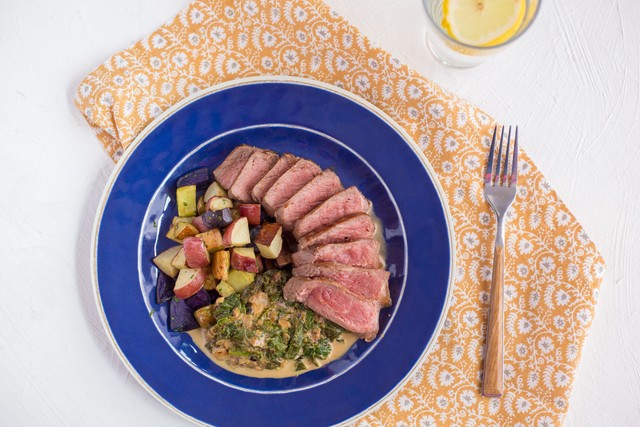 Georgia Grown Strip Steak with Creamed Spinach & Roasted Potatoes
Merlot, California, US – If you made your mind up about Merlot 15 years ago based on a movie about winemaking from a previous generation, you are behind the times. Merlot is one of the wine world's great treasures and makes some of the most compelling and expensive bottles of wine. It's time to give it another try-- and you can get one made in the USA. Merlot has beautifully ripe black and blue fruits – think plum – that can outcompete the earth and acid profile of the wine, giving a velvety mouthfeel, and elegant finish. That's what I'm drinking with GA strip steak, potatoes and creamed spinach – and you should too!
Suggestion: Neyer's Conn Valley Merlot – Napa, US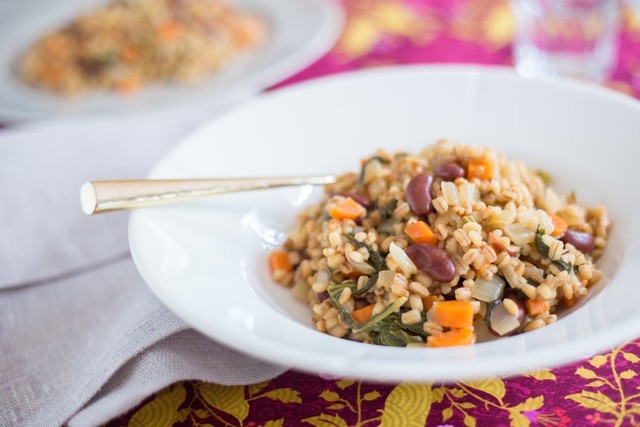 SuperFood Barley Risotto with Red Beans & Greens
Grenache, Syrah, Mourvedre Rose, California, US – Fresh vibrant food deserves fresh vibrant wine and the freshest of 2016 Roses are landing at your local wine shop as we speak. Barley, carrots, greens, thyme, & bay make for a hearty and aromatic feast that need a light clean companion. The 2016 Matthiasson Rose captures this style completely – layers of light red fruit aromatics lead to a gob smacking palate of tart strawberry, cherry, lemonade, and crushed stone. It's the kind of wine you can't put down until your finished – but try to get a bite of food in between sips.
Suggestion: Matthiasson Family Vineyards, 2016 Rose – Napa, US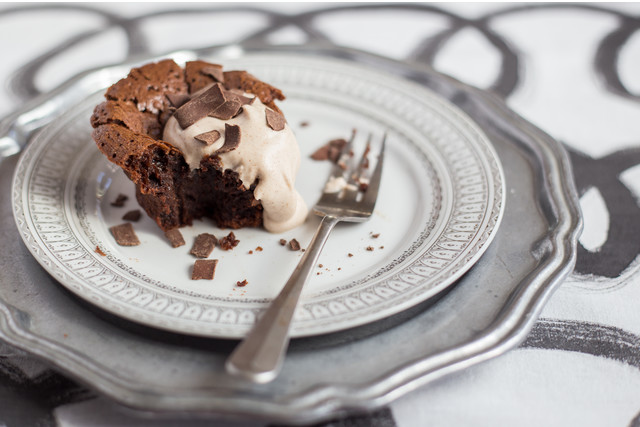 Kathleen McDaniel's Flourless Chocolate Cake with Cinnamon-Spiced Whipped Cream
Pedro Ximinez Sherry, Montilla-Moriles, Spain – Pedro Ximinez is a grape dried in the sun to concentrate the sugars and the natural flavors of the fruit. Think honeyed figs, dried raisins, and caramel. Some of the best producers will age these wines for many years allowing dried fruit flavors to give way to layers of decadent flavor from roasted coffee to dense dark chocolate, and toffee. Flourless chocolate cake, meet your new best friend.
Suggestion: Bodegas Toro Albalá, Don PX Gran Reserva Pedro Ximénez Sherry (1987) – Montilla-Morilles, Spain