Beer Pairings for the Week of March 20th, 2017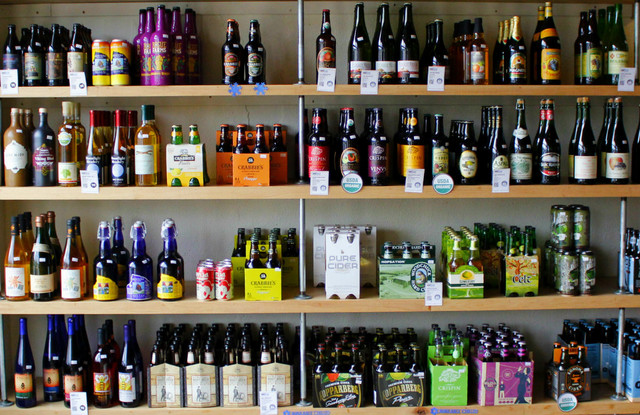 Looking for the perfect brew to go along with your PeachDish meals? We've got you covered. We've partnered with the owners of BeerGirl, a local Atlanta shop, to help you select the perfect beverage. BeerGirl's passionate owners, Alexia Ryan and Erik Lewis opened their shop with the dream of connecting the people of their community with delicious craft beer from the South and beyond. Here are this week's suggested pairings: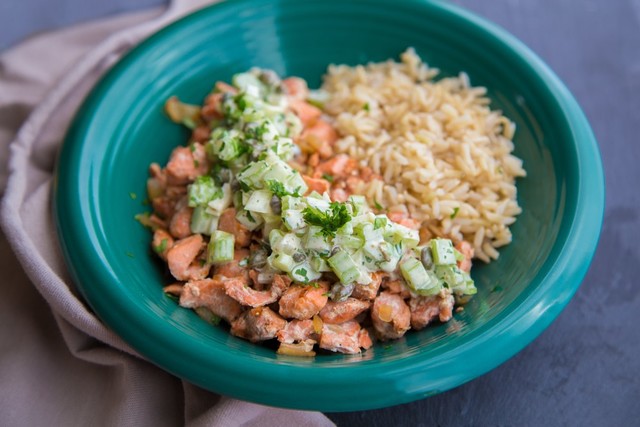 Wild Caught Salmon with Celery Remoulade & Brown Rice
Beer and fish-- if it's battered that is a no brainer, but if it isn't how do you match a beer to a flaky fish which is just screaming for an acidic white wine? When it comes to fish, you need a beer with lots of fruit and a little hop bite, which brings us to our favorite beer to pair with fish. The farmhouse ale brings the sweet of wheat along with a nice dose of hop bitterness. For this dish of salmon, rice, and celery we suggest a farmhouse ale as the perfect accompaniment.
Suggestion: Burial Blade & Sheath, Asheville, North Carolina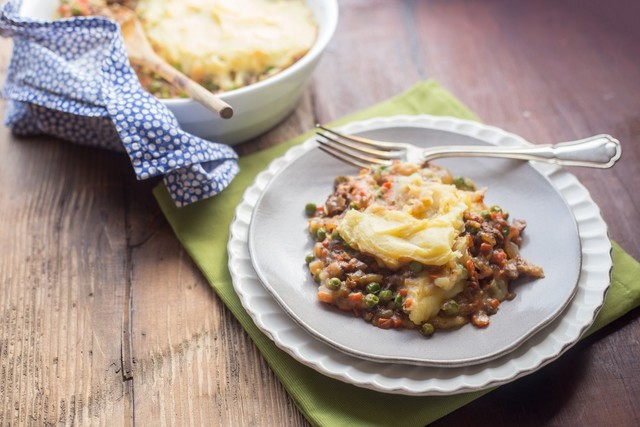 Brasstown Rancher's Pie with Grassfed Beef & Early Peas
Shepherd's pie is one of our favorite dishes on a cold day. The mixture of beef, gravy, peas, and mashed potatoes is a stick to the bones kind of meal which is why it requires a stick to your bones kind of beer. It is no secret that when brewers want to make an imperial stout bigger they add some barrel aging. For this cold weather dish, we will pair it with a cold weather barrel aged imperial stout, a combination we think a rancher would appreciate.
Suggestion: Allagash St Klippenstein, Portland, Maine Georgia Local Recommendation: Monday Night Tears of My Enemies, Atlanta, Georgia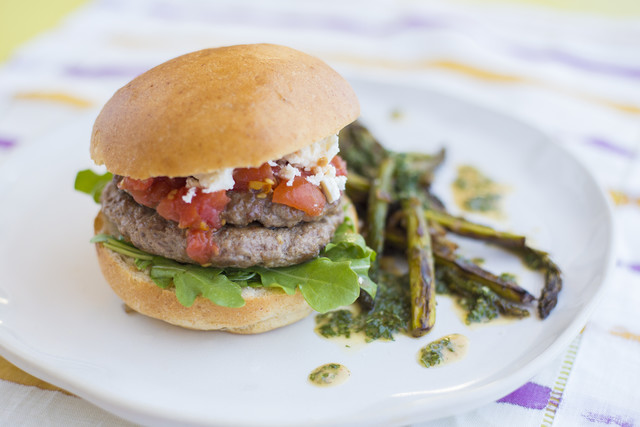 Lamb Burger with Preserved Tomatoes, Roasted Asparagus & Mint Vinaigrette
Did you know that you can add your own flavors to beer? Seriously, there is no rule that says that you must drink beer without alteration. This can go far beyond adding citrus to a heffeweizen or making a lager a red eye. Swing by the store and buy some extra mint to go with the lamb burgers. Crush the mint in the bottom of the glass and then pour in a nice light wheat beer and be prepared to have the ultimate complementary beverage to this Mediterranean dish.
Suggestion: Lone Rider Shotgun Betty, Raleigh, North Carolina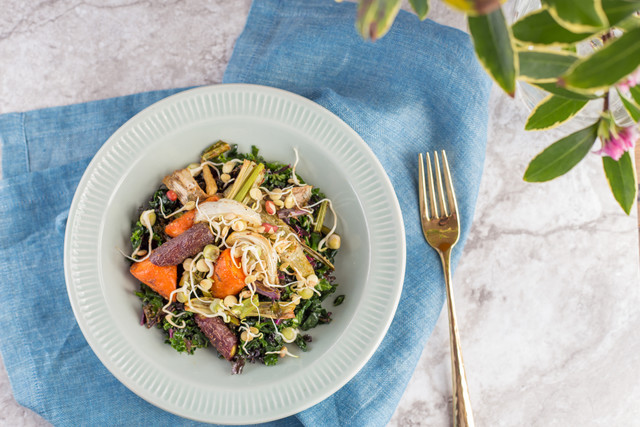 Roasted Spring Vegetables with Kale & Dried Cherries
Adding unexpected fruit to a beer is usually left to the domain of wheat style beers. The reason is simple sweeter malts pair well with fruit flavors from citrusy to tart. As we head into spring and summer, expect to see lots more fruit-flavored wheat beer on the shelves; don't be frightened, take it as an opportunity to experiment! For this dish of spring vegetables, kale, and cherries we suggest a wheat beer that brings a tad bit of tartness to complement the dried cherries.
Suggestion: Against the Grain Pome and Grabbit, Louisville, Kentucky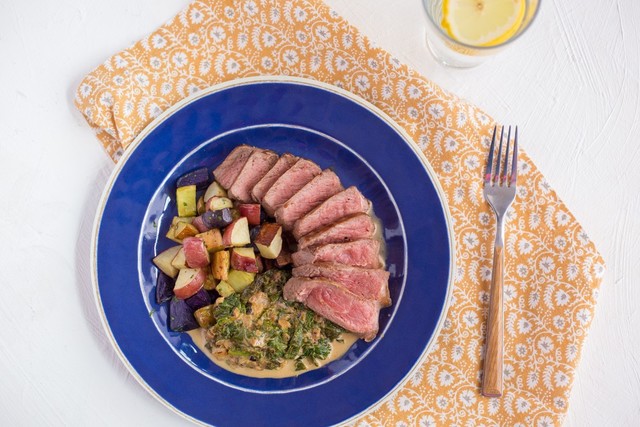 Georgia Grown Strip Steak with Creamed Spinach & Roasted Potatoes
We love old school steak houses that craft sides that complement the star of the meal-- the steak. This dish of Georgia strip steak, roasted potatoes, and creamed spinach calls for a beer that will complement the meat. Being fans of Kansas City's own Boulevard Tank 7, we think it appropriate to add a little cow town love to the meal.
Suggestion: Boulevard Tank 7, Kansas City, Missouri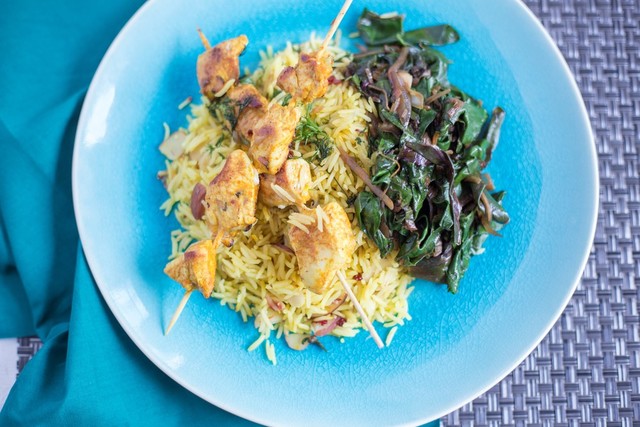 Curry Chicken Kebabs with Barberry Rice, Shallots & Chard
Cue up the IPA: it's curry, right? Sure, we have gone over the history of IPAs and India, but that isn't what makes them good for spicy food. Bitterness is a hard contrast to the heat which means spicy food stands out more when paired with a bitter IPA. With this pairing, we will let the beer contrast the spicy curry.
Suggestion: Uinta Hop Nosh, Salt Lake City, Utah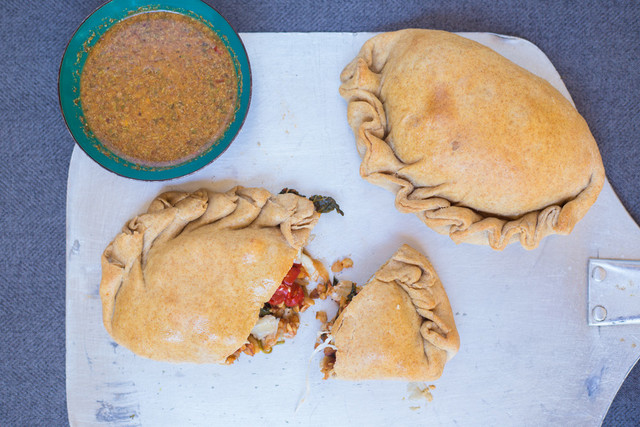 SuperFood Veggie Calzone with Spiced Dipping Sauce
Beer has been with us a long time; the oldest existing brewery Weihenstephaner has only been with us since 1040. Yeah, we started brewing BC. For this healthy calzone, why not pair it with a little history and try any of Weihenstephaner's beers as the appropriate beer choice.
Suggestion: Weihenstephaner Kristallweissbier, Freising, Germany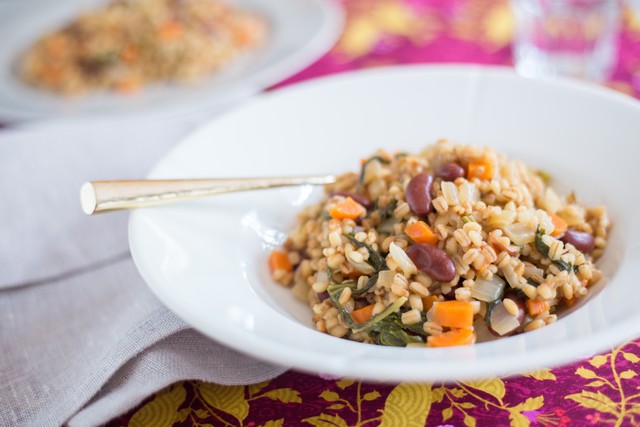 SuperFood Barley Risotto with Red Beans & Greens
The superfood series continues to be a difficult menu choice to pair with. Normally when pairing beer and food you avoid contrasts-- the beer should not get in the way of the flavors in the food. However, there are times to break that rule. In this case, we have a very thick dish that we think would benefit from the addition of some sweet citrus. For that reason, we suggest pairing this risotto with a blood orange cider.
Suggestion: Bold Rock Blood Orange, Nellysford, Virginia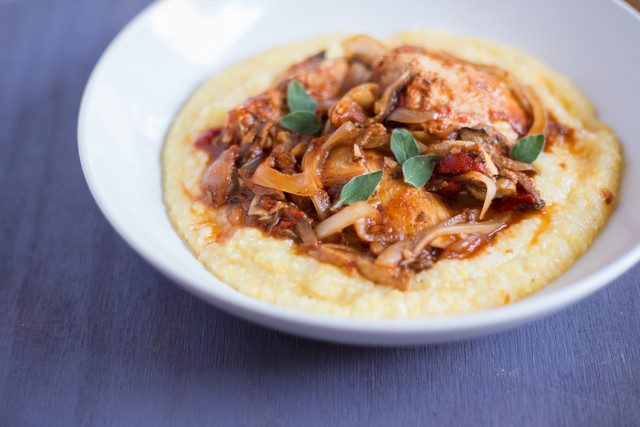 Hunter's Chicken with Creamy Polenta & Fresh Oregano
German beer styles pretty much break down to lagers and hefeweizens, lagers being the more time intensive finished product usually available at higher alcohol contents and hefeweizens being the cheaper to produce wheat ale because it can be brewed quicker. What happens when you lager a wheat beer? Well, you get interesting hybrids like the Weizenbock. With all that sweet wheat malt, lagering develops flavors and a whole lot more alcohol than one normally sees in a hefeweizen. For hunter's chicken, we suggest pairing it with a Weizenbock which should go nicely with this rustic dish.
Suggestion: At Water Teufel, Detroit, Michigan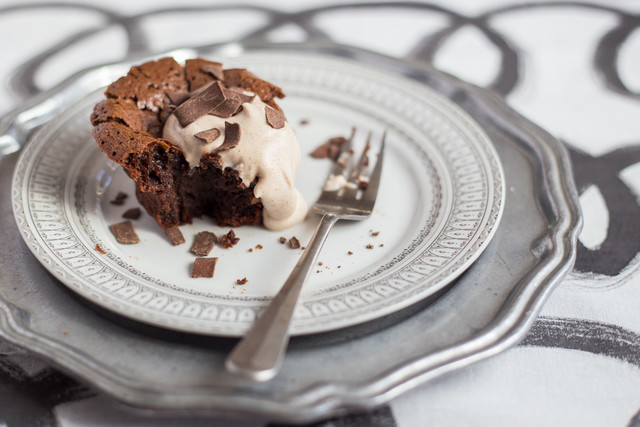 Kathleen McDaniel's Flourless Chocolate Cake with Cinnamon-Spiced Whipped Cream
Dessert and beer a sweet subject. You see what we did there? In pairing anything, the basic tenet is that like pairs with like. For a flourless chocolate cake, you need to think what would go well on it. In this case, we think some caramel would take it to the next level, so we pair the sweet chocolate flavors with some sweet caramel flavors in a beer.
Suggestion: Anderson Valley Winter Solstice, Boonville, California