Beer Pairings for the Week of March 13th, 2017
Looking for the perfect brew to go along with your PeachDish meals? We've got you covered. We've partnered with the owners of BeerGirl, a local Atlanta shop, to help you select the perfect beverage. BeerGirl's passionate owners, Alexia Ryan and Erik Lewis opened their shop with the dream of connecting the people of their community with delicious craft beer from the South and beyond. Here are this week's suggested pairings: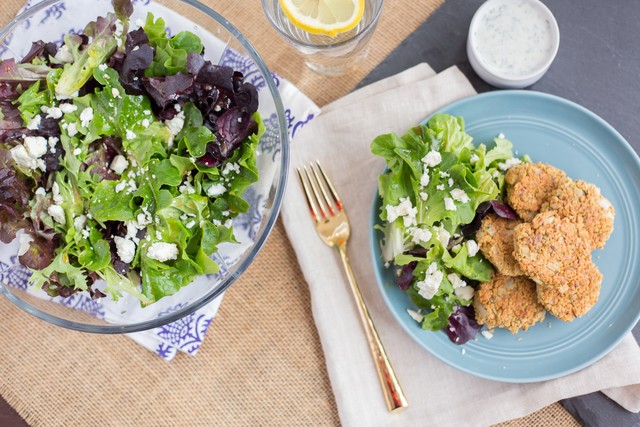 Baked Falafel with Dill Yogurt Sauce, Fresh Lettuce & Feta
What is the difference between a hefeweizen, and a white ale? After all both are made with wheat. The only difference really is the yeast. Whereas a classic hefeweizen yeast adds a distinct banana flavor and aroma, the classic white ale has a peppery aroma and finish. With this dish of dill and tangy feta, we feel a white ale will pair nicely.
Suggestion: Cigar City Florida Cracker, Tampa, Florida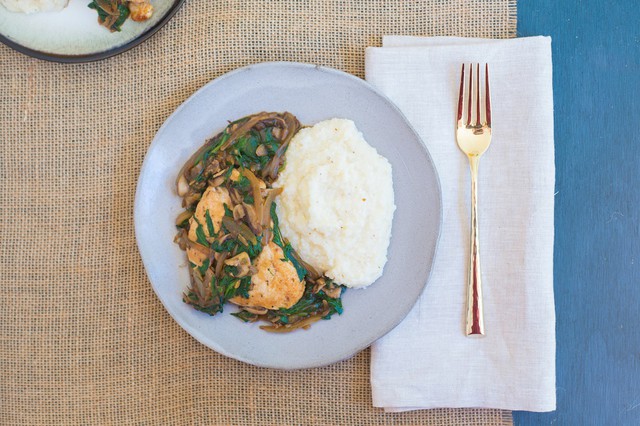 Spinach & Mushroom Smothered Chicken with Grits
Lactose has many uses in beer. You can take the lactic acid and sour a beer, or use the lactose sugar to sweeten a beer. Wait, wouldn't the yeast just eat the sugar and make more alcohol? Lactose sugar is un-fermentable which means adding it not only allows the brewer to add the milk monicker, but also to sweeten the beer without increasing the alcohol content. Milk stouts are the comfort food of beer and will complement the "smothering."
Suggestion: Left Hand Milk Stout Nitro, Longmont, Colorado
Wild Alaskan Salmon with Almond Pilaf & Glazed Hakurei Turnips
It should not take a scholar to realize Saison is a seasonal beer-- it literally means season in French. Brewed in the winter with leftovers from the harvest, Saisons were consumed over the summer months. Brewing in winter alleviated the hardest part of making beer which is the cooling of the hot wort - which was incredibly hard in pre­industrial rural Wallonia. The delicate salmon will pair nicely with a fruity Saison that has a little spice.
Georgia Local Recommendation: Wild Heaven White Blackbird, Decatur, Georgia Suggestion: Blackberry Farms Classic Saison, Walland, Tennessee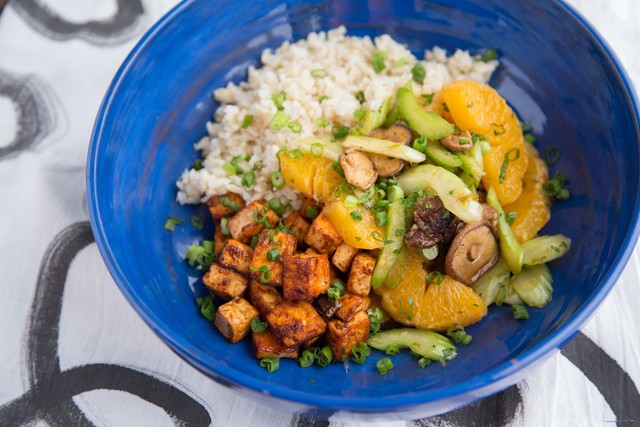 Glazed Tofu with Roasted Shiitake & Citrus Salad
Takeout Chinese has a long history of being paired with pilsners. What makes the pilsner and Chinese a classic combination? It's quite simple-- a pilsner does not take away from the contrasting flavor combinations, in this case salty, sour, and sweet. A pilsner cleanses the palate so that you can enjoy the contrasting flavors in the dish. For this meal of contrasts choose a classic pilsner.
Georgia Local Recommendation: Creature Comforts Bibo, Athens, Georgia Suggestion: Foot Hills Torch Pilsner, Winston-Salem, North Carolina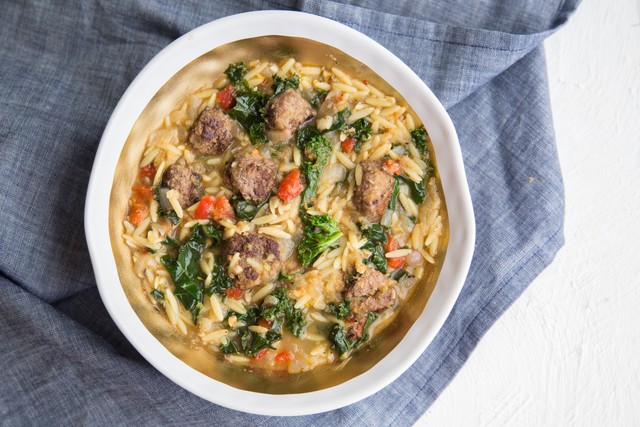 Italian Wedding Soup with Grass-fed Beef, Orzo & Greens
Full of greens, pasta, chicken stock and meat, Italian soups are not light and delicate. They by their very nature are designed to fortify, which is why you need a big beer as an accompaniment. For Italian wedding soup, we suggest a big roasted malt porter that can stand up to a big soup.
Suggestion: Founders Porter, Grand Rapids, Michigan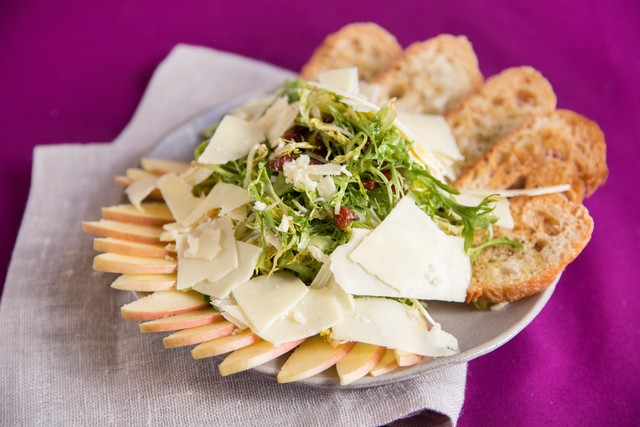 Daniel Porubiansky's Frisee Salad with Apple & Bacon Vinaigrette
Apples and bacon are a classic combination. In fact, our favorite bacon is smoked with applewood. That's why whenever we see bacon in a dish we gravitate towards a cider. For this dish featuring a bacon vinaigrette and tart apples, we suggest a tart cider that will complement the tart apple flavor.
Suggestion: Original Sin Cider, New York City, New York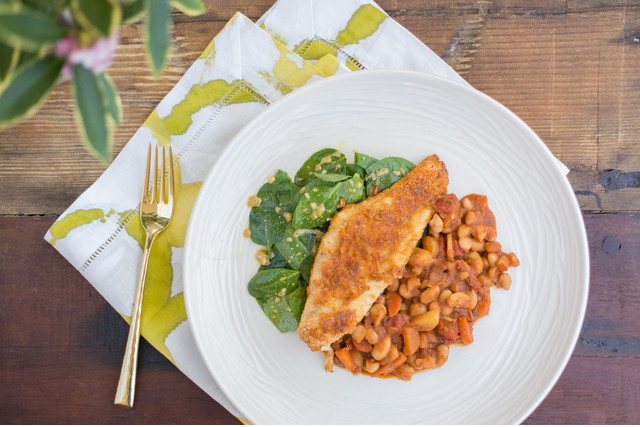 Cornmeal Catfish with White Beans & Spinach Salad
Cream ales are undergoing somewhat of a resurgence. A uniquely American style of beer brewed to be smooth and mild, they are similar to a pale ale. However, they're sweeter due to the use of adjunct malts like rice and corn. Wait, doesn't that make them an adjunct lager? Nope, a cream ale uses ale yeast. While they can be finished via lagering, they are definitely an ale. For this dish of fried catfish, we suggest a cream ale that won't compete for attention with the fish.
Suggestion: Victory Cream Ale with Cold Brew Coffee, Downington, Pennsylvania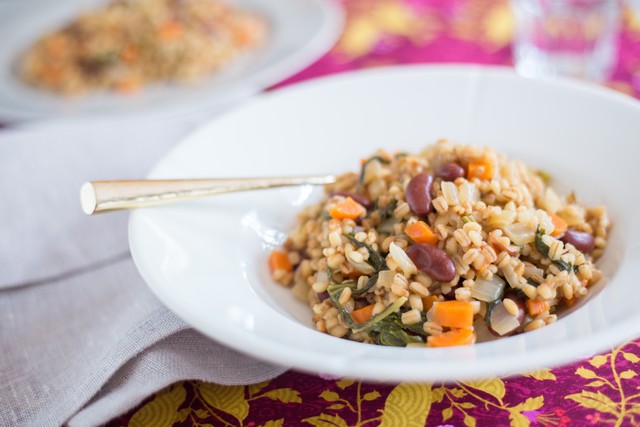 SuperFood Barley Risotto with Red Beans & Greens
The SuperFood series continues to be a difficult menu choice to pair with. Normally when pairing beer and food you avoid contrasts; the beer should not get in the way of the flavors in the food. However, there are times to break that rule. In this case, we have a very thick dish that we think would benefit from the addition of some sweet citrus. For that reason, we suggest pairing this risotto with a blood orange cider.
Suggestion: Bold Rock Blood Orange, Nellysford, Virginia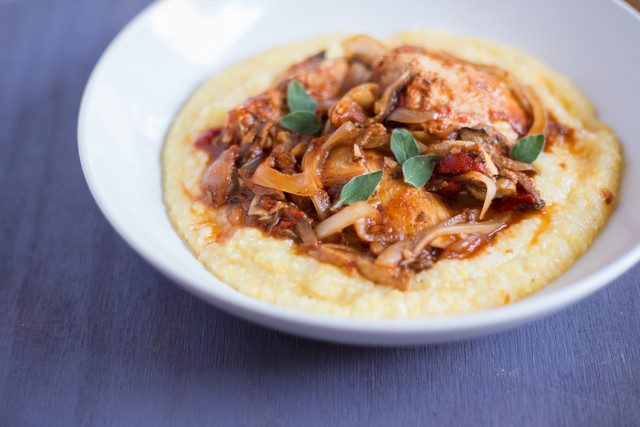 Hunter's Chicken with Creamy Polenta & Fresh Oregano
Germany beer styles pretty much devolve down to lagers and hefeweizens, lagers being the more time-intensive finished product usually available at higher alcohol contents. Hefeweizens being the cheaper to produce wheat ale because it can be brewed quicker. What happens when you lager a wheat beer? Well, you get interesting hybrids like the Weizenbock. With all that sweet wheat malt lagering develops flavors and a whole lot more alcohol than one normally sees in a hefeweizen. For hunter's chicken, we suggest pairing it with a Weizenbock which should go nicely with this rustic dish.
Suggestion: At Water Teufel, Detroit, Michigan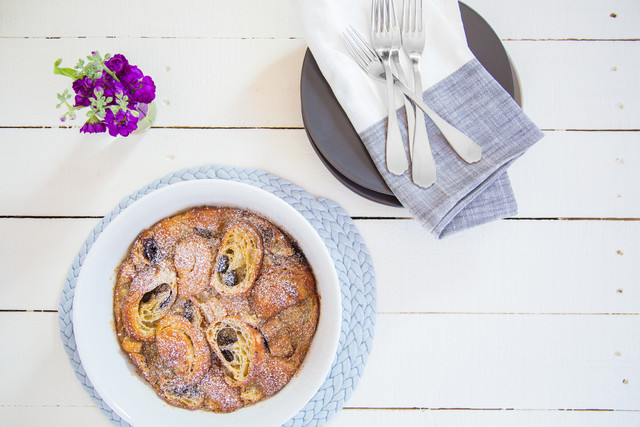 Chocolate Croissant Bread Pudding Dessert Kit
Pairing a beer with dessert? Sure, it's actually a very common thing to do. Beer often has a sweet component that we like to pair with other sweets. In fact, many beers take the dessert as an inspiration from ice cream to pie and everything in between. For this chocolate bread pudding let us pair it with a little chocolate-inspired liquid bread.
Suggestion: Smuttynose Big Beer Series: Rocky Road Stout, Hampton, New Hampshire