Beer Pairings for the Week of February 20th, 2017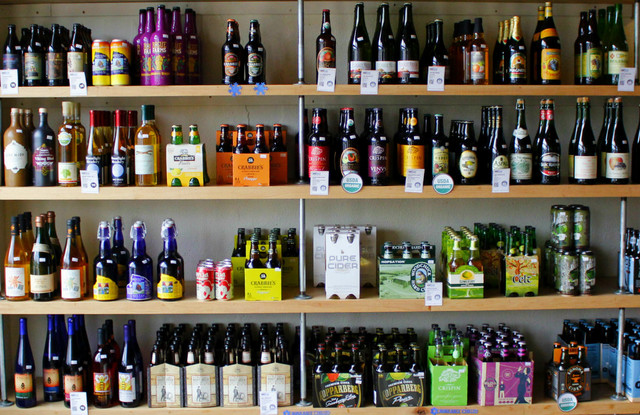 Looking for the perfect brew to go along with your PeachDish meals? We've got you covered. We've partnered with the owners of BeerGirl, a local Atlanta shop, to help you select the perfect beverage. BeerGirl's passionate owners, Alexia Ryan and Erik Lewis opened their shop with the dream of connecting the people of their community with delicious craft beer from the South and beyond. Here are this week's suggested pairings: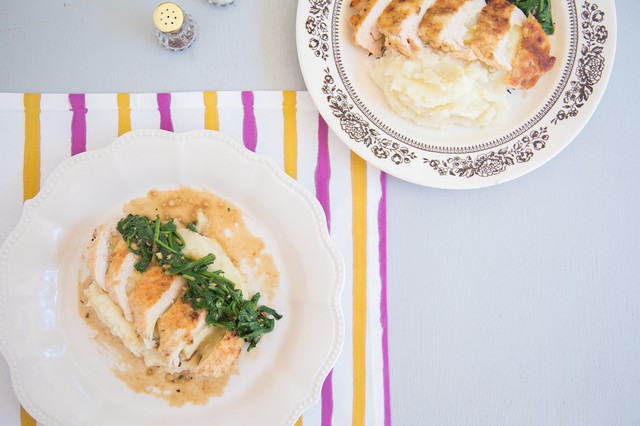 Chicken Breast Stuffed with Fontina & Apple over Mashed Potatoes
Lagers are a staple beer because they taste clean and crisp. Bottom-fermenting yeast working in colder temperatures produce that clean and crisp lager flavor. For this dish of fontina, chicken, and apple, a crisp lager should allow all the flavors to shine.
Suggestion: Okocim Polish Lager, Brzesko, Poland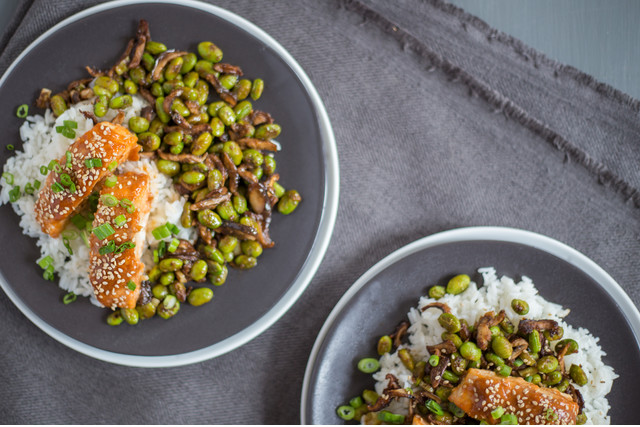 Wild Alaskan Cod with Miso, Shiitake & Edamame
Pairing fish and beer used to mean finding the perfect beer to go with the batter and coleslaw. Sure, wine has established rules like whites with fish, but with beer, we tend to look at the color and taste of the fish. With a mild flavored fish like cod, we suggest a Belgian wit. The peppery Belgian yeast and the sweet malt shouldn't overwhelm the cod's delicate flavor.
Suggestion: Bavik-De Brabandere Wittekerke, Harelbeke, Belgium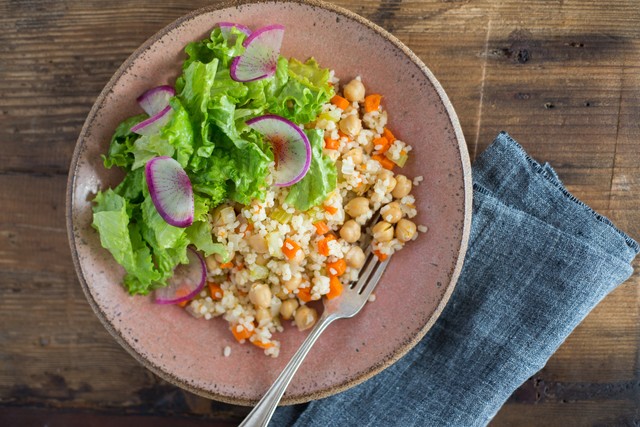 Veg & Gold Rice Middlins with Baby Romaine Salad
We mostly eschew color as a beer description according to the beer judges (who clearly are ignoring Belgian white ales, American ambers, and German schwartzbier). Seriously, the color of malt has long been associated with the naming conventions so a brown ale is not an oddity. As Americans, we believe in hopping it, but we hop everything. The nutty flavor of the middlins will match the nuttiness of a brown ale.
Suggestion: New Holland Cabin Fever, Holland, Michigan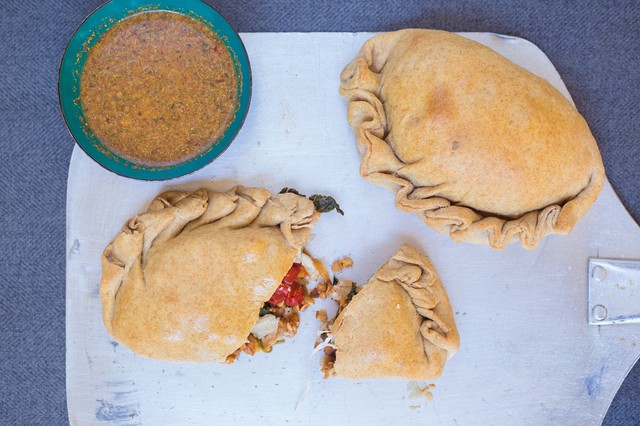 SuperFood Veggie Calzone with Spiced Dipping Sauce
Beer has been with us a long time--actually, the oldest existing brewery, Weihenstephaner, has only been with us since 1040. For this healthy calzone, why not pair it with a little history and try any of Weihenstephaner's beers as the appropriate beer choice.
Suggestion: Weihenstephaner Kristallweissbier, Freising, Germany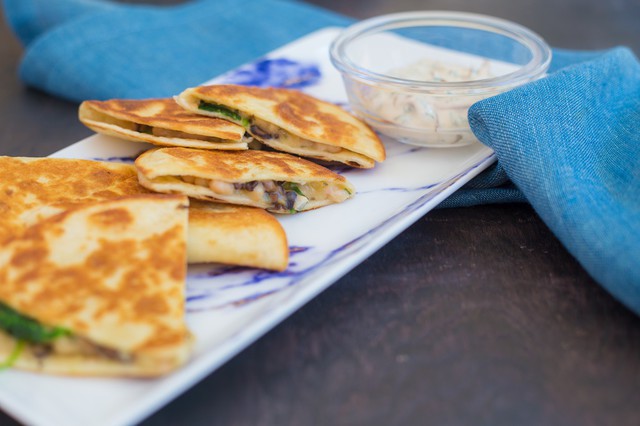 Mushroom & White Bean Quesadillas with Caramelized Shallot Crema
American craft brewers started making their own interpretation of Mexican-style lagers, which is interesting because Mexican brewers have been making their own interpretation of Vienna lagers. A Mexican style lager is a Vienna style lager. This is only fitting since Austrians taught Mexicans how to brew beer. For quesadillas, we can think of no better beverage than a classic Mexican lager, brewed by Americans.
Suggestion: Oskar Blues Beerito, Longmont, Colorado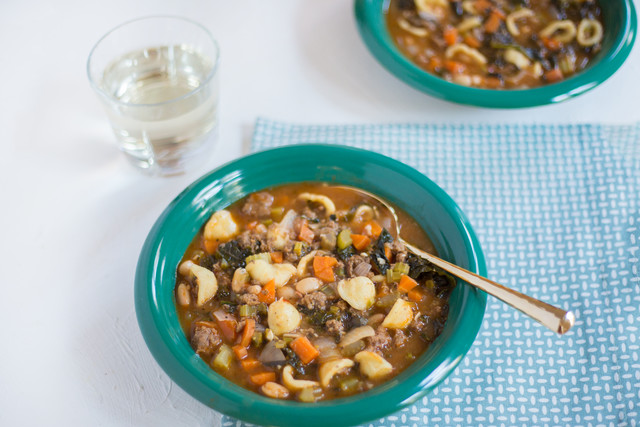 Hearty Minestrone with Beef, Kale, and White Beans
Comfort food evokes good memories and feelings. In the beer world, I can think of nothing more comforting than a classic stout. Something that delivers classic chocolate and coffee flavors in a large malt bill that just makes you feel better. Minestrone soup, a classic stick to your ribs comfort food deserves a classic stick to your ribs big stout as a complement.
Suggestion: Avery Out of Bounds Stout, Boulder, Colorado Georgia Local Recommendation: Blue Tarp Last Place Stout, Decatur, Georgia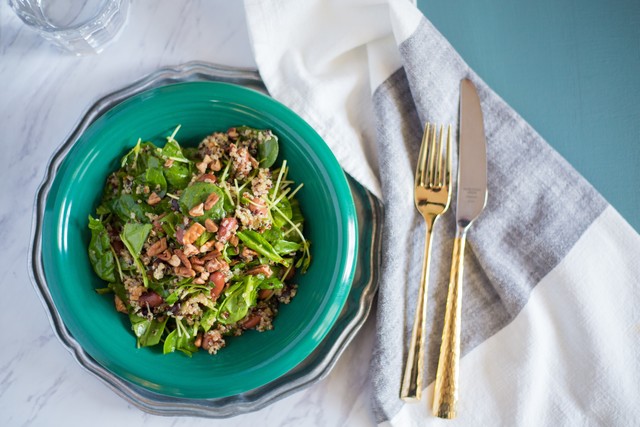 SuperFood Fiesta Bowl
Got to say, this is a tough meal for a beer pairing; however, we are up to the task. Brewers love to experiment, which leads us to kombucha beer. Is kombucha beer really a beer or is it just hopped kombucha tea? Well, that question is certainly up for debate, but if you are a fan of sour beers and kombucha, it might just be your new go-to drink. With the cornucopia of flavors in this dish, a tart beer with its own superfood might be just the ticket.
Suggestion: Unity Vibration Kombucha Beer, Ypsilanti, Michigan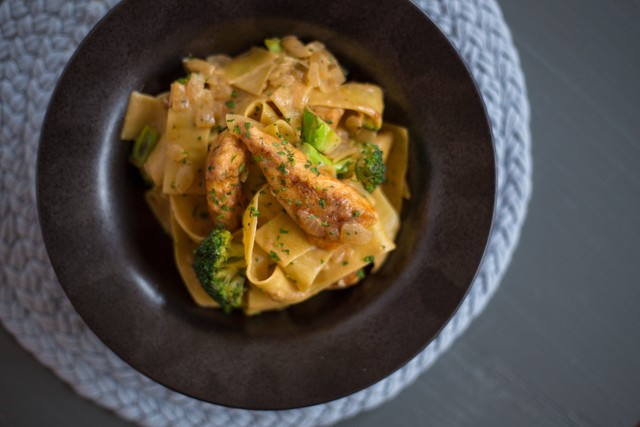 Chicken Paprikash with Egg Noodles
Smoke in beer has a long tradition, usually related to over-toasting the malt (the polite way of saying burning). The more toasted the malt, the easier it is to mill; however, over-toasted malt suffers from the husk trapping and concentrating the smoke which can have interesting effects on the grains. There are times when a smoky beer will excel. One of them is when there is a smoky complement-- in this case, paprika.
Suggestion: Stone Smoked Porter, Escondido, California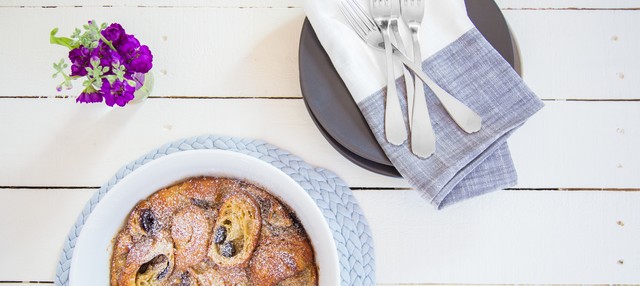 Chocolate Croissant Bread Pudding Dessert Kit
Pairing a beer with dessert? Sure, it's actually a very common thing to do. Beer often has a sweet component that we like to pair with other sweets. In fact, many beers take dessert as an inspiration, from ice cream to pie and everything in between. For this chocolate bread pudding, let's pair it with a little chocolate-inspired liquid bread.
Suggestion: Smuttynose Big Beer Series: Rocky Road Stout, Hampton, New Hampshire