Beer Pairings for the Week of January 30th, 2017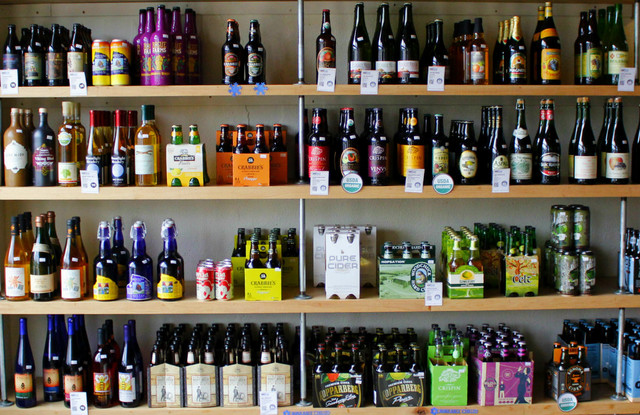 Looking for the perfect brew to go along with your PeachDish meals? We've got you covered. We've partnered with the owners of BeerGirl, a local Atlanta shop, to help you select the perfect beverage. BeerGirl's passionate owners, Alexia Ryan and Erik Lewis opened their shop with the dream of connecting the people of their community with delicious craft beer from the South and beyond. Here are this week's suggested pairings: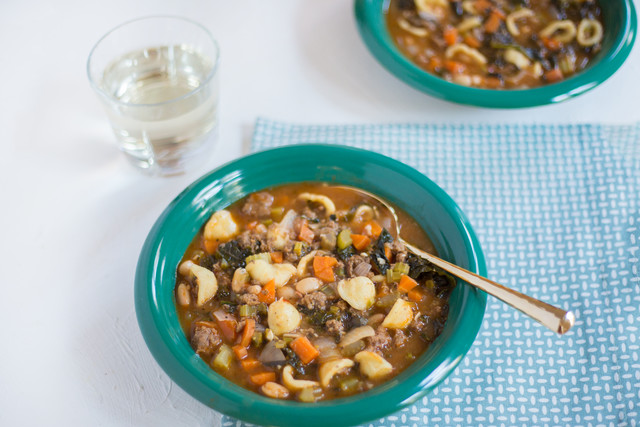 Hearty Minestrone with Beef, Kale, and White Beans
Comfort food evokes good memories and feelings. In the beer world, I can think of nothing more comforting than a stout, something that delivers classic chocolate and coffee flavors in a large malt bill that just makes you feel better. Minestrone soup, a classic stick to your ribs comfort food deserves a classic stick to your ribs big stout as a complement.
Suggestion: Avery Out of Bounds Stout, Boulder, Colorado Georgia Local Recommendation: Blue Tarp Last Place Stout, Decatur, Georgia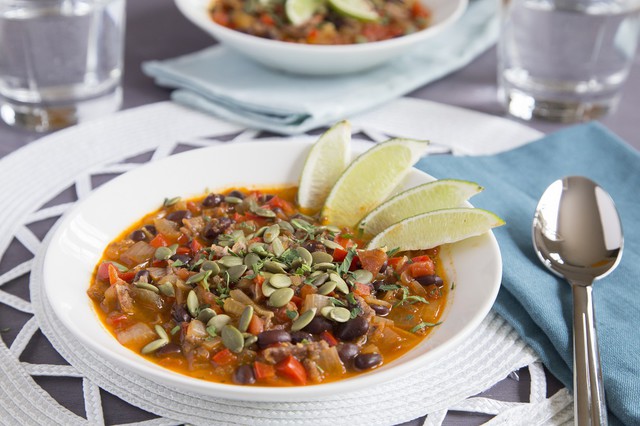 Tex-Mex Black Bean & Blue Corn Tortilla Soup
The snark in us wants to recommend a macro adjunct lager and point out that you can make beer from corn, but this dish deserves better. For this dish, we are going to recommend a hefeweizen because they pair wonderfully with Tex-Mex flavors. The sweet will be lovely with the lime juice, much like a squeezed lime does in a hefeweizen.
Suggestion: Widmer Hefeweizen, Portland, Oregon
Chicken & Grits with Collard Gravy
Obviously, a dish paying homage to the Low Country needs a cold beer. While lagering was rather difficult in the South Carolina heat, we think anyone who has experienced it would tell you about the need for cold beer. For this dish, you want a crisp lager that will cleanse the palate to enjoy each creamy bite.
Suggestion: Anchor California Lager, San Francisco, California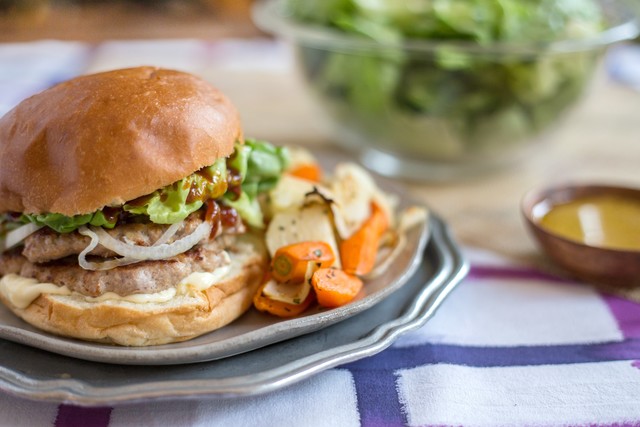 Sweet & Tangy Pork Burger with Roasted Root Vegetables
Smoke in beer is a subject that can bring craft beer fans to fisticuffs. Some think smoked beer is like drinking an ashtray, others feel it is barbecue in a glass. We are on the fence-- drinking a beer with smoke can be a little overpowering; however, they pair wonderfully with a wide variety of dishes. For a dish like this with a lot of umami flavor, consider a smoked beer a complementary flavor. It will keep the palate where it needs to be to truly taste all the flavors of this dish.
Suggestion: Stone Smoked Porter, Escondido, California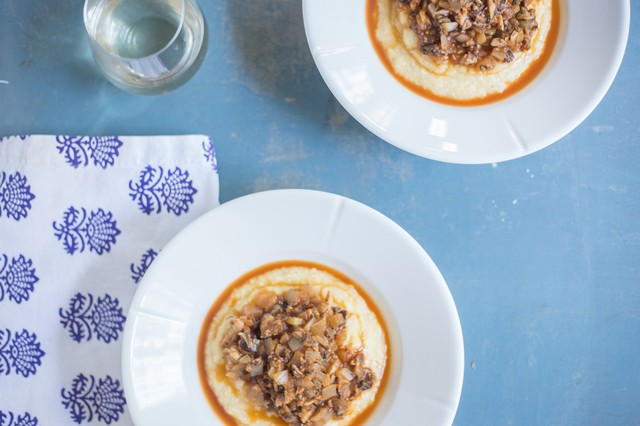 Mushroom Ragout with Fresh Herbs over Creamy Polenta
When discussing pairing beer with food, customers often assume IPAs go with everything. Truthfully, when pairing we usually complement the flavors in a dish. Sometimes it's fun to provide a contrast using the bitterness of hop. When you have deep flavors, the palate sometimes needs cleansing. With this deeply flavored mushroom ragout, we suggest an IPA that will refresh the taste.
Suggestion: 10 Barrel Joe IPA, Bend, Oregon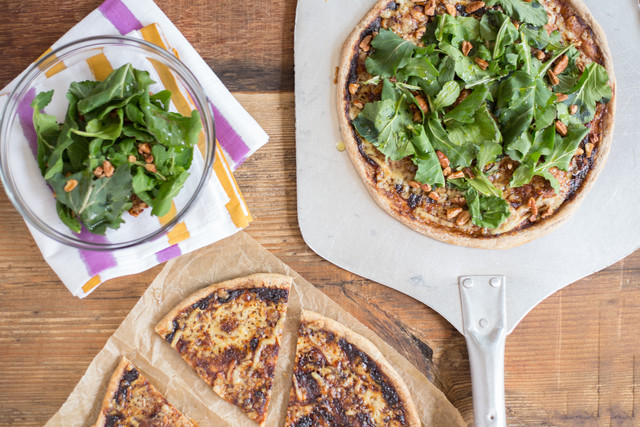 Balsamic-Onion Pizza with Gruyere & Arugula
Pizza and beer--a combination almost as famous as peanut butter and jelly. Normally one would think of a classic American macro adjunct lager; well, not us. This dish with the addition of arugula as a topping reminds us of eating pizza in Berlin. It was the first place we encountered salad on top of a pizza and I remember enjoying it with a hefeweizen. For this dish, we will recommend pairing it with an actual German hefe.
Suggestion: Pinkus Organic Hefe-Weizen, Münster, Germany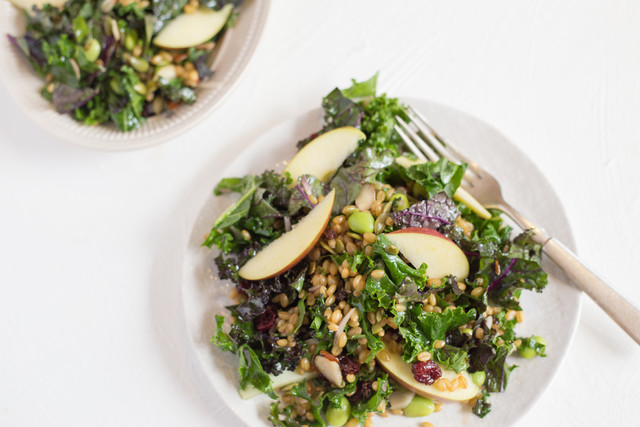 SuperFood Salad
Got to say, this is a tough meal for a beer pairing; however, we are up to the task! Brewers love to experiment, which leads us to kombucha beer. Is kombucha beer really a beer or is it just hopped kombucha tea? Well, that question is certainly up for debate, but if you are a fan of sour beers and kombucha, it might just be your new go-to drink. With the cornucopia of flavors in this dish, a tart beer with its own superfood might be just the ticket.
Suggestion: Unity Vibration Kombucha Beer, Ypsilanti, Michigan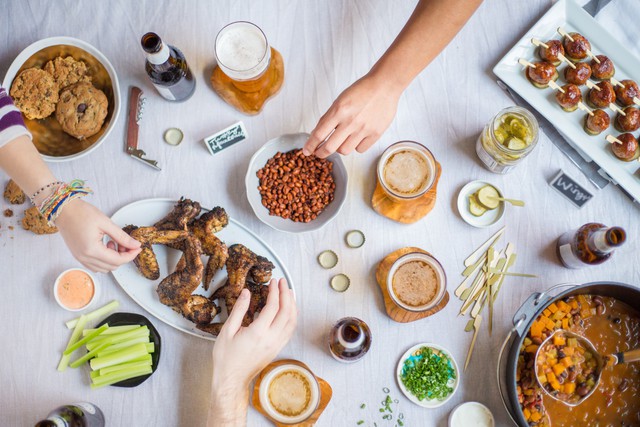 Game Day Entertaining Kit
There are those who tell you the only beer to enjoy with a big game is American adjunct lager. Really, a beer brewed with corn to cut cost? If the game is important, we can do better than watery and sweet with a vague beer flavor. For this meal of wings, meatballs, chili, and cookies, you need a real crowd-pleasing beer. We humbly suggest the pilsner as a game day beer that can stand up to a variety of flavors and palates.
Suggestion: Burial Shadowclock Pilsner, Asheville, North Carolina Georgia Local Recommendation: Monday Night Super Nerd, Atlanta, Georgia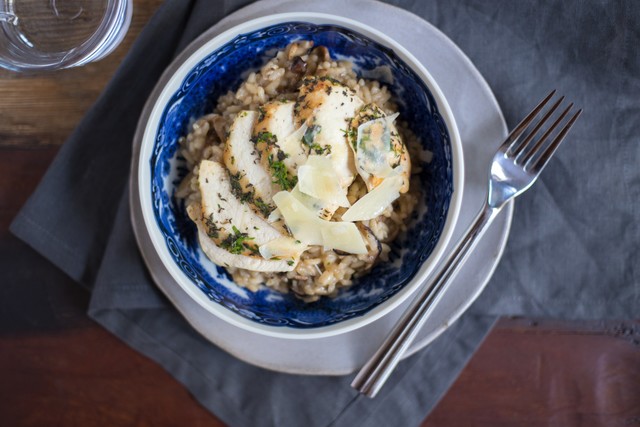 Herbed Chicken Breast over Mushroom Risotto
Nothing says comfort like a wheat beer. Wheat beers in winter? Consider the wheat beer a year-round brew now, not just a summertime indulgence. Wheat beers are sweeter than beer brewed with barley because wheat is a sweeter malt. A Belgian Wit will bring a yeast spice to this creamy dish.
Suggestion: Bavik­De Brabandere Wittekerke, Harelbeke, Belgium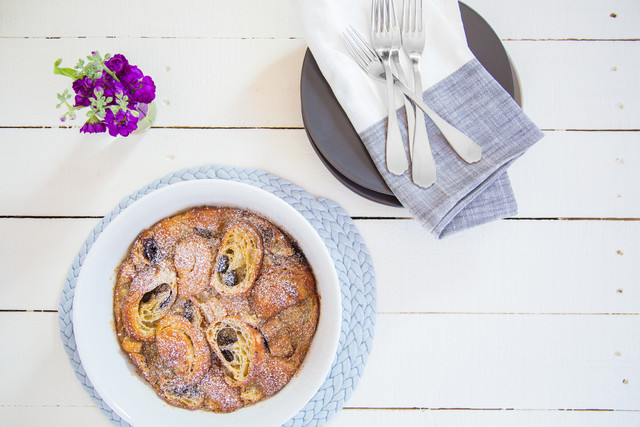 Chocolate Croissant Bread Pudding Dessert Kit
Pairing a beer with dessert? Sure, it's actually a very common thing to do. Beer often has a sweet component that we like to pair with other sweets. In fact, many beers take dessert as an inspiration, from ice cream to pie and everything in between. For this chocolate bread pudding, let's pair it with a little chocolate-inspired liquid bread.
Suggestion: Smuttynose Big Beer Series: Rocky Road Stout, Hampton, New Hampshire