Wine Pairings for the Week of January 23rd, 2017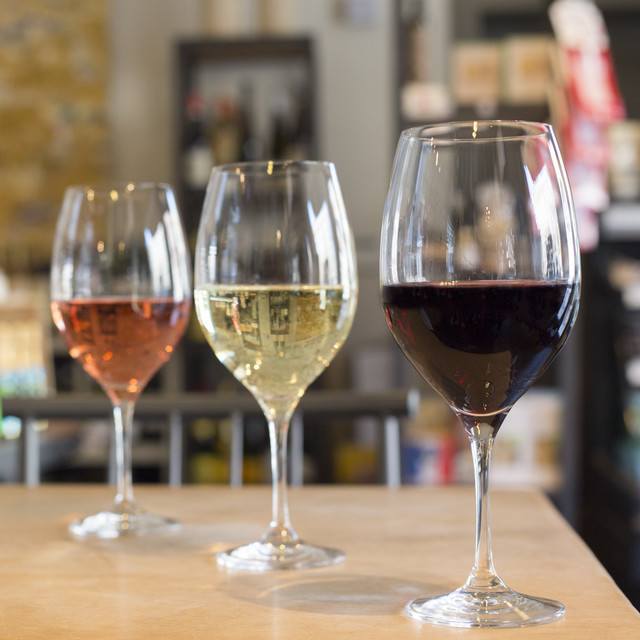 Each week, Wine Specialist Sarah Pierre brings you suggestions to complement your PeachDish meals. Sarah is one of the owners at 3 Parks Wine Shop in Glenwood Park, Atlanta. She paired up with the team of The Shed at Glenwood and The Pig and The Pearl and opened 3 Parks in 2013. Prior to opening the store, she spent most of her career working and managing notable restaurants in Atlanta and New York City. Sarah selects all of the wines that are offered at 3 Parks Wine Shop and also assists in pairing wines for local events and dinners throughout Atlanta.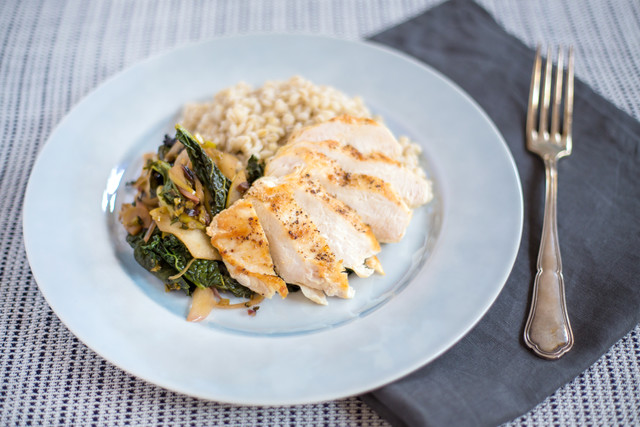 Chicken with Barley, Greens, & Apple
White Pinot Noir - A White Pinot Noir is a red wine that has not come into contact with the skin of the red grape resulting in a "white" wine. If you can't get your hands on a White Pinot, just grab a bottle of Pinot Noir from Oregon. Suggestion: Left Coast Cellars White Pinot Noir, Willamette Valley, Oregon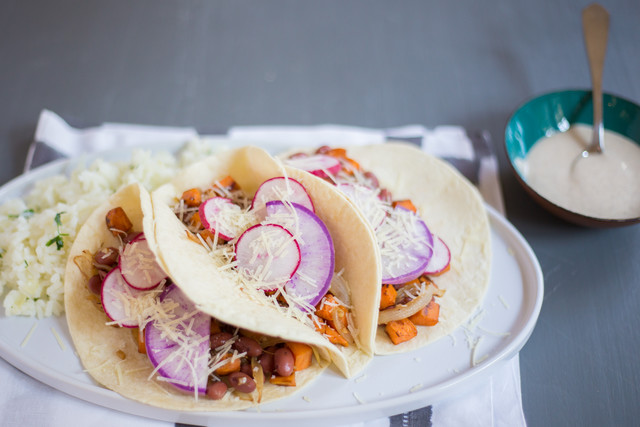 Veggie Tacos with Sweet Potato, Manchego and Caramelized Onion
Tempranillo - A medium plus body Tempranillo with veggie tacos? YES! It will have some tannin but will not be overly dry and overpower the dish. Fruit notes of cherry and plum will round out the dish nicely. Suggestion: Franco Españolas Crianza Tempranillo, Rioja, Spain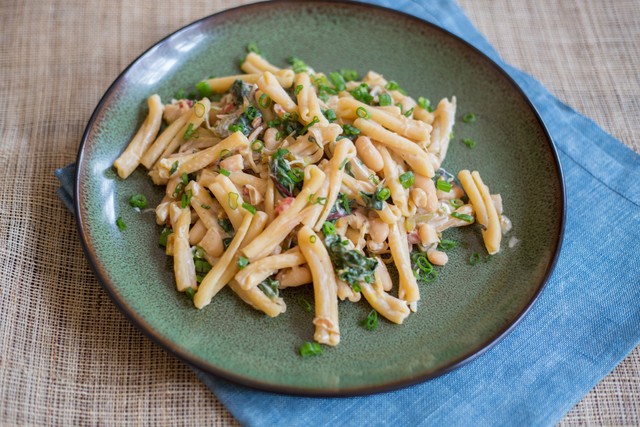 Casarecce Pasta with Lemon-Chevre Sauce, White Beans, & Chard
Sancerre - Go with a classic pairing of goat cheese and sancerre. Sancerre is a region in France dedicated to Sauvignon Blanc. A Sancerre will not only pair with goat cheese but the "green" elements in the dish as well. Suggestion: Henri Bourgeois Les Baronnes, Sancerre, France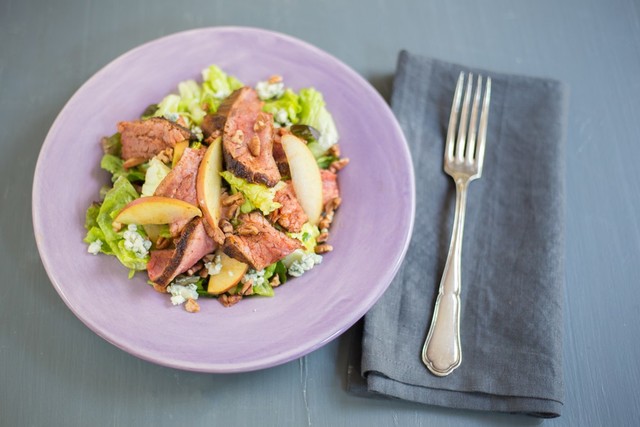 Blackened Flank Steak Salad with Blue Cheese & Sweet Garlic Dressing
Merlot - Who says you can't pair a red wine with a salad? The bold and fruity merlot will complement the salty blue cheese while pairing with the flank steak. Suggestion: Fableist Merlot, Paso Robles, California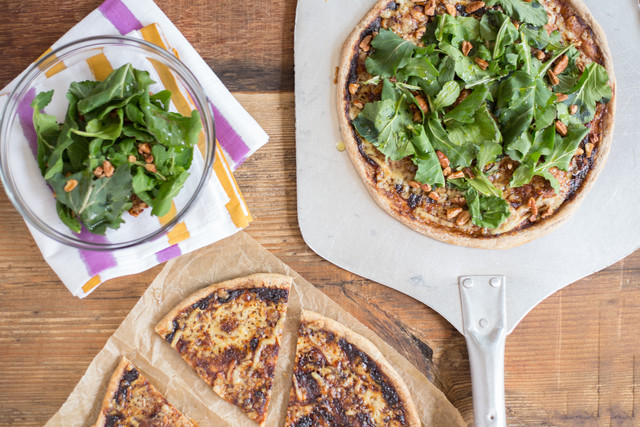 Balsamic-Onion Pizza with Gruyere & Arugula
Sauvignon Blanc - Acidic zesty Sauvignon Blancs pair nicely with balsamic reductions as well as Gruyere cheese. The sweetness you'll find in a California Sauvignon Blanc will be perfect with the sweet caramalized onions. Suggestion: SCV Sauvignon Blanc, Sonoma County, CA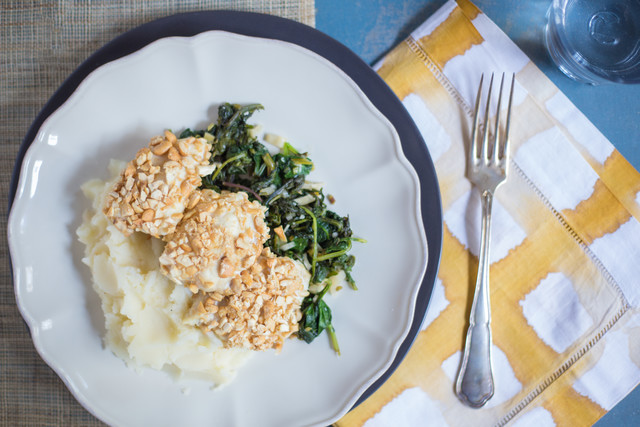 Cashew-Crusted Fish over Mashed Potatoes with Sweet & Sour Greens
Vino Verde - The salty Dogfish will go great with effervescent wine. The cashews will be an added bonus because cashews love light and zesty wine. Suggestion: Calamares, DOC Vinho Verde, Portugal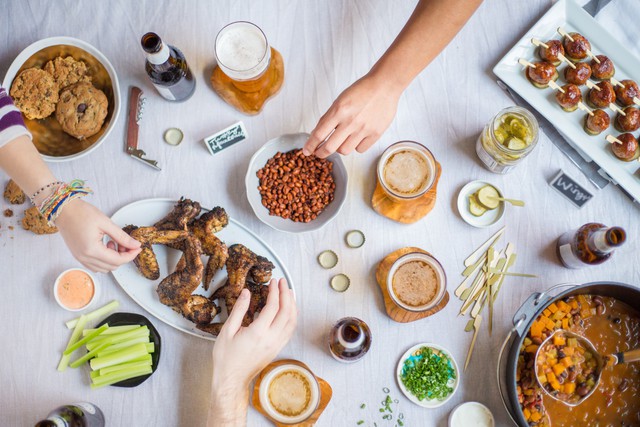 Game Day Entertaining Kit
Have fun on Game Day! Pop open a beer or a bottle of sparkling wine!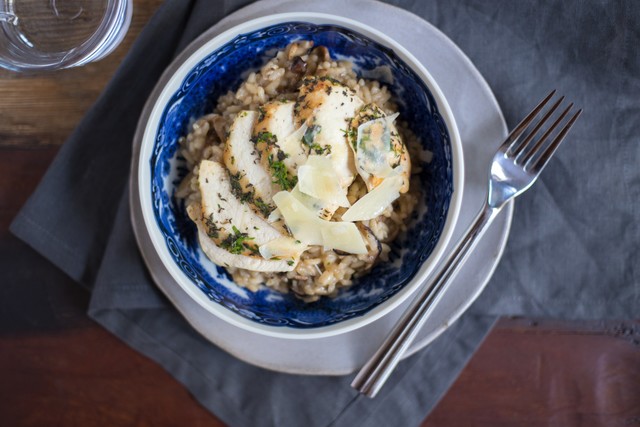 Herbed Chicken Breast over Mushroom Risotto
Red Burgundy - Truthfully, one of the best mushroom risotto wine pairings - 100% Pinot Noir from Burgundy, France. You'll be blown away at first sip. And keep in mind, you don't have to break the bank for when looking for a bottle of Burgundy. You can find an amazing bottle for $20! Suggestion: Louis Chevallier Bourgogne, France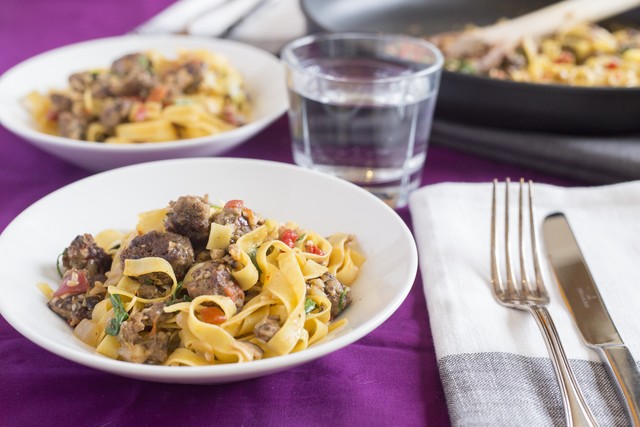 Beef-Mushroom Fettuccine with Red Pepper, Arugula & Parmesan
Dolcetto - This vibrant, fleshy, spiced Italian red is just the wine for this winter pasta dish. Suggestion: Vietti Dolcetto d'Alba 'Tre Vigne, Piedmont, Italy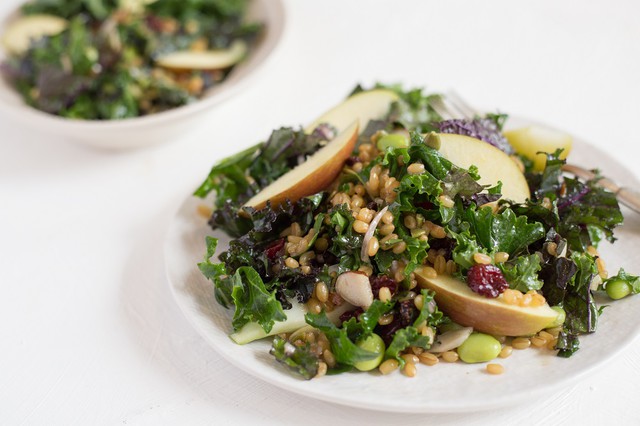 SuperFood Salad
Beaujolais - A red wine that screams superfood. It is a light, fresh red wine, 100% Gamay, with bright fruit - cherry, pomegranate, red berry, and juicy acidity. It will only mirror the salad, not overpower it. Suggestion: Château Pizay, Morgon, France
Rosé - it is never too cold outside to enjoy a glass of Rosé! Especially when it is the perfect pairing for a SuperFood Salad. Suggestion: Elk Cove Pinot Noir, Willamette Valley, Oregon