Wine Pairings for the Week of January 9th, 2017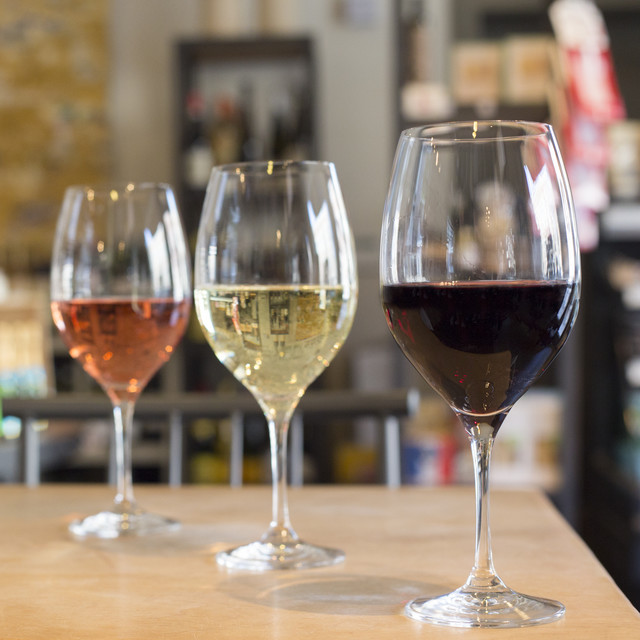 Each week, Wine Specialist Sarah Pierre brings you suggestions to complement your PeachDish meals. Sarah is one of the owners at 3 Parks Wine Shop in Glenwood Park, Atlanta. She paired up with the team of The Shed at Glenwood and The Pig and The Pearl and opened 3 Parks in 2013. Prior to opening the store, she spent most of her career working and managing notable restaurants in Atlanta and New York City. Sarah selects all of the wines that are offered at 3 Parks Wine Shop and also assists in pairing wines for local events and dinners throughout Atlanta.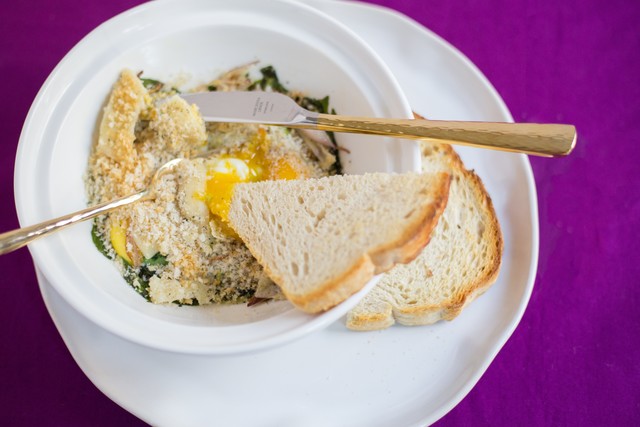 Farm Eggs with Shallot-Celery Cream & Arugula Salad
Oregon Pinot Gris - Pair with a crisp, fruit forward, perfectly balanced white wine. Pinot Gris is extremely food friendly, pairing well with the sweetness of the shallot and the richness of the cream. Suggestion: Van Duzer Pinot Gris, Willamette Valley, Oregon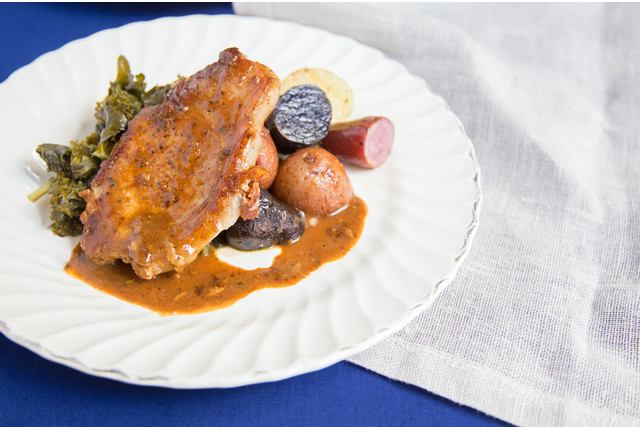 Glazed Pork Chops with Roasted Potatoes & Greens
Grenache - Being that this glaze isn't too sweet and there is a touch of spice added from the mustard, a Grenache or a Grenache blend with ripe fruit and a touch of sweetness will do the trick. Suggestion: Andre Brunel Grenache, IGP Vaucluse, France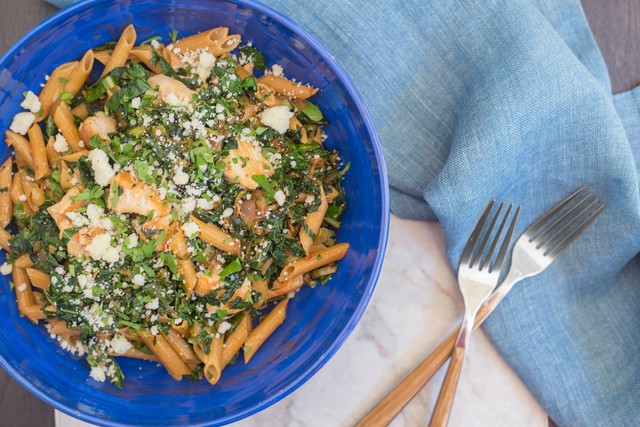 Chicken with Kale, Whole Wheat Penne Pasta, & Romano Cheese
Pinot Noir - Pair this pasta dish with a glass of Pinot Noir. Suggestion: Petit Clos Pinot Noir, Marlborough, New Zealand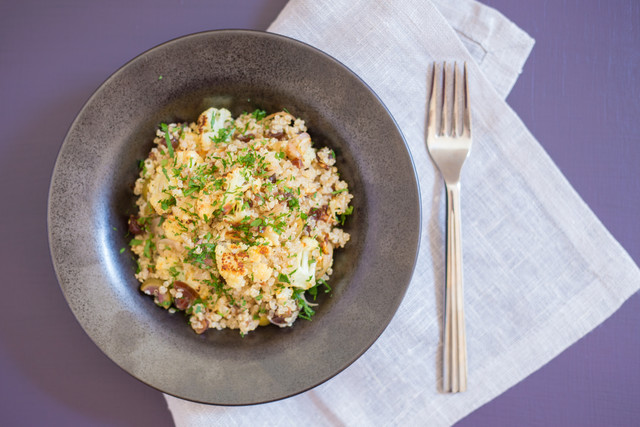 Quinoa with Roasted Cauliflower, Dates & Olives
Provence Rose - I know, I know. It's winter time and some wine drinkers don't want to drink Rosé in the winter, but trust us. You'll enjoy this wine pairing. Suggestion: Triennes Rosé, Provence, France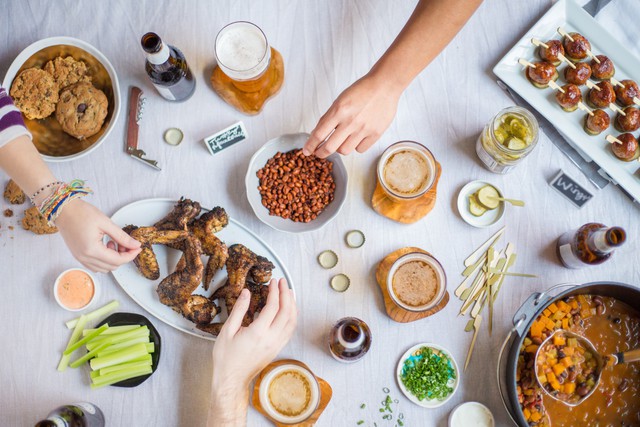 Game Day Entertaining Kit
Have fun on Game Day! Pop open a beer or a bottle of sparkling wine!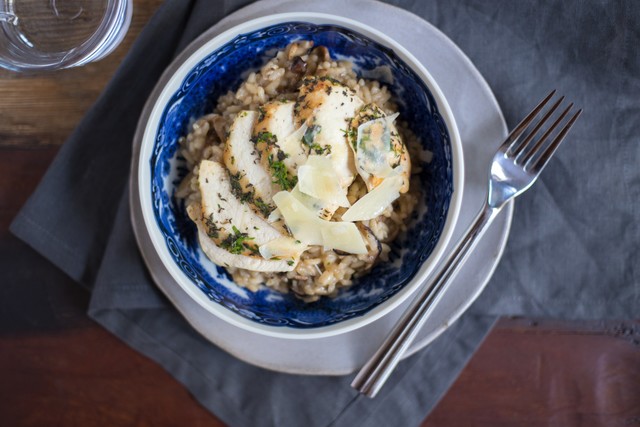 Herbed Chicken Breast over Mushroom Risotto
Red Burgundy - Truthfully, one of the best Mushroom Risotto wine pairings - 100% Pinot Noir from Burgundy, France. You'll be blown away at first sip. And keep in mind, you don't have to break the bank for when looking for a bottle of Burgundy. You can find an amazing bottle for $20! Suggestion: Louis Chevallier Bourgogne, France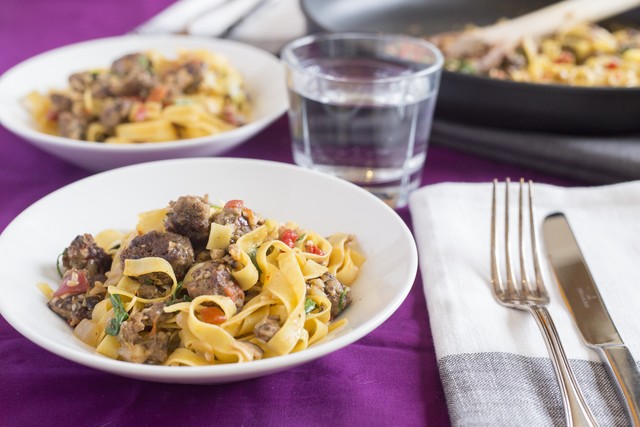 Beef-Mushroom Fettuccine with Red Pepper, Arugula & Parmesan
Dolcetto - This vibrant, fleshy, spiced, Italian red is just the wine for this winter pasta dish. Suggestion: Vietti Dolcetto d'Alba 'Tre Vigne, Piedmont, Italy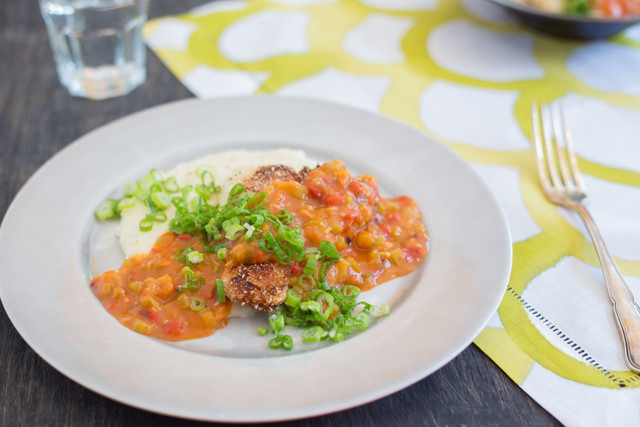 Doug Turbush's Catfish Étouffée with Parmesan Grits
Cotes du Rhone - A perfect pairing for this Etouffee, or any Cajun-style dish. This red wine, which is usually Grenache based, is more fruit forward with a touch of spice lending itself to be a great match for a spicy, southern, flavorful stew/soup. Suggestion: Chateau de Saint Cosme Cotes du Rhone, France
Chenin Blanc - Vouvray - from the Loire Valley. When you think of a Cajun Creole style dish with white wine, you want a wine that is rich, and higher in acid. This Chenin Blanc is off-dry and will be an outstanding option, especially with the flavorful spices in the Creole Seasoning. A sparkling Vouvray (Chenin) will also be great too. Suggestion: Domaine Didier Champalou, Vouvray Sec, Loire, France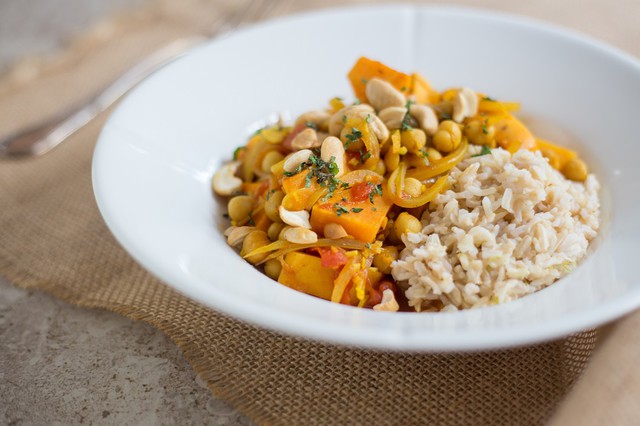 Sweet Potato & Chickpea Curry
Merlot - Ideally with curry dishes, whether spicy or mild, if you're going to choose a red wine to pair with your meal it needs to be a softer, fruit-driven red. You want to avoid dry/tannic wines, or wines that have too much oak presence. Try a fruit-forward, easy-drinking Chilean Merlot. Suggestion: Vina Ventisquero Reserva Merlot, Maipo Valley, Chile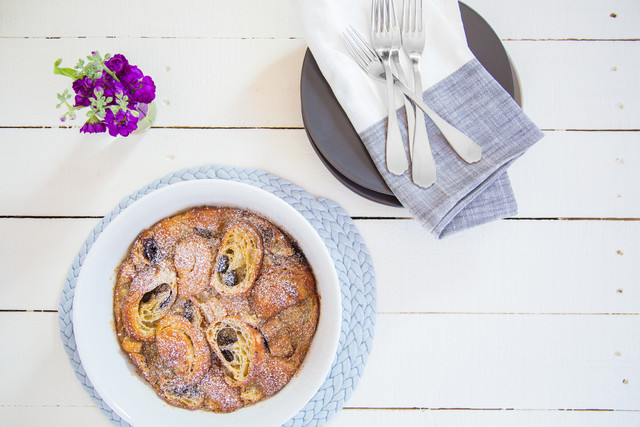 Chocolate Croissant Bread Pudding Dessert Kit
Port - A small glass of Tawny Port would be the perfect addition to this dessert. Suggestion: Croft Tawny Port