Menu Countdown: The Top Ten of 2016
We offer eight menus every week that showcase the freshest produce and highest quality meat with recipes designed to create exciting flavors and wholesome dinners, and while we stand behind each one, there are those that shine much brighter than others. Your feedback is welcomed and your voices have been heard! We now present to you: the top ten menus that recieved the highest accolades from our subscribers in 2016.
And who knows? Maybe you'll be seeing these favorites again in 2017!
10)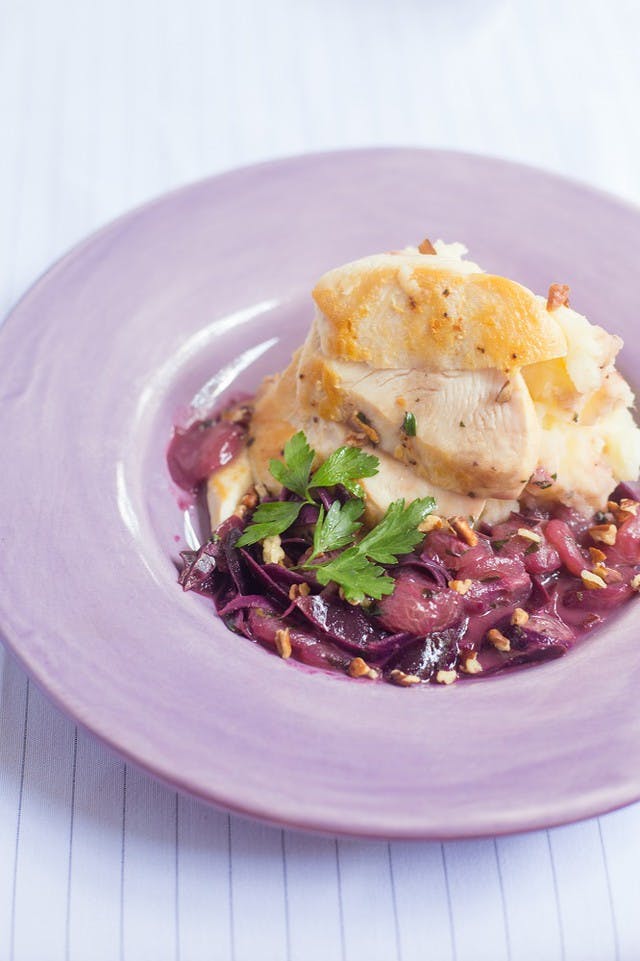 Chicken with Muscadines & Cheddar Mashed Potatoes
Aired August 22nd
This dish was a southern take on the French classic Chicken Véronique – chicken garnished with white grapes – that featured muscadines, a large grape that's native to North America and popular in the South. The muscadine's complex flavor is not purely sweet like a table grape, but has earthy notes, making it ideal for a savory-sweet sauce. Cheddar mashed potatoes sealed the deal for most of us who gave this dish the thumbs up.
9)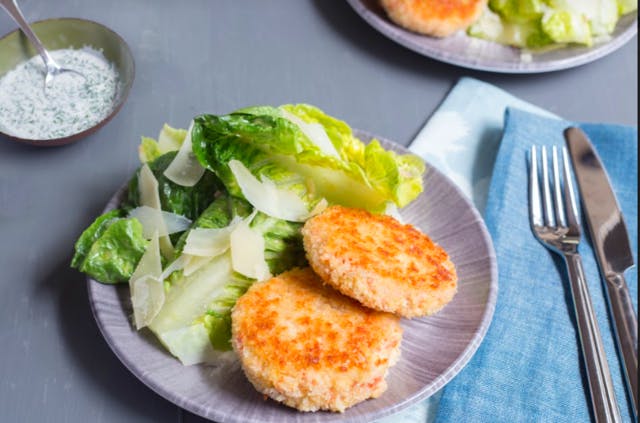 Salmon Croquettes with Creamy Dill Sauce & Fresh Lettuces
Aired October 24th
We took a page from S.R. Dull's 1928 cooking bible, "Southern Cooking" for this dish. Except for the use of Duke's mayonnaise rather than white sauce, our recipe is not all that different from Mrs. Dull's version. We always use sustainably-caught coho salmon, and the fresh lettuces dressed in a light dressing offered refreshing bites in between.
8)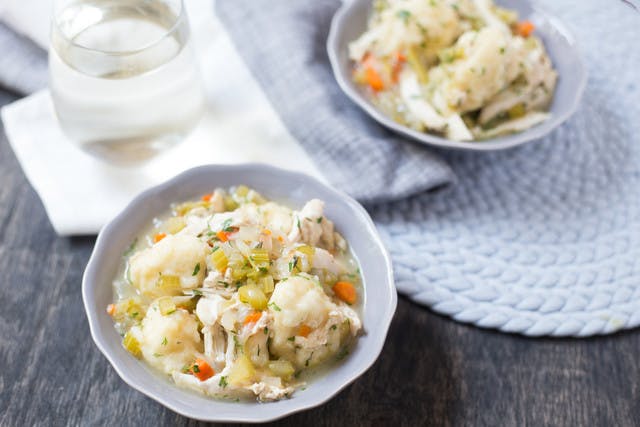 Zeb Stevenson's Chicken & Dumplings
Aired October 17th
Chef Zeb Stevenson of Atlanta's Watershed on Peachtree rethinks classic Southern dishes with his own, modern twist – but his Chicken & Dumplings, which he learned to make from his grandmother, remain true to traditional form. "This is the type of dish that really strikes a chord with people," Zeb says. "There's got to be some link that sits very deeply in our psyche." Looks like Zeb was right- that chord was definitely struck with the majority of us!
7)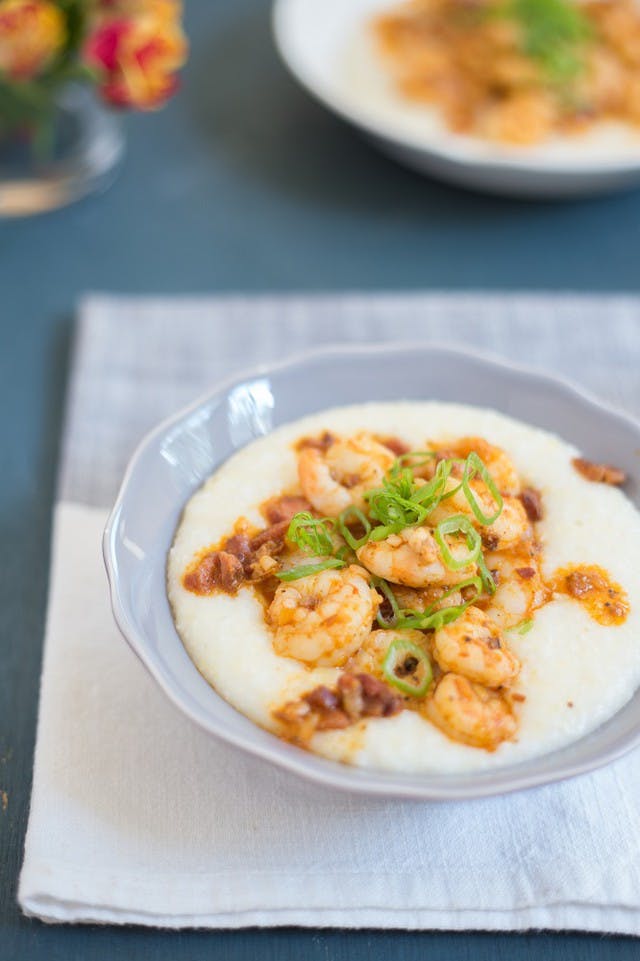 Shrimp & Grits
Aired November 7th
There are several versions of this classic meal served in coastal regions all around the South, and ours features gulf shrimp flavored with spicy tasso ham, garlic and green onion, and, of course, a bit of butter. Served over creamy grits, this comfort food is soothing and just a little decadent.
6)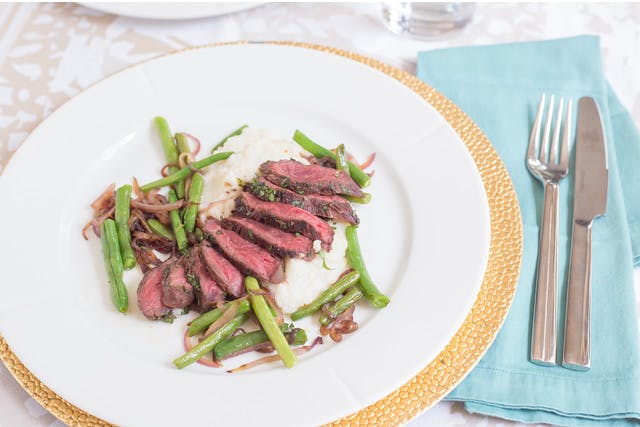 Herbed Hanger Steak with Green Beans, Red Onions & Grits
Aired September 5th
The green beans are a simple pleasure of the warmer months, especially when combined with sweet red onion in a quick sauté, and resting the hot steaks in a bed of chopped herbs for a few minutes after cooking added this depth of flavor we just couldn't get over.
5)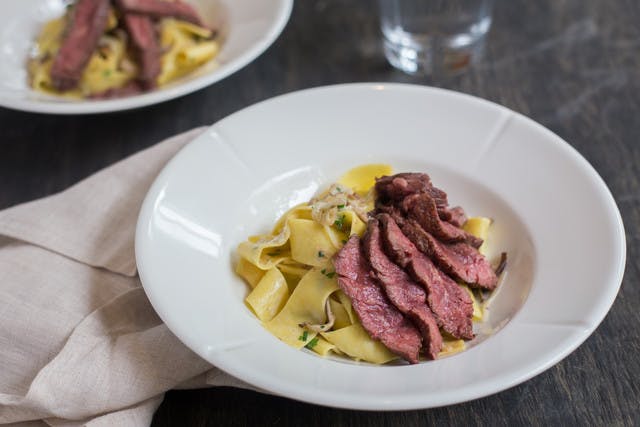 Hanger Steak with Creamy Egg Noodles & Mushrooms
Aired September 26th
When the PeachDish test kitchen crew sat down to taste this dish, the room turned suddenly quiet: Everyone wanted to give complete concentration to the full-flavored beef, earthy seared mushrooms and creamy noodles. This simple meal is a show-stopper, hands down- and we're excited that everyone else agrees.
4)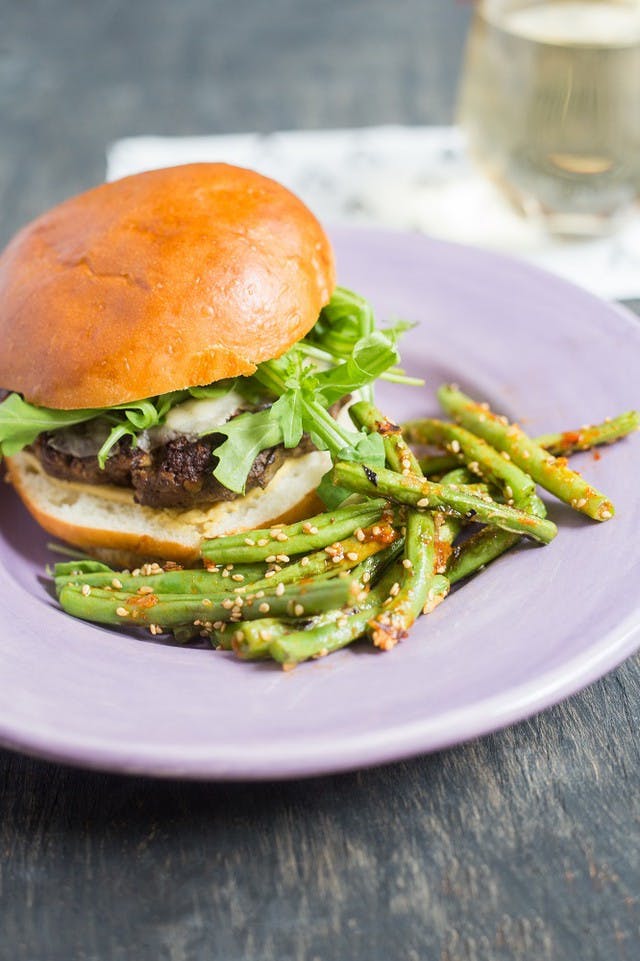 Beef & Mushroom Blended Burger with Spicy Snap Beans
Aired June 27th
Grass-fed beef for the win! I think we can all agree that the fuller flavor and more heart-healthy omega-3 fatty acids takes the cake here, but those chopped mushrooms and a bit of garlic folded in was the test on a classic juicy burger we never knew we needed. And those sriracha-spiced green beans? Yeah, we didn't know we needed those either, and boy, we've never been happier to be proven wrong.
3)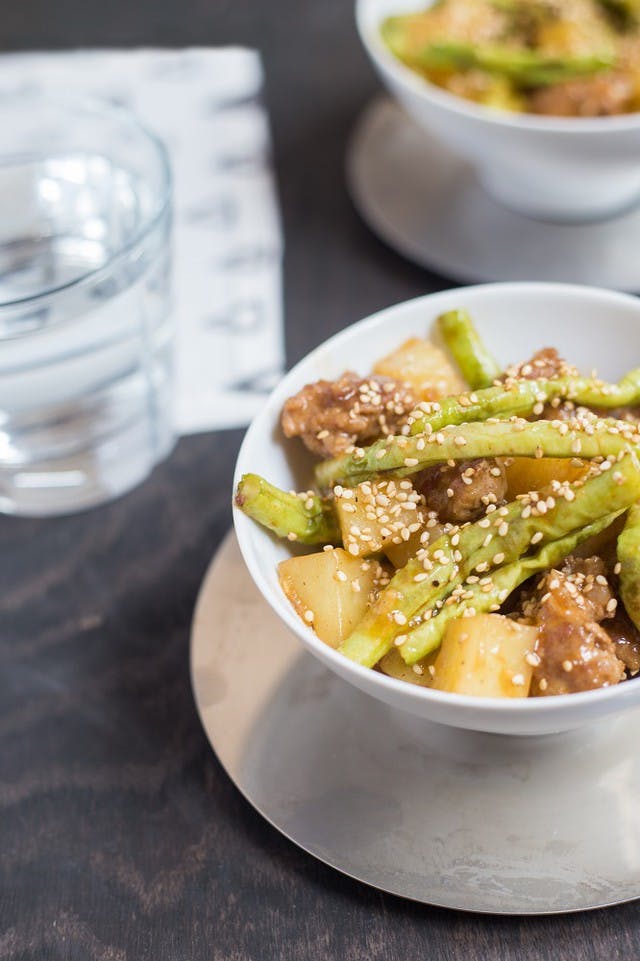 Pork Hot Pot with Snap Beans & Glazed Potatoes
Aired August 8th
Tender snap beans from Love is Love Farm and Mayflor Farms provided a sturdy base for a delicious meal featuring high-quality pastured pork and Korean-style glazed potatoes. This dish was easy and oh-so memorable; it will surely be in the back of our minds when long beans come in next season.
2)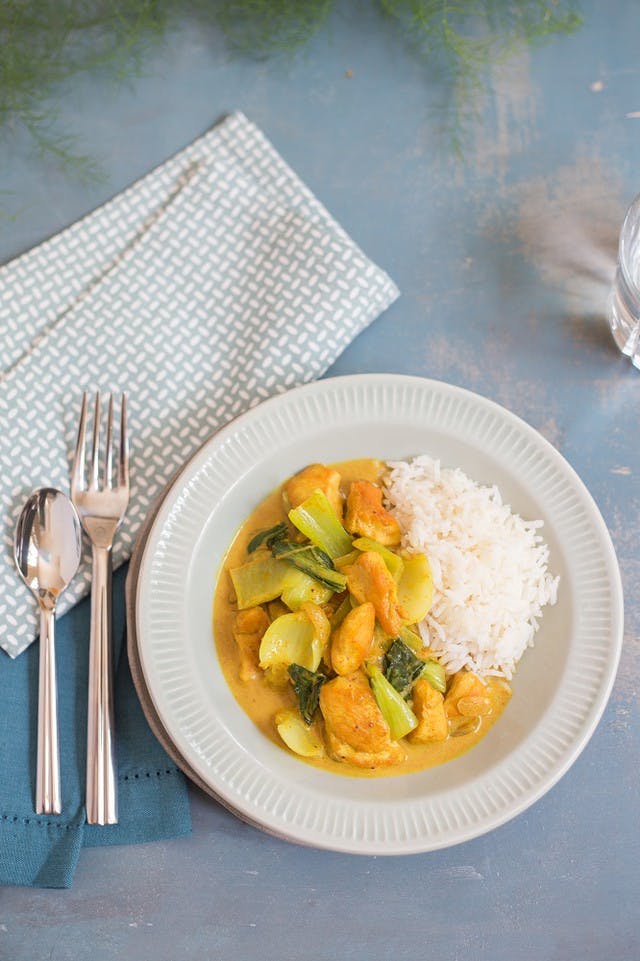 Curried Chicken Breast with Bok Choy & Jasmine Rice
Aired September 19th
The combination of rich coconut milk and warm spices creates a meal that is simultaneously satisfying and refreshing. It's this magical paradox about this dish that we all fell in love with- not to mention that velvety sweet heat, the bite of mild-mannered bok choy, and the fluffy bed of jasmine rice.
1)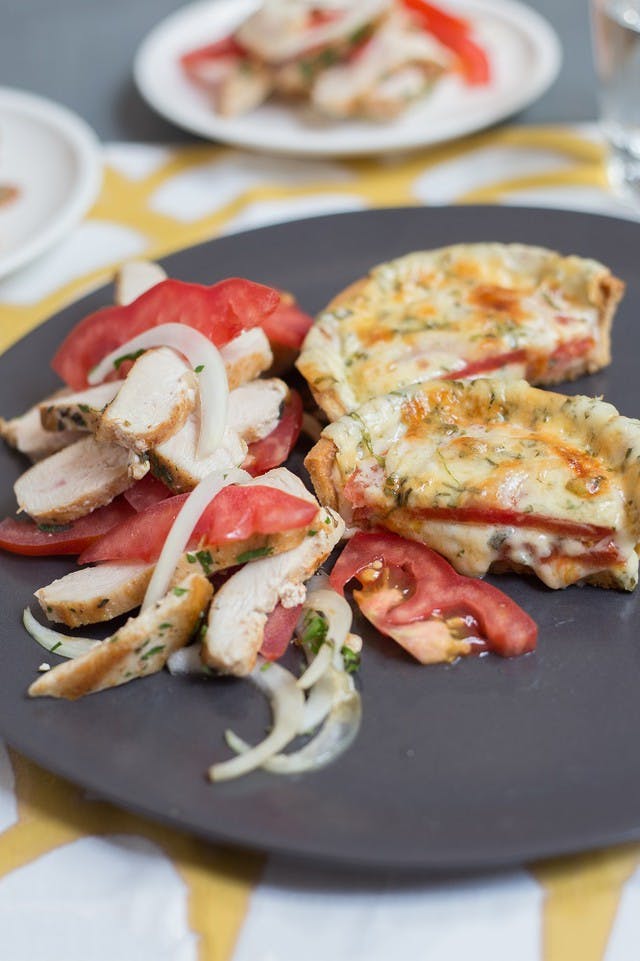 Tomato Pie with Vidalia Onion & Herbed Chicken Breast
Aired July 11th
This dish is the stuff of dreams, people.
Our own culinary director, Chef Seth Freedman, prepared this dish which highlights pride-of-Georgia Vidalia onions and juicy summer tomatoes for a Georgia Grown dinner at the James Beard House earlier this year. It was so popular among our subscribers (and the PeachDish team!) that it to the menu for an additional few weeks after it's planned duration ended- we just can't get enough of this elegant update of a Southern classic!
Honorable Mentions:
Butternut Squash & Three-Bean SuperFood Chili - Aired October 31st
Pecan-Stuffed Trout with Roasted Pears & Mashed Sweet Potatoes - Aired October 3rd
Dogfish Stew with Potatoes, Tomatoes & Peppers - Aired October 10th
There you have it, folks! We at PeachDish look forward to what 2017 holds, and we can't wait to reveal what we already have planned. Stay tuned!
Best wishes to all in the coming New Year from the PeachDish team! Cheers!