Wine Pairings for the Week of December 26th, 2016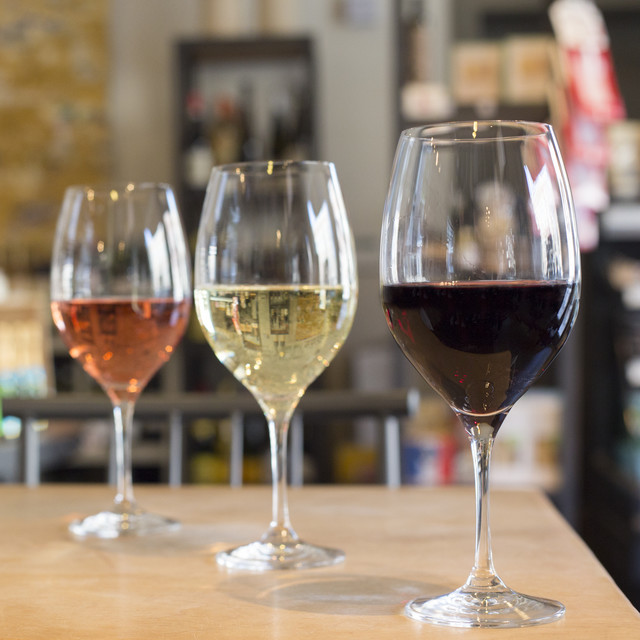 Each week, Wine Specialist Sarah Pierre brings you suggestions to complement your PeachDish meals. Sarah is one of the owners at 3 Parks Wine Shop in Glenwood Park, Atlanta. She paired up with the team of The Shed at Glenwood and The Pig and The Pearl and opened 3 Parks in 2013. Prior to opening the store, she spent most of her career working and managing notable restaurants in Atlanta and New York City. Sarah selects all of the wines that are offered at 3 Parks Wine Shop and also assists in pairing wines for local events and dinners throughout Atlanta.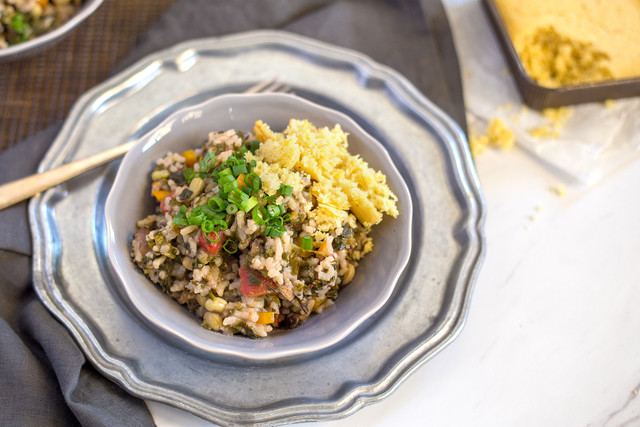 New Year's Hoppin' John & Greens with Corn Bread
Brut Rosé - Mainly because the pairing is a no-brainer, but also because you are supposed to drink a sparkling wine on New Year's Day with your lucky foods - Collards, Black Eyed Peas, Cornbread, Grapes, and Pork. Suggestion: Terrazze dell'Etna Brut Rose, Sicily, Italy
Sancerre - A crisp glass of Sauvignon Blanc from Sancerre will be a great mate for a bowl of Hoppin' John. Suggestion: Henri Bourgeoise "Les Baronne" Sancerre, Loire, France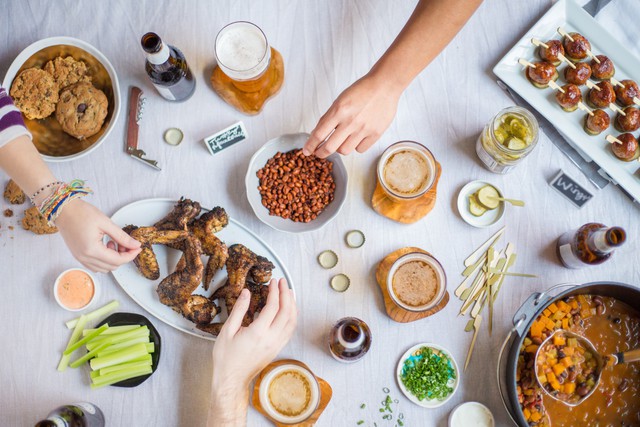 Game Day Entertaining Kit
Have fun on Game Day! Pop open a beer or a bottle of sparkling wine!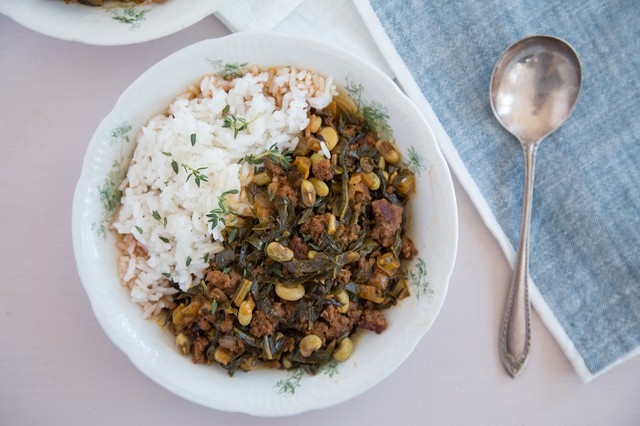 New Year's Chili with Field Peas & Collard Greens
Grenache - A red wine that is either 100% Grenache or a blend that is primarily Grenache, like a Cotes du Rhone. It's rich in fruit, has moderate tannins, silky texture, and is not afraid of a dish with a touch of spice. Suggestion: Idle Cellars Grenache, Sonoma County, CA
Sauvignon Blanc - An herbaceous, citrusy glass of New Zealand Sauvignon Blanc is what should be paired with this chili. It can handle the spice and also has a nice grassy, leafy characteristic that will be a nice touch to the earthy, collard-infused chili.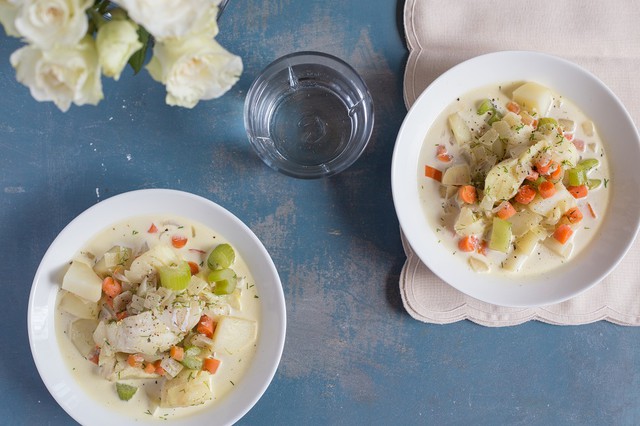 Cod & Potato Chowder with Dill
Australian Semillon/Sauvignon Blanc - Fish, mirepoix, and dill in a chowdah: may I have a glass of white wine please? Semillon, which tends to have a nice waxy texture, is going to provide the body and richness needed for the cream-based soup and the Sauvignon Blanc will be the zesty palate cleansing counterpart. If you're unable to find an Australian Semillon/Sauvignon Blanc, look for the same blend from France known as White Bordeaux. Suggestion: Cape Mentelle Wallcliffe Sauvignon Blanc Semillon, Margaret River, Australia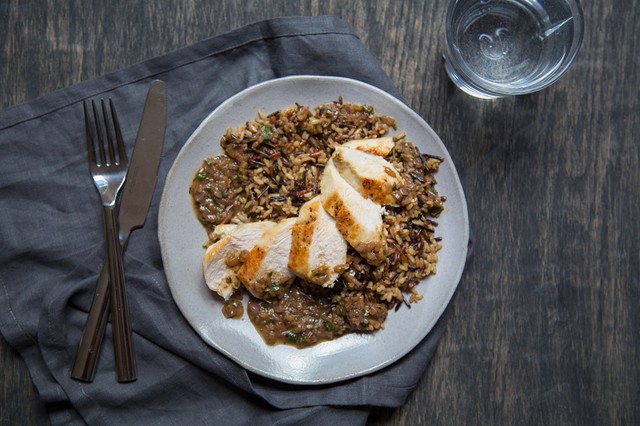 Chicken with Lemon-Herb Sauce over Wild Rice
New Zealand Sauvignon Blanc - When paired with lemon; a citrusy Sauvignon Blanc (think California Sauvignon Blanc) can overpower by adding too much citrus/lemon to the dish. Instead go with New Zealand Sauvignon Blanc which will bring out the green and herbaceous flavors. Suggestion: Henri Bourgeois Petit Clos, Marlborough, New Zealand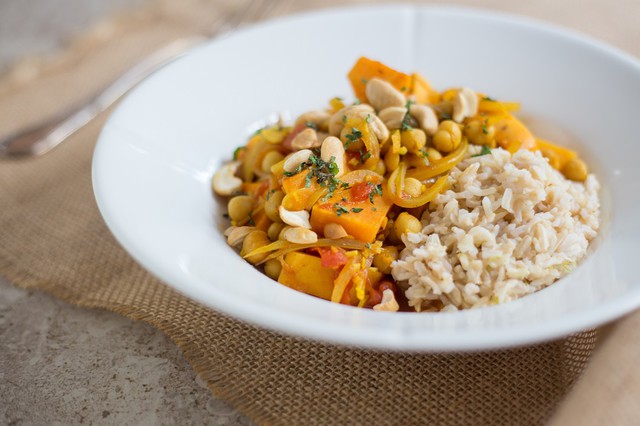 Sweet Potato & Chickpea Curry
Merlot - Ideally with curry dishes, whether spicy or mild, if you're going to choose a red wine to pair with your meal it needs to be a softer, fruit-driven red. You want to avoid dry/tannic wines, or wines that have too much oak presence. Try a fruit-forward, easy drinking Chilean Merlot. Suggestion: Vina Ventisquero Reserva Merlot, Maipo Valley, Chile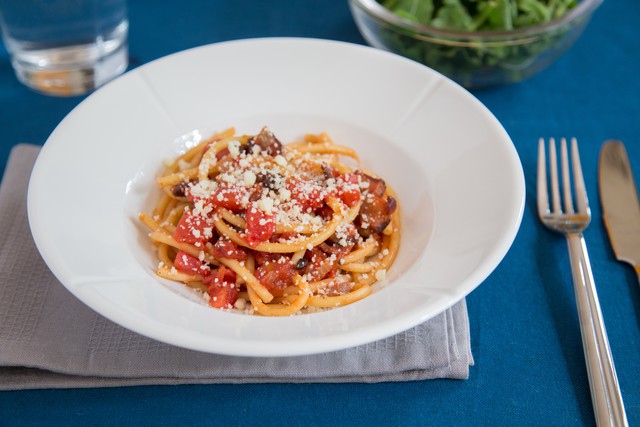 Bucatini Pasta with Tomato-Bacon Sauce & Arugula Salad
Chianti Classico - All I can think of is Italy. A classic Italian dish deserves only a classic Italian wine - the obvious choice would be the Italian mother's milk: Chianti
Gavi - This acidic white from Piedmont, Italy is 100% Cortese. It's light and zesty and will pair nicely with the tomato sauce. Suggestion: Riva Leone Gavi, Piedmont, Italy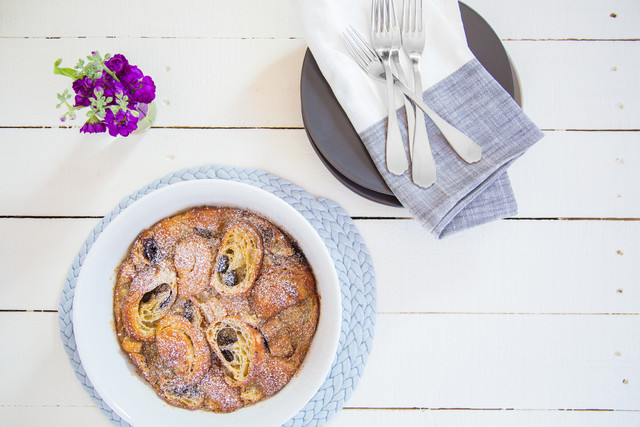 Chocolate Croissant Bread Pudding Dessert Kit
Port - A small glass of Tawny Port would be the perfect addition to this dessert. Suggestion: Croft Tawny Port