Beer Pairings for the Week of December 5th, 2016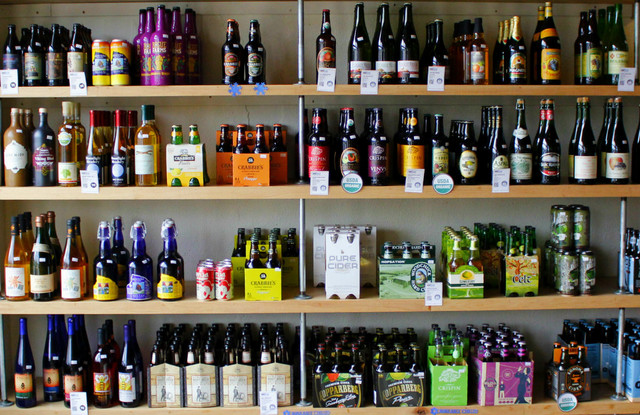 Looking for the perfect brew to go along with your PeachDish meals? We've got you covered. We've partnered with the owners of BeerGirl, a local Atlanta shop, to help you select the perfect beverage. BeerGirl's passionate owners, Alexia Ryan and Erik Lewis opened their shop with the dream of connecting the people of their community with delicious craft beer from the South and beyond. Here are this week's suggested pairings: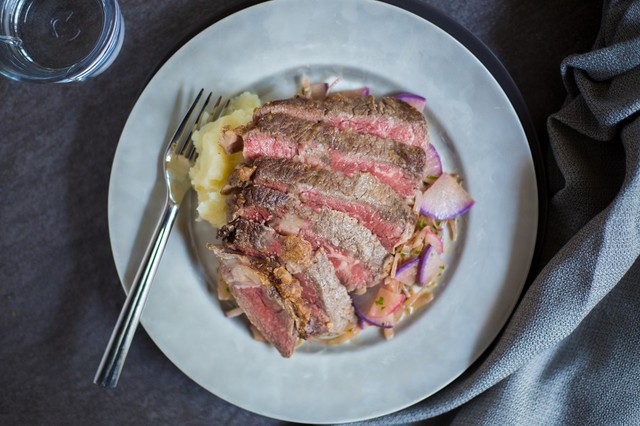 Georgia Grown Ribeye with Buttered Shallots & Radishes over Mashed Potatoes
Beer has a long tradition as a home remedy, from ales aiding digestion to the humble stout helping young mothers produce more nourishing milk. Truthfully, the greatest benefit occurred from beer being safer for consumption than water. For this steak, a big sweet oatmeal stout will complement the rich protein and buttered shallots.
Suggestion: Samuel Smith's Oatmeal Stout, Tadcaster, United Kingdom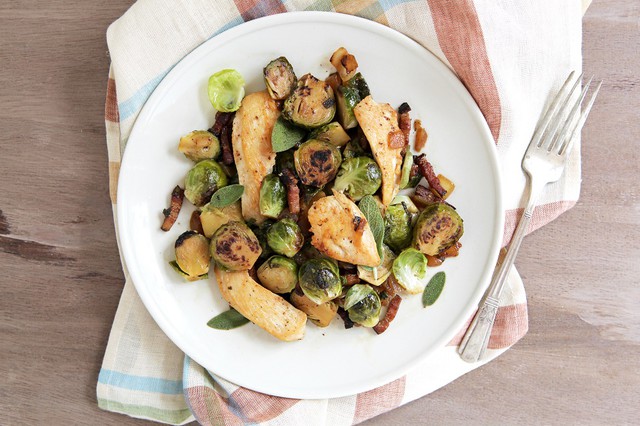 Chicken with Brussels Sprouts & Bacon
Though generally thought of for summertime drinking, Hefeweizens are great for pairing with food year round. The word "hefeweizen" quite literally means "yeast wheat"; its cloudiness comes from the unfiltered yeast that is left in the beer. An amber colored weisse, like Schneider Weisse Original, has all of the warm spices of fall and round malty flavors that a chilly autumn evening calls for and a hearty meal like this needs. This is the perfect pairing to show that hefeweizens aren't just for summer!
Suggestion: Schneider Weisse Hefeweizen, Kelheim, Bavaria Germany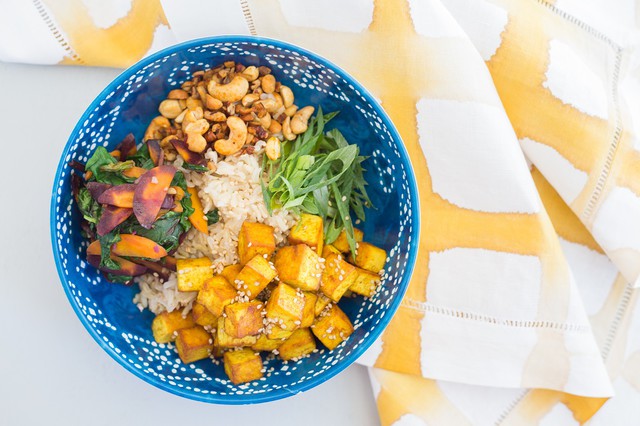 SuperFood Tofu Bowl with Carrots, Greens & Sriracha Nuts
Gluten free beer is not created equal. The only way to achieve gluten free beer is to brew with malts like sorghum that do not contain gluten. Gluten can be reduced from a regular beer using a clarifying enzyme; however, there is still a trace of gluten left. For this dish featuring toasted nuts and Sirachi, we suggest a gluten reduced beer.
Suggestion: Estrella Damm Daura Gluten Free Lager, Barcelona, Spain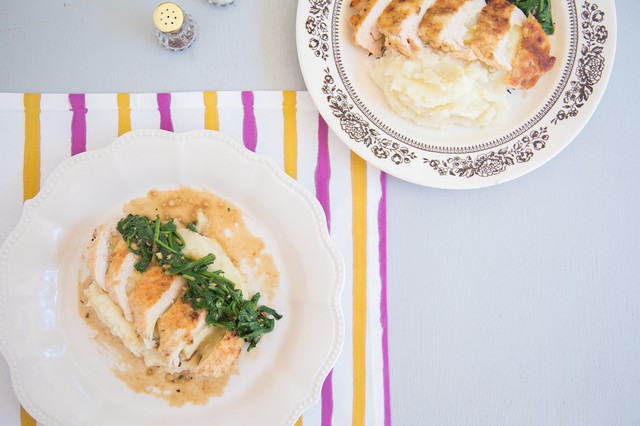 Chicken Breast Stuffed with Fontina & Apple over Mashed Potatoes
Lagers are a staple beer because they taste clean and crisp. This is the primary reason they are such a good beer style to pair with food. Bottom fermenting yeast working in colder temperature produce that clean and crisp lager flavor. For this dish of fontina, chicken, and apple a crisp lager should allow all the flavors to shine.
Suggestion: Okocim Polish Lager, Brzesko, Poland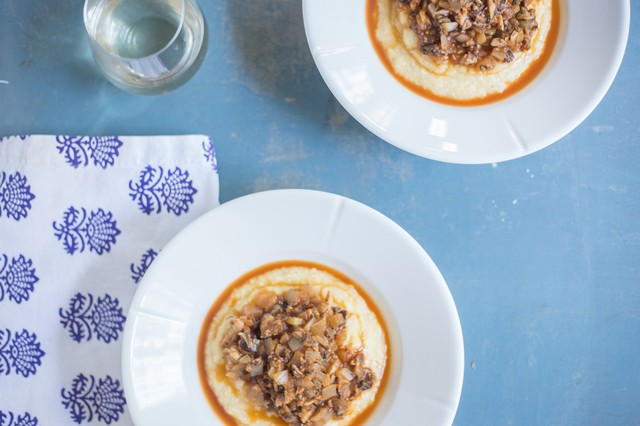 Mushroom Ragout with Fresh Herbs over Creamy Polenta
When discussing pairing beer with food, customers often assume IPAs go with everything. Truthfully when pairing we usually complement the flavors in a dish. Sometimes it is fun to provide a contrast using the bitterness of hop. When you have deep flavors, the palate sometimes needs cleansing. With this deeply flavored mushroom ragout, we suggest an IPA that will refresh the taste.
Suggestion: 10 Barrel Joe IPA, Bend, Oregon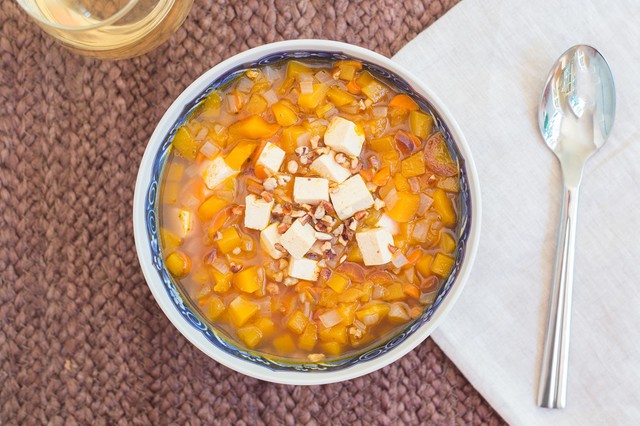 Spicy Butternut Soup with Ginger, Maple-Tofu & Pecans
Have we mentioned we love fall? Yes, we own more sweaters than can be justified for living in the south, but that isn't why. Fall flavors are the real reason we like the season. Pecan is a natural flavor match for beers ranging from brown ale to stout and everything between. This dish featuring butternut squash and pecans deserves a big pecan flavored porter.
Suggestion: Clown Shoes Coffee Pecan Pie Porter, Ipswich, Massachusetts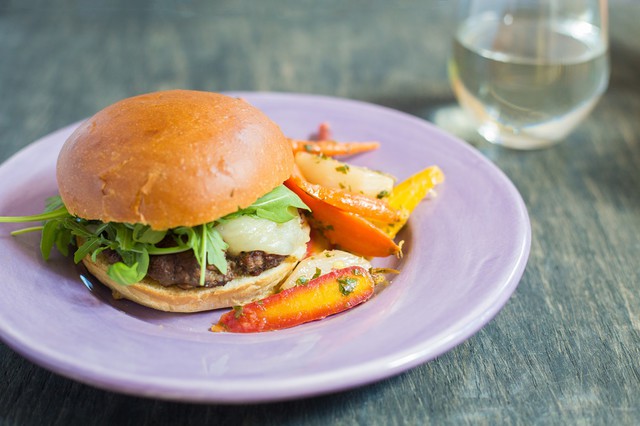 Beef & Mushroom 'Blended Burger' with Lemon Glazed Root Vegetables
Session has joined the craft beer nomenclature as a proper adjective to describe lower alcohol content beer. Yes, an 8.5 percent beer might be wonderful; however, having too many with friends can be dangerous, hence the push for a lower alcohol beer you can enjoy more than one of. For this twist on the classic American burger, we recommend a classic session IPA.
Suggestion: Founders All Day IPA, Grand Rapids, Michigan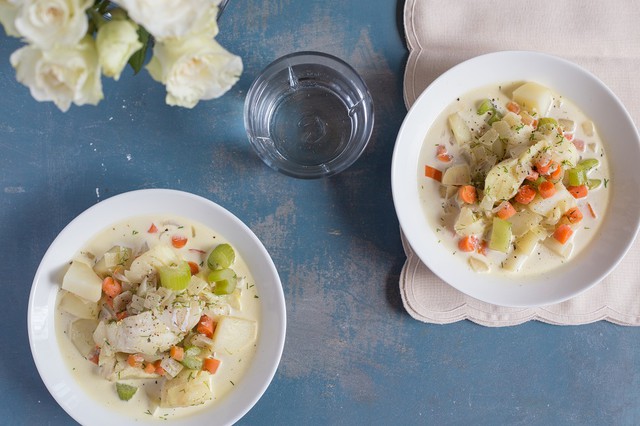 Cod & Potato Chowder with Dill
Is it possible to think of chowder without imagining fishermen, sweaters, and New England? Whenever New England comes up, we think of brown ale. Early settlers brought what they knew to the new world and made adaptions as necessary. With the brown ale, no substitutions were necessary because the necessary malts were available. For this fish chowder, a brown ale is the perfect pairing.
Suggestion: RJ Rockers Brown Eyed Squirrel, Spartanburg, South Carolina Georgia Local Recommendation: Jekyll Brewing Cooter Brown, Alpharetta, Georgia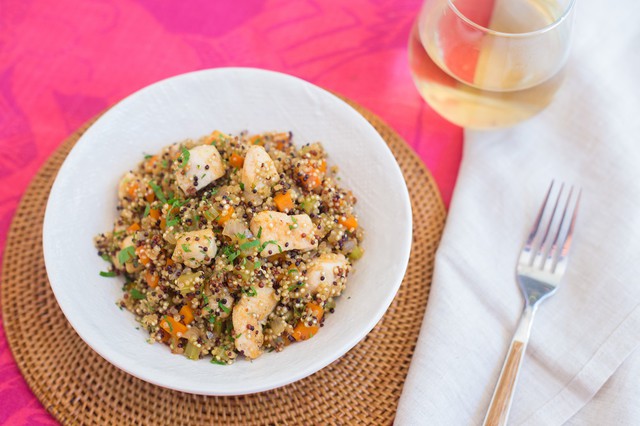 Chicken with Tri-Color Quinoa & Mirepoix
Whenever the menu shifts to fall, we start thinking Saisons. With their sweet malt base, peppery yeast, and hop bitterness, Saisons please many palates. For this dish of chicken, earthy quinoa, and mirepoix, a Saison will be the perfect accompaniment.
Suggestion: Cambridge Working Class Hero Saison with Citrus, Cambridge, Massachusettes