Get in the (Cal)zone! What You Should Know About This Portable Pizza Pocket
... other than that it's everything you need in your life right now.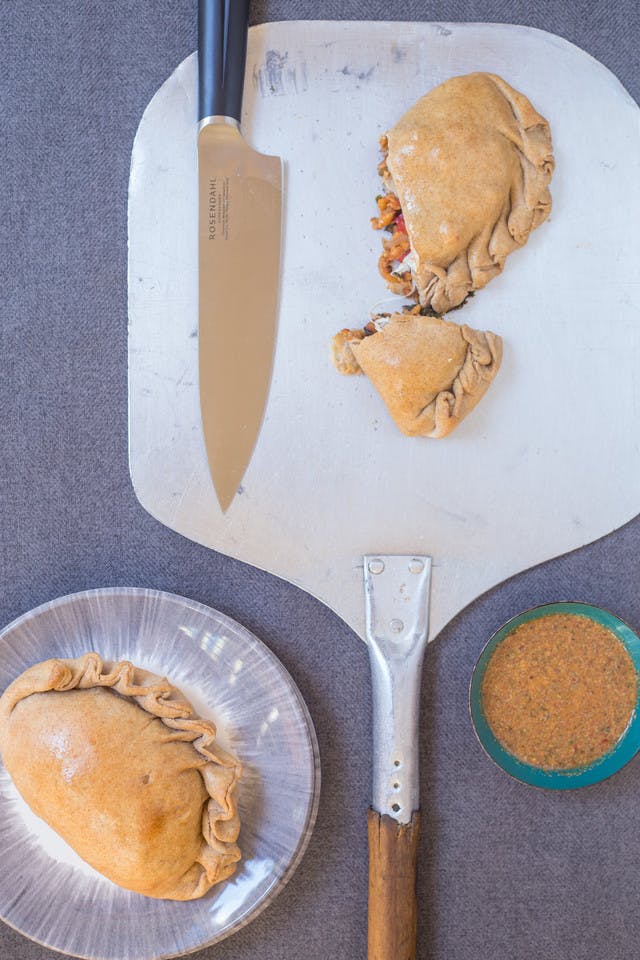 For the sake of brevity, a calzone can be described as a folded, stuffed pizza; a savory, oven-baked Italian delight that one-ups a standard pizza slice in terms of portability. Truly, nothing beats the freedom to walk around the streets while simultaneously enjoying the gooey-cheesy-tomato-zesty goodness of a pizza... In fact, the word "calzone" translates to "pant leg" or "trousers" as a nod to that liberty.
An episode of the comedy TV series Seinfeld, which involved one of the characters getting hooked on eggplant calzones, was the pop culture push that thrust calzones into the American culinary spotlight, but like pizza, the calzone can trace its roots to ancient times when people started topping their flatbread with herbs, oil and vegetables; a more recognizable version was born out of Naples in the 18th century. Early models were much smaller than our modern shareable calzones (think the size of your hand versus the size of your head), but the ingredients of a classic calzone haven't varied much over the centuries- a simple mixture of tomato sauce, Italian herbs and some form of soft white cheese, like mozzarella or ricotta. Pepperoni, ham, peppers, and mushrooms work inside a calzone just as well as on top of a pizza, but the combinations of flavors and ingredients are as infinite as the calzone-builder's creativity and taste buds.
Some contention exists among some about the difference between calzones and Stromboli. While they are very similar in taste and portability, the difference lies in how the ingredients and the dough are assembled. A stromboli dough starts as a square and its ingredients are rolled up and into the like sleeping bag, while a calzone dough starts as a circle and its ingredients are enclosed within as the dough is folded in half and pressed shut. A scacciata is the calzone's Sicilian sister; the minor difference between the two is that scacciata is traditionally filled with less cheese and more broccoli, potatoes, and spinach.
Ready to 'zone out? We've got a few calzone recipes of our own to get you started:
- SUPERFOOD VEGGIE CALZONE WITH SPICED DIPPING SAUCE
- CHICKEN CALZONE WITH ASIAGO, MIXED GREENS SALAD & BARBECUE SAUCE
- SAUSAGE & ZUCCHINI CALZONE WITH RICOTTA, SWEET PEPPERS & TOMATO SAUCE