PeachDish Magazine: Authenticity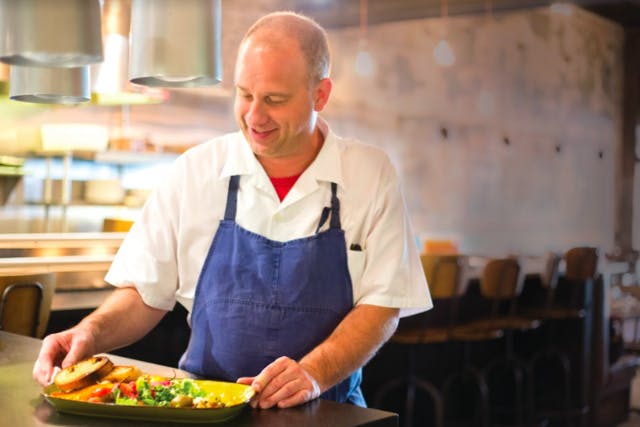 In Place, and at Peace: Pioneering Chef John Fleer has Found the Simple Beauty of Food in Asheville, N.C.
John Fleer is in a good mood. It is Tuesday, which means both of Fleer's Asheville restaurants, Rhubarb and the Rhu, are closed, but this isn't a day off. He's got checks to write, produce to pick up, errands to run. On top of that, Hurricane Matthew has just sent thousands of coastal Carolinians into town. Rhubarb's kitchen didn't plan its orders for such a busy week, and the restaurant rushes have become unpredictable for servers, thronging the bar at odd hours or packing out every table right before closing time.
You'd think Fleer might be stressed out or, at the very least, not quite so happy. Yet here he is, standing in his restaurant in a pair of soccer shorts and sneakers, retelling the story about how, while renovating the space that would become Rhubarb, they tore back a layer of drywall and accidentally uncovered a beautiful patina, a wall of layered paints that dates to when this downtown corner of Asheville had a trolley stop. These ancient colors have come to define his restaurant's style, but he didn't plan it that way. He can hardly get through the story without stopping to laugh and smile at the whole unexpected beauty of it, the way it all worked out.
Fleer's bookkeeper, Rene Hermanson, confirmed that he's more or less always this way. "He whistles every time he walks down the hall. Like, who does that? Who is so happy that he whistles all the time?" she said. Yes, who?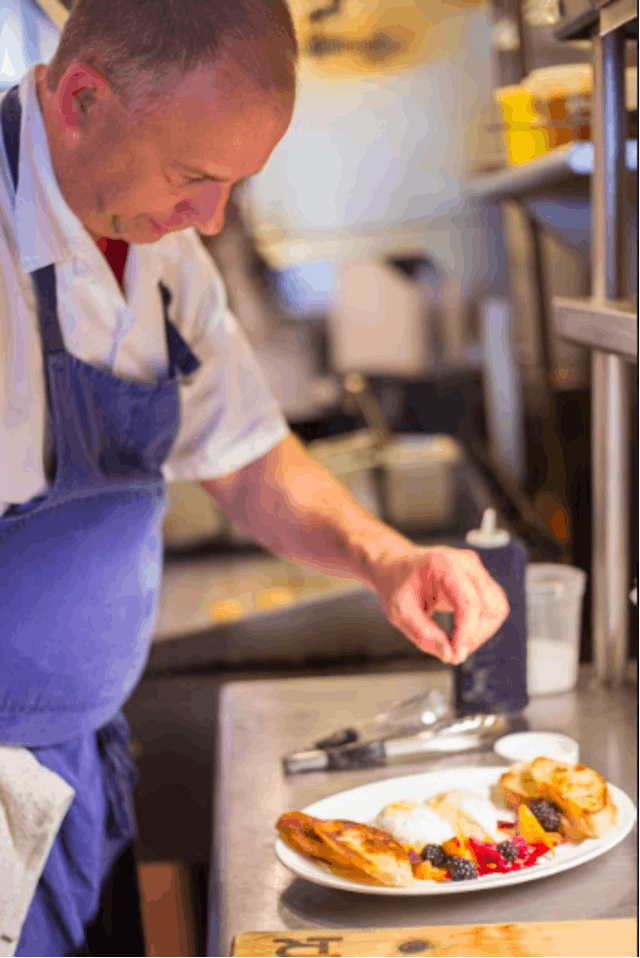 No one expected Fleer to become a chef.
With his father, a professor of political science, and his mother, a university dean, the best bet was that he, too, would become an academic. In fact, it almost happened. Fleer still has the notes for the master's thesis on Walker Percy's novels that he never finished writing.
If you knew him when he was a kid, you might have guessed he would become a soccer player. He caught the bug when he was only 10 and, though he never had quite professional talent, he made up for that in enthusiasm. As a teenager, he started a successful petition campaign to have the sport added to North Carolina schools. Aside from one break, he's played the sport ever since.
Instead, it was a kitchen job in Chapel Hill, North Carolina, the kind of thing plenty of college students get to pay the bills, that changed Fleer's life. While making pastry and pasta at Aurora, he simply fell in love with it: the constant chaos of the restaurant, the refined pleasure of food, the life of a cook. With the studiousness of an academic and the enthusiasm of an athlete, Fleer threw himself into the work of becoming a chef. After graduating culinary school, Fleer took a job running the kitchen of a small, luxury hotel in middle-of-nowhere eastern Tennessee. This was 1992. The hotel was called Blackberry Farm.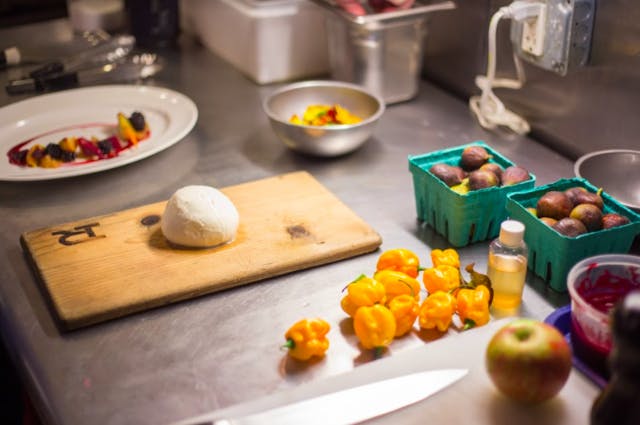 Fleer says he was "severely underqualified" for the job. With a crew of five or six, his kitchen was serving three meals a day, seven days a week. The hours were longer than anything he'd ever worked. But the bigger problem was what was coming out of his kitchen. The food wasn't bad. In fact, it was luxurious: caviar and oysters, dover sole and prime rib. But the menu didn't seem right to him. "People were coming all the way to stay here and we were serving them food that could have been at any luxury hotel anywhere," he says.
"I remember being miserable," he says. He'd landed on what he describes as a "wild and wooly planet" and he wasn't sure what he was doing serving caviar on it. Perhaps sensing his disenchantment, one of the owners, Kreis Beall, asked him to sit down and try to write his "food philosophy." It was during this reflective process that Fleer realized what he needed to be doing: seeking out the ingredients and dishes that made this place unique, to be cooking food of the South, from the South. The document he produced spoke back what the rural hills and self-sufficient spirits of this place had been telling him. The tenets of local food might sound familiar today, but in 1992, the idea of putting catfish and frog legs on the menu of a luxury hotel was, Fleer says, kind of crazy.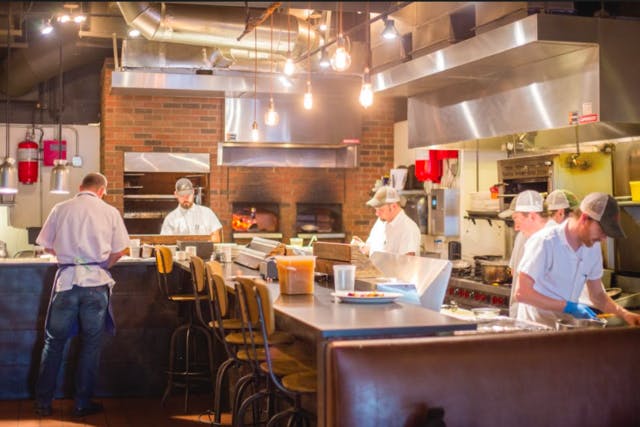 It wasn't easy, either. Long before farmer's markets became common neighborhood social happenings, Fleer says his early attempts to find local independent farmers were "shattering disappointments." Markets were flooded with industrial produce shipped in by distributors. Faux barns were shilling average grocery store fare. Slowly and surely, though, he found producers that practiced the kind of traditional, regional food he was seeking out. Once it arrived in his kitchen, his job, he says, was to "whip that magic into something bigger." You could taste it in the acidic buttermilk of Cruze Farm, in the smoky, salty density of Benton's Smoky Mountain Country Hams, the buttery flesh of Sunburst trout, the subtle wild onion of foraged ramps.
The cuisine he built around the stories, the recipes and the techniques of the foothills, became known across the country. Chefs would fly in and leave with revelations. Fleer does not necessarily remember forging this path fondly. He described his process as a cycle of "misery and reflection." For the only time in his life, he quit playing soccer to focus his energy on his food. The work paid off. By 2004, Blackberry Farm was called by Zagat the No. 1 small hotel in the United States. Chefs John Currence and Sean Brock, among others, came to describe him as among the most influential chefs of his generation.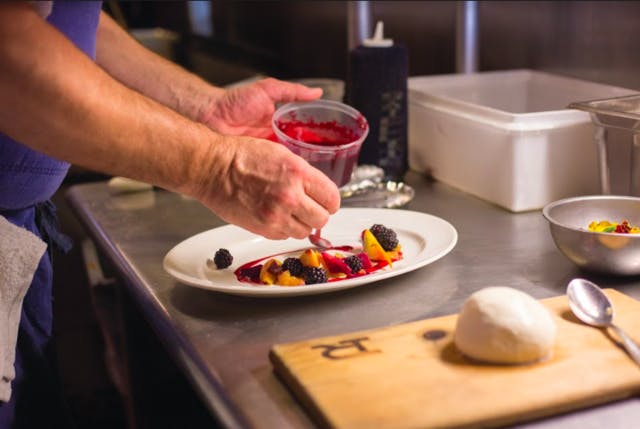 But after almost 15 years, Fleer walked away. He now calls that decision a "conceptual break." He had pushed his ideas at Blackberry as far as he could push them. The shift coincided with the Great Recession and, so, instead of opening his own restaurant, he didn't cook for years. Devoted fans on message boards speculated about his whereabouts. For a time, he landed at Canyon Kitchen, owned by the same family as Sunburst Trout Farms.
It wasn't until seven years later, in 2013, that Fleer opened the doors to Rhubarb, the first restaurant of his own. Whereas once he had the obligations of that Blackberry manifesto, he says his only obligation now is to the ingredients.
On the plate, Fleer's results are magical. Rhubarb's burrata, made in-house from mozzarella curds and goat cheese sourced from two local dairies, is accompanied by the acid of pickled blackberries and the glassy-green crunch of fried basil. Rich, garlicky pork meatballs rest on a bed of sour corn grits, a subtle but striking touch made from Barkley's Mill heirloom corn. On the ever-changing plates of house cured meats, local cheeses and vegetables, Fleer's devotion to the ingredient, to the timing required for a perfectly in-season pepper or the persistence required to track down a perfect ash-ripened cheese, is plainly obvious. In simplifying, Fleer's food has become as expressive as it ever has been.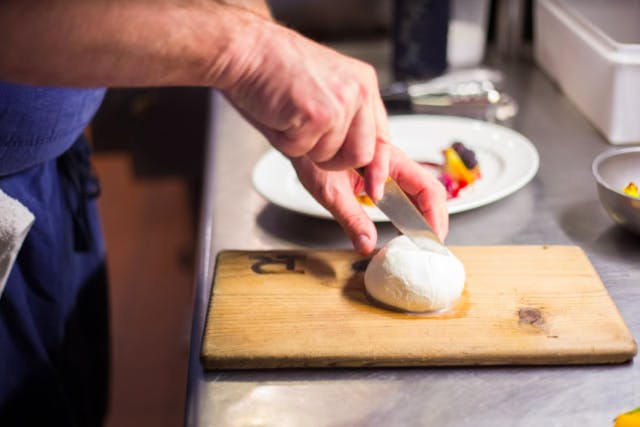 On the Tuesday that Fleer told this story, he had places to be, things to do. There was a "fig connection" to track down across town in West Asheville, someone who had a few cases of the last fresh figs of the season. There were two boxes of Cameo apples to pick up and several pounds of Neptune grapes on order. At the market, he'd have a conversation with a sheep farmer who was considering switching over to cattle. For many chefs, this is the kind of day-off errand running that's just a pain, but Fleer takes great pleasure in it. He calls it "the fun part."
Maybe that's why Fleer's so happy. Maybe he knows that between his early days of chasing down buttermilk and ramps in east Tennessee and picking up the best fruit in Asheville today, he had a little hand in encouraging Southerners to pay attention to the food of their place. Or maybe it's that, after years of searching for the right recipe to express a place, the right ingredient to tell a story, Fleer has finally, perhaps unexpectedly, found the place that's just right for him. Or maybe it's just the soccer. After all these years, Fleer still makes time for soccer every day.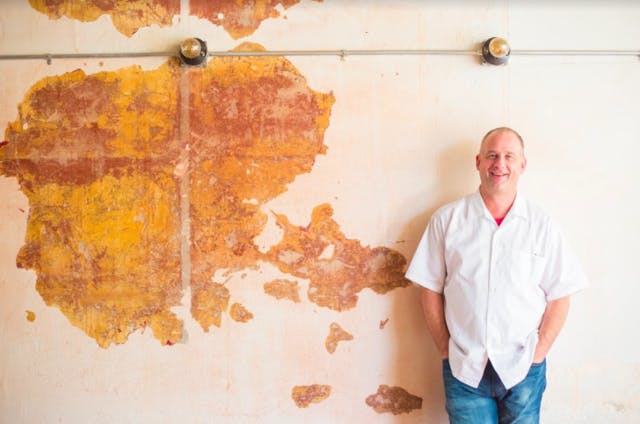 That afternoon, he called together a few folks from the restaurant to kick around the ball. They had a game scheduled against another Asheville restaurant, Cúrate, in the works, and practice was needed. They met in a park surrounded by the changing fall trees. After a few minutes of warming up, Ryan Stout, a barista playing keeper, was stretching one direction while Fleer kicked a light shot toward to the other end of the goal. The ball rolled in, just out of Ryan's reach. Fleer laughed at his luck. "I'll take it," he said.
Wyatt Williams lives and writes in Atlanta. His work has been published by The Paris Review, Oxford American, Vice, BuzzFeed, Eater, The Los Angeles Review of Books, The Collagist and other publications. He is a dining critic for the Atlanta Journal-Constitution and at work on a book about meat.