Thanksgiving Letter from the Culinary Director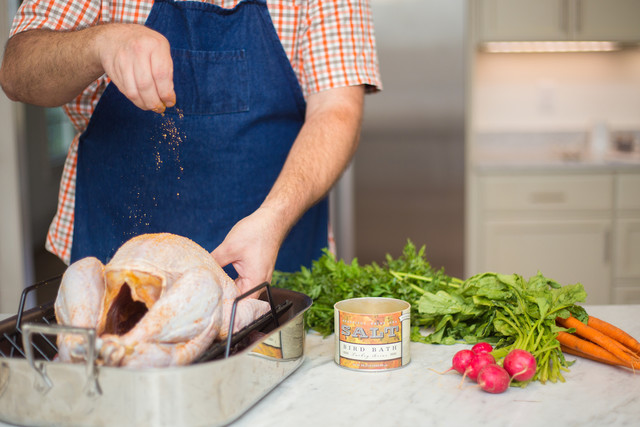 Our Culinary Director walks you through your Thanksgiving feast preparations. Get the rundown on how much time to allow for the turkey to roast, when to put what dish in the oven, and who to call should you need assistance.
Greetings,
Happy Thanksgiving! This is a special letter for a special PeachDish occasion. As the Culinary Director at PeachDish, I want to personally say thank you for choosing to order our Thanksgiving meal kit.
This meal kit is different from our typical PeachDish experience. To get your meal on the table, you have more than one recipe to prepare. I would like to share my thoughts on how I would time the meal preparation, in order to make your cooking experience as smooth as possible. I will also be cooking a PeachDish Thanksgiving meal kit right along with you this week and will be live tweeting from @PeachDishATL.
The first order of business is to get the turkey or ham thawing​. We shipped them frozen to ensure safe transport, and I'll be using the Beautiful Briny Sea Bird Bath to brine my turkey. On the recipe cards I've suggested additional ways that you may thaw your turkey or ham safely, so feel free to decide which way is right for you and your kitchen. You'll also want to decide whether you're brining or seasoning your bird. If you're keen to brine, you'll want to get started with that on Wednesday to let the brid soak overnight. Otherwise, you can get started Thursday morning and have everything ready by suppertime.
Since there's an easy-to-follow card for each recipe, my family and I will probably spread the work around a bit. Whoever wants to cook can enjoy time together in the kitchen, helping prepare the meal. While the turkey or ham is thawing, we'll get all the mise en place (knife work) done for the dressing, candied sweet potatoes, roasted vegetables and creamed brussels sprouts. This is also a good time to heat ovens as well as make the biscuit dough.
An hour before we sit down to eat, we will start the candied sweet potatoes. Thirty minutes after that, the creamed brussels sprouts will start cooking – right around the time the turkey (or ham) comes out of the oven. The biscuits and roasted vegetables both cook in less than 20 minutes at 450° Fahrenheit. We'll prep the vegetables and cut the biscuits ahead of time, so that they're ready to go in the oven after the turkey comes out. Once the turkey is cooked, we'll pull it out to rest and turn up the heat on the oven. About 20 minutes before serving, we will cook the biscuits and roasted vegetables. If you have only one oven or just like to get a head start, you can bake the dressing before you cook the meat. It can even be prepared on Wednesday, as it reheats very well. In fact, you can cook all of the sides the day before. Store them in oven-safe dishes, and warm them in the oven at 225° Fahrenheit for 25-35 minutes prior to feasting.
Whichever way you choose to go about getting your Thanksgiving meal ready, we are so grateful that you chose PeachDish for your feast! We want your meal to be as stress-free and delicious as it can be. Several of our team members, including me, will be available to you the days before – and even on – Thanksgiving, should you need our assistance. If you have questions or comments, please reach out by tweeting us at @PeachDishATL or by e-mailing us at ​help@peachdish.com
Here are some of the farmers and artisans you helped us support this Thanksgiving: ❖ Hungry Heart Farm ❖ Pine Street Market ❖ King of Crops ❖ Grow with the Flow ❖ Urban Sprout Farm ❖ Love is Love Farm ❖ The General Muir ❖ H&F Bread Company ❖ Pascalina Harvest Company ❖ Crager Hager Farm ❖ Southern Swiss Dairy
Coming soon to PeachDish.com is our December holiday meal kit​, which could make your Christmas or New Year's gathering so much easier. This kit is a whole delicious dinner delivered to your door, cooking a generous 4 servings and up. Here's what's on the menu:
Braised Beef Short Ribs with Orange Glace de Viande
Roasted Brussels Sprouts with Pomegranate & Pecans
Buttermilk, Herb & Garlic Mashed Potatoes
Honey-Glazed Turnips & Carrots with Lemon
​Winter Lettuces with Apple & Sherry-Shallot Vinaigrette
And be sure to check the "You May Also Enjoy" section at the bottom of your screen for lots of exciting new offerings we're bringing to your table from PeachDish. Thank you for sharing your holiday with PeachDish. Happy Thanksgiving to all.
With Gratitude,
Seth Freedman
Culinary Director, PeachDish