What to Do with All that Butternut Squash: Breakfast, Lunch & Dinner
Squash, squash everywhere! Are you nuts for butternut? Here's how you can enjoy these Autumn beauties all day, every day!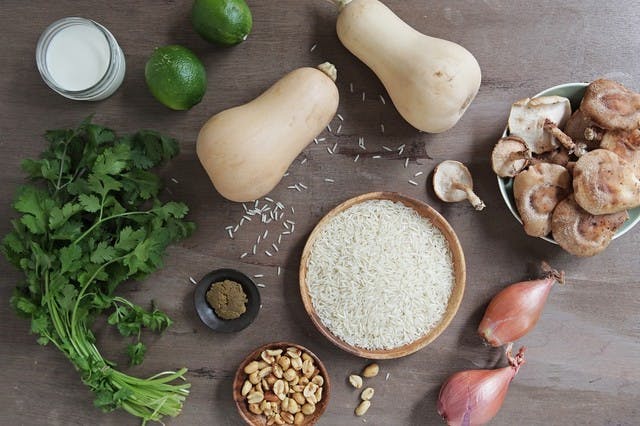 It's that time of year when you'd be hard-pressed not to see those oblong beauties overflowing in farmer's market booths and piling high in grocery store produce bins. Butternut squash, in particular, is one of the sweeter, more versatile varieties, and its culinary uses seem as endless as their storage life (which is up to six months if stored in the right conditions, by the way!). Lucky for us, this squash can be prepared in a plethora of ways for breakfast, lunch, and dinner- snacks and desserts, too! Here's some culinary inspiration for the next time a butternut mountain accumulates on your kitchen counter.
Breakfast
Not only is it the most important meal of the day, but also the most versatile! Both sweet tooths and savory palates can find something to nosh on for their morning meal- most of which take only minutes to prepare and are easy enough to put together half-asleep (but really, we recommend operating kitchen appliances while fully awake). Break out the baking pans and muffin tins for sweet banana butternut goodies or flaky butternut croissants, or grease up the griddle and work your pan-flip making butternut pancakes. Jazz up your classic hash recipe with squash, or turn butternut shreds into crunchy fried hashbrowns (squashbrowns?) that don't require a hasty trip to the drive-thru. Even the health nut can ride the this breakfast wave by throwing soft butternut squash bits into their morning smoothie.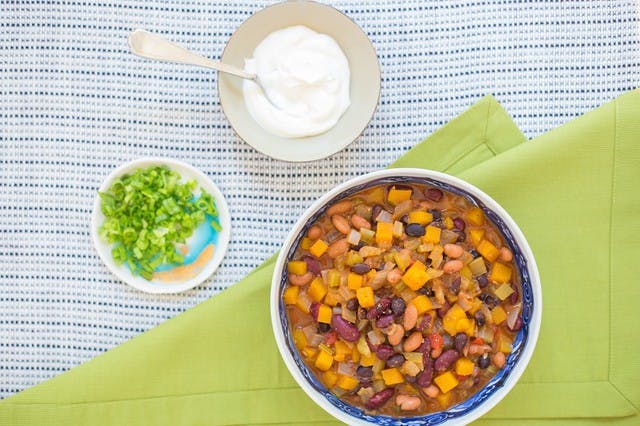 Lunch
An hour-long break in the middle of a hectic workday is necessary to de-stress the mind and to quiet a hangry growling stomach. Tackle your hunger with hefty butternut veggie burger with fries- roasted butternut squash fries, that is! Need more crunch? Thin butternut slices bake into crispy chips, perfect for dipping into a spicy butternut hummus. Toss shredded squash with chopped cabbage and vinaigrette to make a tangy crunchy slaw for tacos and sandwiches, or combine small bits of butternut squash with salsa and extra cheese for a mouthwatering quesadilla. The various ways to squash-ify your midday meal are limited only by your imagination!
Dinner
Whether winding down on a weeknight or fueling up for the weekend, butternut's got you covered! Start with a first course of green salad topped with roasted squash, or a warm bowl of creamy butternut soup. Moving onto the main event, pasta sauces, pot pies, stir-fry's, casseroles, and even curries welcome our butternut friend... and for those looking to impress, this squash makes for a sweet filling in ravioli, pierogi, and wontons. Finish on the sweet side with ice cream, brownie, cheesecake, or even donuts- all "just desserts" for butternut squash.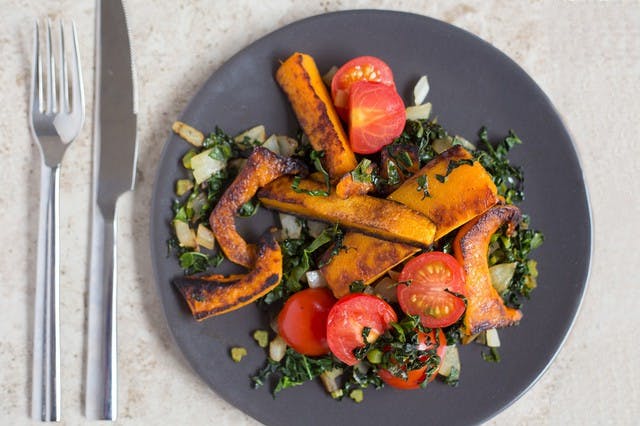 Ready to squash some new recipes?! Try some our favorites:
PAN-SEARED BUTTERNUT SQUASH WITH GREENS, CHERRY TOMATOES & RICE GRITS
BUTTERNUT SQUASH & THREE-BEAN SUPERFOOD CHILI WITH ROASTED RED PEPPER & CREMA
AUTUMN CHICKEN & BUTTERNUT SQUASH WITH ARUGULA SALAD IN HONEY DRESSING
BUTTERNUT-TEMPEH HASH WITH GREENS, PECANS & SWEET & TANGY SAUCE
CHADWICK BOYD'S WHEAT BERRY & ROASTED BUTTERNUT SALAD WITH PUMPKIN SEEDS & CILANTRO