Beer Pairings for the Week of November 14th, 2016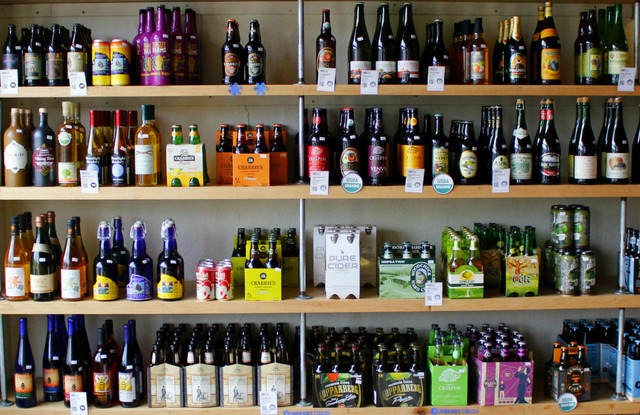 Looking for the perfect brew to go along with your PeachDish meals? We've got you covered. We've partnered with the owners of BeerGirl, a local Atlanta shop, to help you select the perfect beverage. BeerGirl's passionate owners, Alexia Ryan and Erik Lewis opened their shop with the dream of connecting the people of their community with delicious craft beer from the South and beyond. Here are this week's suggested pairings: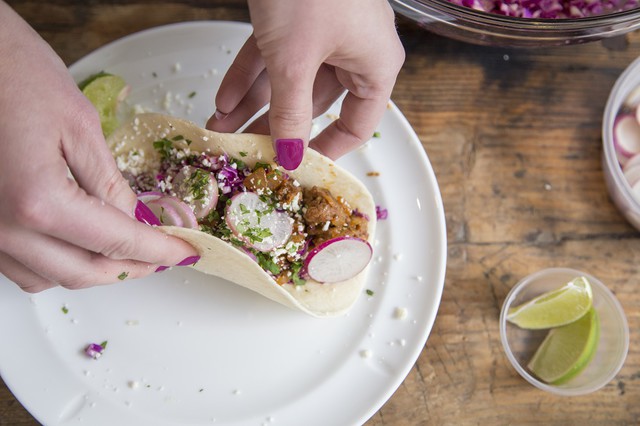 Beef Tacos with Red Cabbage Slaw, Radish & Lime
So why is Mexico all about lagers? Well, a little history--when you are the younger brother of an Austrian ArchDuke, there is little room in the family business for you, so in a shady deal with Napoleon, you become Emperor of Mexico. What do you do? You bring Vienna with you and like that, lagers arrived in Mexico. A crisp lager will complement these tacos, letting them take center stage.
Suggestion: Brooklyn Lager, New York City, New York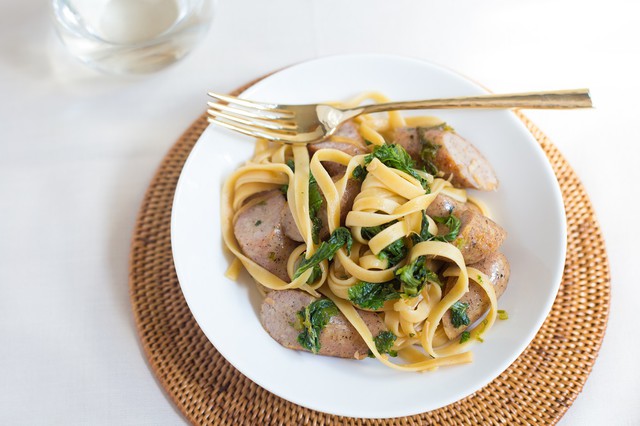 Fettuccine with Smoked Chicken Sausage & Mustard Greens
The brown ale was once the most popular style of beer in England and Colonial America. Brown ales have a nutty and caramel flavor profile received from the brown malts used in the brewing. While eclipsed in popularity by the IPA, they remain an important part of our brewing heritage. For this dish of spicy mustard greens and smoked sausage, a brown ale will provide a nice malt base for all of the flavors.
Suggestion: Cigar City Maduro, Tampa, Florida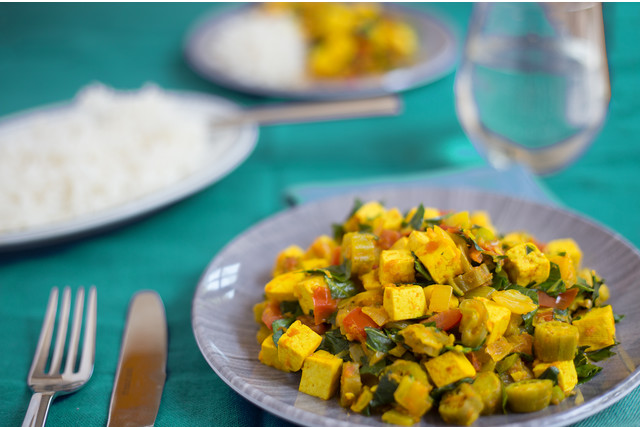 Gingered Tofu with Okra, Tomato & Turmeric
Hops are not the only way to preserve beer. Spiced beers have relied on everything from cloves to ginger as substitutes for hops. Actually, spices predate hops as a preservative. For this dish featuring ginger and turmeric, a ginger-spiced beer will complement the ginger burn while not detracting from the turmeric, tomato, and okra.
Suggestion: Left Hand Wicked Juju, Longmont, Colorado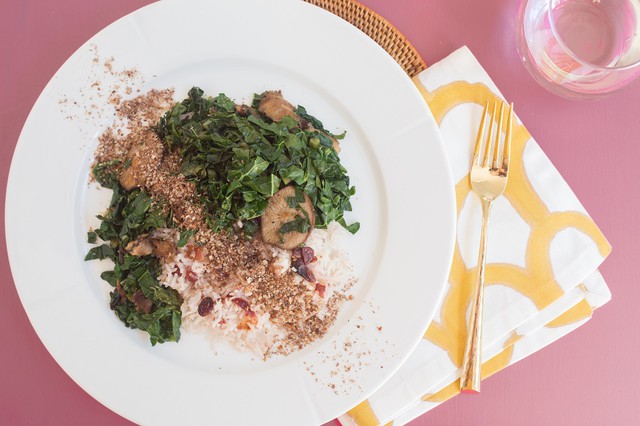 Shiitake, Kale & Ground Pecan over Cranberry Basmati Rice
Belgian beer history usually comes down to when the name for a beer was adopted. In the case of the Belgian dubbel, 1926 is when the Westmalle brewery adopted dubbel as the name for a dark malty ale. For this dish of earthy flavors, a sweet Belgian dubbel will make that earthiness stand out.
Suggestion: Blackberry Farm Abbey Dubbel, Walland, Tennessee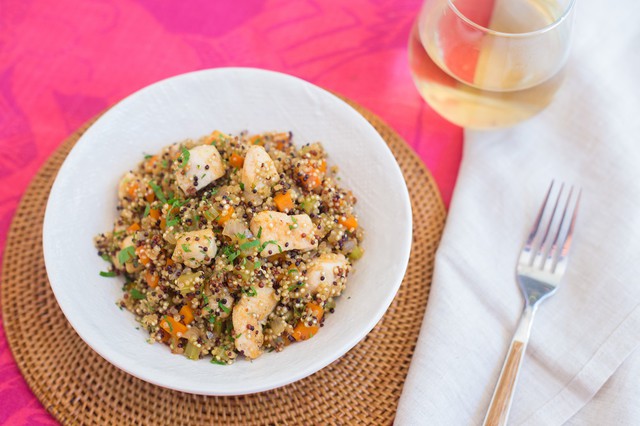 Chicken with Tri-Color Quinoa & Mirepoix
Whenever the menu shifts to fall, we start thinking Saisons. With their sweet malt base, peppery yeast, and hop bitterness, Saisons please many palates. For this dish of chicken, earthy quinoa, and mirepoix, a Saison will be the perfect accompaniment.
Suggestion: Cambridge Working Class Hero Saison with Citrus, Cambridge, Massachusettes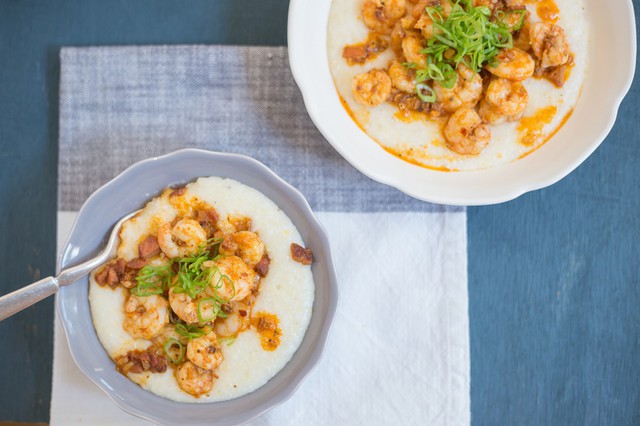 Shrimp & Grits
What do you call a farmhouse ale brewed for the miners of Wallonia? The answer--Les Grisettes, a lower alcohol, less hoppy beer brewed for the miners who needed refreshment on breaks and after a hard day. Mining is by its nature a dangerous endeavor, as well as thirsty, so a lower alcohol beverage is the perfect thirst quench. This classic comfort food of the southern coast will go perfectly with a Les Grisettes.
Suggestion: Green Bench Les Grisettes, Saint Petersburg, Florida
Butternut Squash & Three-Bean SuperFood Chili
Pumpkin beer--you either love it or hate it and more than likely have a strong opinion on the subject. Most people think of pumpkin in beer as a new phenomenon, however, that is not the case. Pumpkin in beer began shortly after colonization as a substitute for barley that was in short supply. For this chili containing butternut, we suggest a pumpkin ale as a complement.
Suggestion: Heavy Seas The Great Pumpkin, Halethorpe, Maryland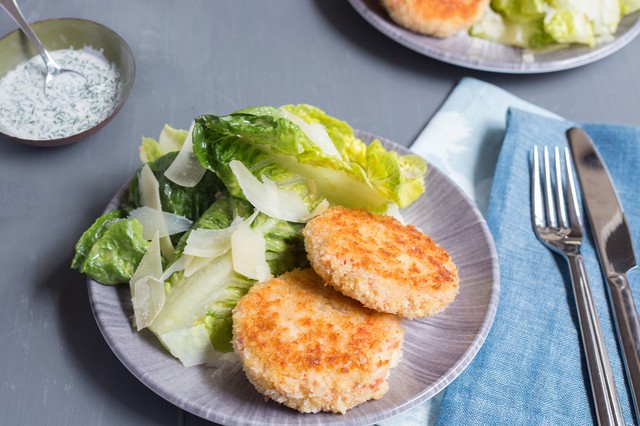 Salmon Croquettes with Dill Sauce & Gem Lettuce Salad
Though lighter hefeweizen is more common these days, a darker maltier dunkelweizen still has the same spicy and fruity esters as its lighter cousin while offering a richness that will stand up to salmon.
Suggestion: Franziskaner Hefe­Weisse Dunkel, Germany