Wine Pairings for the Week of November 7th, 2016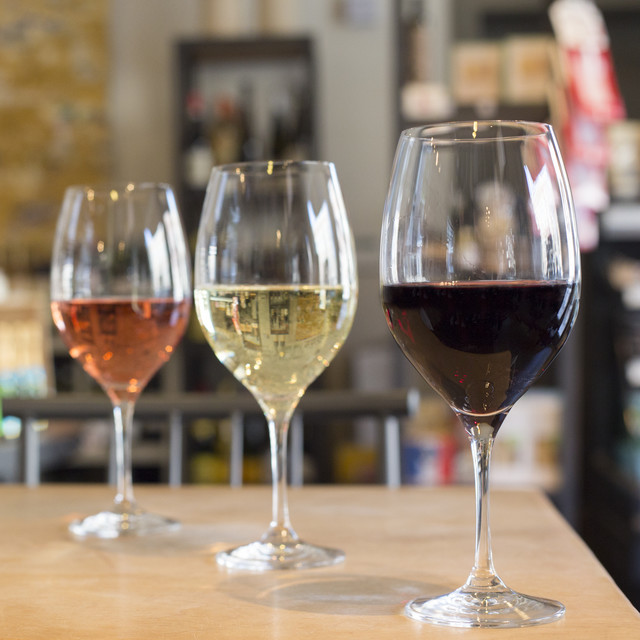 Each week, Wine Specialist Sarah Pierre brings you suggestions to complement your PeachDish meals. Sarah is one of the owners at 3 Parks Wine Shop in Glenwood Park, Atlanta. She paired up with the team of The Shed at Glenwood and The Pig and The Pearl and opened 3 Parks in 2013. Prior to opening the store, she spent most of her career working and managing notable restaurants in Atlanta and New York City. Sarah selects all of the wines that are offered at 3 Parks Wine Shop and also assists in pairing wines for local events and dinners throughout Atlanta.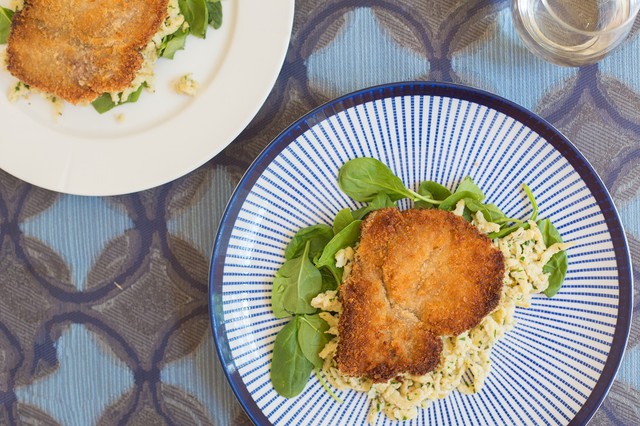 Pan-Fried Pork Chop with Herbed Drop-Noodles
Bardolino - This dish gives me all the feels! A panko-crusted pork chop with herbed PeachDish "spaetzle" needs to be paired with a red that equally screams comfort in a glass. A northern Italian red or red blend will fit the bill. If you can get your hands on an Austrian red wine, Zweigelt or St. Laurent, definitely go that route. Suggestion: Monte Del Fra Bardolino, Veneto, Italy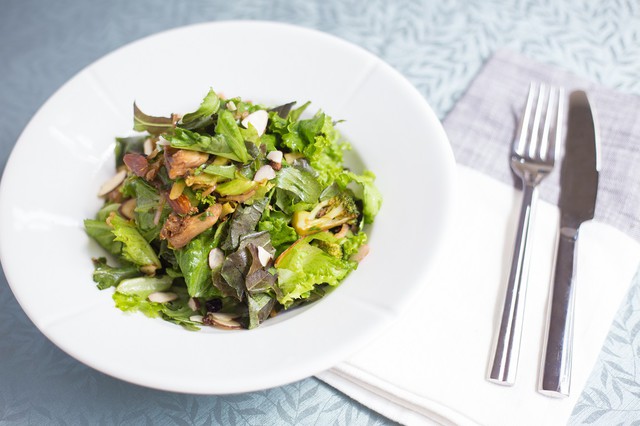 Roasted Broccoli & Mushroom Salad with Tamari-Balsamic Dressing
White Pinot Noir - A Pinot Noir that is made without any skin to juice contact is a White Pinot Noir. A White Pinot from the Willamette Valley will pair well alongside the earthy elements of the dish. Additionally, the rich texture and fruit elements of the wine won't clash with the salty, sweet dressing. Suggestion: Left Coast Cellars Pinot Noir, Willamette Valley Pinot Noir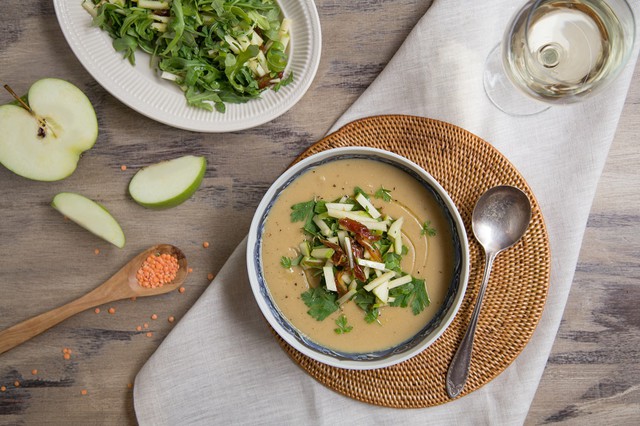 Red Lentil & Celery Soup with Apple, Date & Arugula Salad
Dry Riesling - The celery soup and sweet apple and dates in the salad will pair with a Willamette Valley Dry Riesling. Even though the wine is dry, the apple notes in the wine will hold up to the sweeter elements in the dish. Suggestion: Trisaetum Ribbon Ridge Riesling, Willamette Valley, Oregon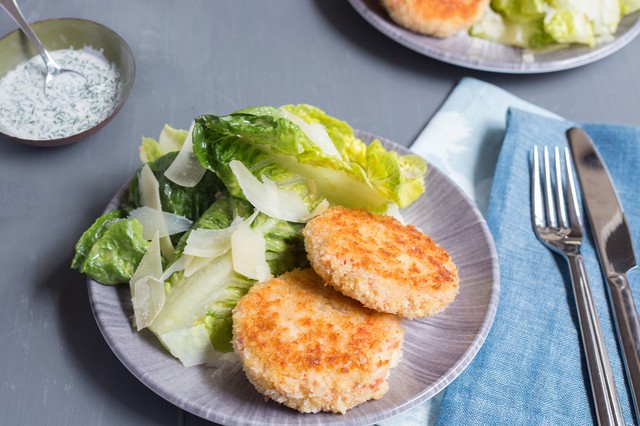 Salmon Croquettes with Creamy Dill Sauce & Fresh Lettuces
Champagne - Smoked Salmon and Champagne go hand in hand. The Champagne will be great with these croquettes!
Pinot Nero Bianco - A White Pinot Noir would be my smoked salmon croquette wine pairing. It's much richer than the average white wine because it's made with red grapes - not white. You'll find more of these in Italy and Germany, but lately more and more Oregon producers are making White Pinot Noirs. Suggestion: Vercesi del Castellazzo Pinot Nero Bianco "Gugiarolo", Lombardy, Italy
Butternut Squash & Three-Bean SuperFood Chili
Côtes du Rhône - When you think of Côtes du Rhône, think of the G.S.M. (Grenache, Syrah and Mourvèdre). These classic grape varietals are found in a majority of wines from Côtes du Rhône. A grenache based Côtes du Rhône will be medium bodied, with moderate alcohol and the perfect fruit-forward wine to partner with chili. A sprinkle of Syrah and you will have the hints of smokiness that are prevalent in Syrah. Suggestion: Mas de Jallon, Côtes du Rhône, France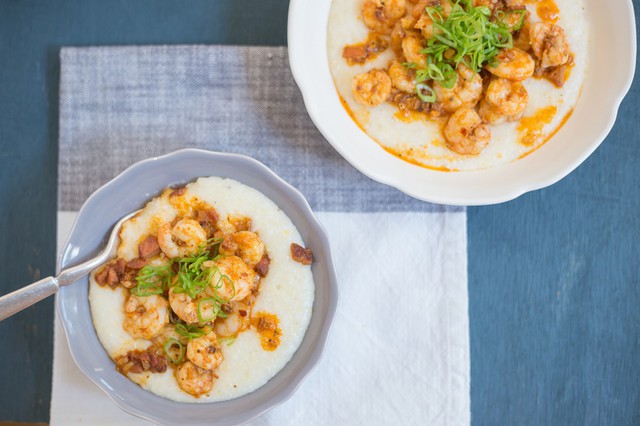 Shrimp & Grits
Rose of Pinot Noir - Pinot Noir, a go-to food wine, is among the most popular wines in the world. When made into a Rosé, you'll get a similar fruit intensity of a Pinot Noir, but a much lighter, more delicate feeling on the palate. A dry, crisp, acidic Rosé will be exactly what you want to pair alongside the rich and creamy grits, as well as the spiced shrimp. Complete match made in heaven. Suggestion: Stoller Rose Willamette Valley, Oregon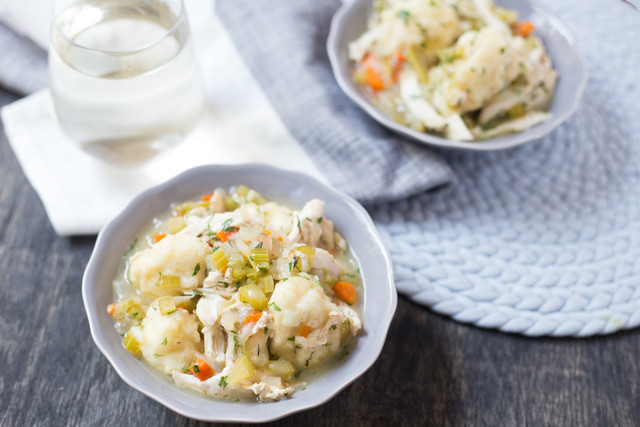 Zeb Stevenson's Chicken & Dumplings
Pinot Noir - An earthy Pinot Noir will hit the spot. You'll want to find a red wine with a nice amount of acidity that will cut through the delicate richness of the soup and the dumplings. The wine is also light enough to really allow all of the flavors and ingredients in the soup expressed. Suggestion: Nicolas Pinot Noir, France Châteauneuf-du-Pape Blanc - This southern, creamy soup can stand up to a full-bodied white wine. If you can find a Châteauneuf-du-Pape Blanc at your local wine shop, you might have a new white wine go-to. The wines are full and rich in texture with spice and fruit jumping out of the glass. Enjoy a glass with southern classic! Suggestion: Mont Redon Châteauneuf-du-Pape Blanc, Rhone, France