Beer Pairings for the Week of October 31st, 2016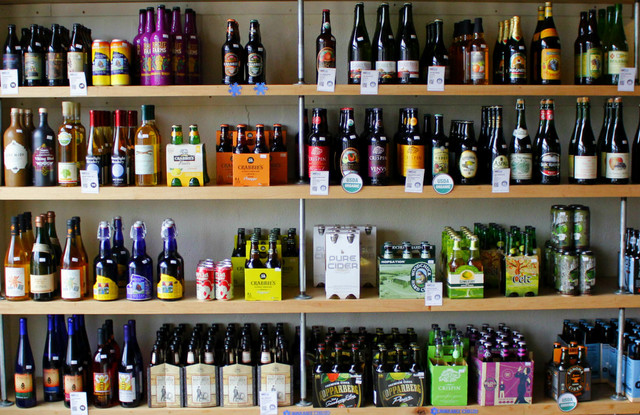 Looking for the perfect brew to go along with your PeachDish meals? We've got you covered. We've partnered with the owners of BeerGirl, a local Atlanta shop, to help you select the perfect beverage. BeerGirl's passionate owners, Alexia Ryan and Erik Lewis opened their shop with the dream of connecting the people of their community with delicious craft beer from the South and beyond. Here are this week's suggested pairings: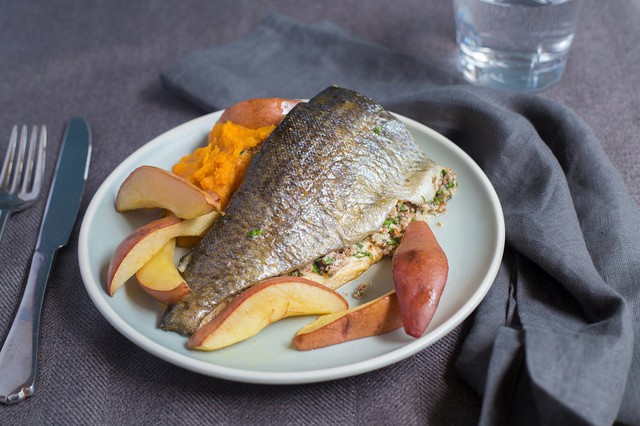 Pecan-Stuffed Trout with Roasted Pears & Mashed Sweet Potatoes
Oktoberfest season has arrived in full force. Yes, Oktoberfest begins in September and ends in October. We just do it wrong, which means we are in the season of darker lagers. This dish of pecan-stuffed trout deserves a beer with a nutty flavor and, for fun, lets add rye that will give it a pumpernickel quality.
Suggestion: Great Divide Hoss, Denver, Colorado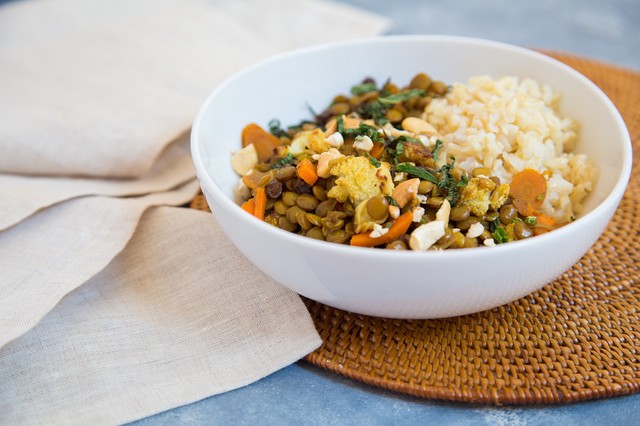 Roasted Cauliflower & Lentil Biryani
Did you know that hops are not the only way to preserve beer? Before hops, spices preserved beer. The spiced beer is making a resurgence as brewers look to bring more flavors into beer. With this classic Indian dish, why not pair it with a chai spiced beer to complement the Indian spices in the dish.
Suggestion: Avery Chai High, Boulder, Colorado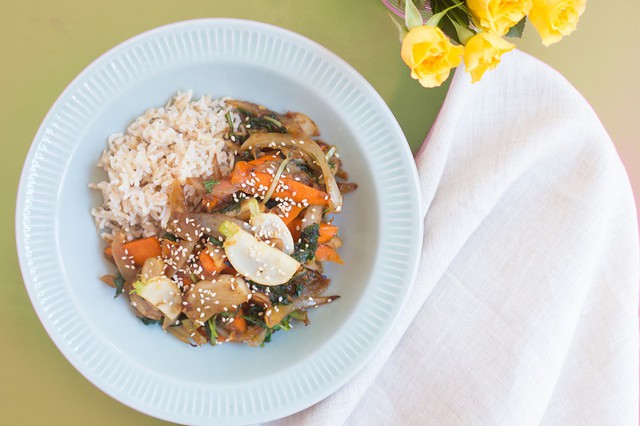 Root-Veg Stir-fry with Brown Basmati Rice & Benne Seed
The India Pale Ale has a reputation for being a pale beer with a high International Bittering Unit (IBU) value. However, IPAs do not have to be pale. There are IPAs brewed with darker malts that are considered hybrids. For this dish of nutty benne seed and brown rice, we suggest a brown IPA that will complement the nuttiness of the ingredients while adding a little bitterness.
Suggestion: Dogfish Head Indian Brown Ale, Milton, Delaware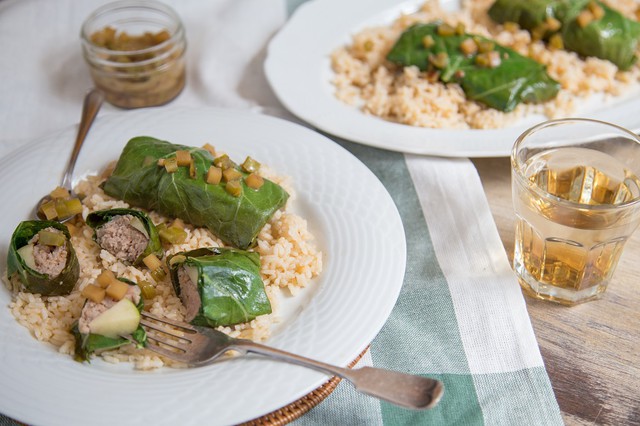 Pork & Apple Stuffed Collard Greens
Barley wines are among the oldest beers in the world and bring loads of caramel flavors. The Romans brewed beer by reboiling grains to make progressively weaker beers. The first boil produced the highest sugar content which reached the highest alcohol content (hence the comparison to wine). Barley wines are noted for their deep caramel flavors which will complement the pork and apple. After all, who doesn't like a caramel apple?
Georgia Local Recommendation: Wild Heaven Civilization, Decatur, Georgia Suggestion: The Bruery Mash Vanilla, Placentia, California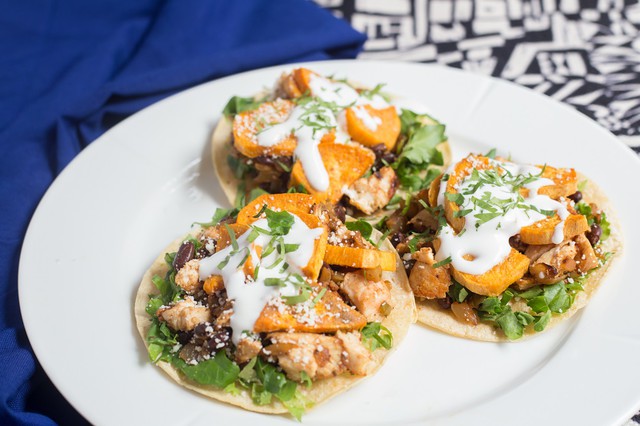 Tostadas with Chicken, Sweet Potatoes & Black Beans
There are many kölsch-style beers produced in the United States, but only those beers produced around Cologne, Germany can be considered a true kölsch. The German equivalent to a pale ale, these warm-brewed, cold-conditioned beers are great choices when you want the flavor of your food to shine like the sweet potatoes and black beans in this entree.
Georgia Local Recommendation: Eventide Kölsch, Atlanta, Georgia Suggestion: Reissdorf Kölsch, Köln, Germany
Butternut Squash & Three-Bean SuperFood Chili
Pumpkin beer--you either love it or hate it and more than likely have a strong opinion on the subject. Most people think of pumpkin in beer as a new phenomenon; however, that is not the case. Pumpkin in beer began shortly after colonization as a substitute for barley that was in short supply. For this chili containing butternut, we suggest a pumpkin ale as a complement.
Suggestion: Heavy Seas The Great Pumpkin, Halethorpe, Maryland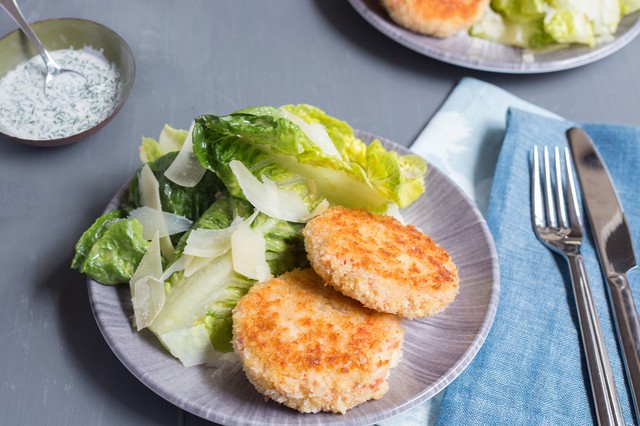 Salmon Croquettes with Dill Sauce & Gem Lettuce Salad
Though lighter hefeweizen is more common these days, a darker maltier dunkelweizen still has the same spicy and fruity esters as its lighter cousin while offering a richness that will stand up to salmon.
Suggestion: Franziskaner Hefe­Weisse Dunkel, Germany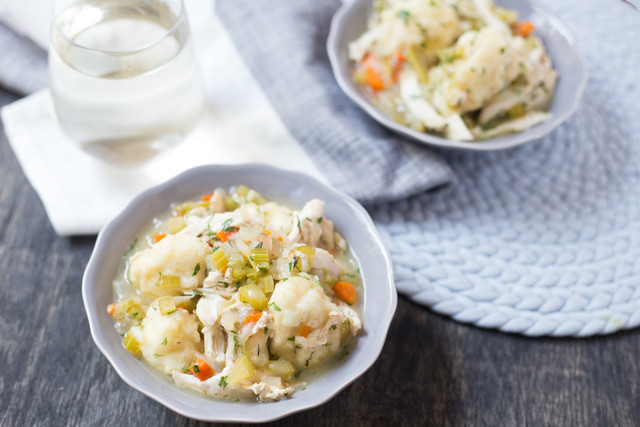 Zeb Stevenson's Chicken & Dumplings
"Extra" means a beer brewed for a foreign market. Drier and roastier in character, Dutch Extra Stouts almost disappeared when Heineken bought the last brewery brewing them in 2000 and promptly proceeded to retire the style. Luckily, tales of their demise were greatly exaggerated as other Dutch brewers picked up the torch. For a creamy dish, like Chicken & Dumplings, dry will work because a sweet stout would get lost in the background.
Suggestion: Jopen Extra Stout, Haarlem, Netherlands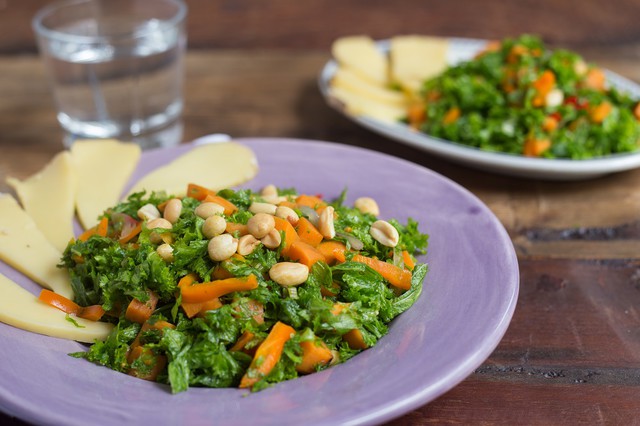 Mustard Greens Salad with Sweet Potato, Tomme & Cider Dressing
If beer gets the pumpkin treatment why not cider? It so happens that a dash of pumpkin spice to apple cider makes a wonderful fall beverage. We can think of no better pairing for a mustard green and sweet potato salad dressed with apple cider vinegar than a pumpkin cider.
Suggestion: McKenzie's Pumpkin Jack, West Seneca, New York