How to Apply Your Apples
An apple a day may keep the doc away... but are all apples are created the same? Nutritionally, yes (all are chock-full of fiber and essential nutrients - and bonus - they're highly portable for snacking!) but for culinary purposes, different varieties of apples can have very different uses.
The famous apple is so ubiquitous throughout history and throughout the world that it may as well be the mascot of the fruit realm. Diverse and incredibly versatile, apples are served as breakfast, lunch, and dinner, as well as eaten for dessert and snack-time. Popular methods of consumption include baked, sauced, juiced, or simply raw right off the core or sliced and topped with a healthy dab of peanut butter. With over 7000 varieties of apples showcasing a vast range of flavors, colors, and textures, some have better applications (apple-cations?) than others; here's your handy guide to which apple goes with which preparation!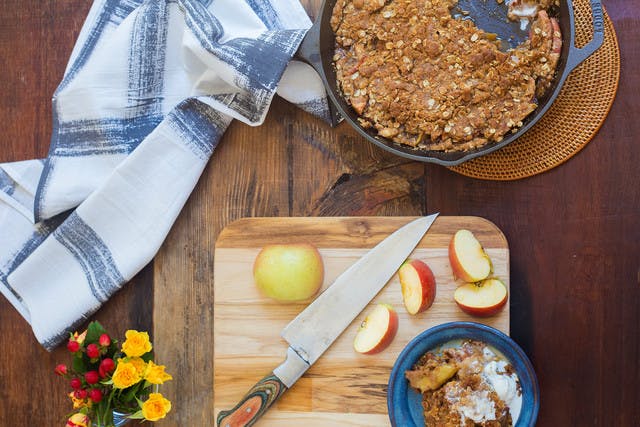 Juiced
Familiar and sweet, apple juice is a beverage enjoyed by children and adults alike. The juice from apples can be enjoyed plain, blended into smoothies or used to lighten up salad dressings and sauces. Almost all types of apples make for a pleasant juice, but some are more nectarous than others; look for Crispin, Fuji, Golden Delicious, McIntosh, and Honey Crisp and juice away!
Baked
Apples are no stranger to the oven, and while plenty enjoy snacking on raw apple, the preferred means of consumption is undoubtedly baked…whether into an apple pie, tart, or crisp or even on it's own with a sprinkle of cinnamon and brown sugar. The best type of apple for this job is crisp and firm enough to hold shape while baking, and can range from tart, like Granny Smith and Jonagold, to sweet, like Golden Delicious, Honey Crisp, and Rome Beauties. Keep good quality vanilla ice cream on deck for maximum comfort dessert experience.
Sauced
Like apple juice, one's relationship with apple sauce begins early in childhood and lasts far into adulthood. Also like apple juice, almost all types of apples fit the bill, though the sauce's sweetness and tartness depends on the particular apple, and the viscosity may vary based on the apples' inherent juiciness. Fuji, Gala, Granny Smith, Pink Lady and Honey Crisp are all top picks for your classic homemade apple sauce recipe.
Raw
The simplest way to keep the doctor away, a ripe, juicy apple stands on its own to pack a refreshing fruity punch. Top awards go to the juiciest, sweetest apples, like Gala, Fuji, and Golden Delicious. For those who prefer less sweetness and more tartness, Granny Smith and Cameo take the prize. Peanut butter, caramel sauce or vanilla Greek yogurt are optional, but totally recommended.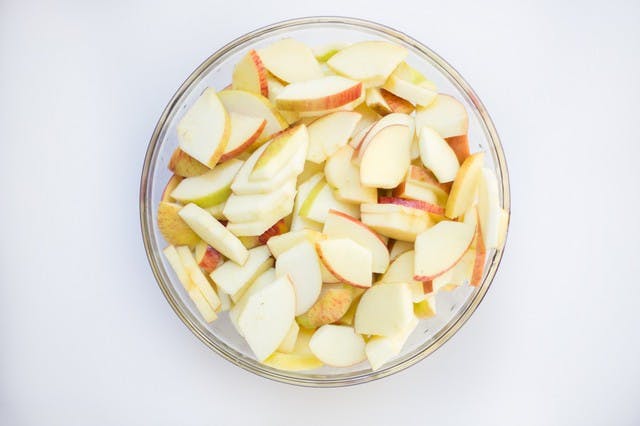 Apple season is in full swing around these parts. Try some of our favorite recipes (both sweet and savory!):
APPLE CRISP WITH VANILLA CREAM
PORK & APPLE STUFFED COLLARD GREENS WITH CAROLINA GOLD RICE
GEORGIA APPLE PIE WITH ORGANIC BUTTER CRUST
FONTINA & APPLE STUFFED CHICKEN BREAST OVER MASHED POTATOES