Meet the Meatless Duo Behind The Chubby Vegetarian
Husband-and-wife team Justin Fox Burks and Amy Lawrence AKA The Chubby Vegetarian are cookbook authors on a mission to create compelling vegetarian dishes—they have a knack for making classic, down-home recipes down-right delicious. We love their Fried Green Tomato Po' Boy recipe so much that we had to turn it into a PeachDish! We interviewed Justin and Amy to discover the influences and inspirations in their meatless culinary creations.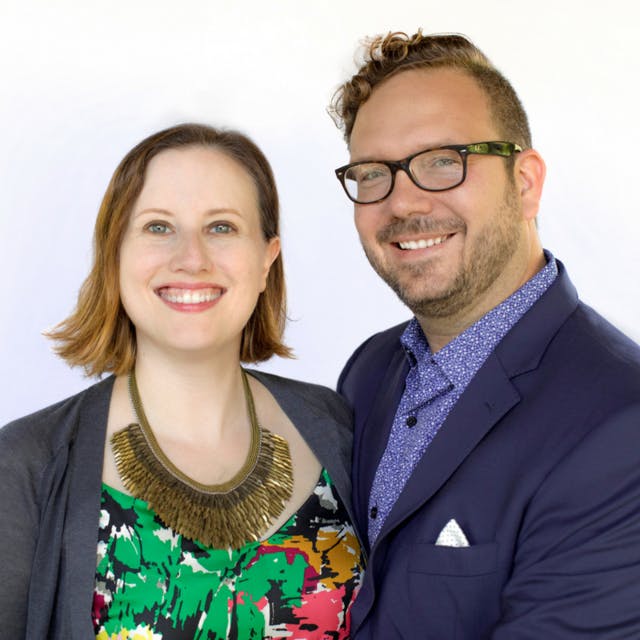 In addition to writing beautiful cookbooks like The Chubby Vegetarian: 100 Inspired Recipes for the Modern Table (Susan Schadt Press, 2016), Justin and Amy write articles about food and home cooking, and often collaborate with chefs and restaurants in order to create compelling vegetarian dishes. They live in Memphis, Tennessee and are developing new recipes that will become a part of their third vegetarian cookbook. When Justin and Amy were invited to speak at the James Beard Foundation in New York City for the Enlightened Eaters series, they happily obliged, whipping up three dishes and giving a lecture on their unique style of Southern cooking. Their creative take on vegetarian food has been highlighted in The New York Times, The Washington Post, The New Republic, Buzzfeed, Woman's Day, The Kitchn, Local Palate, The Huffington Post and Memphis Magazine. They also appeared on The Food Network's The Great Food Truck Race and P. Allen Smith's Garden Style. Amy and Justin recently celebrated ten years of writing and photographing dishes for their Chubby Vegetarian blog, and they often share their new ideas and inspirations on their website and Instagram!
Our meal kit version of The Chubby Vegetarian's Fried Green Tomato Po'Boy with Sweet Potato Fries is adapted from their 2013 cookbook, The Southern Vegetarian: 100 Down-Home Recipes for the Modern Table. It's worth noting that we met quite the challenge in selecting just which recipe from this book to feature as a PeachDish—they all looked so yummy! Our interview with Amy and Justin is below: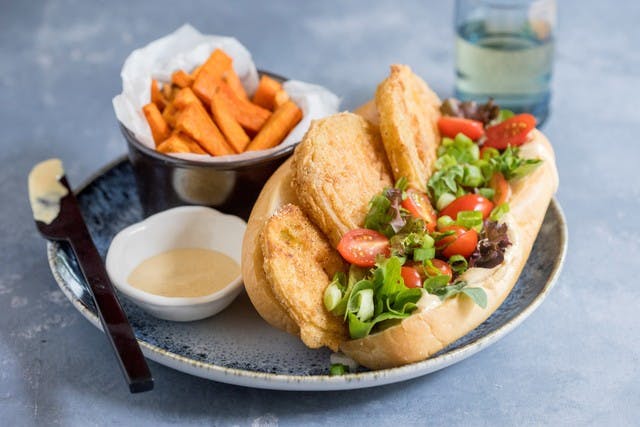 What made you choose this dish?
Chef Seth has both of our cookbooks, The Southern Vegetarian and The Chubby Vegetarian. He combed through the 200 recipes, and the Fried Green Tomato Po' Boy just jumped out at him! Luckily, it's also one of our favorites. We're so elated that it will be on the menu at PeachDish in September right when the green tomatoes will be coming out of the fields. It's the perfect early fall recipe and great if you need a vegetarian/vegan dish for your tailgating party.
How would you describe your style of cooking?
Honest! Our books represent the two sides of us, The Southern Vegetarian is us looking inward to reinterpret the dishes we've always eaten. It's new versions of grandma's Southern cooking. The Chubby Vegetarian is us looking out. We enlisted the help of our friends to create Japanese, Thai, Indian, Ethiopian dishes and more. There's no way we could have created such a great collection of recipes without our friends.
What are your first memories of cooking?
Justin used to cook for the whole family when he was as young as 10 years old. He remembers making a mashed potato tower with a hamburger steak in the shape of King Kong. Amy remembers making cookies and cakes and banana pudding with her family. We still make Christmas cookies every year with her mom. It's a family tradition.
Is there a special person in your life who fostered your love for cooking?
Both of our families were obsessed with food! Amy's dad grows a lot of the produce we use. And the two of us have always loved cooking with each other. 
Where do you draw inspiration for your recipes?
It's always a what-if-this-were-that moment! For good vegetarian food, we choose an idea and try to find the vegetable that's fit to play the role of the meat. Think about butternut squash steaks, mushroom meat stuffed into tamales, or figs in a blanket. You get it!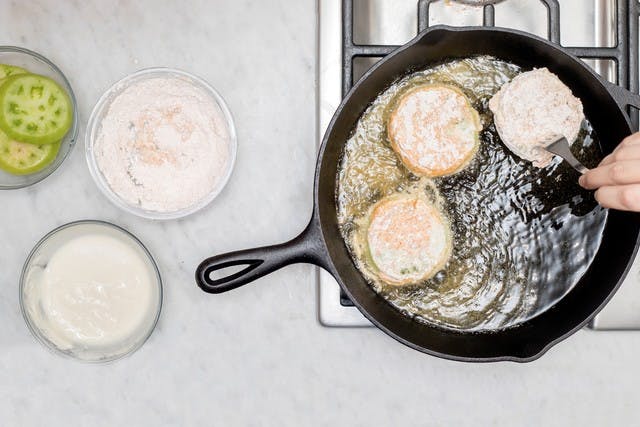 What's the best thing you've ever eaten?
Pound cake one day and pizza on another day at our house is a good week! You also can't beat anything with summer tomatoes and Georgia peaches. We can find something good in almost anything. We take nothing for granted each season! 
What's your favorite food indulgence?
For Justin, it's dark chocolate dipped in good peanut butter. Amy loves doughnuts… any doughnuts. 
Who is your favorite Southern cook?
It's hard to say. We respect and admire all of the Southern chefs who have shared their kitchens with us. We also have a soft spot for our friends from far-flung places. It's so cool that they now choose to call Memphis their home. They bring such a unique worldview and a spice cabinet that's inspiring to us. We also realize from them that we have so much to learn.
What charities or organizations do you love and support?
We love supporting the Memphis Public Library, St. Jude Children's Research Hospital, Community Legal Fund, Le Bonheur Children's Hospital, our local farmers markets, FedEx Family House, Germantown Performing Arts Center (GPAC), Shelby Farms, and more. We love our community and do what we can to help support the people here who are doing good work.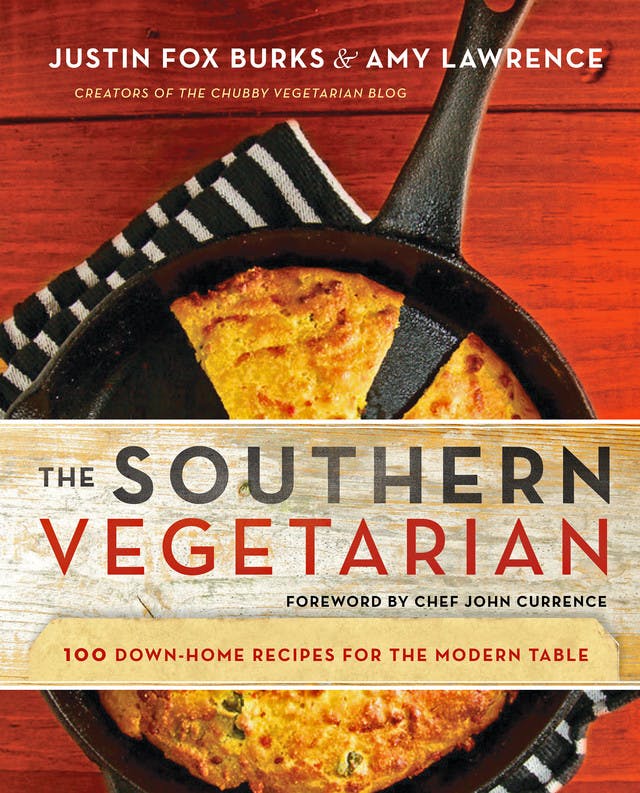 For more delicious recipes from The Chubby Vegetarian, visit thechubbyvegetarian.com or follow their Instagram, @chubbyveg!