Meet the Artist: Angela Faustina
Say hello to the newest addition to our postcard series, and the fabulous artist behind the design!
Photo from Angela Faustina
Faustina's sticky sweet oil paintings transform glistening fruit into its own vibrant world. Capturing juicy pulp at the peak of ripeness highlights the beauty and vibrancy of life. Faustina's paintings are intimate, surprising, enigmatic, and bold as hell.
Faustina's artwork takes close-ups to the extreme. The vibrant imagery is easily identified as organic but from there the imagination can take over. Constantly changing the physical scale of her paintings and species of fruit heightens the sense of mystery. Faustina works to blur the boundaries between abstraction and representation, the microcosmic and macrocosmic, attraction and repulsion, and whimsy and the scientific.
The displacement can feel alien but the common subject matter connects world cultures. Regardless of race, religion, or time, fruit is a favorite food that brings people together. The interconnectedness of organic life is another theme Faustina explores while painting. Interiors of fruit echo the forms and textures of human viscera; cropped citrus pulp and gooey pomegranate and fig seeds can resemble intestinal tract, blood cells, and neurons to the unfamiliar. The bright, often tropical hues of her paintings and the variety of fruit evokes the artist's personal childhood in South Florida, a multicultural mecca for the beautiful, vibrant, and weird. The audience's unfamiliarity with the fruit imagery can elicit contemporary issues about American food culture and the prevalence of processed food.
Faustina's artwork is internationally collected and has been featured in exhibitions in the United States, Italy, and Portugal since 2006. 
Look for artwork from Angela in the form of a postcard in your PeachDish box next week!
Want to see more? Visit AngelaFaustina.com and her Gallery43 page, and follow her on Instagram @angelafaustina and Facebook!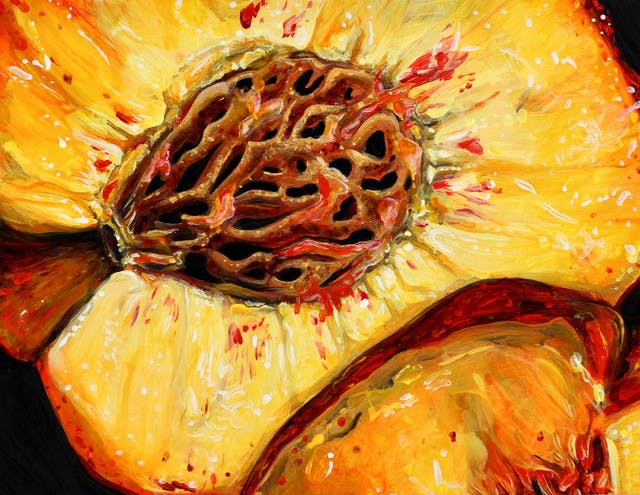 Why postcards?
We strive to connect people with food through good food experiences, and while we recognize that these experiences happen primarily in the kitchen, we challenged ourselves to stretch that connection across new and unexpected mediums. These postcards offer a brilliant way to showcase foods and tradition while also shining a light onto remarkable artists around the nation, and we encourage you to share these special postcards with friends and strangers to spread the love and the good food movement!