10 Ways to Cook Summer Squash (When You're Sick of Summer Squash)
Whether you're a CSA subscriber, a neighbor to a generous green thumb, or an avid gardener yourself, the long hot summer months come with a giant wave of summer squash. Zucchini, pattypan, zephyr, crookneck... any and all those mild-mannered, tender, brightly colored fruits make their way into stir fries, salads and hot casseroles - or else monopolize the crisper drawer of your refrigerator before eventually seizing a significant portion of your freezer.
By now, your honeymoon phase with summer squash has probably ended, and you're no longer daydreaming about a second helping of steamy squash casserole or crisp squash salads. As the season continues to fuel its seemingly endless supply, many of us end up halfheartedly throwing shredded zucchini into pasta sauce and sliced yellow squash into stir fries - not because we crave the flavor, but rather because we'd rather put it to good use than let it go to waste.
It doesn't have to be this way. Sure, tossing some extra summer squash into the pot is a fine way to bulk up a savory dish, but it doesn't spark that flame that excited you at the beginning of the season. Shake it up and get creative, ya'll! These 10 recipes will remind you why your "summer crush" will always be summer squash...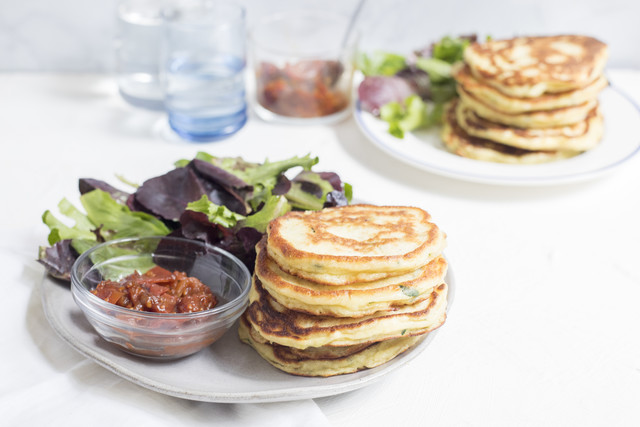 Pancakes, hotcakes, flapjacks - whatever you call em', these fluffy discs are crazy delicious at any meal. If you haven't tried them savory, prepare to have your mind blown. Not that there's anything wrong with the classic maple syrup and butter pat, it's just that these have that something special… summery zucchini, a pinch of Parmesan and sweet, sweet homemade tomato jam to top it all off. Fluffy and rich, sweet and savory, this dish is both a delightful at breakfast time and a satisfying ending to a long day.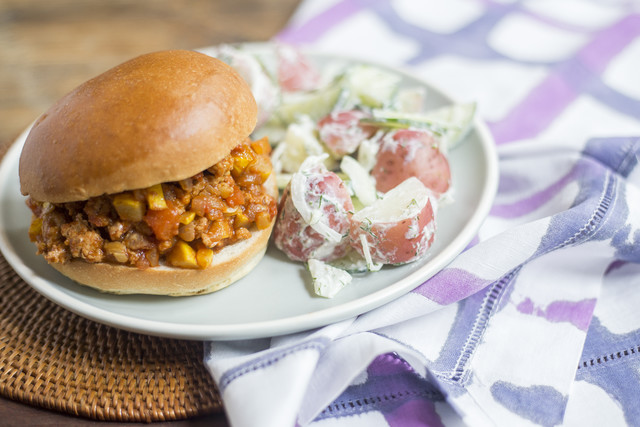 Although we love our seasonal veggies front-and-center, this recipe is an excellent way to sneak them in, bolstering the flavors of a classic sloppy joe with the natural sweetness of summer squash. The tangy barbecue sauce kicks in to tie the sandwich together, while a creamy potato salad made with cool cucumber and zippy dill lends a refreshing touch on the side.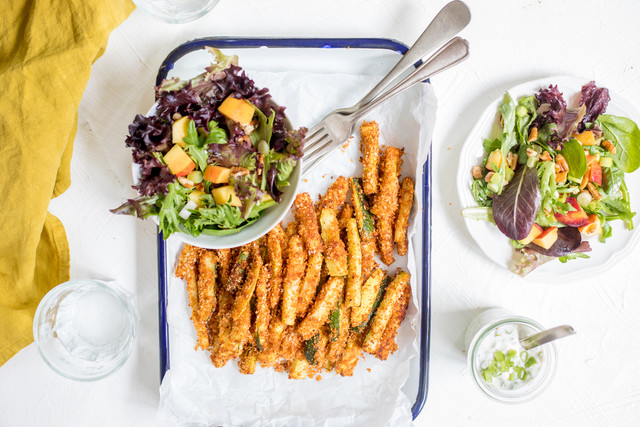 Who says only potatoes get to be fries? This fun recipe gives summer squash its moment in the sun. Since squash is less starchy than potatoes, getting them to be crispy took some experimentation, but with a little help from panko and vegan mayo, we figured out how to give them that craveable combo of crunch on the outside and sweet 'n tender on the inside. They're served with a creamy, zesty sauce for dipping, and a tasty mix of spicy greens, sliced peaches and chopped pecans for a satisfying salad to round out the meal.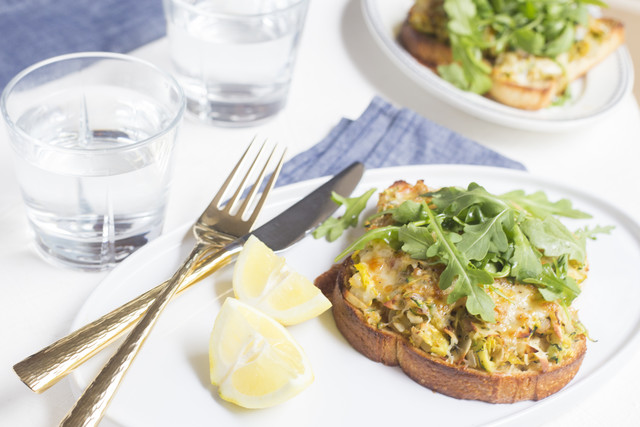 Move over, avocado toast -  this season we're all about the "squashy toast"! A tartine is a slice of crispy bread topped with a sweet or savory spread, but this simple dish is anything but boring. The combo of delicate shredded squash, onion and melted cheese in this dish might remind you of a classic summer squash casserole – but the overall flavors in this dish are escalated thanks to crunchy almonds and the interplay of sweet honey and plucky black pepper on top.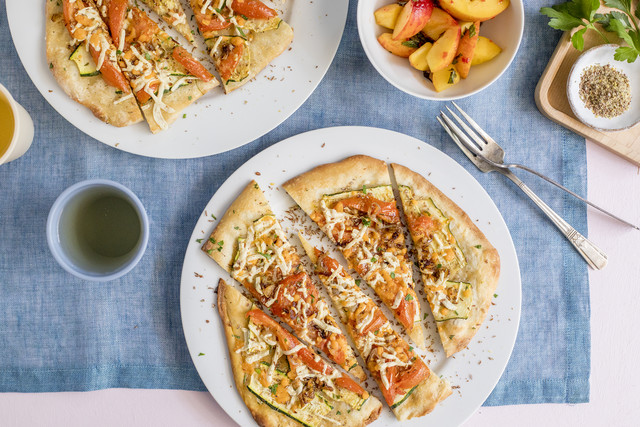 Topped with thinly sliced zucchini and summer tomatoes and paired with a sweet 'n spicy peach salad, this colorful plant-based flatbread is sure to satisfy your summer cravings in a snap.The pizza dough is handmade by Alfresco Pasta in Nashville, and the sweet heat pepper jelly - made with a blend of three chili peppers - is made in Birmingham by our friends at 5ive Oaks. You'll top each flatbread with a sprinkle of vegan pecan "cheese", which is made with ground pecan, Italian herbs and nutritional yeast, an ingredient popular for its "cheese-like" flavor.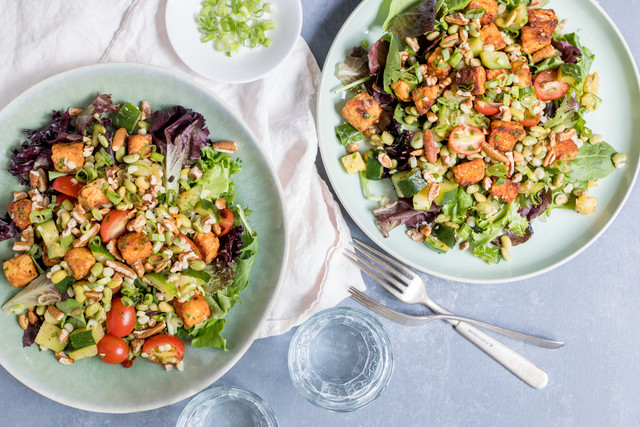 Bold and colorful, this dish proves that you need only look to your summer garden or weekend farmers market for inspiration to make a meal that's as fun and feel-good as it is nutritious and satisfying. Protein-packed tempeh, which is made from soybeans, is seasoned with a pinch of salt, pepper and paprika before taking a turn in the oven to develop a richer flavor. Meanwhile, corn, field peas and zucchini - a classic companion gardening trifecta known as the Three Sisters - simmer together in a pot on the stove with savory bouillon before being tossed with fresh tomatoes and herbs and served over spicy greens. Pepper jelly, made by our friends at 5ive Oaks in Birmingham, Alabama, ties the whole thing together with a tasty hit of sweet heat.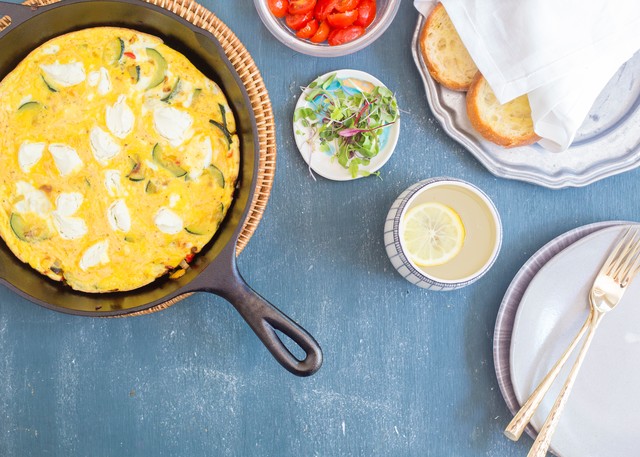 This hearty frittata is bursting with colorful vegetables and tangy chevre, topped with fresh tomato and crisp sprouts. It's a simple, one-pan meal that cooks in mere minutes – just right for a busy weeknight, although it also makes a great centerpiece for a lovely weekend brunch with friends.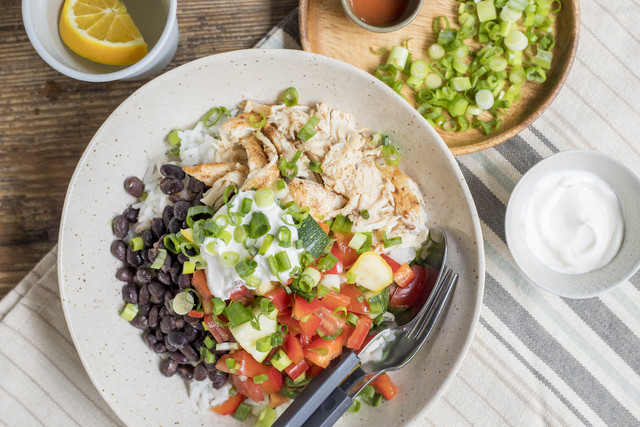 "Burrito bowls" are all the rage because they can be made to order, but you can easily make them at home in a healthy, quick, and delicious way. Jam-packed with seared chicken, black beans, and long-grain rice, this meal will satisfy even the hungriest appetites. The veggie salsa - made with fresh summer squash - adds so much color and vibrancy to this dish that you wouldn't even think to hide it in any tortilla!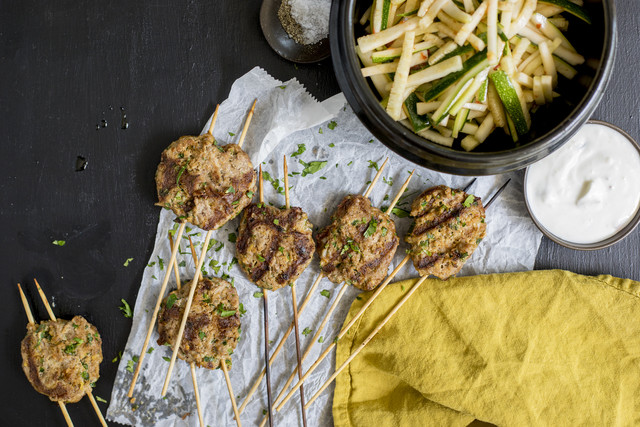 With all parts of this dish adapted from Richards' Southern Fried executive chef and owner Todd Richards' beautiful new cookbook, Soul, this meal is simple and so delicious. Meatballs are an easy way to please a crowd, and serving them on skewers is practical in that no has to find a utensil to enjoy them with a flavorful dipping sauce, which in this recipe is a mixture of Greek yogurt and a tangy red onion chutney handmade by Alabama artisan Holmsted Fines. The zucchini slaw gets a spicy kick from sambal oelek, a hot sauce made with a blend of chili peppers that's traditionally used in Indonesian cuisine.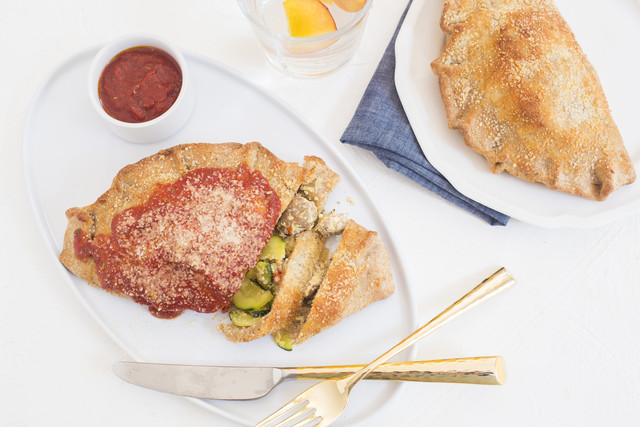 It's pizza night, but updated and fun! Skip the awkward delivery guy and whip up these hearty pockets of sausage, veggies and creamy ricotta cheese in the comfort of your own kitchen. The best part? They're almost effortless to prepare, and can take less time than takeout! The zippy tomato sauce can be spooned over the warm calzones or served as a dip on the side.
Hungry for more? Try these honorable mentions:
BOWTIES & BACON WITH SUMMER SQUASH, TOMATOES & PARMESAN
CORN & SUMMER SQUASH RISOTTO WITH BASIL & GRUYERE CHEESE
VEGGIE BURRITO BOWL WITH SUMMER SQUASH, AVOCADO & PICO DE GALLO
PESTO PENNE WITH SUMMER SQUASH & PEPPERS
CURRIED EGGS OVER RICE WITH SESAME SQUASH & GREEN ONIONS
ANDOUILLE & CRISPY SMASHED POTATOES WITH SUMMER SQUASH & TOMATOES
PEARL COUSCOUS SALAD WITH SQUASH, TOMATO & MICROGREENS
PECAN CRUSTED CHICKEN FINGERS WITH PARMESAN-PANKO SQUASH & MUSTARD BBQ SAUCE
PAN-ROASTED FISH OVER PENNE WITH SWEET PEPPERS, SQUASH & TOMATOES
GRASS-FED BEEF STIR-FRY WITH SQUASH, EGGPLANT & BASIL
CHICKEN BARBACOA TACOS WITH STONE FRUIT SALSA, SKILLET CORN & SQUASH
PASTURE-RAISED CHICKEN ROASTED WITH ZUCCHINI, TOMATOES & ONIONS